The past couple of weeks I've showed you how to control depth of field with Aperture Priority mode and to slow or freeze motion in Shutter Priority mode. What if I was to tell you about a mode which automatically selects a good exposure (aperture (f-stop) and shutter speed) to start with and allows you to change them for more depth of field OR slow or faster shutter speeds just by moving a control dial. Interested? I thought you might. The mode I am talking about is the P setting on the Mode Dial and stands for Program mode or Program AE mode, where AE stands for Auto Exposure. This mode differs from AUTO mode in that it does not change the camera's ISO number, Metering and White Balance (WB) settings giving you more control of your photography.
This is how I use Program mode. I set up my camera in Program mode, ISO starting at 200, White Balance at Auto -3 and Matrix metering. This gives me great flexibility for most shooting conditions I might encounter. (Note: I also use my Nikon D70's Auto ISO feature which starts at ISO 200 but when light falls off in a building or as day turns into night, the camera will raise the ISO for me. You may have to remember to change your ISO setting when shutter speeds go below 1/30 of a second.) Now, when I see something I want to photograph, I set my focus and see what exposure the camera calculates. If I don't agree, I can turn the command dial to vary the aperture and shutter speeds. It still gives you the same exposure but by turning the dial you can increase or decrease the f-stop controlling the depth of field. Like in Aperture Priority mode, the shutter speed will be changed for you. The reverse is true for moving the command dial to alter the shutter speed. The f-stop will be changed for you. When moving the exposure away from the camera's chosen one, an asterisk is seen next to the P on the upper LCD (for Nikon) to tell you you have selected a different exposure. It looks like this: P*. After pressing the shutter, the camera does not return to the starting exposure unless you move the command dial back to that position. This may be different for your camera so, again, check your manual to see how Program mode is implemented.
In the photo below of Sunset Blvd. in the Disney Hollywood Studios, Program mode initially gave me an exposure of 1/500s at f/5.6. I wanted more depth of field and moved the command dial until it showed 1/250s at f/8 which, for a focal length of 50mm or less, gives great depth of field. The slower shutter speed lightens up some of those deep Florida sun shadows, too.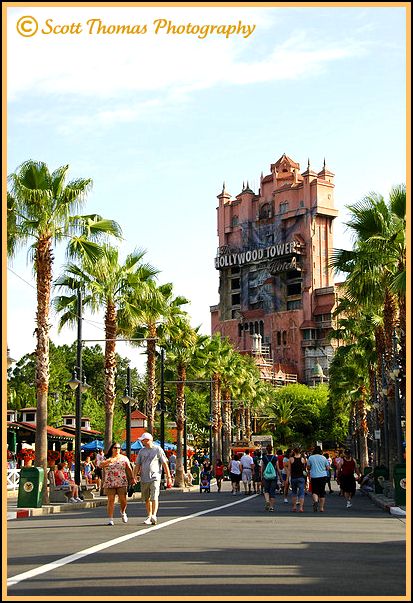 Walking down Sunset Blvd. in the Disney Hollywood Studios.
Nikon D70/18-200VR, 1/250s, f/8, 200 ISO, 0 EV, 46mm Focal Length, Matrix Metering, Auto -3 White Balance
The Disney Imagineers did a wonderful job on Sunset Blvd in the Disney Hollywood Studios. By using short utility poles and trees of the same height, they make the Tower of Terror look even bigger and with nice leading lines for us photographers to take full advantage of in our compositions.
Program mode is a great way to quickly get a good exposure to capture those moments we come upon at a Disney park, family event or walking around your hometown. It also lets you be creative by easily being able to change both aperture and shutter speed with the turn of a dial. However, Program mode does have it's limitations. It can't always reach the extreme slow or fast shutter speeds or smallest apertures your camera is capable of. In those cases, I still find both Aperture and Shutter Priority modes very useful.
For more information on Program Mode, follow this link: Mastering Your dSLR Camera: Program Mode