I just got back from a two-week Asian Disney vacation. I flew to Hong Kong and spent three full days at Hong Kong Disneyland. Then I flew to Tokyo and spent seven full days at the Tokyo Disney Resort. Wow! I had a great trip.
This was my third visit to Tokyo Disneyland, my second visit to Tokyo DisneySea, and my first visit to Hong Kong Disneyland. Since I have visited the city of Hong Kong a couple of times on previous vacations and I lived in Yokohama for two years in my youth, I did not visit any of the traditional tourists' spots as I have already seen many of them. This was strictly a Disney vacation. Just for the record, I took 2,455 pictures. Thank goodness for digital cameras.
I will be posting a number of blogs in the days to come about my thoughts and adventures, but I want to start with a specific topic that has caused a lot of commotion on many Disney web-sites of late – "it's a small world."
Disney announced that they would be including Disney characters in Hong Kong's version of this classic attraction. They also announced that they would be updating Disneyland California's "small world." This has put many purists in a tizzy. "How can they tamper with a classic?" they ask.
I was fortunate to be able to ride Hong Kong's version just 12 days after it opened. I am happy to report that Disney did an excellent job of incorporating these new characters into the ride. You won't find Mickey and Minnie and Goofy. What you will find is Aladdin and Jasmine on a magic carpet in the Middle East section of the ride – stylized as "small world" dolls. In another scene, you'll find Mulan in the China section, once again, looking like a "Small World" doll, not like her animated, screen persona. In fact, if you didn't already know these characters so well, you'd never realize that they were any different than the rest of the dolls.
Another nice upgrade was a plaque at the entrance to each room stating the area of the world you would be sailing into next. Not that I ever had any trouble figuring this out, but now there is no doubt where you are.
I was extremely pleased with these upgrades and I'm glad Disney is changing California's version as well. Who knows, maybe Disney World will be next"¦
We were told that there were 38 Disney characters throughout the attraction. I think we found them all, but it took riding the attraction four times. Here are some pictures.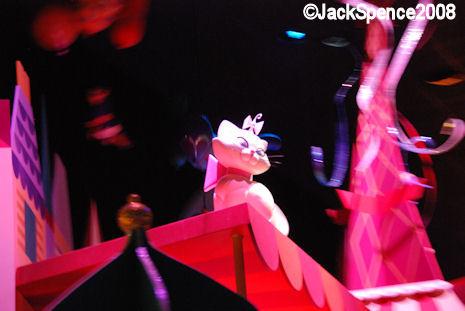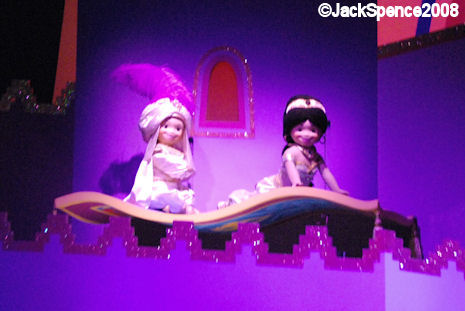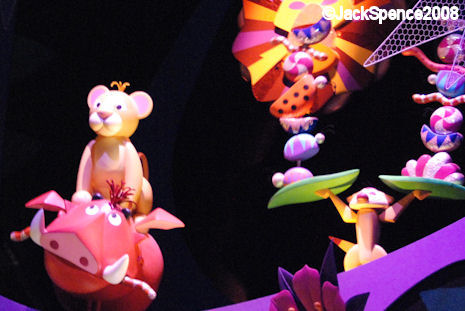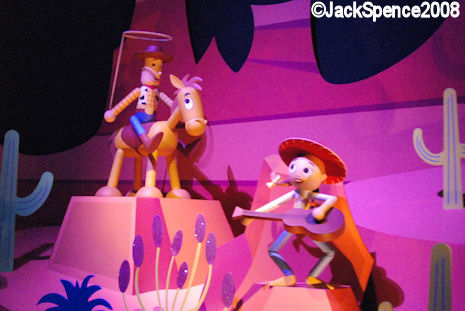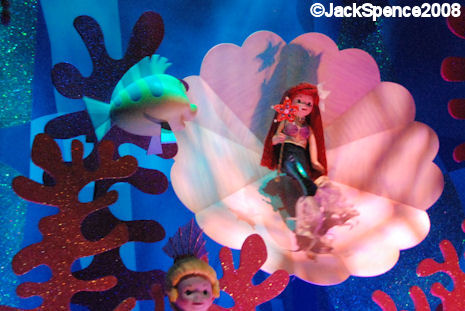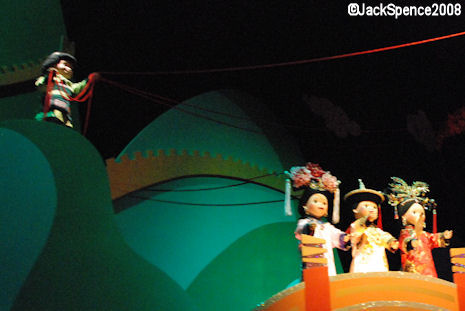 Read my entire Hong Kong Disneyland Blog
Overview Hong Kong Disneyland and Main Street
Hong Kong Disneyland Adventureland Part 1
Hong Kong Disneyland Adventureland Part 2
Hong Kong Disneyland The Hub and Fantasyland
Hong Kong Disneyland Tomorrowland and Disney on Parade