I think it was just over a month ago that the idea of doing four parks in one day came up. It started out as an episode on the WDWTODAY podcast with me, Matt Hochberg, Len Testa, and Mike Newell tossing around ideas as to how we envisioned doing that kind of a challenge.
Then I decided to toss the challenge your way and give you some rules and regulations and guidelines as to how to make each park visit viable on that day.
Many of you, including Anita Answer, wrote to me and said you are accepting the challenge and even some of you told me of your escapades trying to do so.
Then I gave you my thoughts on how I would do this little challenge and some of you pointed out a mistake in my plans. I did not check to see if Kali River Rapids was open during Extra Magic Morning Hours at the Animal Kingdom and it is not so you would not be able to do that attraction until later in the morning"¦ some have said it doesn't open until 9:30.
The solution is to switch and do Kali River Rapids as your third attraction.
Anyway, all this talk about doing four parks in one day got us to thinking about doing it and just over a week ago about 14 of us started out to do just that"¦ visit all four parks and do at least three attractions in each park.
This is how it went:
Park #1: Disney's Animal Kingdom
We got to DAK 15 minutes before the gates opened. When the turnstiles opened we immediately headed to just in front of Discovery Island and waited for the rope to drop.
We immediately headed to Expedition Everest and got FastPasses for that attraction. We then went to Dinosaur to open that ride.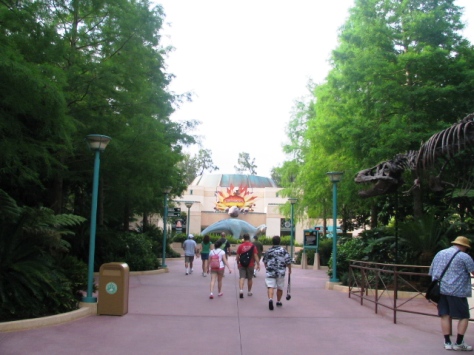 Oh no"¦ problems. While waiting in the queue we noticed the attraction seemed to be having troubles starting up"¦ tick tock.
We finally boarded our Time Rover sometime around 9:25. Our trek had started. There was one point during the attraction in which the ride slowed down for about a minute… but it quickly started up again.
Here we are.
From there we went to Kilimanjaro Safaris"¦no FastPass but it didn't really matter as the crowd level was not too bad.
We loaded onto our vehicle about 10:00. Then everything seemed to slow down. This attraction seemed to take forever to finish. We did not get off our vehicle until 10:30 and it was off to Everest.
Our FastPasses came in handy here and there was a little excitement too. As we waited to board we noticed several members of the Dream Squad mulling around the dock where guests get off the train. Was someone about to win a dream? Was it someone from our train? Was it to be one of us?
Uhhhhh…..no!
We got off our train at 10:30 and saw that the Dream Squad had awarded some dreams (FastPasses) to a family on the train ahead of us. Well, if one of us HAD received a dream in the form of DAK FastPasses for that day we couldn't use them because we were done with that park and headed off to park number two — Disney's Hollywood Studios.
It was 11:00 A.M.
Park #2: Disney's Hollywood Studios
We headed straight for Sunset Blvd. and noticed that the Twilight Zone Tower of Terror was virtually empty. The wait time said "13 minutes" but that really means no wait at all.
We managed to all get on the same elevator. It was 11:30.
We needed to do the Tower before considering lunch.
Lunch was quick"¦ a bite to eat on Sunset Blvd. and then it was off to either the Great Movie Ride or Star Tours. We took a chance and did The Great Movie Ride first.
We were on our vehicle at around 12:30 P.M. This park had been kind to us to this point. We think that the reason for the short lines was that a lot of people, at least Annual Passholders and Disney Vacation Club Members, were at the Toy Story Mania preview.
After TGMR we rushed over to Star Tours"¦ again we walked right on. The time was 1:00 P.M.
After that attraction we headed for the exit and jumped on the tram to the parking lot. I got into my rental car around 1:30 P.M.
We had completed half of the challenge in about 4 ½ hours and things were looking good.