Warning, there will be spoilers in this article.
Adventureland takes up the entire west side of Hong Kong Disneyland. There is no Frontierland here and to my eye, no place to put one. In their desperation to inflate the number of attractions in the park, Disney claims that there are five in Adventureland, but to my count, there are only three. I'll tackle these one at a time.
The first exaggeration of an attraction is the "Liki Tikis." The guide map says, "Sway to the beat of jungle rhythms pounded out by these 'leaky' tiki poles"
These tikis are simply a redesign of the tikis that stand in the Magic Kingdom's Adventureland — and they aren't considered an attraction in Orlando, simply a bit of atmosphere. But in Hong Kong they're considered an attraction.
This area also has some drums where children can beat out a tune and a nice view of the Jungle River Cruise attraction. This is a pleasant spot to sit and relax, but could hardly be called an attraction.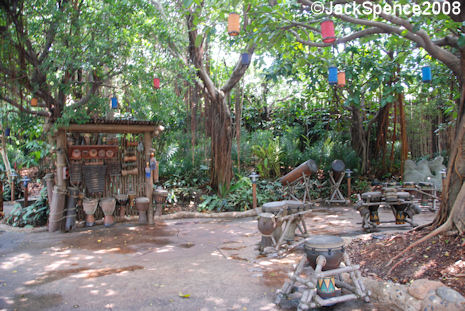 The Jungle River Cruise is an interesting reworking of a perennial favorite.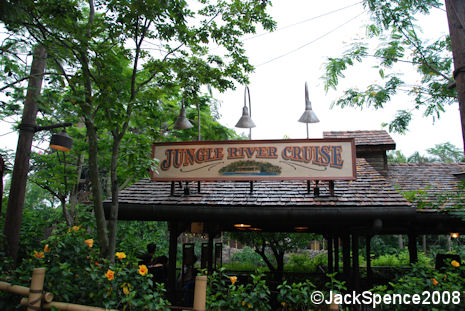 Picture Tom Sawyer Island in the Magic Kingdom. Now picture the Jungle Cruise boats circling this island, except with a tropical theme. There you have it – a new Jungle Cruise ride.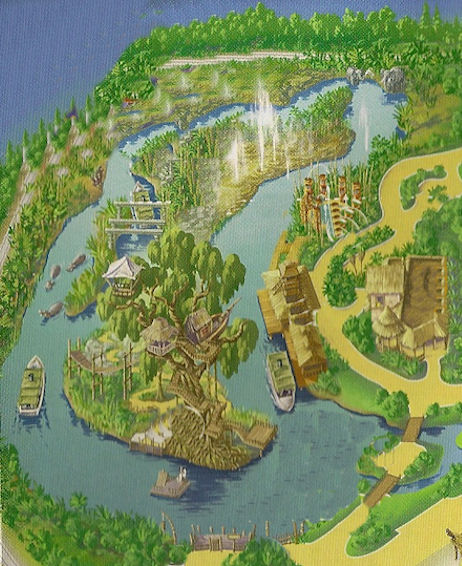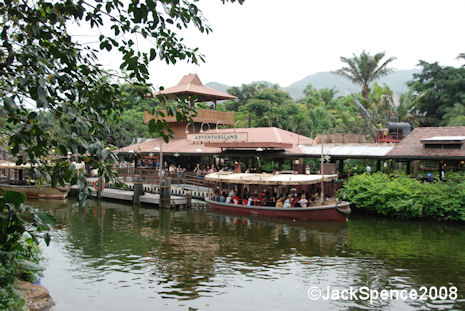 Language also plays a part in this attraction. There are three lines for boarding, one for speakers of Mandarin, one for Cantonese, and one for English.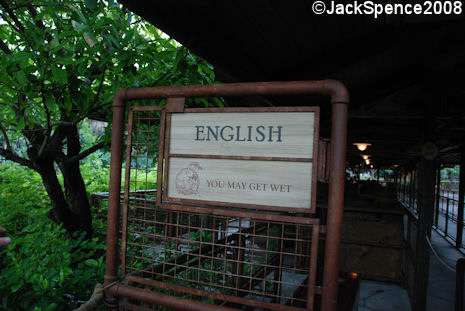 A sign states that one line may look longer than another, but they all move at the same speed. For the most part, this is true. If the queue for a particular language (say English) starts to get longer than the others, they simply assign an English-speaking skipper to the next couple of boats until the lines even out.
I rode the Jungle River Cruise three times and had three different experiences, all influenced by how well my skipper spoke English. In one case, my skipper's accent was heavy and it was difficult to understand much of what he said. On another trip, the skipper spoke flawless English and he understood the jokes he was to tell and communicated them well. However, in every case, I had an enjoyable experience no matter how good or bad the skipper's language skills were.
The Jungle River Cruise has many of the same props and scenes as its American counterparts. The notable exception is that Schweitzer Falls and the indoor temple are missing.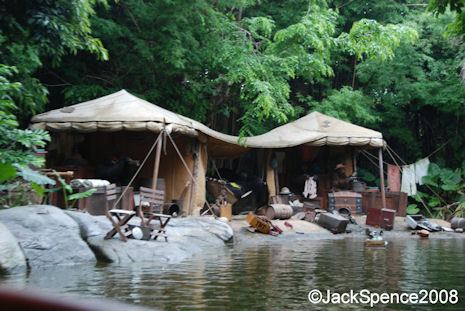 The Jungle River Cruise does have a finale that our Jungle Cruise does not.
Spoiler ahead.
The boat navigates down a narrow passageway when all of a sudden, our route is blocked by an erupting geyser.
Just in the nick of time, we make a sudden turn to the right and are confronted with another geyser blocking our path and an evil-looking, monster-like rock formation. Smoke and steam start to spew from the crevices and then flames explode from the rock's mouth. Just when you think all is lost, we escape in the nick of time. Whew.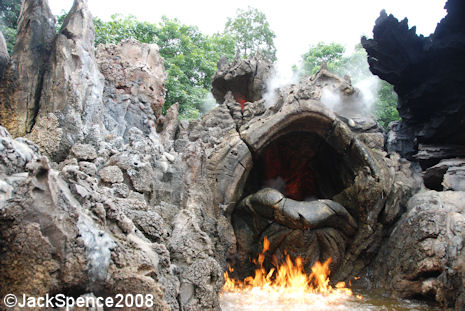 Another difference with this Jungle Cruise is that you get wet. Those elephants that just miss you in the American versions are a little more devilish here and seem to hit their mark. Don't worry, it's only a sprinkle.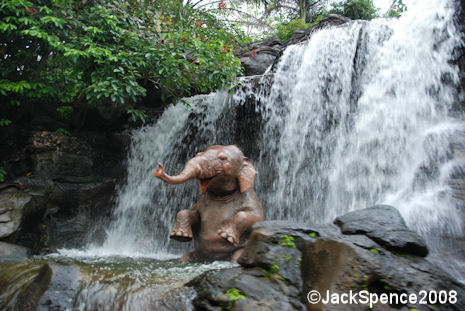 Personally, I prefer the American versions of this attraction to Hong Kong's. But this is strictly subjective. I know others who feel that Hong Kong has made some nice upgrades, enough to make it better than ours.
Next I'll talk more about Adventureland.
Read my entire Hong Kong Disneyland Blog
Overview Hong Kong Disneyland and Main Street
Hong Kong Disneyland Adventureland Part 1
Hong Kong Disneyland Adventureland Part 2
Hong Kong Disneyland The Hub and Fantasyland
Hong Kong Disneyland Tomorrowland and Disney on Parade