Handheld Captioning Device
Walt Disney World offers several different services for those with hearing impairments, one of which is the Handheld Captioning device.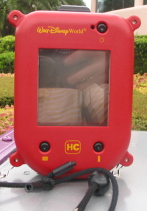 This portable captioning system uses a wireless handheld receiver to display text in locations where fixed captioning systems are impractical, such as moving attractions. Receivers are available through Guest Relations and require a $100 refundable deposit (must return item on the same day for refund).
Note that not all portions of an attraction may be captioned.
**********
Handheld Captioning is available at:
MAGIC KINGDOM
Castle Forecourt Stage – Dream Along wtih Mickey
Buzz Lightyear's Space Ranger Spin
"it's a small world"
Jungle Cruise
"Peter Pan's Flight"
Pirates of the Caribbean
Snow White's Scary Adventures
Stitch's Great Escape
"The Enchanted Tiki Room Under New Management"
The Haunted Mansion
The Many Adventures of Winnie the Pooh
Tomorrowland® Transit Authority
Walt Disney World Railroad
Epcot
Universe of Energy: "Ellen's Energy Adventure"
Imagination: Journey into Imagination with Figment
Mexico: Gran Fiesta Tour
The Land: Living with the Land
Norway: Maelstrom (ride portion only)
Spaceship Earth
Test Track (Briefing Room only)
The Seas with Nemo and Friends
Disney's Hollywood Studios
Beauty and the Beast
Backlot Tour
The Great Movie Ride
Playhouse Disney-Live on Stage
Walt Disney: One Man's Dream
Disney's Animal Kingdom
Kilimanjaro Safaris
Lion King Theater: "Festival of the Lion King"
Conservation Station: Rafiki's Planet Watch Presentation
Wildlife Express
READER EXPERIENCES
The handheld captioning device is much like the old portable cassette players in size and weight, the screen is an LED readout, similar to PalmPilots. It comes with a thin neck strap that got heavy after a while so be prepared to carry it in a backpack.
In Epcot, the device seemed to relay about 80% of the actual narration. Occasionally the device is not in sync with your exact location in the attraction.