Block Party Bash Disney's Hollywood Studios Archives
Block Party Bash officially began March 14, 2008.
Its final performance was January 1, 2011.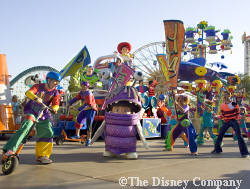 Guests Can Join Disney•Pixar Characters in Wild 'Block Party' as Rockin' Bash Comes to Disney's Hollywood Studios
LAKE BUENA VISTA, Florida. – "The Year of A Million Dreams" rocks on at Walt Disney World Resort this spring with "Block Party Bash," a funtastic parade featuring favorite Disney•Pixar characters. Currently scheduled for a mid-March opening at Disney's Hollywood Studios, the high-energy extravaganza cranks up the music and excitement to the max, putting guests in the middle of the wildest Disney parade ever – a non-stop musical block party that doubles as a fun-filled interactive street spectacular.
The famous Green Army Men lead the procession of favorite Disney-Pixar characters that entice guests to dance, play and party as the "bash" makes its way down Hollywood Boulevard.
In addition to an eclectic mix of fun-inducing retro tunes, "Block Party Bash" includes appearances by some of the most popular characters including Woody and Buzz Lightyear from "Toy Story," Mike and Sully from "Monsters, Inc." and Flik and Atta from "A Bug's Life."
"Guests won't be able to resist the show's energetic performers, lovable characters, familiar pop tunes and never-ending surprises," said Robin Trowbridge, show director. "What a fantastic opportunity to share this incredible show with so many guests. I have no doubts that this show with all its fun, energy and surprises will knock the socks off of everyone visiting Disney's Hollywood Studios."
The "block party" transforms into major choreographed sections that immerse guests into a feeling of playing with the "toys," screaming with the "monsters" and dancing with the "bugs." The performance is bursting with dancers, acrobats, jumping stilts and a "mini" caravan of electric scooters that combine to fill the performance area with an awe-inspiring array of visuals and sound sensations.
The elaborate set pieces for this interactive parade/show include large floats themed to "Toy Story," "Monsters, Inc." and "A Bug's Life," trampoline units (invented specifically for "Block Party Bash"), and "tweeners" (smaller floats that look like stacks of toy blocks that double as dance stages, decorative prop boxes and sources of amazing special effects). These rolling stages camouflage impressive telescoping towers that rise during the finale of the extravaganza revealing Mr. and Mrs. Incredible and Frozone from the Disney presentation of a Pixar Film, "The Incredibles."
"Block Party Bash" marks a continuation of new interactive entertainment created to premiere during "The Year of a Million Dreams" celebration, which continues through Dec. 31, 2008, at Walt Disney World Resort in Florida and Disneyland Resort in California.
Disney California Adventure's Block Party Bash