Are you planning to drive to Disney World, or to rent a car for your trip, perhaps? If so, I'm sure you're already considering things like driving time and fueling up along the way. But there is another important factor to keep in mind when it comes to driving your vehicle around Disney World Resort…
… and that's PARKING! We're here to help with a Complete Guide to Parking at Disney World, from the theme parks to Disney Springs and beyond!
Ready? Here we go!
Parking at Disney World Theme Parks
There's nothing quite like rolling over to the Disney World theme parks throughout your vacation, knowing there's a day of fun and magic ahead, no matter whether you're visiting Magic Kingdom, EPCOT, Disney's Hollywood Studios or Disney's Animal Kingdom!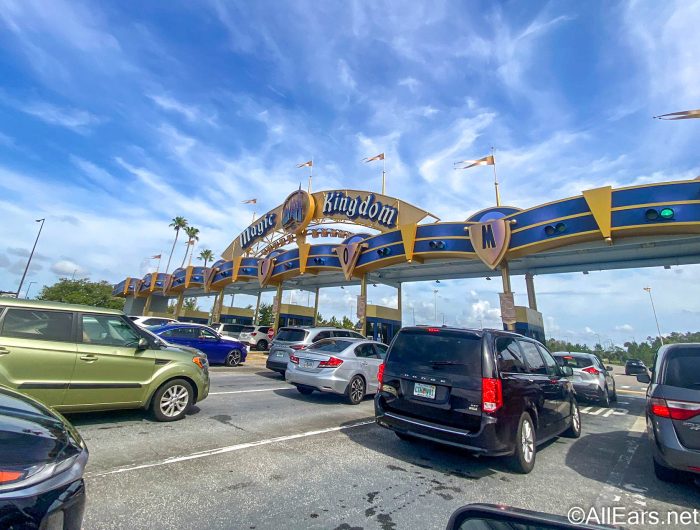 But alas, drivers who are NOT staying at a Disney World Resort hotel should also be aware of the following parking fees ahead of their arrival…
Standard theme park parking costs $25.00 per day for a car or motorcycle. The good news is that, if you're planning to Park Hop (to visit more than one park on the same day), you only need to pay one fee for a parking pass that is good all day at all four parks!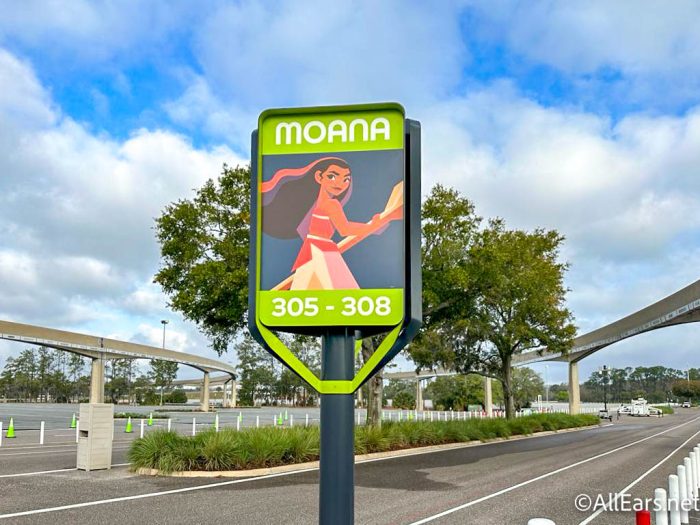 Guests may also opt for preferred parking, which grants access to parking lots located closer to the theme park entrances than the standard parking lots. The price for preferred parking for a car or motorcycle is $45.00 to $50.00 per day (based on seasonal pricing and including tax).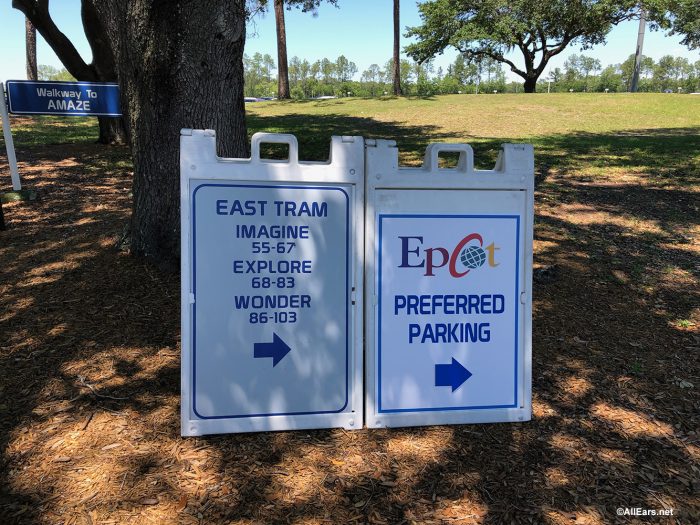 The base parking price differs, though, for Oversized Vehicles — which include shuttles, limos, camper trailers, RVs, buses, or tractor trailers — to the tune of $30.00 per day.
A nice perk of staying at a Disney World Resort hotel is that standard parking at the theme parks is included! Theme park parking is also included for Disney World Annual Passholders (no matter the Annual Pass tier).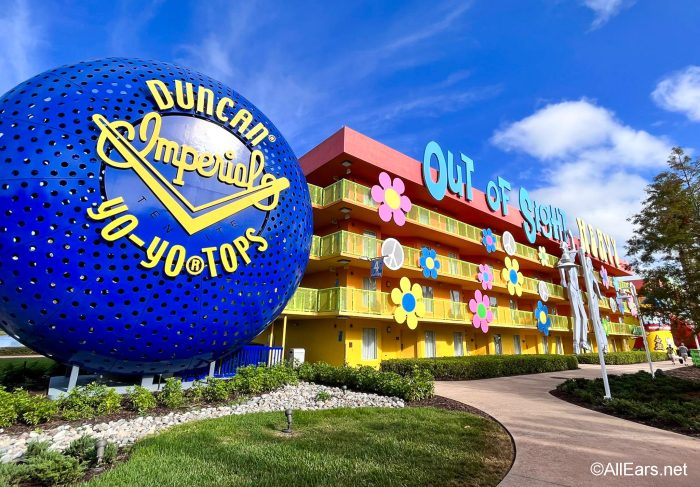 If parking is included for you, you can still opt for preferred parking if you… well, if you prefer 😉 . You will simply inform the cast member parking attendant and pay the difference between standard parking and preferred parking (which is $20.00 to $25.00 per day, depending on the season).
Parking at Disney World Resort Hotels
It was a GREAT day for many Disney World fans when it was announced that complimentary overnight Self-Parking would be returning to Disney World Resort hotels!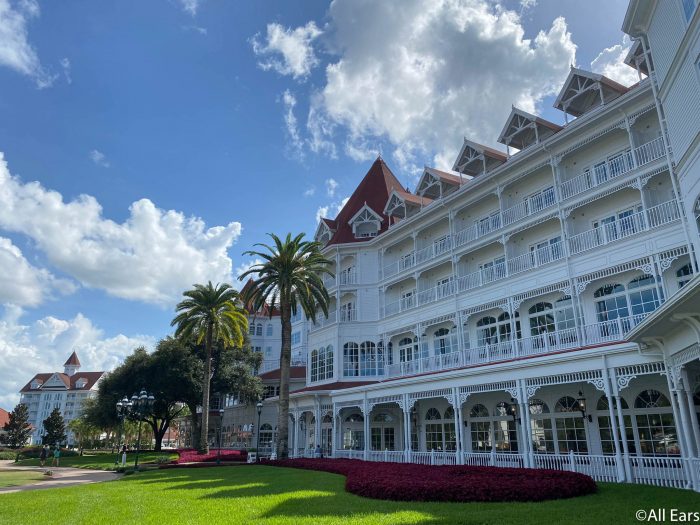 This perk returned for all Resort guests on January 10, 2023. (From March 2018 until January 10th of this year, guests had a pay a fee for parking at Resort hotels.)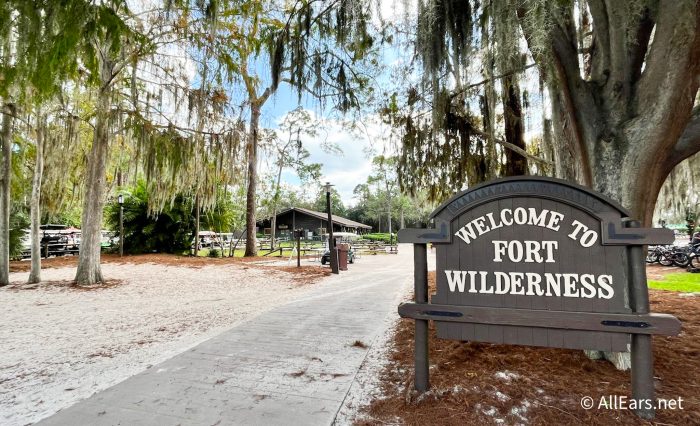 This perk extends to the happy campers staying at Disney's Fort Wilderness Resort and Campground, where each campsite has parking space for one vehicle. It also extends to Disney Vacation Club Members, no matter whether they are using Vacation Points or not to stay at a hotel or Vacation Club Villa.
Not staying overnight in a Disney World Resort hotel? Then you are considered a "day guest" when it comes to the Resorts. Self-parking is also free for day guests who are dining at the Resort hotels, shopping, or enjoying other recreation.
That said, should you hope to visit a Resort as a day guest over an especially busy time (such as a holiday weekend), it's best to have an Advance Dining Reservation for one of the hotel's Table Service restaurants. On days like Christmas (and even the days and seasons surrounding major holidays), parking may be restricted to guests with dining reservations only.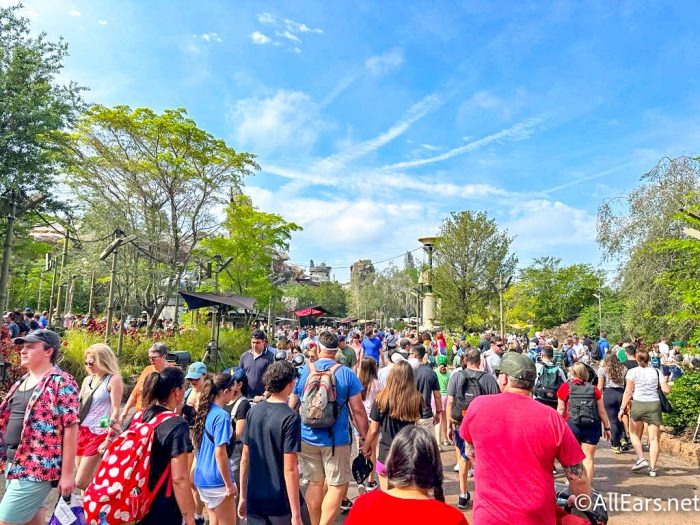 Deluxe and Deluxe Villa Resorts, and Disney's Coronado Springs Resort offer Valet Parking. If you're interested in valet service, you can ask the Security Host when you pull up to the Resort.
The fee for valet parking at the hotels is $33 per night, with sales tax included.
Parking at Disney Springs and Additional Disney World Destinations
When it's time to grab a great bite or partake in a little retail therapy in Disney Springs, understanding parking is of utmost importance, as this spot is HOPPIN'… especially on evenings and weekends!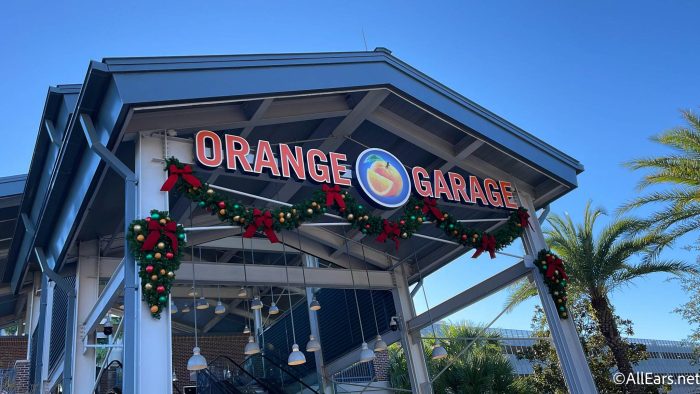 Fortunately, standard self-parking is also free at Disney Springs! Self-parking is available at most lots (Lemon in Marketplace, Mango and Watermelon in West Side, and Strawberry beyond) and in the Lime, Grapefruit, and Orange parking garages.
Valet parking is an option at Disney Springs for a flat rate of $20, including sales tax.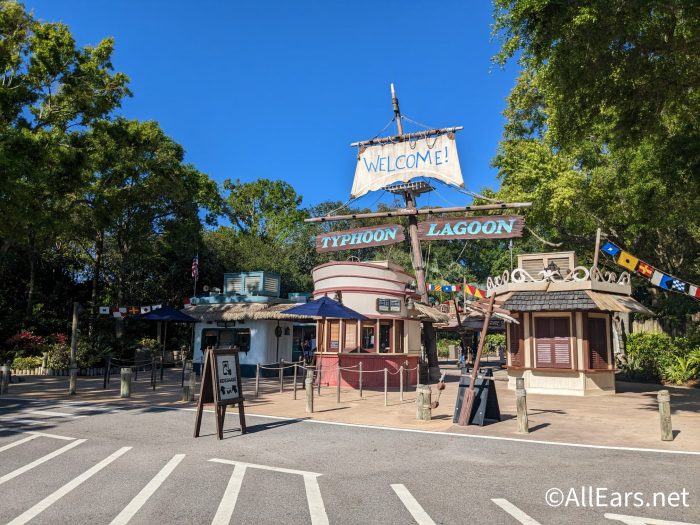 And guess what? Standard self-parking is also free at Disney's ESPN Wide World of Sports as well as both of Disney World's Water Parks: Typhoon Lagoon and Blizzard Beach.
Electric Vehicle Charging Stations
Driving an electric car to Disney World? Then you'll certainly want to know about the ChargePoint Electric Vehicle Charging Stations around the property.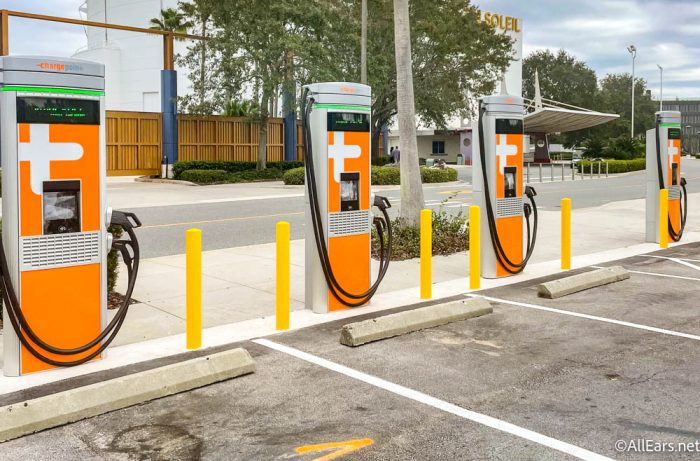 Guests can use either a credit card or a pre-ordered ChargePoint card (which can be purchased through chargepoint.com) to pay for station access. It costs  $0.35 per kilowatt hour (and there is a minimum service amount of $1.50). Once your car's battery is completely charged, the charging process will stop. (Disney's website shares that "ChargePoint will 'ping' the owners to alert them when their car is ready.")
Now let's talk LOCATIONS: You'll be covered with options at all four theme parks (space allowing, of course), and at three Resorts, which we'll cover for you here… but first, let's talk theme parks!
Magic Kingdom park has 5 ChargePoint spaces, including 1 at the front of the Medical Parking Lot and 4 at the front of the Zurg Parking Lot (he's on the Villains side, naturally). In EPCOT, there are four spaces available at the front of the Hei Hei Parking Lot.
Disney's Animal Kingdom also has four ChargePoint spaces in the Medical Parking Lot. The grand total is also four at Disney's Hollywood Studios which can be found at the front of the Mickey Parking Lot.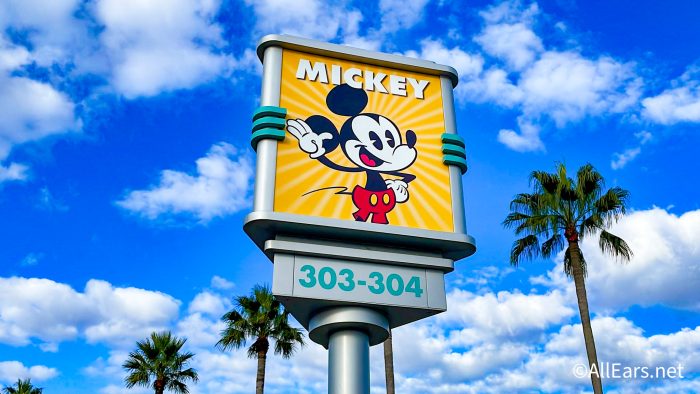 BTW, if the names of those Parking Lots don't mean anything to you just yet, no worries! A parking attendant Cast Member can give you directions to the specific lots when you ask.
We also want to stress that the ChargePoint spaces are first-come, first-served.
The Resort hotels equipped with ChargePoint spaces are Disney's Coronado Springs Resort (with 6 spaces), Disney's Riviera Resort (with 4 spaces) and Disney's Wilderness Lodge (with 2 spaces).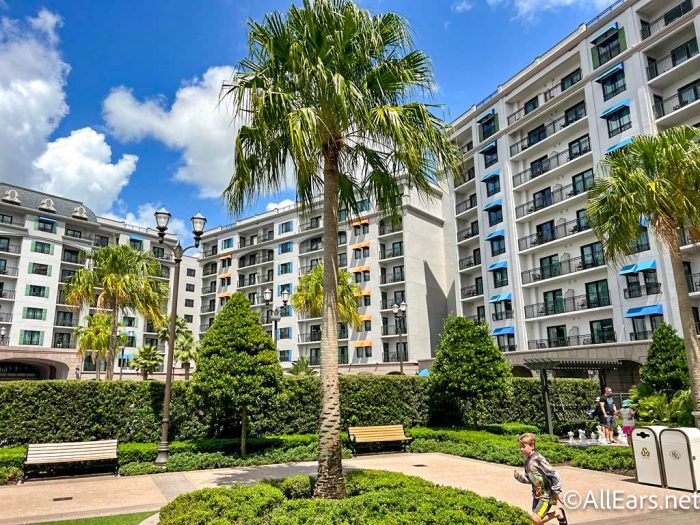 Thirteen ChargePoint stations are available at Disney Springs, with 3 on the 5th floor of the Orange Garage, 3 on the 5th floor of the Lime Garage, 3 on the 3rd floor of the Grapefruit Garage and 4 in the Watermelon Lot near the Cirque du Soleil theater.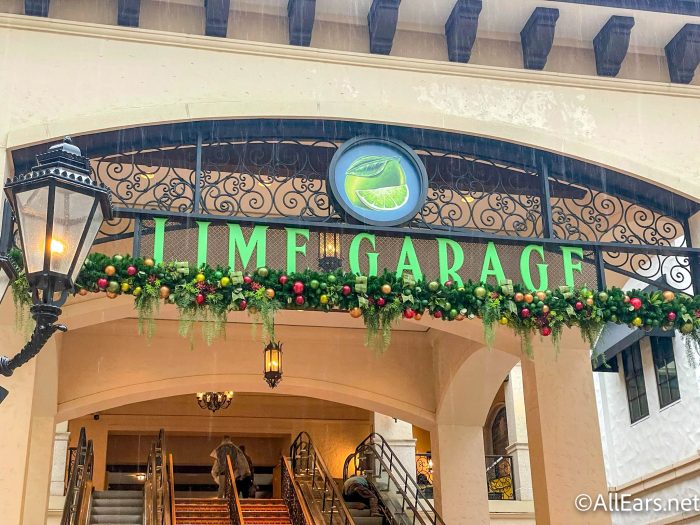 The 4 spots near Cirque du Soleil are available for $0.40 per kilowatt hour,  with a 20-minute grace period. Once the grace period ends, the guest will be charged $0.30 per minute (until they vacate the spot).
So, there you have it! Now that you're parked, they only thing left to do is HAVE FUN IN DISNEY WORLD!