The 2022 Food & Wine Festival is well underway in EPCOT!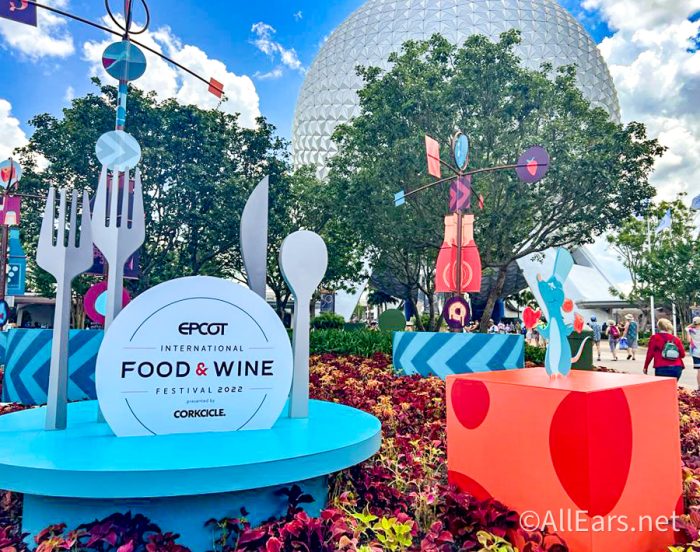 There are a lot of tasty eats and drinks to choose from — and if you're not careful you can easily spend hundreds of dollars. But not everyone has $100 to spend at one EPCOT festival, so we've got you covered if your budget is $55 or less!
If you only have a small budget for EPCOT's Food & Wine Festival, you might feel limited by your options, but with many dishes and drinks coming in at around $5, you can easily order up to 10 different items! So what should you prioritize?
Pick Filling Dishes
If your festival budget is on the lower end, stick to filling foods! Don't go for teeny dishes or desserts that will leave you hungry. Some of our favorite filling dishes from this year include the Impossible Meatballs at the Earth Eats Booth for $5.75, made with plant-based IMPOSSIBLE "meatballs" with herbed polenta, rustic puttanesca sauce, and basil pesto.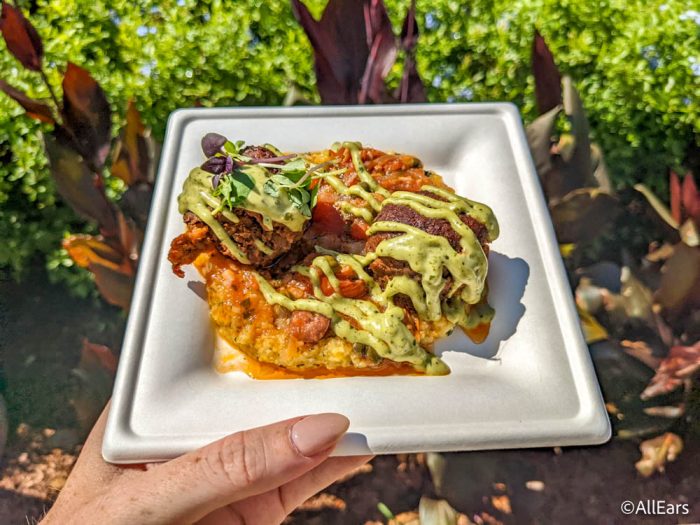 The Warm Raclette Swiss Cheese from the Alps Booth is $5.50, and it comes with alpine ham, baby potatoes, and cornichons on a baguette.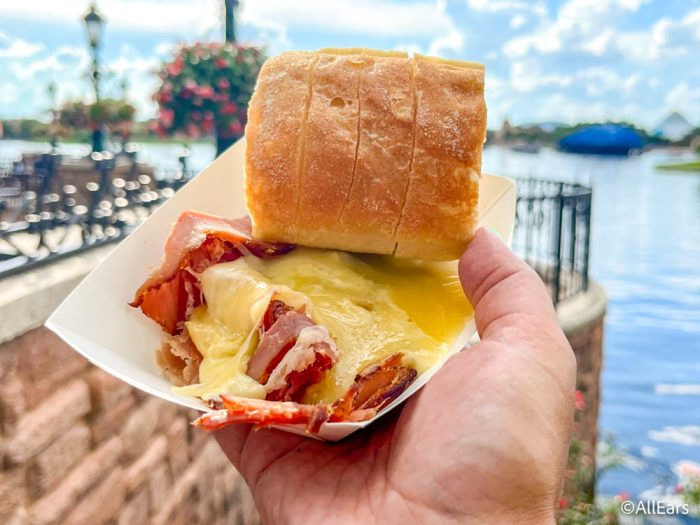 Braised Beef Poutine is a returning item to Refreshment Port for $9.50. It's on the pricier side but it comes with a hefty helping of French fries, Boursin Garlic & Fine Herbs cheese sauce, cheese curds, and gherkin relish.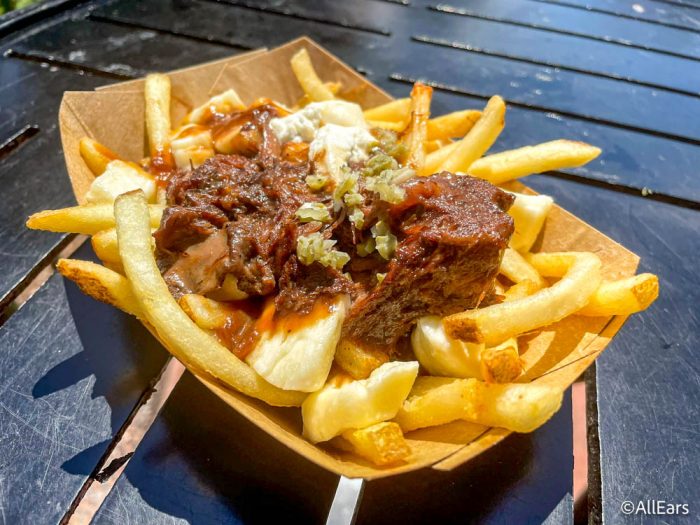 And the Piña Colada Mini Funnel Cake from the Funnel Cake Stand is a big dessert for $9.50, coming with funnel cake topped with piña colada ice cream, whipped cream, toasted coconut, and maraschino cherry drizzled with coconut-rum sauce.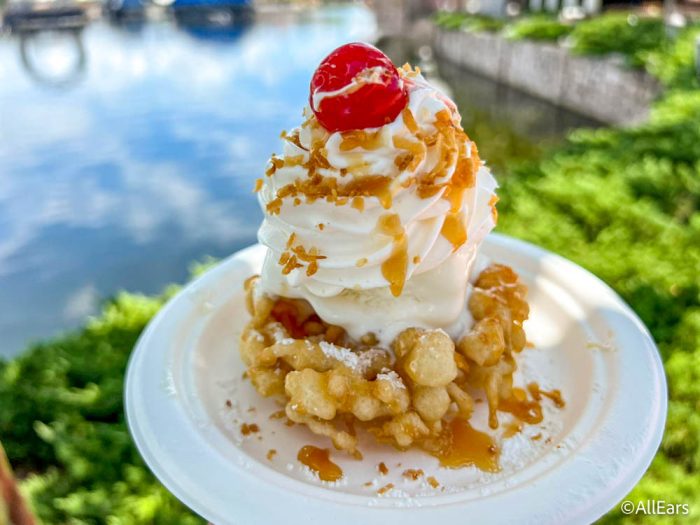 If you were to purchase all four of these eats, your budget would come in under $50, and you would almost certainly walk away from the festival feeling full.
Total: $30.25
Emile's Fromage Montage
Emile's Fromage Montage is a Cheese Crawl that lets you choose from 10 different cheesy dishes listed in your EPCOT Festival Passport. Everytime you purchase a dish, you get a stamp in your passport, and you need 5 stamps to get a special prize from the Shimmering Sips Booth — Strawberry Cheesecake Soft-Serve!
When you have 10 different cheesy options to choose from, you can prioritize the cheapest dishes to stay under budget — plus you get a FREE dessert! The Griddled Cheese from the Greece Booth is one of our favorite snacks for $4.75. Made with a slice of cheese topped with pistachios and honey and coming in under $5, this one is a must-try.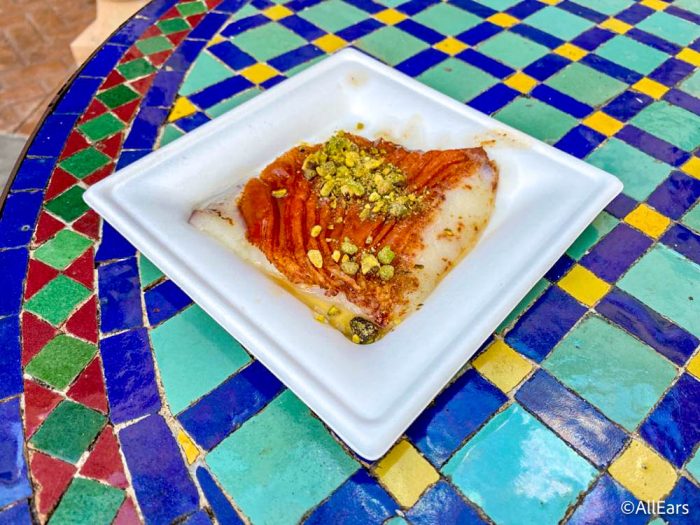 Brazilian cheese bread known as Pão de Queijo from the Brazil Booth is only $4.75, and trust us when we say that you can't go wrong with soft cheesy bread.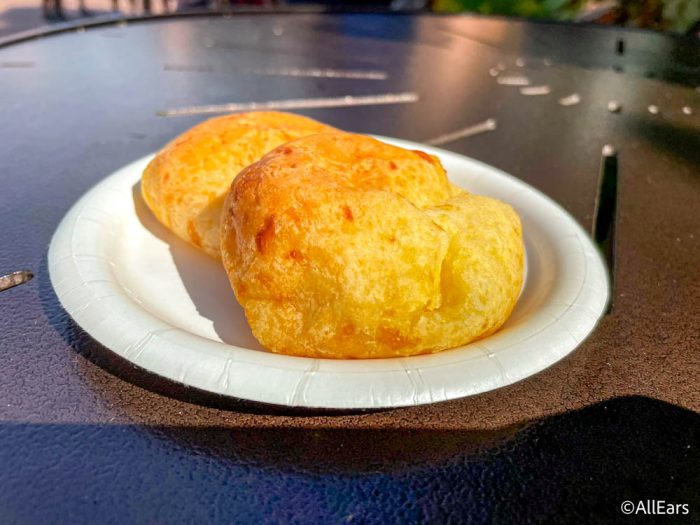 Crispy Barbecued Pork Rinds from The Swanky Saucy Swine gets you a nice portion of crunchy pork rinds and pimento cheese for $4.75.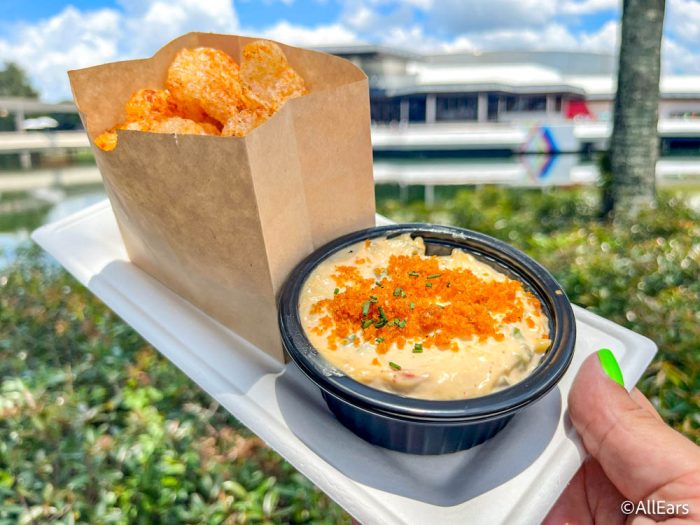 A classic EPCOT festival dish, Schinkennudeln, is available at the Germany Booth for $5.  It's a crowd pleaser made of pasta gratin with ham, onions, and cheese.
And Crispy Paneer from the India Booth costs just $5 for breaded cheese served with mango-curry ketchup.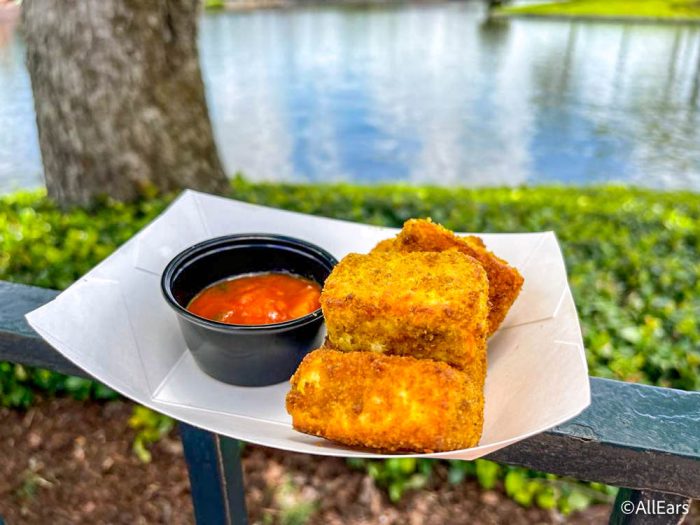 All five of these items will set you back just $24.25, and not only can get your dessert prize for free, you still have quite a bit of budget let to try a few other dishes!
Total: $24.25
Go For Flights
If you want to get a tasty adult beverage, you can order drink flights that allow you to try a variety of drinks (or eats) for less than it would cost to buy them all individually. The Mimosa Flight from Shimmering Sips is $14 for three different flavors, including a Tropical Mimosa, a Key Lime Mimosa, and a Blood Orange Mimosa.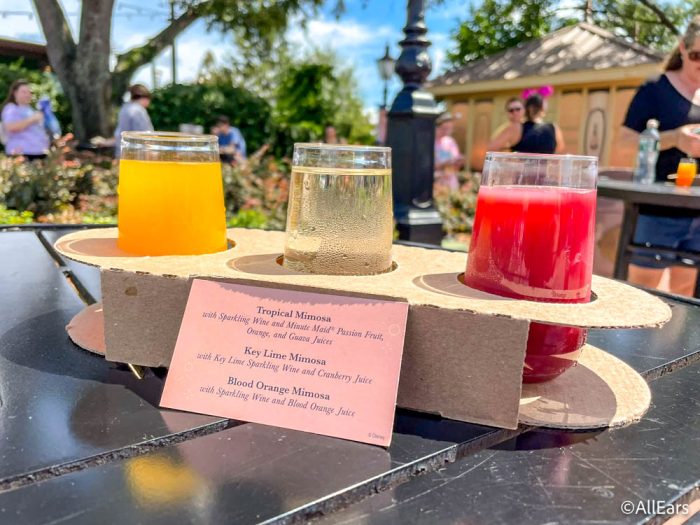 You can also find Cider and Beer flights at several different booths. This Cider Flight from Brew-Wing is $10 for three different ciders, and you can also get a Beer Flight from Brew-Wing for $10.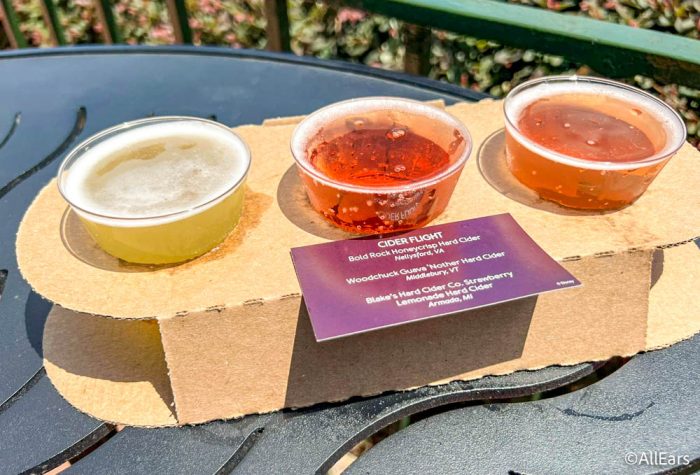 You can also get a food flight! This Fry Flight from The Fry Basket is $7.50 for three good portions of fries, including Sea Salt and Malt Vinegar Fries, Barbecued Bacon Fries, and Sweet Potato Casserole Fries.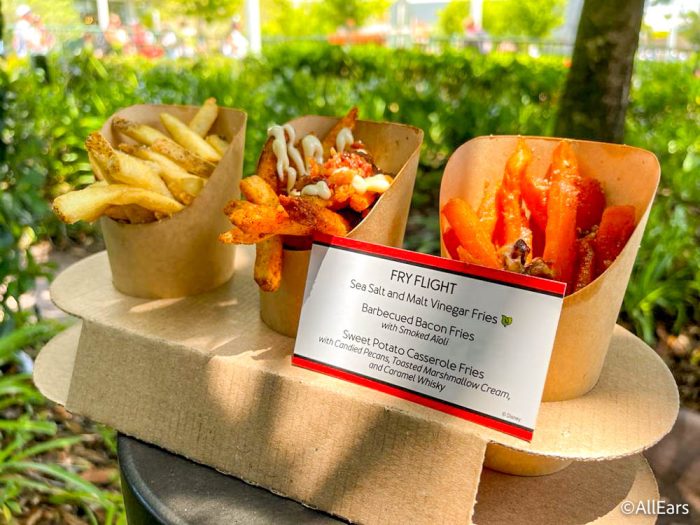 If you were to get the Mimosa Flight, a Beer Flight, a Cider Flight, and a Fry Flight, you're looking at a total of $41.50. That's 9 different flavors of drinks to try plus 3 different types of fries! Taking advantage of flights can be advantageous to your budget.
Total: $41.50
Choose Unique Dishes
The Canada Booth is one of our consistent favorites but you can also get bigger versions of their offerings at Le Cellier. If you're planning on a visit to Le Cellier during your visit, you can probably skip this booth.
Many eats at Food and Wine Festival are ONLY available at this festival, meaning you can't get them from any other restaurant in Disney World. Those might be the types of dishes you want to prioritize!
Skip Expensive Booths
The Italy Booth is a big draw for pasta lovers but the dishes are on the pricier side, coming in at $9 for both Gnocchi di Patate dishes and $8 for the Panna Cotta dessert.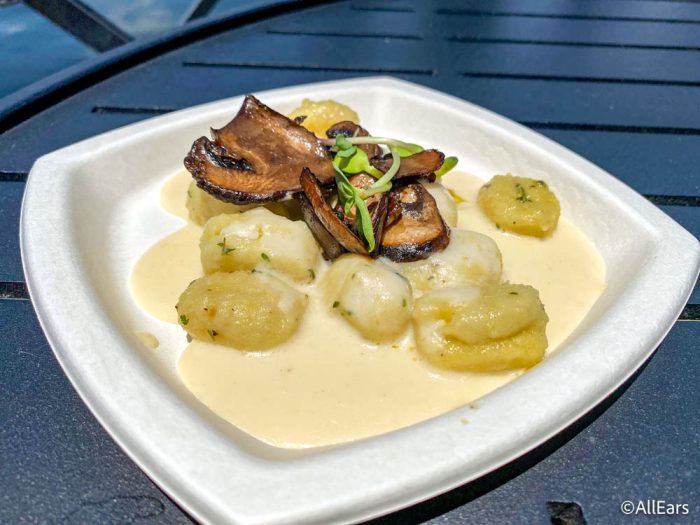 Stick with dishes around $5 to $6 to maximize your budget and also be able to sample more items. It's also not a bad idea to review festival menus and prices ahead of time so you can adjust your selections if you REALLY want to try one of the pricier dishes.
$55 Budget Example
If we were to set a $55 budget, here's what you could get without even going over budget! You can start with the Impossible Meatballs at the Earth Eats Booth for $5.75.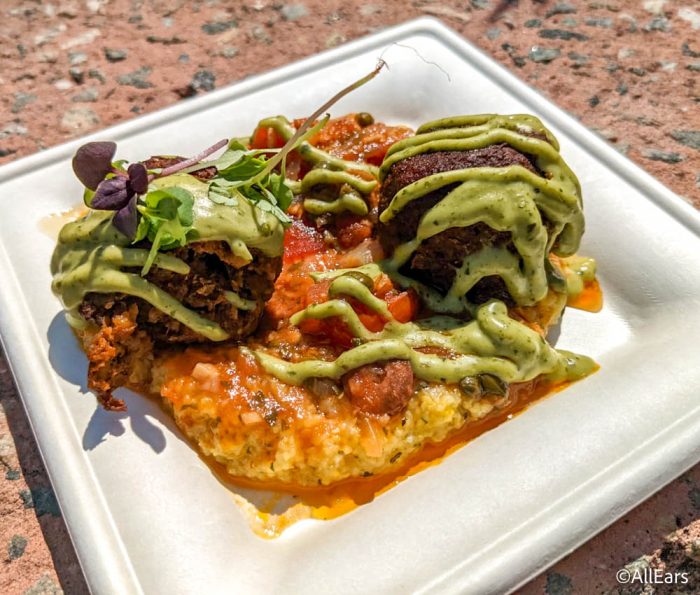 Get the Warm Raclette Swiss Cheese from the Alps Booth for $5.50.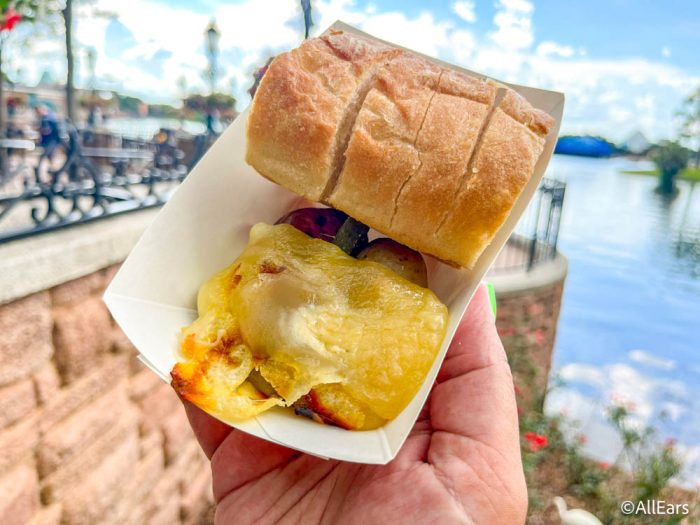 You can splurge a bit on the Braised Beef Poutine from Refreshment Port for $9.50.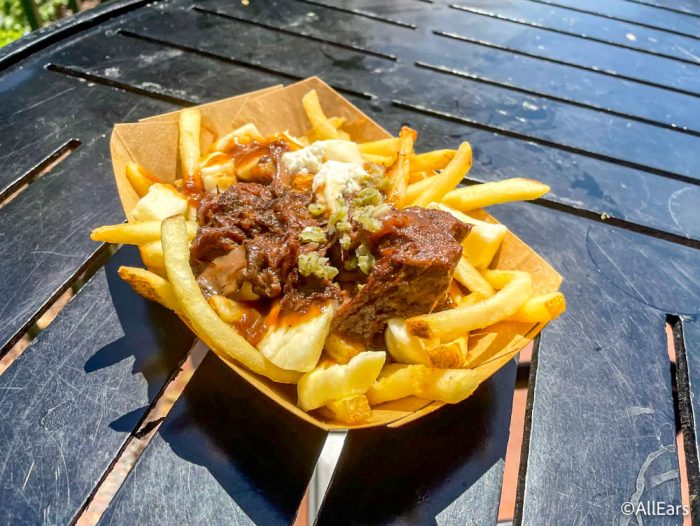 Get dessert by ordering the Piña Colada Mini Funnel Cake from the Funnel Cake Stand for $9.50.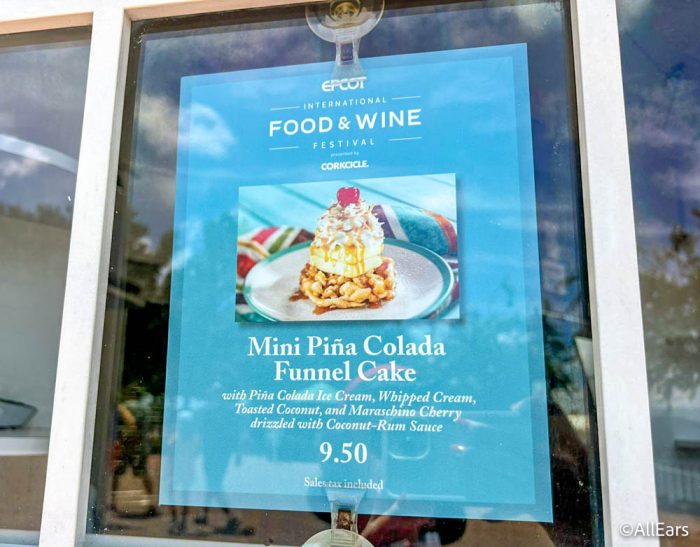 The Fry Flight from The Fry Basket would be a great snack for $7.50.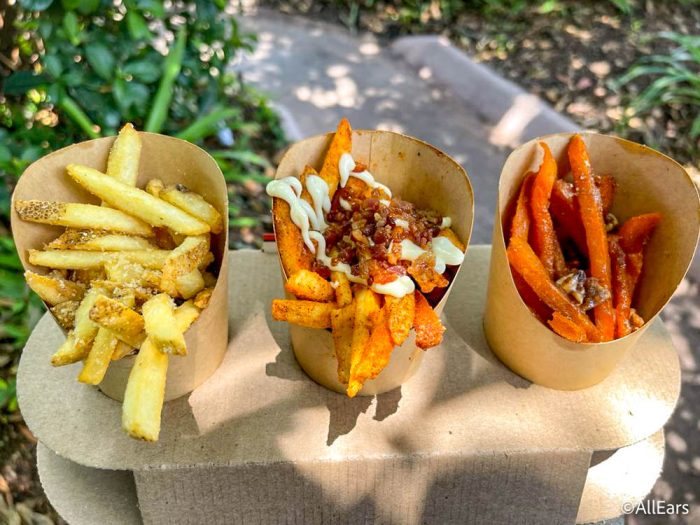 And wash down all your eats with the Mimosa Flight from Shimmering Sips for $14.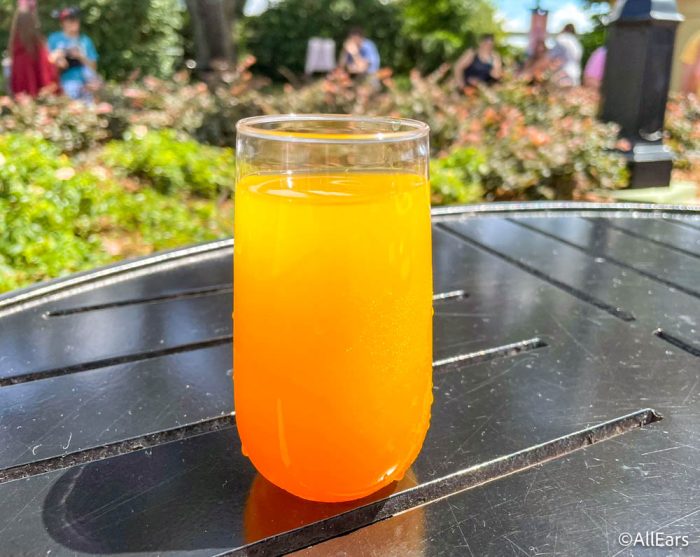 Altogether, you're looking at a total of $50.75, and if you plan out your foods you can get quite a bit of items! If you're worried about overspending, we recommend buying a gift card with your budget limit entered onto the card, and that way it's almost impossible to overspend.
Total: $50.75
The 2022 EPCOT Food & Wine Festival lasts until November 19th so you have some time to visit. Keep following AllEars for more Disney World festival tips and updates!
What's your favorite EPCOT Food and Wine dish? Tell us in the comments!