Hello from the 2022 EPCOT International Food & Wine Festival! This year's festival has all kinds of new and returning eats, and we're here to see which ones are the BEST. This festival also has the returning Cheese Crawl!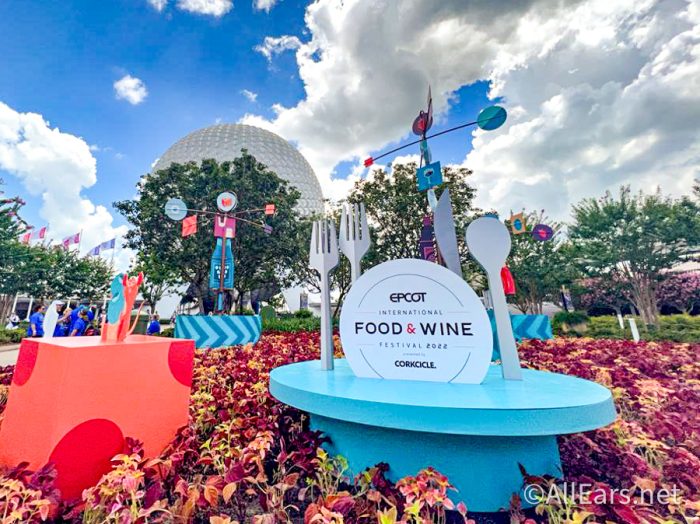 Not only can you eat lots of delicious cheese dishes at Food & Wine Festival, but you can actually be REWARDED for eating those cheesy snacks! But the 2022 Cheese Crawl looks a little bit different than crawls of years past — take a look here to find out how you can complete the crawl and win a free prize.
Emile's Fromage Montage — AKA the Cheese Crawl — is an activity that's part of the Food & Wine Festival. You can grab a free Festival Passport (you can usually find these near the EPCOT park entrances, or head to a Guest Relations location and request one there) and locate the correct page inside (labeled "Emile's Fromage Montage").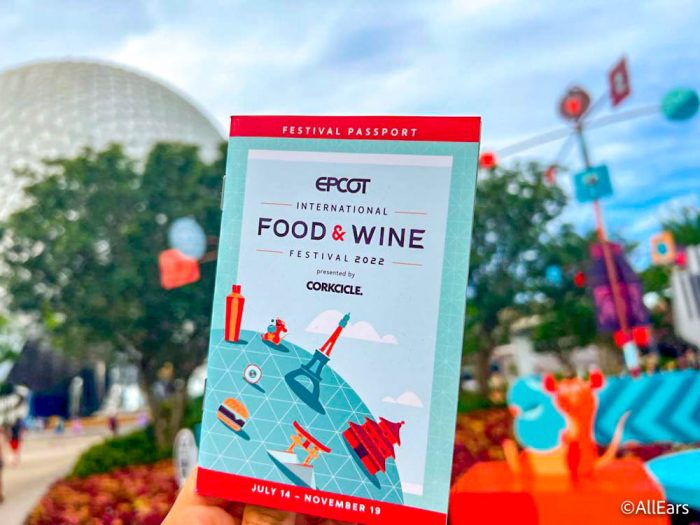 Then, you'll need to make your way around the festival and try out 5 cheese-filled dishes from the various food booths. At each booth, you'll also collect a stamp once you've purchased a cheesy dish. Then, when you've got all 5 stamps, you can head to the Shimmering Sips booth for a special prize!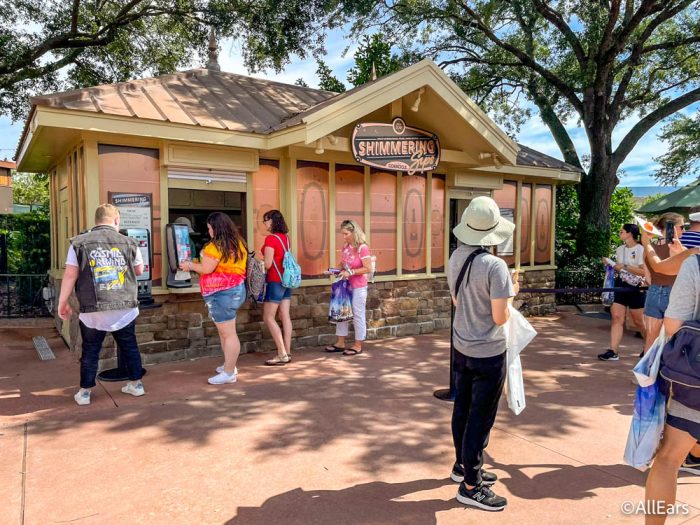 Previously, those 5 cheese-filled foods were pre-selected by Disney, and you had to try each one. But this year guests can choose any 5 of several featured snacks. There are 10 options total, but you only need to buy 5 snacks to complete the crawl and win the prize.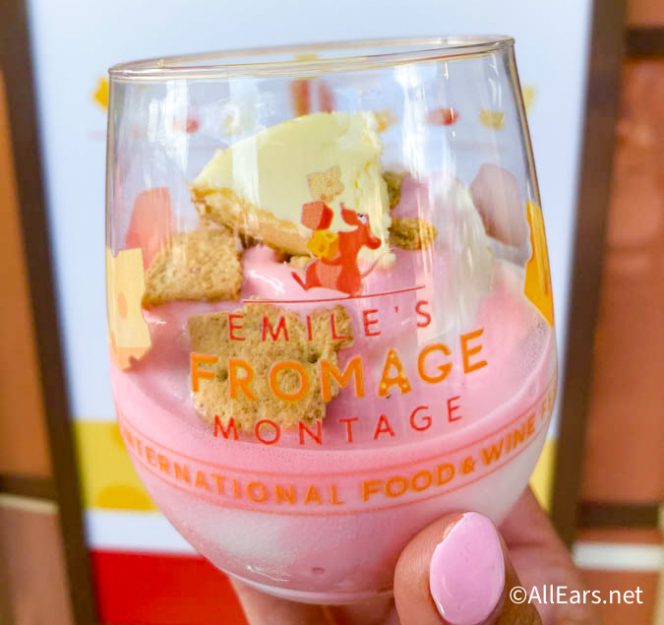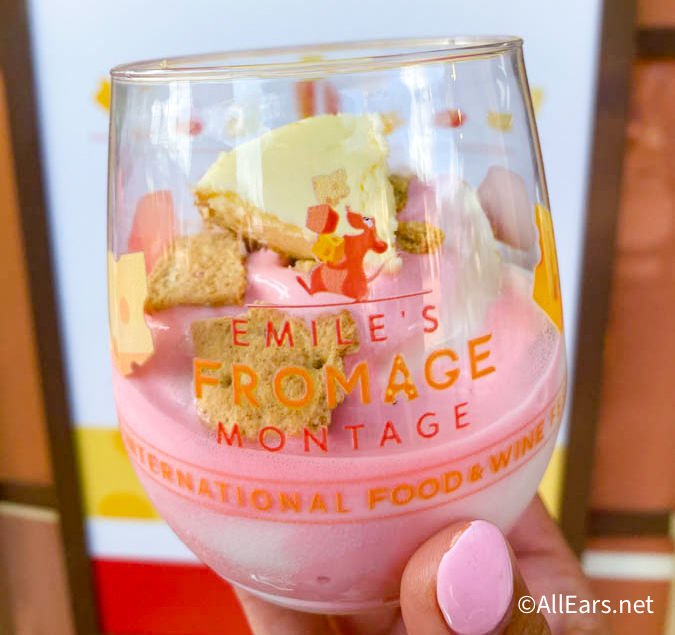 Here's a look at the options:
Crispy Barbecued Pork Rinds with Pimento Cheese (The Swanky Saucy Swine marketplace)
Smoked Corned Beef with Crispy Potatoes, Cheese Curds, Pickled Onions and Beer-Cheese Fondue (Flavors from Fire marketplace)
Crispy Paneer with Mango-Curry Ketchup (India marketplace) — $5
Schinkennudeln: Pasta Gratin with Ham, Onions and Cheese (Germany marketplace) — $5
Raclette — choose any of the 3 Raclette dishes (The Alps marketplace)
Griddled Cheese with Pistachios and Honey (Greece marketplace)
Pão de Queijo: Brazilian Cheese Bread (Brazil marketplace)
Canadian Cheddar and Bacon Soup served with a Pretzel Roll (Canada marketplace)
Passion Fruit Cheesecake with Toasted Macadamia Nuts — Available Beginning August 15 (Hawaiʻi marketplace)
Mac & Cheese — any of the mac & cheese dishes here  — Available Beginning August 15 (Mac and Eats marketplace)
Here's what we tried:
We got the Crispy Barbecued Pork Rinds with pimento cheese from the Swanky Saucy Swine,  and they are a returning item this year. They were good and had a bit of a kick to them!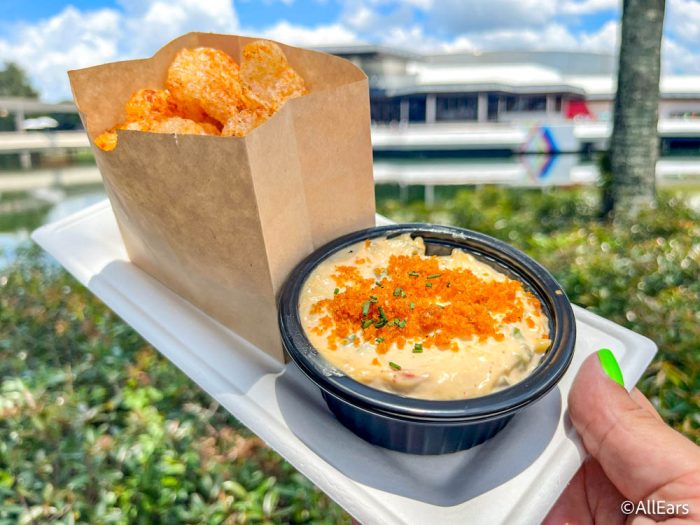 We also got the Smoked Corned Beef from Flavors from Fire, which is one of our favorite snacks at this festival!
The Crispy Paneer with Mango-Curry Ketchup from India is brand new to the festival this year.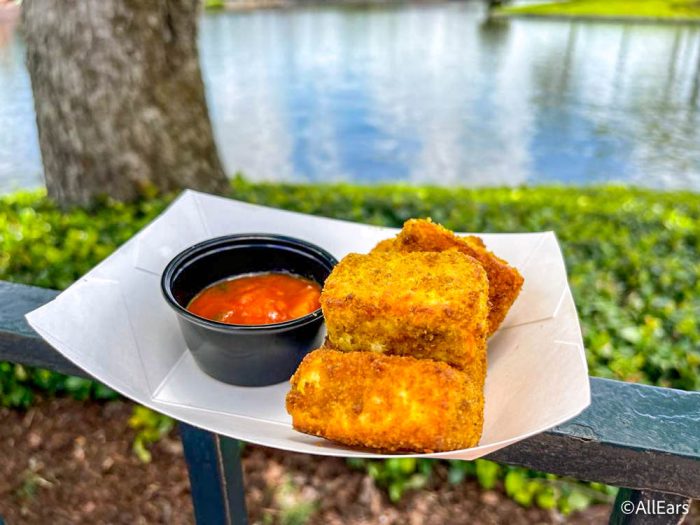 Also returning is the Schinkennudeln in Germany, which has been a popular dish at the festival in the past, and we are happy to confirm that it is still, in fact, delicious.
There are three Raclette choices at The Alps, and you can pick any of the three to qualify for the cheese crawl. Or all three. We won't judge.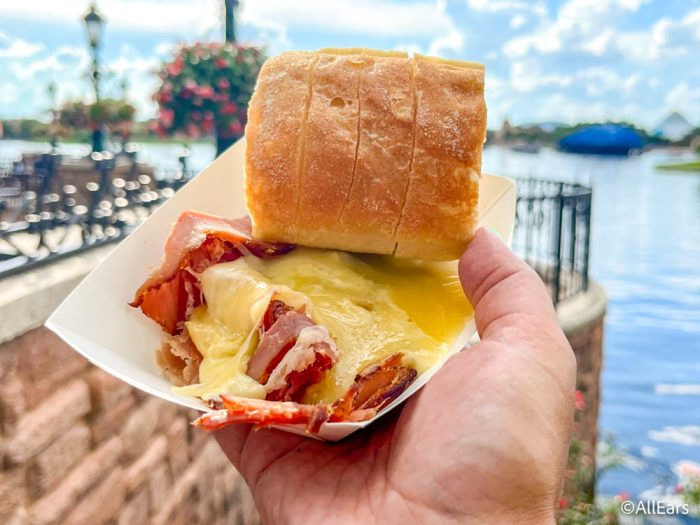 We also got the Griddled Cheese from Greece. It's served with pistachios and honey and we loved it. It's a returning festival favorite.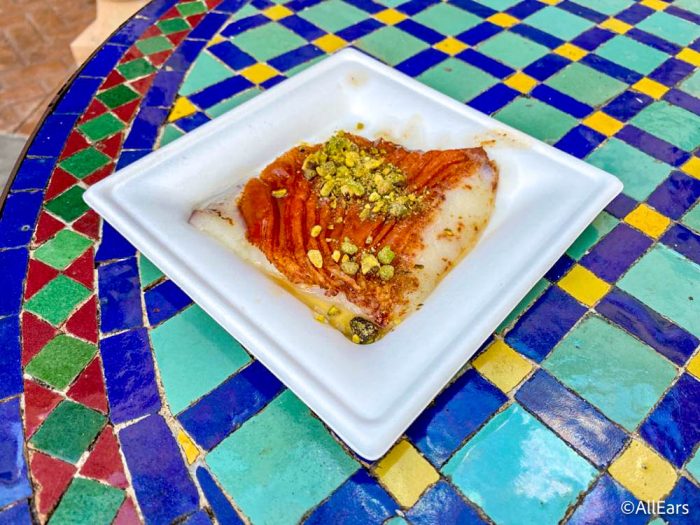 We loved the Pão de Queijo which is Brazilian Cheese Bread, it reminded us of some good old comfort food!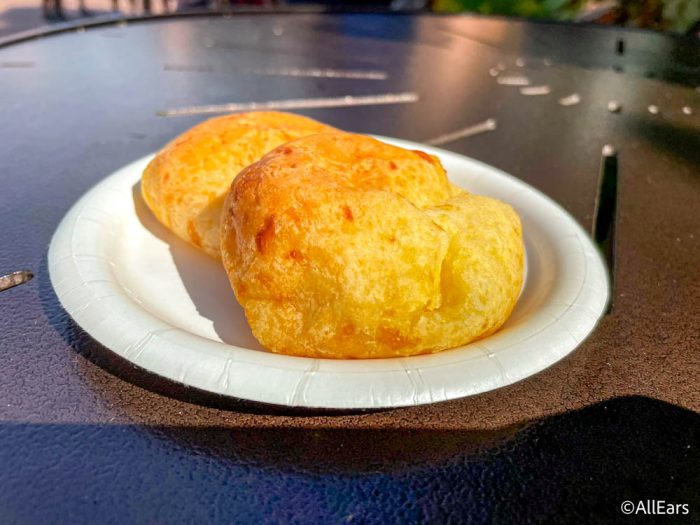 And finally, we had the Canadian Cheddar and Bacon Soup from the Canada booth! Soup might not be the first thing you want to eat when it's really hot outside, but it's always a crowd-pleaser, and the pretzel bread that it's served with is so good! You can also find this item at Le Cellier in the Canada pavilion in World Showcase.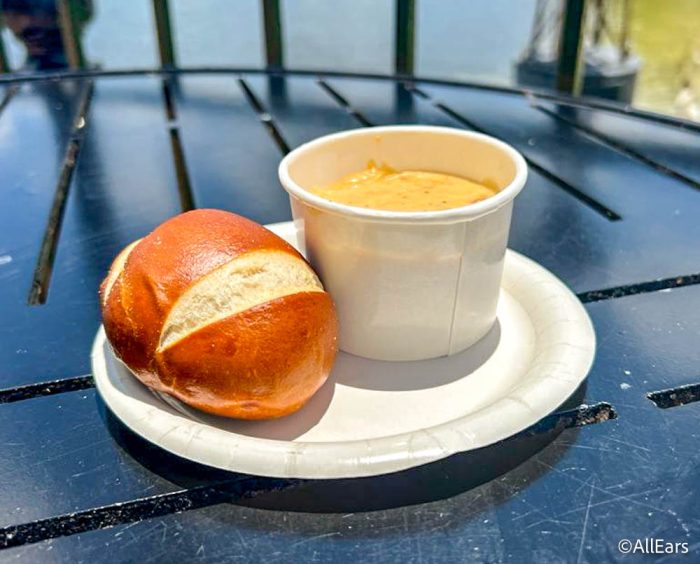 We weren't able to try the last two options on the cheese crawl because the booths don't open until August 15th, but we'll be back to try them when we can!
We tried all of the available cheesy snacks, but that doesn't mean you have to! You can get 5 different snacks, or grab your favorite snack a couple of times, and each will count for 1 stamp in your Passport. Note that the crawl doesn't have to be completed in 1 day — if you visit this festival more than once, you can collect stamps over multiple days.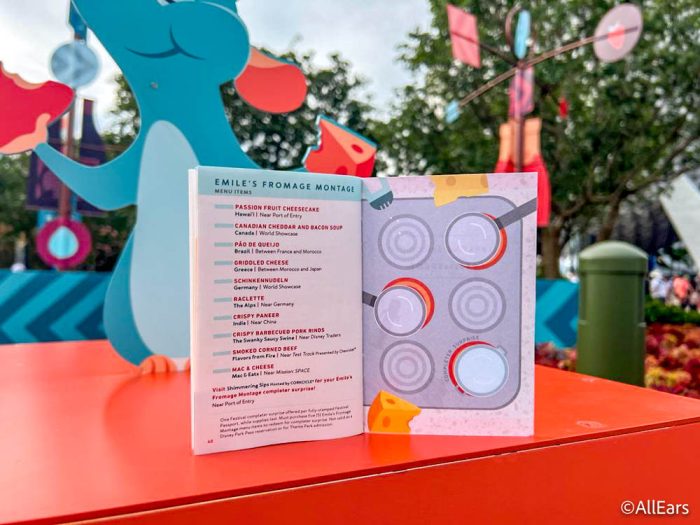 For completing the cheese crawl, the prize was the same as it was last year: Strawberry Cheesecake Soft-Serve with a small piece of cheesecake on top! You'll also get a souvenir cup that says "Emile's Fromage Montage" on it, as well. The cheesecake on top is also very good and adds a creaminess to the overall soft-serve.
We really enjoyed the cheesecake soft-serve and thought it really did taste like strawberry cheesecake! For a hot day in Disney World, there's not much better than some free ice cream.
The total cost for this experience will vary, depending on which cheesy dishes you choose. You do have to pay for each snack, but the prize at the end is free. Note that each person who wants a prize will have to do the crawl separately — there's only one prize allowed per completed crawl. Don't forget to get your Festival Passport stamped when you buy one of the snacks on the list!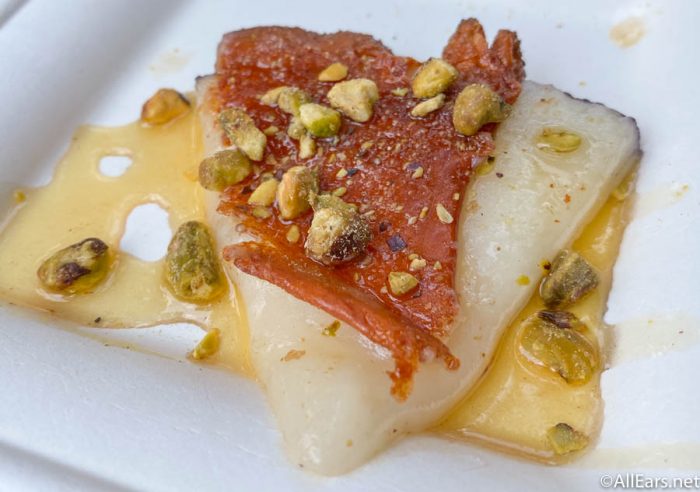 We'll be checking out all of this year's Food & Wine Festival, including the food booths, merchandise, and entertainment, so stay tuned to AllEars for all the updates!
Are you visiting the Food & Wine Festival in EPCOT this year? Let us know in the comments.