Disney Springs has a delicious concentration of dining options, from snack kiosks to Quick Service to Signature-level Table Service from acclaimed chefs. This density of deliciousness makes choosing your breakfast, lunch, dinner, and snack spots a lot more difficult.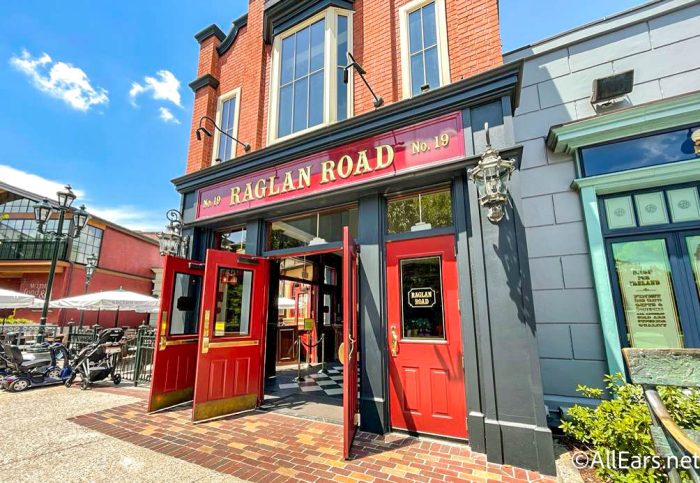 Today we're turning to YOU, our AllEars readers! We checked out the AllEars reader reviews and are ranking the restaurants in Disney Springs according to your ratings.
Here's YOUR Ranking of the Restaurants at Disney Springs
SCORE: 5.50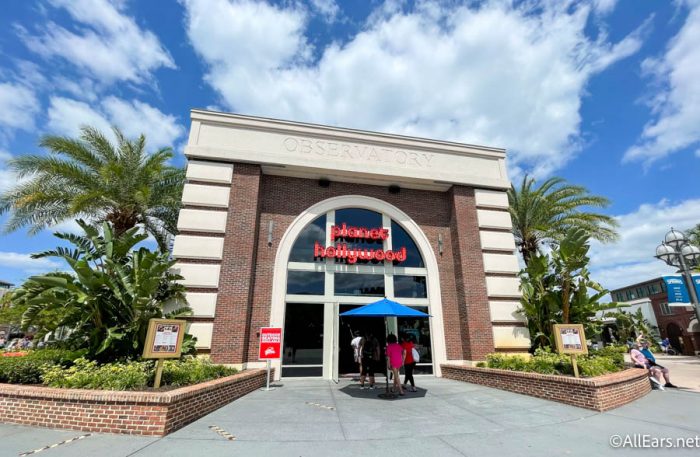 "Food was eh. Service was slow. Meals came out at different times. Family meal didn't seem like a family meal with not all of us eating at the same time."
"We loved the old PH, so we were excited to try the new one. The atmosphere is not the same at all. All the movie/music memorabilia is upstairs and you have to ask for an escort/permission to see it all. The dining room is very plain with just a large screen. It may be just right for a nighttime/younger crowd. For families though, there is nothing wrong with it, but nothing special either. Felt like were at any other steak house restaurant at home. We did not like our server, she came to the table and yelled at us all to shh and pay attention so she could explain the dining plan ( maybe this was the problem) We ordered the mac n cheese burger, the NY strip steak, BBq ribs, and I believe the salmon. I think the kids had chicken. All food was good. The famous mac n cheese burger was tasty, but very hard to eat."
"My daughter wanted to eat here for the first time for her 18th birthday. She was in a wheelchair at the time (post surgery) so it was difficult to navigate and she wasn't able to really get around the restaurant to see the memorabilia. Our server was fabulous. They got her celebration up on the big screen and even put her on camera. The food was good and dessert was "Instagrammable." They made a minor switch on the sundae at our request. Dinner for 4 with one dessert and tip ran just over $100. So it was pricey and not something we would do regularly."
SCORE: 5.37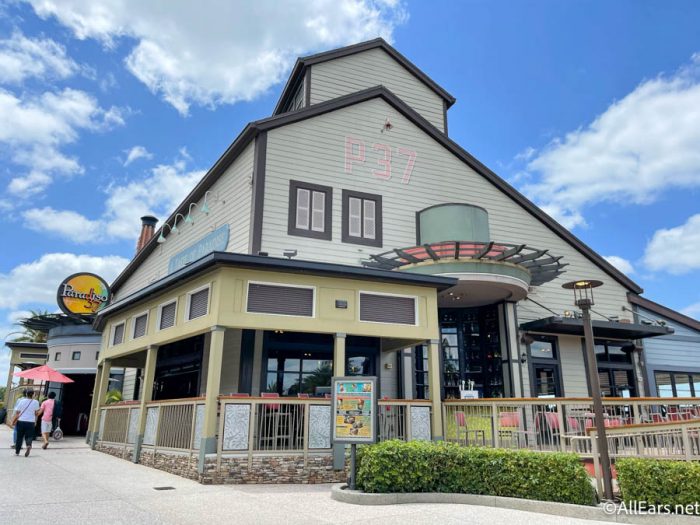 "Ate here as DVC members on 5/15. Shoved in the back corner and completely ignored. Drinks never refreshed / no water no new drinks – nothing. Sat for 45 minutes before anyone acknowledged we were here. Used to be one of our favorite restaurants – definitely not the same. Also would not accept the DVC discount just so you know."
"The happy hour at this place is so worth it the apps and drinks were good. I loved their margaritas! The outdoor bar is especially good if you're bar hopping and the service was great would definitely recommend!"
"I made a lunch reservation ahead of my trip, as I'm a picky eater and the menu was full of Latin food that I was certain I'd enjoy. The reservation was unnecessary as the place was completely empty. The most action happening was at the bar, as people took drinks to go. I was seated at a high top by the bar and immediately taken care of by one of the bar tenders. Pam was great, really friendly, and quick. I ordered the sangria and the skirt steak with truffle fries. The sangria was amazing. Sweet and light. The skirt steak arrived sizzling and looked and smelled amazing. Unfortunately, it was not all the best tasting. It came with caramelized onions which sweetened such a savory dish. The chimichurri sauce was also missing something flavor wise. The steak itself was perfectly cooked. The truffle fries were sub par to the ones I had at the Boathouse in the beginning of my trip. Truly paled in comparison. After eating, I realized why the place was so dead. The food was just not good. I could've spent $60 elsewhere and enjoyed it way more. I'd skip this restaurant, but I would take the sangria to go."
SCORE: 5.29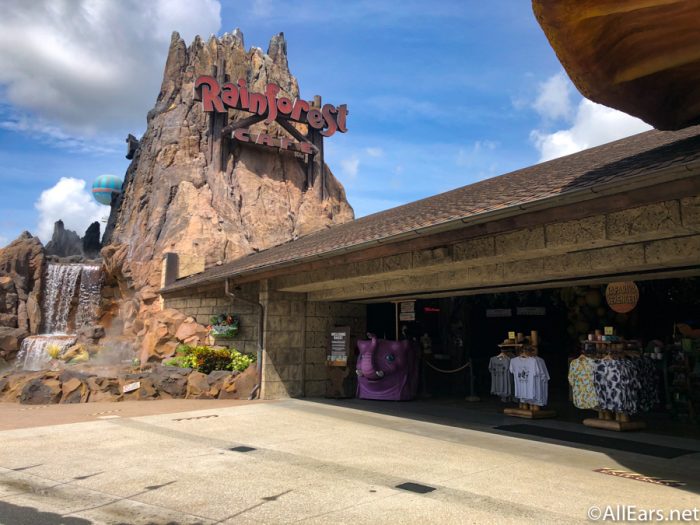 "So my friend and I went to rainforest cafe just cause my friend tells me that area tends to be quieter in Disney Springs. We were thinking pandemic wise of where to eat so we just did this place. Our reservation was at 7:15 but we got there an hour early to ask if we can sit outside because of covid. We had heard the hostess tell people ahead of us say to guests that it was an hour wait for people doing a walk in. But when we asked to be seated outside when it was to be our turn, she told us she could actually seat us right then and there. I think the wait times were to sit inside in the main areas, so definitely keep that in mind when reserving a table! Other than that food was average but our waiter serving guests on the outside was awesome and very hospitable!"
"My husband and i spent our 40th anniversary and dined at Rainforest Disney Springs. It was the most enjoyable dining experience we had while on our 7 day vacation at disney. The good was wonderful, the atmosphere was very relaxing and enjoyable and our server was top-notch! We didn't want to leave!"
"We had reservations for 4 after our plane landed in Orlando on June 28th. I think our reservation was for about 11:30, and we were seated as soon as we checked in. The service was very good and the food was just ok. I expected this, having dined at Rain Forest Cafe numerous times. We hadn't been there in awhile, and my 17 year old twins really wanted to go back…It's fun to do once or twice, but with all the other options in Disney Springs, this one will take a back seat…"
SCORE: 6.19
"The prices are WAYYYYY too much for what you get. When you pay $50 for an 8 oz steak, you should get at least a potato, and vegetables or a salad. My husband got sick immediately after eating."
"My husband and I ate at STK on a Tuesday evening. It was loud and expensive, even for Disney prices. The steak was just okay, and the waitstaff was slow to respond to requests…"
"We ate here in 2019. Overpriced, and not up to the quality level of a true high-end steak house. The preparation of their steaks was spot on, but the meat was clearly not of the highest quality. They claim to use prime beef, but frankly the meat we were served should have been graded choice at best. Sides are good. Service is hard to rate, because the restaurant is so oppressively loud we weren't able to hear our server."
SCORE: 6.60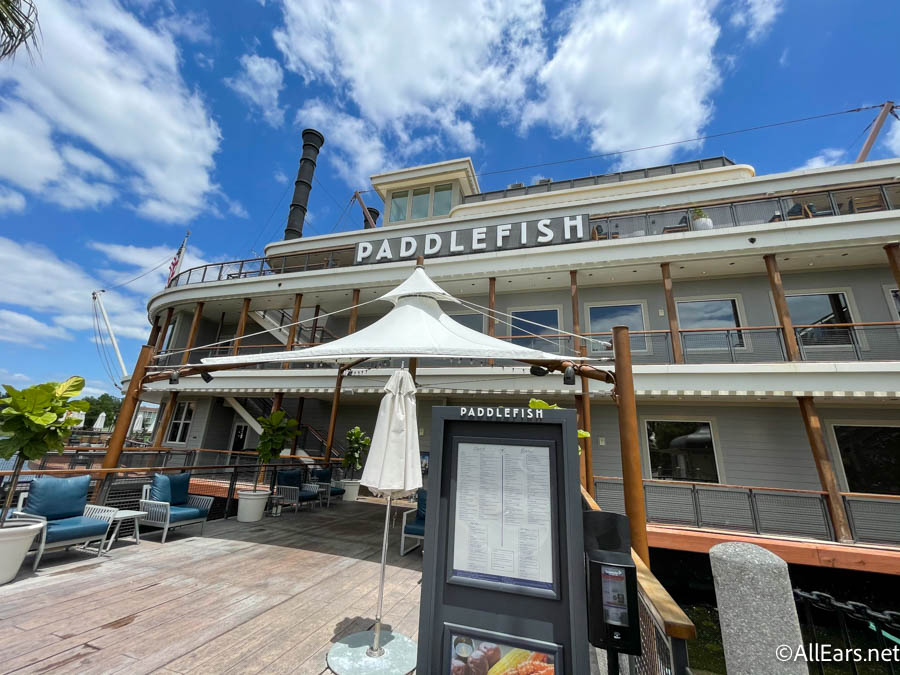 "Shocked by all of the bad reviews! I think this is one of the better places for seafood in Disney World. It is a bit pricey, but in my opinion, you get what you pay for. The location is really cool, especially if you are seated right by the water. We came for lunch when it wasn't busy at all, our food was excellent, and our server was great. We are planning on coming back for sure!"
"The food was very bland and way over priced. I had lobster and it was like rubber. The crab legs were over cooked as well. A 500 dollar bill for 4 people and no alcohol or dessert. We went home hungry. I don't mind the price if it's good food. Never again"
"They should have left Fulton's alone. The decor here now is very underwhelming, the service sketchy and the food is overpriced. We watched as a woman waited for a $200 gift certificate she wanted to purchase. She waited so long she finally left. There's no excuse for that type of service."
SCORE: 6.38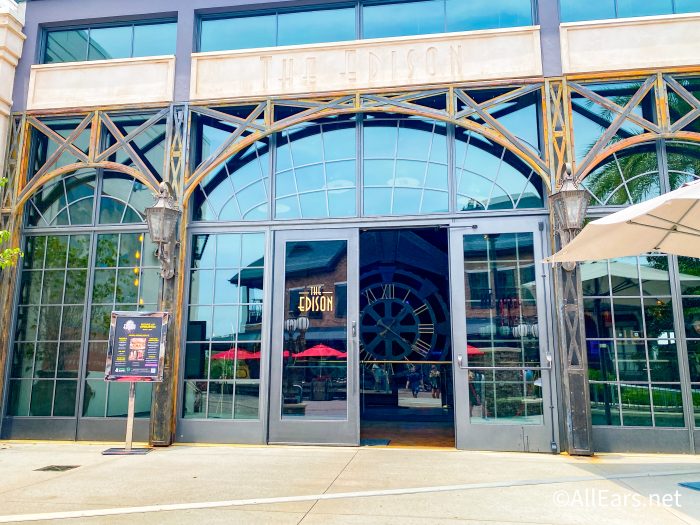 "Really solid food. Cool atmosphere. Great Manhattan. We were on the dining plan and so we got dessert, which we all agreed was nothing great. Salmon was a great entree and the burgers were good."
"Loved the theming of this restaurant! It's steam punk themed! I would recommend it for couples. This restaurant does turn into a cabaret in select nights and does have a dress code and age restrictions on those nights."
"This restaurant is very disorganized. I booked my reservations 6 months in advance and they called me 10 days before my trip and told me that they were canceling my reservation due to a private party. I then changed my reservation to a different day and they called me again the next week to tell me about the original reservation cancelation again. On the day of my reservation when I checked in they told me they were running behind due to another private party. When I finally was seated, it was super crowded and my waitress was not even visible most of the time. The food finally showed up and was not that great. It was basic stuff I could get most places. Nothing I would choose to return to this restaurant for."
SCORE: 6.67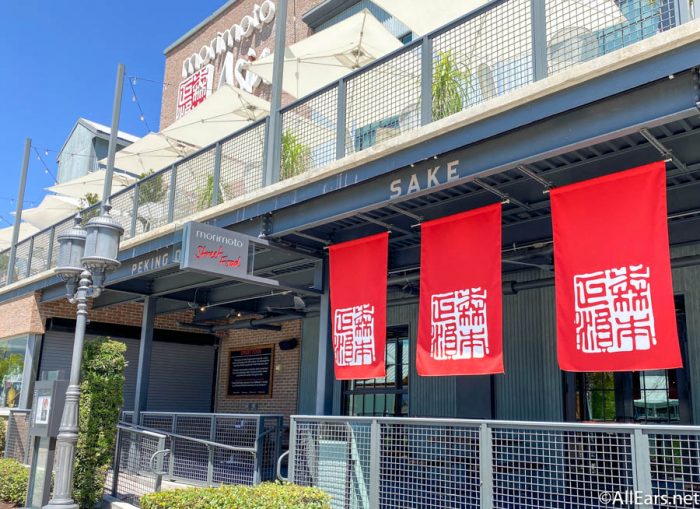 "The food was alright. I thought it was a bit overpriced for what you get. Back at home I've got a better ramen shop for a cheaper price. Only reason I'm recommend it is because of the takuyaki and atmosphere. It was amazing!"
"I have always loved this chef from my days of watching the original dubbed over Iron Chef when I was little but honestly the ramen was not good. I have had such better ramen elsewhere. I was disappointed. I didn't try anything else so I'm not going to leave a bad score but nonetheless, I'd rather be honest."
"Got baby ribs at Morimoto May16 2021, $14, quick carry out device, a small portion."
SCORE: 6.40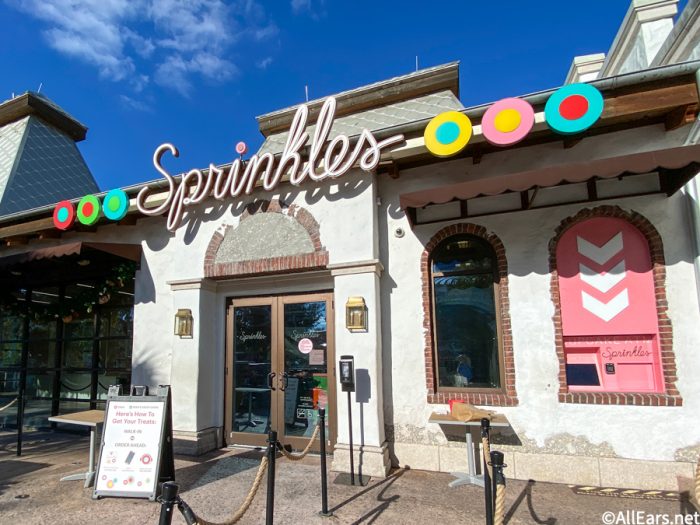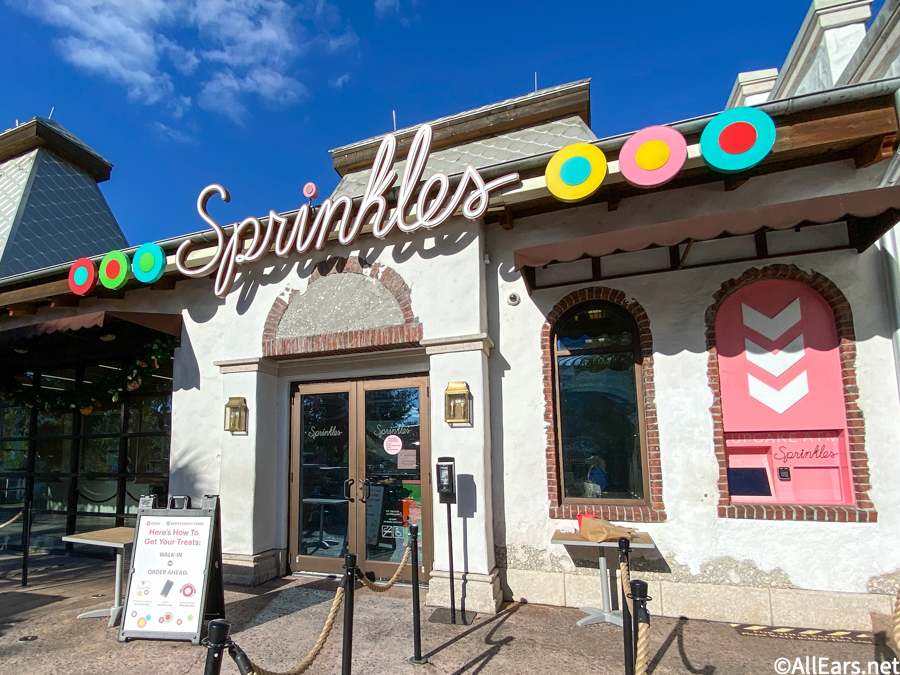 "We purchased an ice cream filled cupcake. It was really the best of both worlds. The cupcake was moist and fresh while the ice cream was smooth and a perfect compliment to the overall desert."
"I tried the cupcake ATM and got the red velvet cupcake and it was very good. It had that homemade cake taste, but I have tried other flavors before that didn't have that same taste to it. The service here is slow, but the ATM is really a neat idea that fits right in with Disney. They should have one of these ATM's in Tomorrowland and Future World! Super cool! Also, they don't pile on the frosting or bother to make them cute so the flavors should be out of this world but they're not."
"Sprinkle cupcakes are so moist and flavorful, every cupcake is unique and special. My fav is double chocolate. The cupcake ATM outside is so fun for kids too! Highly recommend doing at least once."
SCORE: 6.62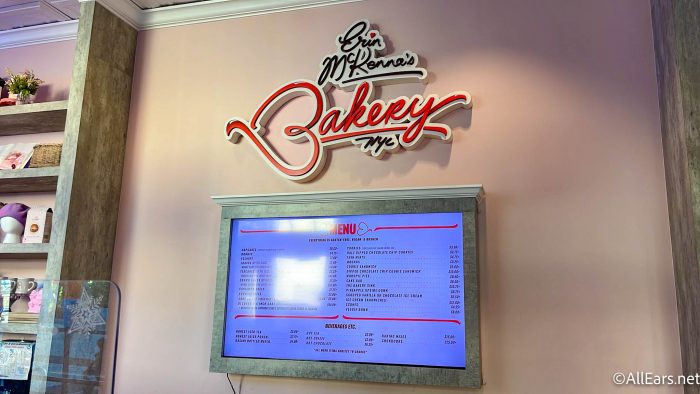 "This is one of my son's favorite parts about our trips. Because he is gluten-free and dairy free, when we walk in here I tell him he can get anything he wants. Obviously he would love to get one of everything, but he usually picks a cupcake. He's always satisfied. My husband is also gluten-free and will get hey cupcake or "ice cream"."
"I like it here…when on a restricted diet, it can be tough to find yummy options- this place offers so many good choices! (Samoa donut!) And without the guilt of going off your diet…"
"The bakery had come highly recommended. We tried the banana teacake, a vanilla cupcake and a salted caramel doughnut was almost flavorless and gluey in consistency. The caramel drizzle was very thin. The cupcake was also not very flavorful. The teacake was okay, but needed more banana flavor. Too expensive for the quality and taste of the products."
SCORE: 6.86
"Made reservations 90 days ago for Thanksgiving. Seated quickly; food delicious. Service was not the best! Waited a long time for everything. Would have liked another drink, but we weren't offered the option. Overall, very nice!"
"First time going to this restaurant and really didn't know what to expect. Interior was really cool. We were sat at the back of the restaurant near the kitchen, was cool to see all the action but was a little bit noisy and dark compared to nearer the front. Our server was really good. We were on the DDP and he explained what items we could have from the full menu. We all chose the chicken weinerschnitzel. The fingerling potatoes were a little too lemony for my liking, but everything else was very tasty and well seasoned. For dessert we had apple crisp and it was delicious."
"Was a little concerned about booking this restaurant, as was on the DDP and didn't know what to expect. When we got the the restaurant our server was very good at explaining what we could have and what was extra. The meal was surprising very taste and the the dessert was really good."
SCORE: 6.93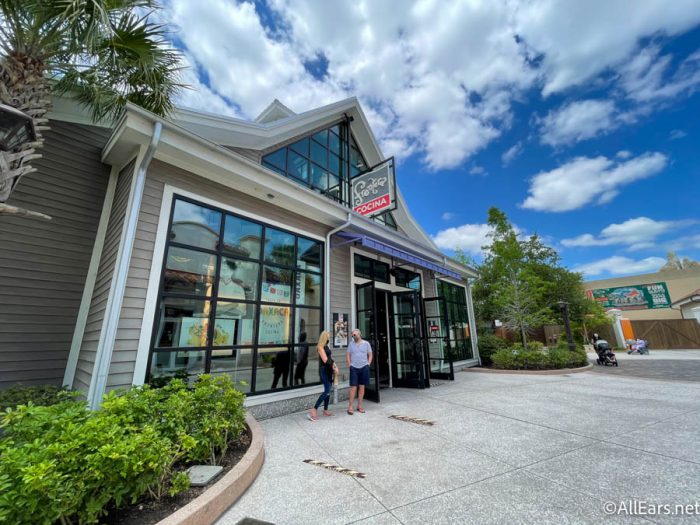 "If you love Mexican and not traditional Mexican this place is great. There is so much flavor is every meal. The drinks and some meals are over priced."
"Having had their delicious tacos at the walk up stand outside this restaurant, my expectations were very high. Unfortunately, after being seated and told multiple times this was Rick Bayless' restaurant, the food was just okay, same thing we can get here in a local Mexican restaurant (not a chain). The Guacamole was good but, again, nothing out of the ordinary. Our food was rushed and even then, looked like it had spent some time underneath a heat lamp. I was really expecting something amazing and different, and it didn't deliver. I won't waste any more meals here, as I can get the same quality (if not better and cheaper) at home."
"The food at the Frontera Grill is Mexican-inspired, but not your typical Mexican food. It's Mexican with a twist. So go with your adventurous spirit, because the food is yummy. I've had the enchiladas, the tacos, a variety of appetizers, and the desserts. They are all quite tasty. They take the Dining Plan but I don't know what food is offered on it. The tequila menu is extensive and they have a lot of other alcoholic beverage options that are creative and delicious. They also have non-alcoholic mocktails. If you want something a little different, with very good service and good food, this is the place."
SCORE: 7.03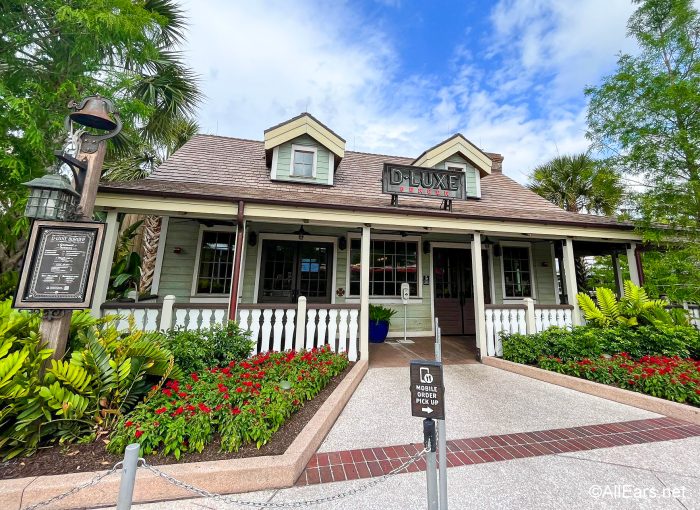 "Yaaaaaas!!!!! I've been wanting to try this restaurant after hearing all about it on Disney Food Blog and it definitely lived up to the hype. The atmosphere is very casual and you can mobile order if there is a line. You receive a pager and they bring your food to your table. The burgers are flavorful and I loved all the yummy dipping sauces for the fries. I loved the Gouda cheese, bbq sauce, bacon and crispy onion ring on the barbecue burger! My boyfriend enjoyed the spicy diablo burger. To top it off the chocolate gelato shake was the perfect sweet treat. If you like burgers and fries you don't want to miss this place!"
"I was not looking forward to having a burger when my three sons suggested it, however, I was very surprised at just how good it was! I split the bbq burger with my husband and it was plenty of food. Of course each son got his own burger and ate every last bite plus some! It was a little pricey for a burger especially since the fries were separate…We ordered 5 burgers, two large fries and three drinks and I think our family of five paid close to $100…"
"I was disappointed with my meal here this trip. My burger was dry and fries so so. I had eaten here in the past and had great food so this was a let down."
SCORE: 7.07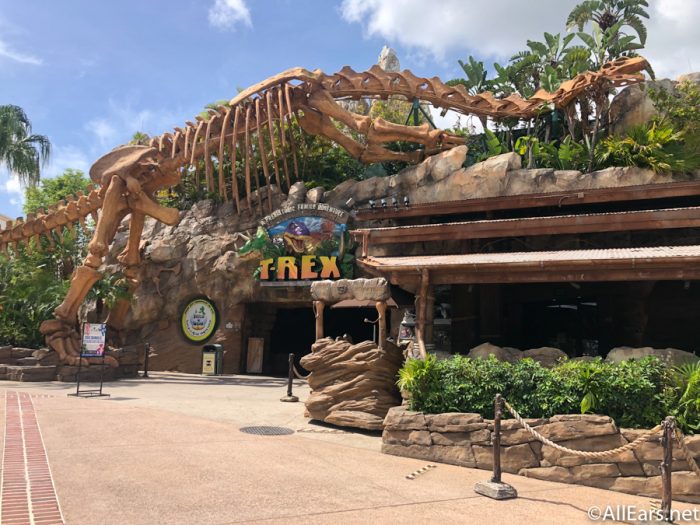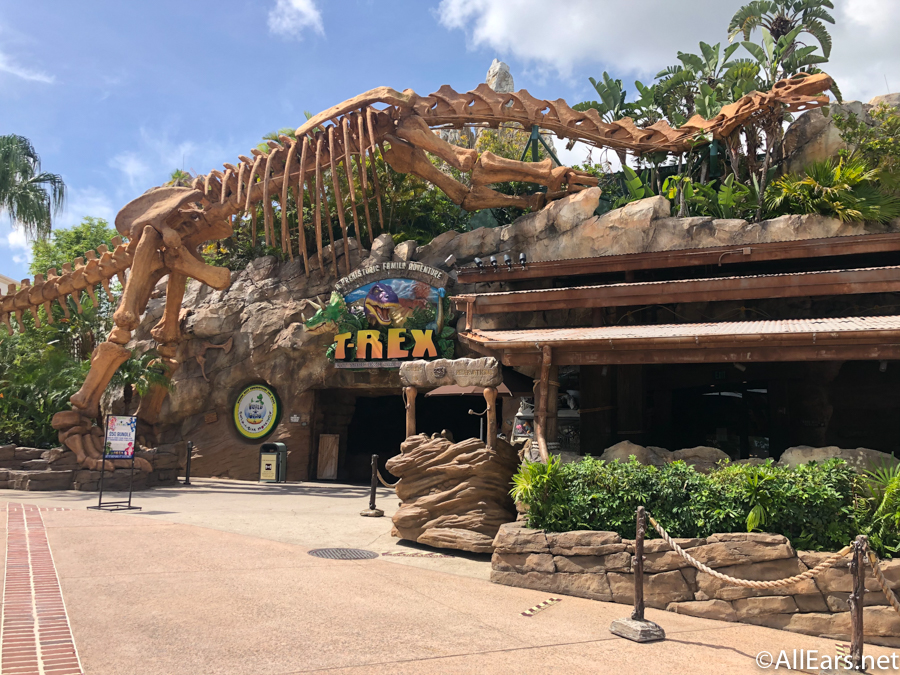 "The theming of this place is like no other restaurant i have ever been too.it is beautiful and super cool! although it's fun, it is really loud. the lightning storms actually made a couple of children in the place scream and cry, but as an adult, it was really fun to experience. the food was not terrible but not great. this place was a little overpriced. this experience is similar to rainforest cafe, but better theming overall. the gift shop is great, you can actually pick out your own geode and have them crack it for you in the store!"
"Took forever to be seated with a reservation. The restaurant had good theming and atmosphere. It was very loud. We went back in March of 2019. Lunch took around 3 hours, so it took a lot of time out of our day."
"We tried T-Rex during Thanksgiving week. It was very crowded — I assume this is always true. There was a 15 min. line to stand in just to tell the hostess we were there. Then we were told to stand in another line. Eventually, they called our name. We had arrived 15 min. early & were seated about 15 min. after our reservation time. The meal was good, nothing to write home about. Our server was very friendly, but the service was slow. After waiting 30 min. w/reservation to be seated, I was not thrilled that it took another 90 min. for the meal. Not worth 2 hours of our Disney day. Overall: Service in slow, food is OK, atmosphere is over the top & kind of fun, expensive, probably not going back… until our grandson is old enough to beg to eat in the dinosaur restaurant:) I recommend this restaurant if you have small children who love dinos. Otherwise, there are much better options in DS."
SCORE: 7.14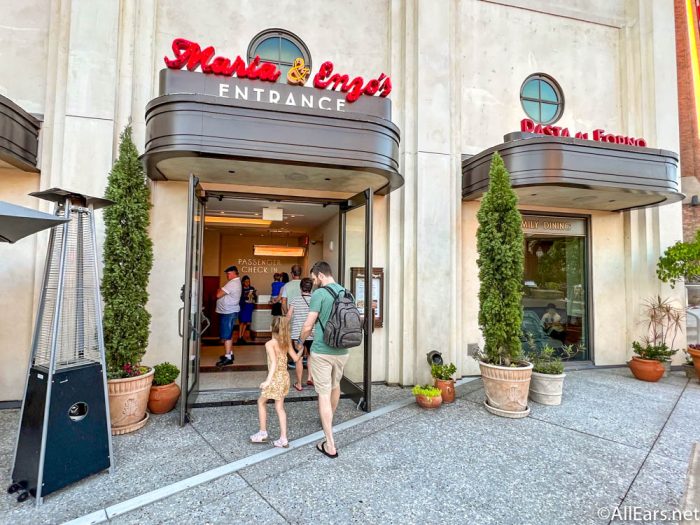 "Was excited to try this restaurant but the entire experience was over rated. My chicken parm was average and didnt even come with a side just a huge piece of chicken with a little sauce and cheese, same with hubbys eggplant parm. Between these two "entrees" an appetizer and two sodas it cost us $100 totally not worth it, will not be going back!"
"This restaurant was absolutely fantastic. We went for Sunday brunch before departing. We loved everything we ate. The tomato sauce was so delicious and light. My daughter ordered the Nutella French toast and she loved it. My younger daughter and husband ordered the lasagna and also loved it. I ordered the spaghetti and meatballs and it was fantastic. There were so many dessert choices there too. We would have enjoyed them however we were so full and we couldn't take them back with us since we were leaving. We also received excellent service."
"The atmosphere here is excellent, it's so pretty inside and the themeing is top notch. Our server was excellent and the pacing of the meal was great. I had the spaghetti and meatballs and they were good but not great (I think Mama Melrose is better). My sangria was terrific though and my husband enjoyed his steak."
SCORE: 7.50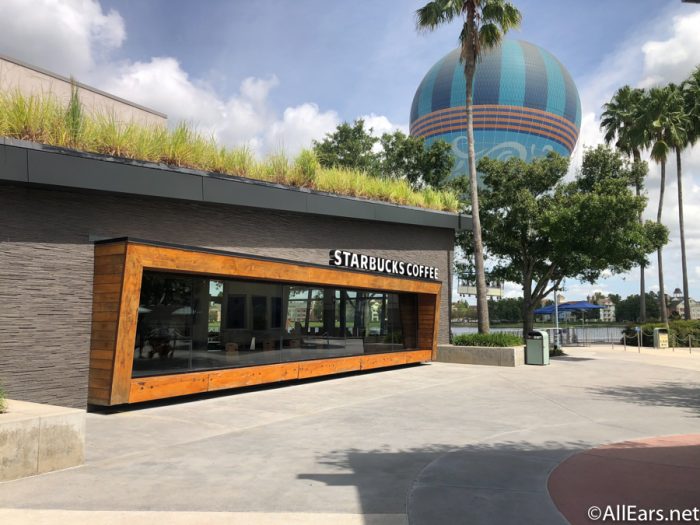 "Standard Starbucks. When you order your typical drink, you know what you're getting. They are staffed by barista's who have been trained by Starbucks so there's no surprises here."
"It's a Starbucks! So I ike SB when I"m on vacation,as it isn't all that exciting, but I can be assured of the general quality."
SCORE: 7.79
"Meh. Overpriced fast food. The chicken is ok, it came out hot and juicy but was very salty, as were the fries (and I like salty, so…) It's also a bit of a rip-off that you have to pay EXTRA for the sauces when they are the main draw. I can eat Chicken tenders nearly anywhere, so I wasn't impressed. Having said that its a convenient quick bite at Disney Springs if you don't have a reservation."
"Really good chicken strip & the fries were delicious! I loved all of the different dipping sauces I could choose!"
"This has some really good chicken! I wish the seasoning was a bit more evenly distributed on the chicken but it was great with the sauce!! The best one was the Blue cheese for my husband and for me the chipotle ranch!"
SCORE: 7.82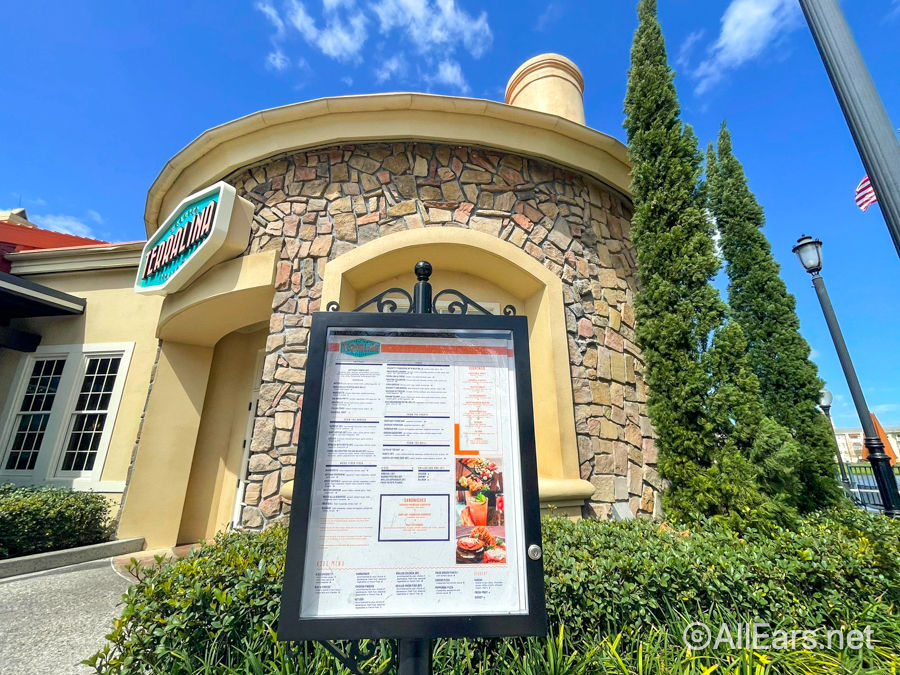 "My family of four ate here during April of 2019. We had eaten here when it was Portobello Yacht Club and were eager to try the new restaurant. We arrived early for our ADR and they were able to seat us right away, even though it looked like they were just opening up for the dinner crowd. Our waitress was knowledgeable and very friendly. The food was great! I had the vegetarian ravioli and it was so good, and the portion was big enough that I had to bring some back to our hotel. Everyone else in my party was also pleased with their meals. We're definitely planning to go back on our next trip."
"We are two seniors so we went to Terralina around 5:30, no reservation, in mid September and were seated right away. The wine steward came over to discuss the wines but since my husband is not a wine drinker I just ordered wine by the glass. Our waitress was Schnei, who was fabulous. Ask for a table in her section, you will not be sorry. We ordered the eggplant fries for an app and the lasagna and rigatoni calabrese for our entrees. We both enjoyed our meals very much. We were not rushed, very relaxing. The bread is not cut so you have to tear it with your hands. It was delicious and we ate the whole thing. We were too full for dessert this trip but hope to try some on our next trip."
"This is, hands down, the best Italian restaurant on property. The gnocchi with \"Nonna's pork ragu\" is fabulous as are several of the entrees."
SCORE: 7.86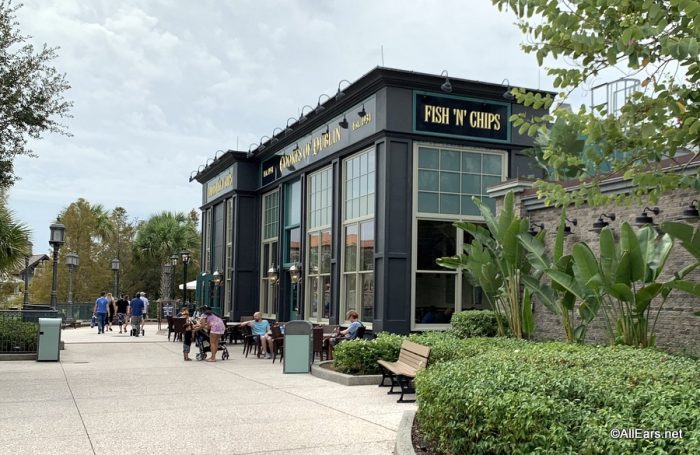 "Both the allergy friendly chicken and allergy friendly fish are amazing!! My husband and son both loved their meals. I got to eat the fish that was not allergy friendly and immensely enjoyed that also."
"Must do on every visit! I get gluten free fish and chips,which is amazing and wonderful, the rest of my family gets 'ordinary' (non gf) food,and we all love it! sitting on the patio,and having a meal is fantastic! And the prices are good."
"DF of 3 ate here twice during out trip last summer. We arrive in 179 days and this will be our first dining experience! My DH loves the deep fried burger.( once a year!) MY DD loves the fish and chips. It is an awesome place to grab a bite of food and a pint of beer, and relax after 2100 miles of traveling. Beer is good also…we always meet nice fun people here!"
SCORE: 7.89
"Was nice and clean and food wasn't bad but only went because we were on the dining plan. Without it the price is a bit much for something that is similar we could get in a TGI Fridays back home."
"This restaurant is awesome! We had the chicken with potatoes, artichokes and capers. Amazing. Also had the penne with chicken sausage in tomato sauce. Amazing als0. Strawberry gelato was to die for. Loved the atmosphere. Great knowledgeable waitress Most amazing ice tea that tasted like it had fruit in it. Can't wait to go back. This is probably the best restaurant we have gone to at WDW for the value and food."
"Our group of 4 enjoyed our late-lunch here. Spaghetti and meatballs, ravioli and burger got high ratings. Cocktails by the pitcher were a good deal. We had two of the most charming waiters who kept us laughing with their stories. Good service."
SCORE: 7.89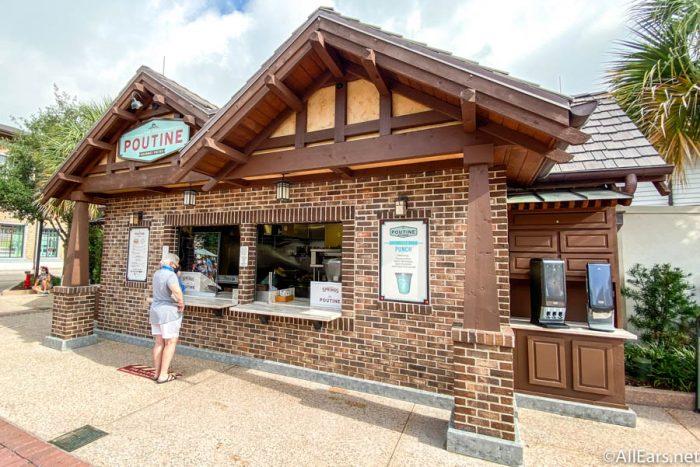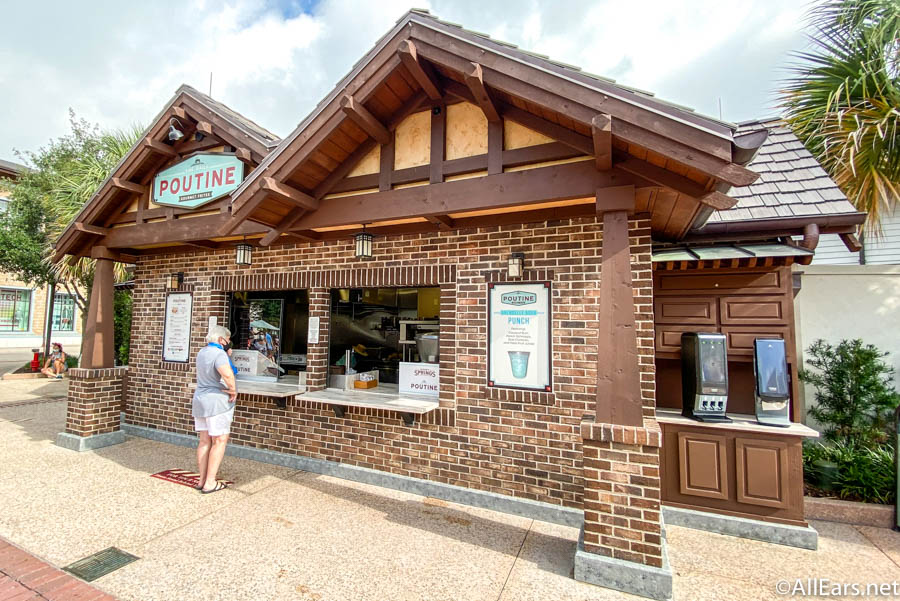 "I got the classic poutine and while it tasted great, I found the texture of the gravy to be strange and somewhat gelatinous (made with corn starch instead of flour?). I loved the fries, thick cut and fresh, and the cheese curds were big and there were plenty of them. The portion size was great for sharing as a snack or as a full lunch for a single person. I would definitely go back to try the other varieties."
"We shared a classic poutine. I have never been to Canada to try this dish before, but we all enjoyed it. I had never tried cheese curds before, and now I love them! This is a great place to share a snack or eat for lunch!"
"I tried the classic, and while I've never had real Canadian poutine, so I can't speak to the authenticity, I enjoyed this a lot. The fries were hot and made to order, thick cut, with gravy and cheese curds. This was my lunch and the portion was more than plenty."
SCORE: 7.90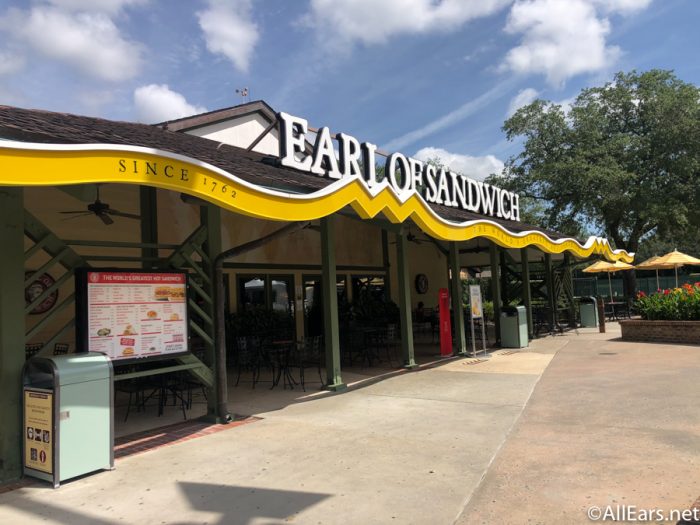 "I like some stuff at earl of sandwich my father likes it but other than that not a priority. And do your self a favor don't eat the salad. Hate to be honest on this one. I'm going to not say recommend but judge for your self."
"Excellent sandwhiches, I wish there was more than just this one location on property. I get the Earl Club everytime and have yet to be disappointed."
"If you are looking for an mildly inexpensive eatery than Earl of Sandwich is your place to go. The sandwiches are all delicious. The line may be intimidating sometimes but since every sandwich is made at order it takes time and is worth it."
SCORE: 7.94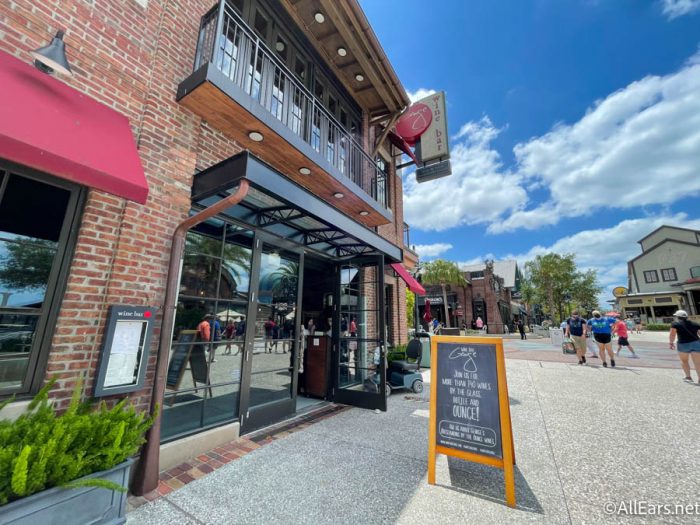 "Great bartenders and small plates. Saganaki on fire is cool but doesn't taste great. Overall great experience especially for adult groups."
"Another first visit during my most recent trip. Excellent lunch of macaroni and cheese balls and a chicken salad sandwich. I drank a French wine that was a little drier than I normally like but It went well with chicken salad. My waitress was very attentive and George came over to visit. I was amazed at how much he was hustling around the place. All those bottles of wine were so impressive. I will be going back!"
"Having heard so much about George Miliotes and the selection of wines, this became a must for us on our trip. We were not disappointed by anything. The check-in was flawless, didn't like the first table in the middle of the rhombus it was changed immediately, the server was unbelievable, the wine incredible and the food a lot for 2 people. The whole experience was wonderful. We have gone back 3 other times already over the last few months."
SCORE: 8.00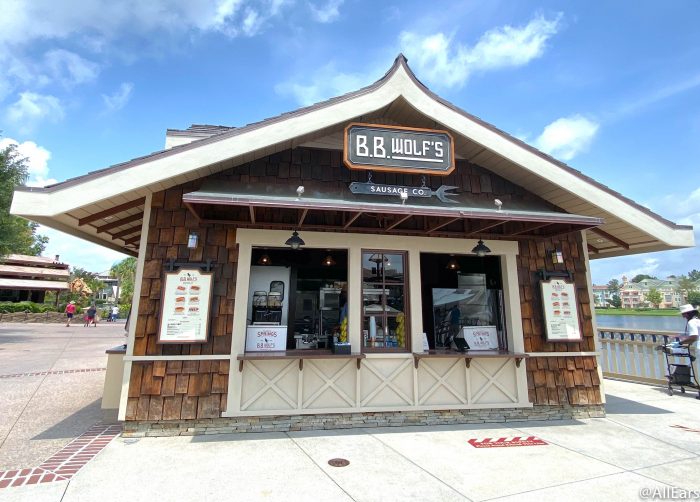 "Tasty quick service. Offer regular or footlong options, but if don't specify regular, then you get (and are charged for) footlong, which is almost too much for 1 person. 2 people can easily share a footlong if desired."
"What a great surprise!!! Loved the veggie saugage option. Enjoyed sitting outside in the lovely surroundings of Disney Springs."
"Good hot dogs and great atmosphere. Not the best hot dogs but a great variety of unique flavors."
SCORE: 8.06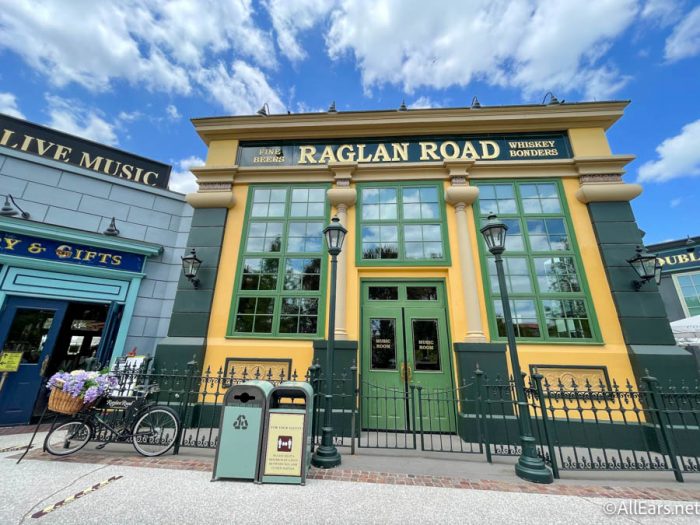 "I have been twice. Food is ok. Entertainment is amazing and fun. BUT BE WARNED!!! Even if you have a reservation, you can wait an hour for a table to open because NO ONE LEAVES!!! They eat, then stay to watch the dancers!!"
"Decided on this place last minute for dinner and glad we did. I couldn't decide on what to eat and took the servers recommendation of the pork shoulder and couldn't have been happier with it. My boyfriend got the OMG burger and loved it. Wasn't expecting live entertainment during these times of Covid but was pleasantly surprised with dancers and a duo singing songs I actually knew. I have nothing bad to say about this place. Was so good, we even went back for brunch over the weekend."
"We did a big family vacation in 2019 and Raglan Road was our first stop. We had reservations, but still had to wait 45 minutes before being seated, behind the stage!most of us enjoyed our meal though, and the server was really apologetic for where we were. My husband was the only one who did not like his meal. He had the fish and chips and was disappointed with the portion size. So, mixed review, I would try again, my husband says no."
SCORE: 8.16
"We had brunch this past Sunday. It was wonderful. I had biscuits and gravy and the bacon with chile and brown sugar. My husband had cheese eggs with bacon and toast. We both loved our food. The gravy was wonderful. So full of flavor with spices and ham. The biscuit was cooked well and was ample size. The chile and brown sugar bacon was to die for!!"
"ay back when HOB first opened this was by far my favorite place in Disney to go. Especially for the Po Boys. Now I've went the last two years and keep saying don't go back. I had the Po Boy again this trip thinking it has to be better than last year. It wasn't. Very few shrimp, not the freshest bread and just not a great sandwich. I also had mashed potatoes instead of fries which were flavorless and bland. Service wasn't great either. I don't need to go back here."
"Whenever we head to WDW for vacay, you'll find our family at House of Blues for live music and happy hour at least once during our trip (or more 🙂 You cannot beat the wonderful courtyard area, the entertainment and the cheap beers. And it's not just for the adults. Play some cards with the kids while enjoying the music, order them an appetizer (we recommend the corn bread) and you could be there for hours."
SCORE: 8.18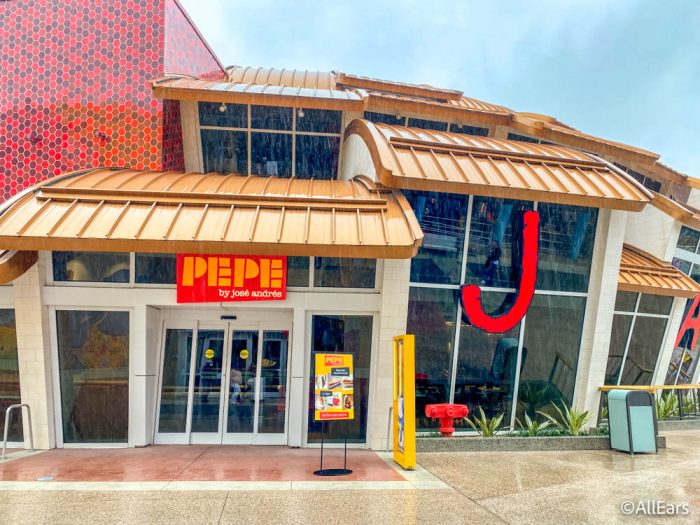 "This meal was one of the best meals I've ever had! Our server was very helpful in helping us decide what to eat! The presentations of each portion of our meal was so wonderful & impressive! The desert was so delicious!"
"We had an amazing experience at Jaleo restaurant! Our server Curt was very corteus,the food was excellent. Those liquid olives and the Pan the Cristal are delicious! Definitely recommend this restaurant. Thank you Mr. Andres for having such a beautiful place and amazing staff! God bless you all. Merry Christmas and a Happy New Year!"
"We ate at Jaleo on February 25th. Our waiter, Freddy, was very attentive and friendly. This place serves small plates. It is not cheap, but the food is delicious and very well presented. We had an interesting thing happen. During our meal, the fire alarm went off. Everyone had to leave the restaurant. While waiting to reenter, all the restaurant staff came outside as well bearing glasses and champagne which they offered to the patrons ( and I presume to prevent them from just walking away and not paying), and they offered to replace partially eaten plates and a free bruschetta platter when we were allowed back in. Jokingly, I suggested to the hostess that we would come back next time we were in Orlando. And that I would pull the fire alarm when we did!"
SCORE: 8.33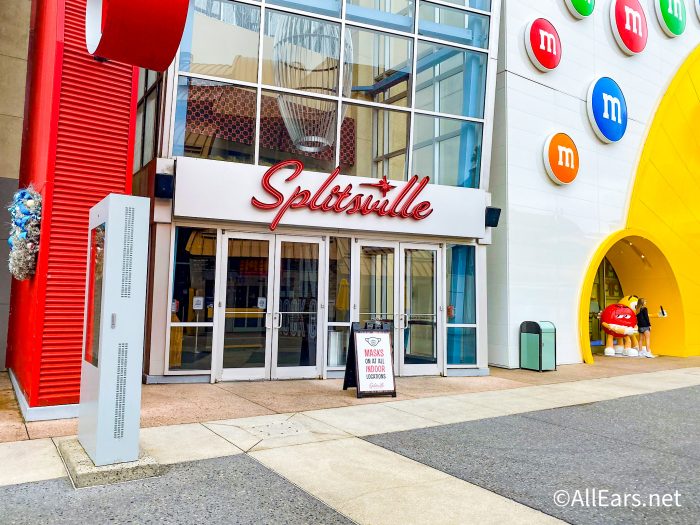 "We had dinner and bowled here, and loved our whole evening. The food was kid pleasing; I recommend the loaded french fry appetizer. The view from our second floor table was entertaining for the kids as they watched the hot air balloon launch and land multiple times. Bowling was a lot of fun, and the employees were very helpful."
"How fun is it to bowl in Disney while eating dinner especially with the kids? Very fun! My kids have a blast here and the food is not typical bowling alley food. The food was good, kids loved it. Drinks were also great. I recommend booking an earlier time if you want to try and get a table with a lane. Our issue was that other kids kept coming to our table and our lane while we were trying to eat and bowl. Not the fault of the restaurant but it was annoying. Service was great, everyone was very friendly."
"I have a very long list of food limitations, which often makes eating out challenging. However, Splitsville was able to work with me and create a delicious meal. I enjoyed it so much I bought two extra ones to enjoy throughout the rest of my vacation. My husband very much enjoyed his sushi and sliders – and they were able to put on the game we wanted!"
SCORE: 8.33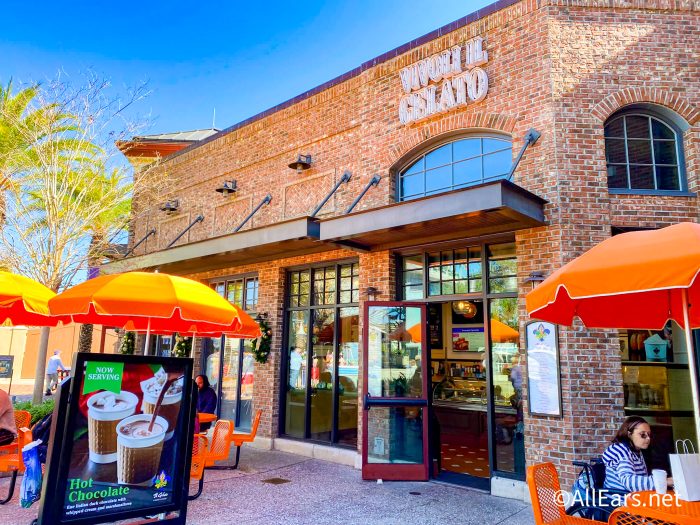 "Very delicious gelato, decent size portions, but the staff was not very friendly when we were there and they were not even busy."
"My DH and I both got a bowl of gelato here. DH had chocolate chip and I had amaretto, both were great and meet our expectations."
SCORE: 8.46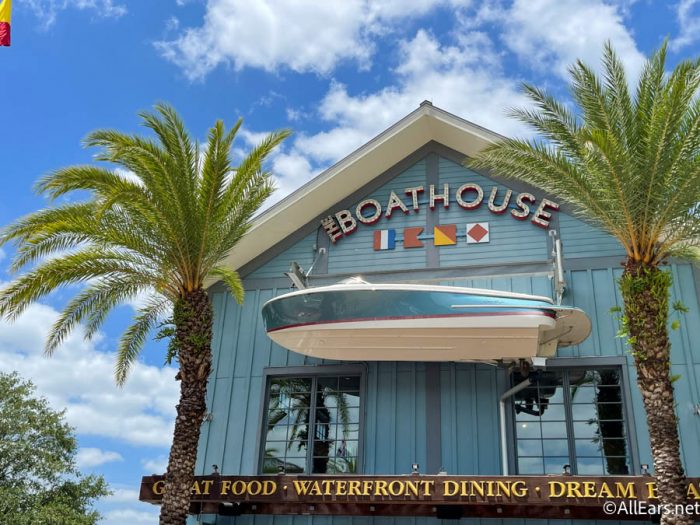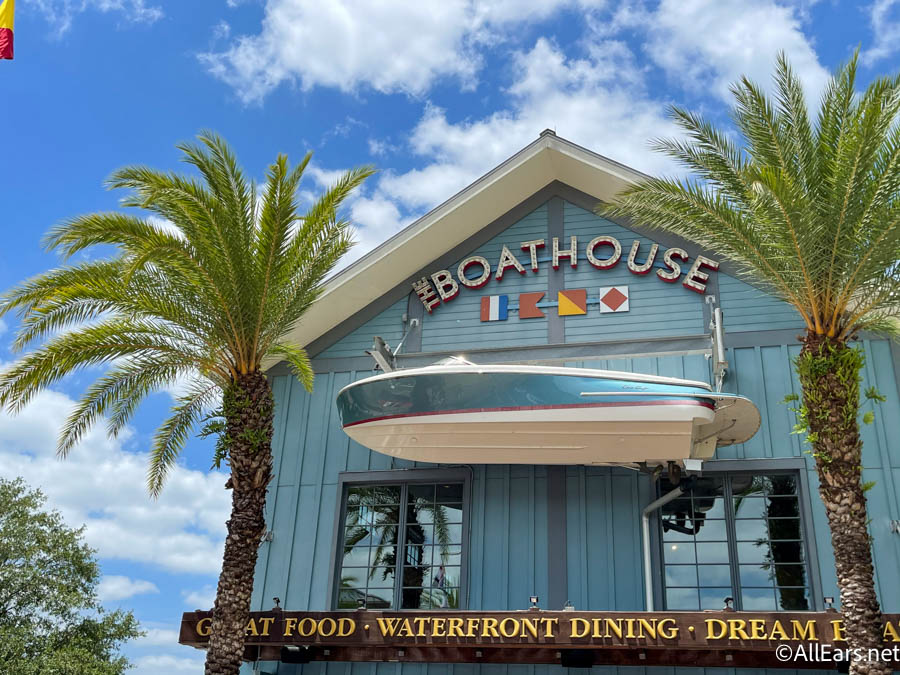 "The food is amazing and the atmosphere is unique. You can sit outside near the water, inside a boat booth or in the main dining area. We ordered the Filet Mignon Sliders which were excellent. Just the right amount of flavor, plenty of food and a great value."
"We went in with not knowing much about the menu or reviews. We were not disappointed! I can't recommend this restaurant enough. Seeing as my boyfriend isn't much of a seafood eater, he really enjoyed the clam strips and his steak was a perfect cut. Side dishes weren't much to write home about but the seafood is out of this world. Menu is on the pricey side but oh so worth it. Duck Duck Razz drink is also recommended and yes I mostly got it for the rubber ducky. To top off the entire meal, you can bring your receipt to the Amphicar ride next to the restaurant and get a discount."
"I feel almost guilty for just liking Boathouse and not loving it, since it seems to be a new favorite for so many. I may need to give it another chance. The decor is beautiful. I just wasn't in love with the food. Restaurant also seemed a bit loud and busy."
SCORE: 8.52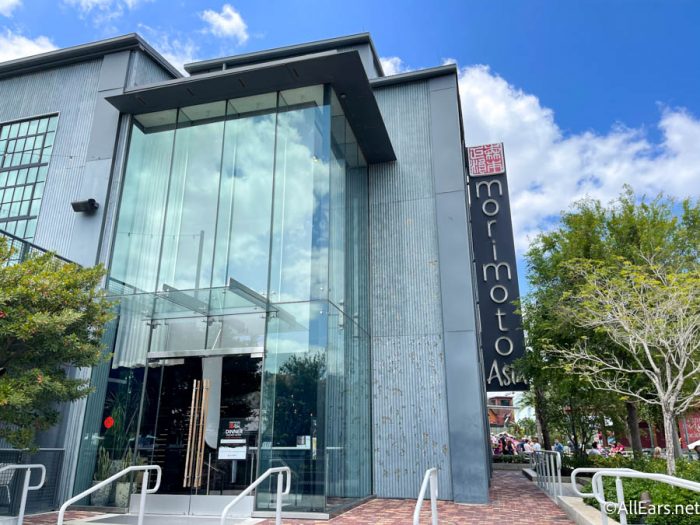 "The food was good. We had the ribs and the fried rice. My only complaint is that we felt rushed by the waiter who kept coming to the table to take our order. We ordered and appetizer and food. The food came out before we were finished with the appetizer. If you want to spend a little time you might want to tell your server that you are not in a hurry."
"Honestly, I don't give out 10s very often but this restaurant deserves it! The food here is hard to beat, the service is always excellent, and the atmosphere is great. This would be a good place to go if you are looking for a date night restaurant in Disney World or are looking for something a little different. The Buri-Bop is excellent and they have a great drink list. PLUS if you are on the dining plan, dinner here is normally 2 credits BUT you can get lunch, which is basically the same menu, for just one credit!"
"Best meal of Our trip! I got the ribs! OMG! it was so good. I would get it again in a heartbeat. The peking duck was amazing also! My 4 yr old even ate it."
SCORE: 8.52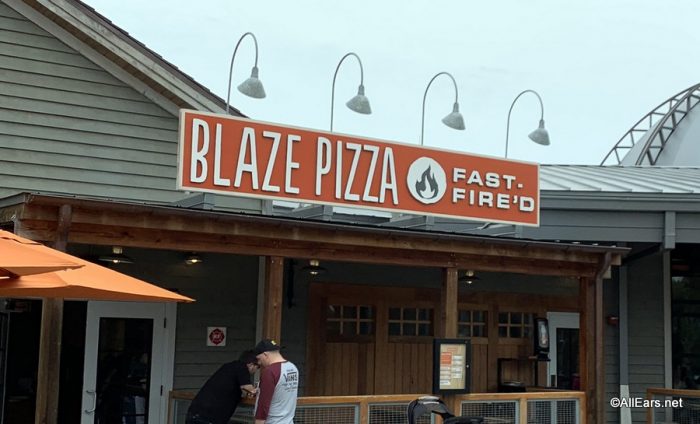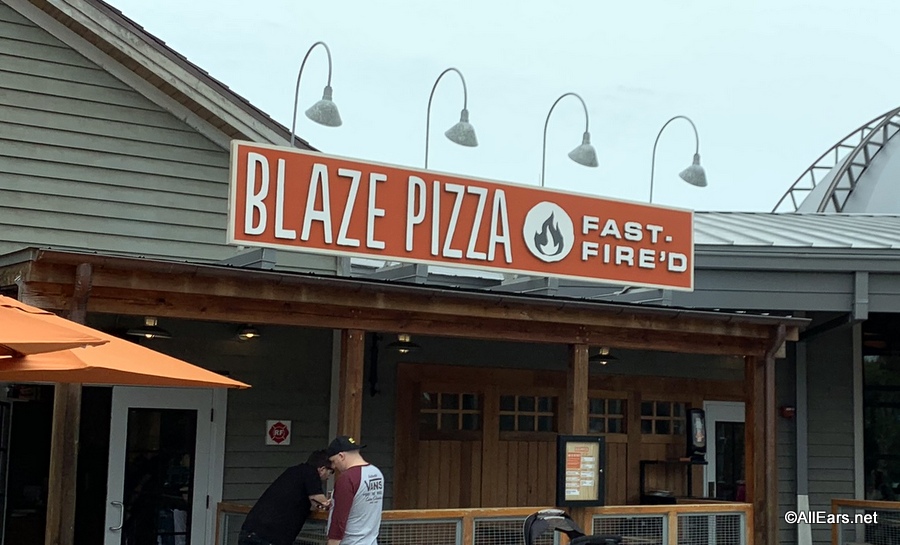 "Pizza is amazing, you get to choose your toppings, and baked in front of you. During my family and I's last visit, we ate here twice! It is definitely a restaurant we will keep coming back to!"
"I can see why this place is so popular. It has so many options so everyone can make a pizza they enjoy. It is so popular that the line was very long and we had to wait to get a table. However, the food was very delicious."
"Yes, there are Blaze Pizzas across the country, and yes, the line will extend out the door and possibly onto the midway, and yes, you may struggle to find seating. But this is THE best fast food pizza by an absolute landslide, and only rivals La Bella Napoli in Epcot as the best pizza in Disney by a landslide. I'd recommend creating your own pizza, and getting one of the specialty lemonades or teas instead of your typical sprite or coke."
SCORE: 8.65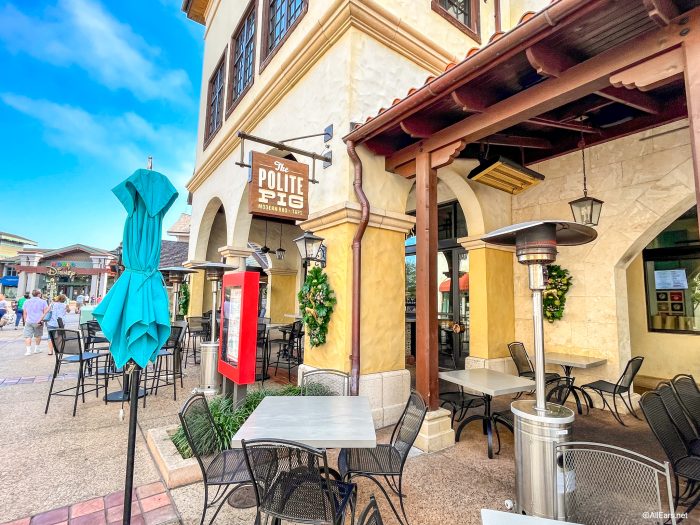 "Just got back from a week at WDW and when visiting Disney Springs this is my favorite place to eat. Can you say "Smoked BBQ Ribs"? Wife and I love the slaw. The cast member there are very good and helpful. I had the ribs and wife had the smoked turkey. A must for us to go each time here."
"This is a quick service restaurant but the servers bring you anything you need which I thought was great. Be sure to come hungry. We ordered the butcher board for 2. It was great and it could easily feed more than two."
"Wow! Great BBQ at Disney springs! The portions are large so if you aren't that hungry you can share. You order at the counter and they deliver the food to you using pagers. Make sure to try their different bbq sauces. We tried the brisket and Brussels sprouts. The brisket was very flavorful and moist. The Brussels sprouts were cooked well and also good. Your meal also comes with coleslaw and a cornbread muffin. If you like barbecue you should try the Polite Pig!"
SCORE: 8.71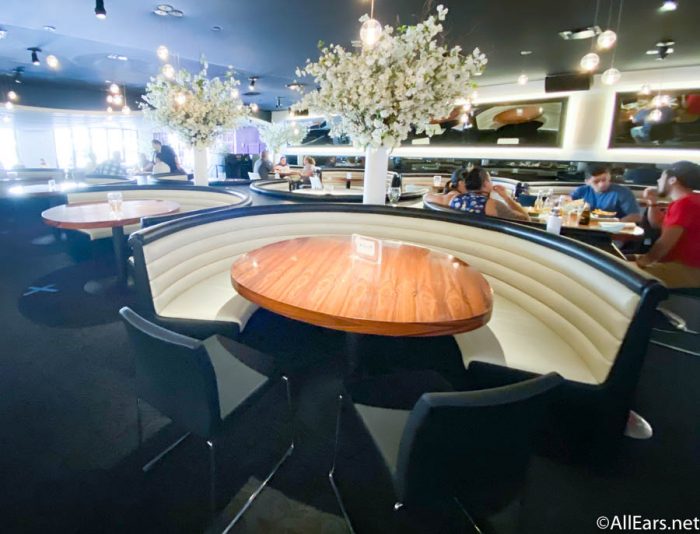 "Went on a Saturday at 5:00pm. Just wanted to share a slice. About 6 people in front of me. I order a big Roman slide. The lady did not hear the slice up but she heated the other guests slices. I gave it back to her and asked her to heat it and cut it, which she did. Waiting to pay took about 10 minutes after I received my slice. So it was cold when I finally sat down to eat. Not much flavor. Just basic. Thin crust. Lots of bubbles. Would not eat again."
"Great pizza, our party had multiple kinds- a white pizza, pepperoni, a mushroom and all were delicious. Great place to go for a fast meal."
"I tried Pizza Ponte during my April visit to the Flower & Garden Festival. I'd seen photos of their offerings and everything looked so good. I made up my mind I would try the mushroom pizza and was glad I did. The piece was large and very good. I had a baba and a cappuccino too. Too many temptations in the pastry case! The baba was good but I probably won't repeat it any time soon. Cream puff next time and there will be a next time!"
SCORE: 8.86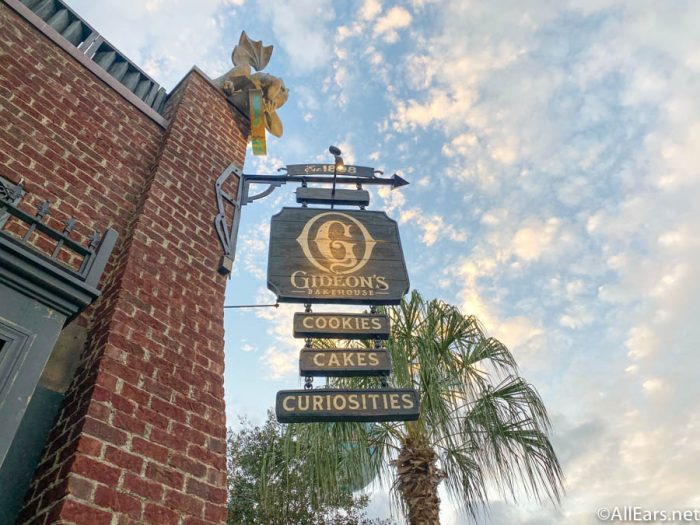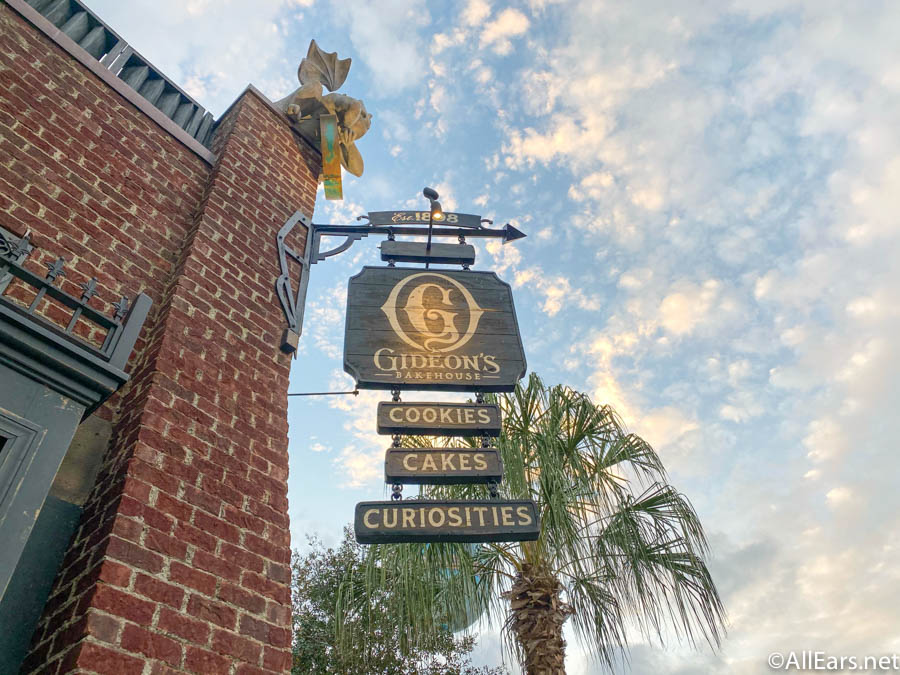 "Exceeded the hype. Coincidentally was in Disney springs on their surprise opening day and only waited virtually for 1 hour then 15 in physical line. Best parts about cookie dough in a baked cookie. High cookies and kind of cheap considering size and Disney prices. A must get at Disney."
"To start with, the cookies are very, very good and I highly recommend getting the frosting cups too! However, the current procedure and long line really took away from the experience for me. The virtual wait was over two hours and then the in line wait was another 50 minutes. Kind of took away from the experience."
"The store is small but themed wonderfully. I wish the interior was a little lighter inside. It is hard to see for those of us who have vision issues. The cake slices and cookies are very large. The cake slices are about 5 inch square and the cookies are almost the size of a normal female hand. They are so full of chips that there is little dough. Everything we tried was tasty."
SCORE: 8.94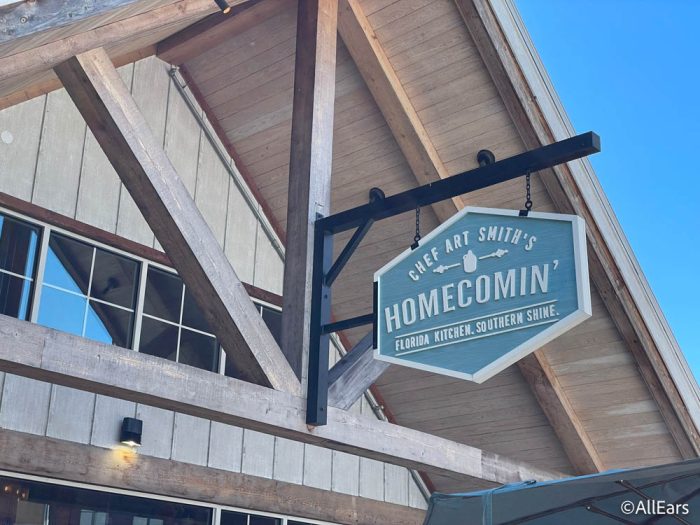 "Went for Sunday brunch and was probably best meal of our vacation. Cocktails great, open faced biscuit amazing, fried green tomatoes great. Amazing service and received free hummingbird cake for our honeymoon. Zero complaints"
"One of the best fried chicken I have ever had! It was delicious & moist. The donuts were wonderful as well. I love the Mac & Cheese, so delicious and creamy! The Hummingbird cake was really delicious as well!"
"This restaurant was one of the best places we ate at during our trip. The chicken is phenomenal and so is the macaroni and mashed potatoes. We got the thigh high chicken and biscuits and the arts famous chicken. Both of them were amazing. I highly recommend this place. 10/10"
SCORE: 9.00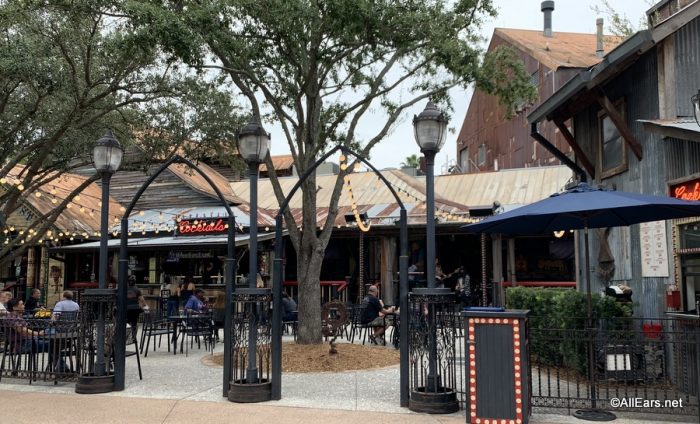 "If you like BBQ brisket and don't have a lot of time the Smokehouse is very good. We've been about 12 times and have taken friends a few times and all but once it was great. One time the brisket was very charred."
SCORE: 9.00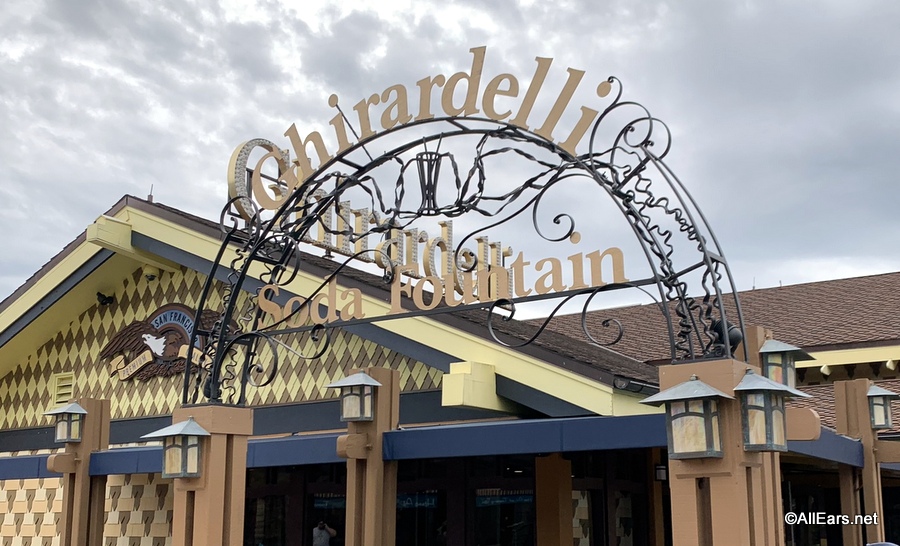 "Excellent hot fudge and caramel sundaes! We love to sit on the other side of the brick wall and listen to the music from the stage area. We always visit at least once a trip."
"We had sundaes for dinner and they were amazing. They are large so we were glad we skipped dinner. Line was long but moved quickly and worth the wait. Not nearly enough tables. We ate sitting outside on a ledge and it was very messy. Difficult to eat big sundaes without a table."
"We had the best sundae's ever! I got the hot fudge, my husband got the brownie sundae, and my daughter the dark chocolate sundae..they were SO good, we came back two days later and had sundae's again. Love sitting at the outdoor cafe to eat them. We had quick and friendly service when ordering!"
SCORE: 9.00
"We absolutely love being able to sit down to a movie and have dinner and drinks. The seats in the Fork & Screen theatres are oversized and you can choose your seats ahead of time, either on the app or in person at the ticket window. Soon after you sit down a server will approach to make sure you have menus and take your drink order. Then they return to take your food order. You can request your server come by at any time via call button on the table if you need anything. There are also dim lights near the front of the table so that you can see your food. They are unobtrusive and don't detract from the movie. As far as the menu, you can stick with the traditional popcorn and candy, order appetizers and sandwiches, or even order full dinner! The food isn't out of this world great, but it's good, and the whole experience makes it worthwhile."
SCORE: 9.08
"Great food and atmosphere! Loved the detail touches like the radio on the patio that comes on every few minutes. Had the loaded pretzel and it was awesome! It's not overly salty, the pepperoni and prosciutto were incredible and easily enough to share. We had 3 in our party and it was enough for us as a light lunch."
"Great spot for a drink and snack after a morning of shopping. Sat outside and enjoyed the breeze and view plenty of boat traffic. The beers were cold and the charcuterie pretzel was awesome. You won't be disappointed."
"Love me some Indy! It's really cool to look around at all the things used to decorate this place. We were amused by that but then you see the tasty options for food while you're there too and it blew us away. We could eat the giant pretzel with the charcuterie in the holes. SOOOO GOOOD. The drinks were well thought out to the theme of the restaurant too!"
SCORE: 9.27
"Amorette's Patisserie is a hidden gem in Disney World at Disney Springs. Their pastries are the best I've tasted. I made the mistake of going to Amorette's before we went to Les Halles Boulangerie-Patisserie. Les Halles doesn't even come close. Amorette's is the first place we head to at Disney Springs on arrival day now. Kiddo is obsessed with their chocolate-covered strawberries. She doesn't eat them at home, but she scarves them down from Amorette's. And they're pretty big strawberries. She was so upset that a man went in and bought every one they had before we got to order. I like their pistachio eclairs & the Mickey Mousse Cake. Three days after I bought it, the Mickey Mousse Cake was still so fresh, it tasted like I'd just bought it. I need to try their macarons, but I always get the eclairs (they're so good)"
"I can't say enough good things about this little place. We usually get the little red Mickey dome cake to share and it is out of this world, but this time we got the Wandavision TV cake and it was very good and fun to eat but absolutely ridiculously priced. $20 for a two person (or one depending) cake when you can buy a sheet cake for a party for half that. Will I do it again…probably. Everything I have tried here is fantastic tasting and not just pretty to look at. That in itself is a very big deal!"
"Loved the desserts here. I tried the NY cheesecake and key lime tart and both were great. It is a bit pricy for the portion size, even by Disney standards, but that would not deter me from going back. I highly recommend this place."
SCORE: 9.62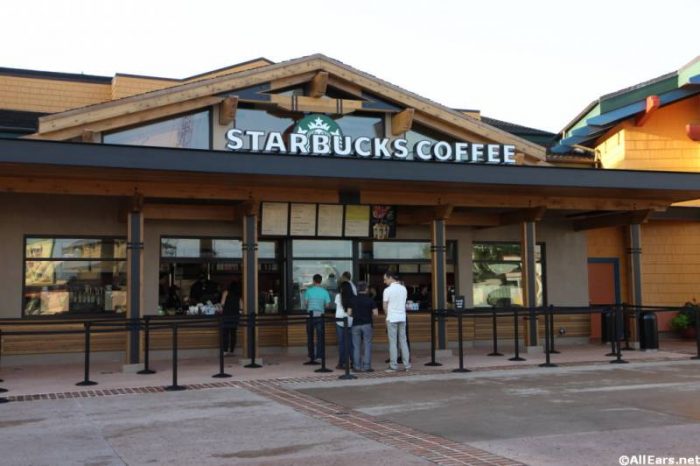 "Picked up a few drinks the morning of March 24th, before some shopping in Disney Springs. Service was fast and efficient, and the drinks were wonderful."
"My husband and I stopped by for a few iced beverages on March 22nd after some serious retail therapy in Disney Springs. I had a Very Berry Refresher and my husband had something similar with lemonade in it. The drinks were prepared quickly and service was awesome."
"Stopped by for coffee on October 24th before heading back to St. Petersburg. The service was great and the drinks perfect!!!"
SCORE:  9.43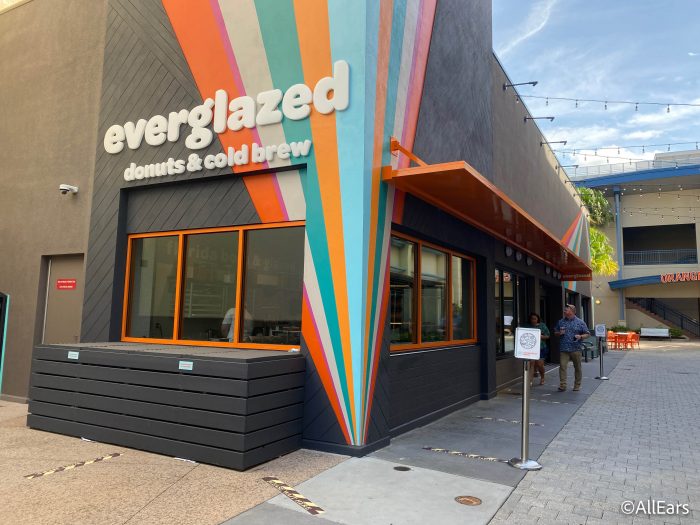 "As a precursor: in order to really appreciate this place, you must love donuts and have a huge sweet tooth. If you fit that criteria, you will absolutely love the donuts here so much! They rank amongst the best donuts I've ever had."
"Tons of outrageous and almost overwhelming donut choices. I got the Brooklyn Blackout, a chocolate cake donut with chocolate glaze, chocolate chips, chocolate drizzle, chocolate frosting and a chocolate wafer cookie. That sounds like too much chocolate, right? Strangely, it worked perfectly. The different kinds and sweetnesses of chocolate with the dense donut balanced each other out making it a delightful experience. The donuts are huge and definitely sharable. I got mine to go and ate it later in the evening and it was still wonderful!"
"Great tasting donuts with fun flavors! The line moves quick and they have a virtual queue. So don't get discouraged if you see a line."
1. Marketplace Snacks
Score: 9.5
This spot has changed its menu recently, so the current reviews are mostly regarding the old menu. However, we've thoroughly enjoyed everything we've tried here since the update!
What is your favorite restaurant at Disney Springs? Let us know in the comments!
Join the AllEars.net Newsletter to stay on top of ALL the breaking Disney News! You'll also get access to AllEars tips, reviews, trivia, and MORE! Click here to Subscribe!