We've been counting down the days until we could visit Avengers Campus, and the moment is FINALLY here!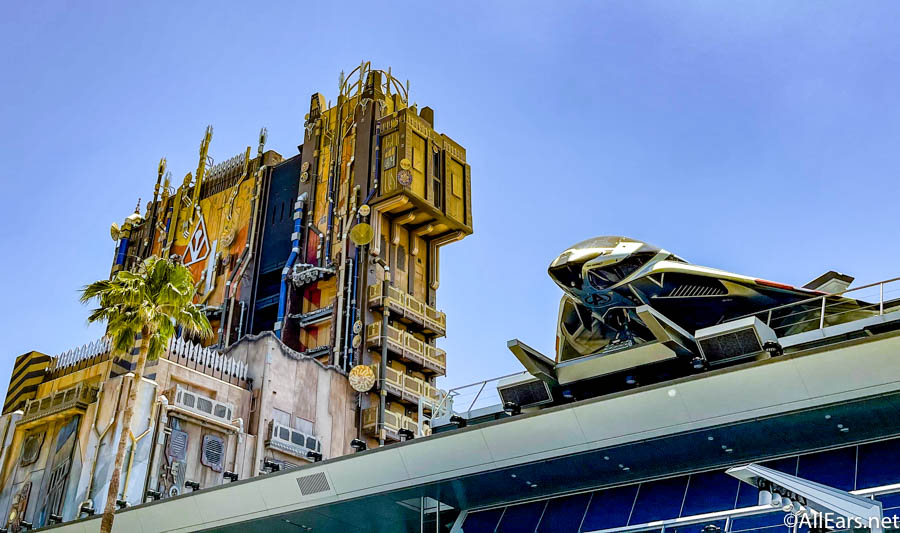 After getting sneak peeks at the atmosphere, dining, entertainment, and even Cast Member costumes, the anticipation has been as high as ever for the Marvel-themed land. Today, we get to step foot inside Avengers Campus for the very first time! And, of course, we're taking you with us to see and experience everything!
Entrance
We arrived bright and early at Disney California Adventure to find that A LOT of people had the same idea!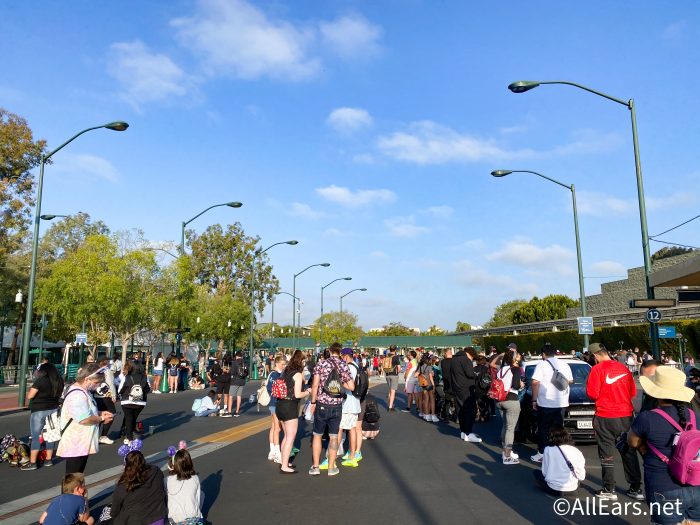 The park hadn't opened yet, so guests were lined up at the security area for the big moment to rush into the park and head to Avengers Campus.
A look at the crowds waiting for Avengers Campus to open today! pic.twitter.com/eOOWciAYGY

— AllEars.Net (@AllEarsNet) June 4, 2021
And, the entrance wasn't the only place you'd find a long line already. Well before the park even opened (as early as 6AM PT!) ALL of the mobile order pick-up time slots had already booked up (!!).
Keep in mind though that there is a capacity limit in Avengers Campus and placing a mobile order doesn't guarantee that you'll be able to get into the area at that time.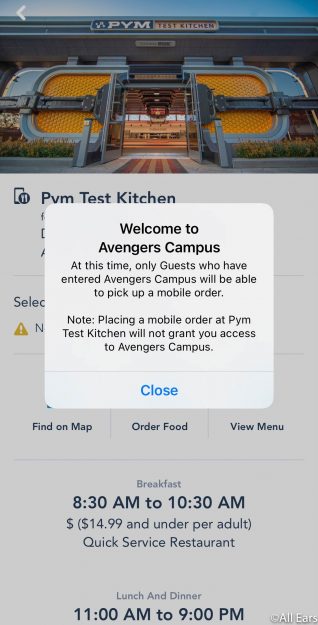 Once the park officially opened, we grabbed ourselves a new park map (look how official!) and then made our way over to Avengers Campus!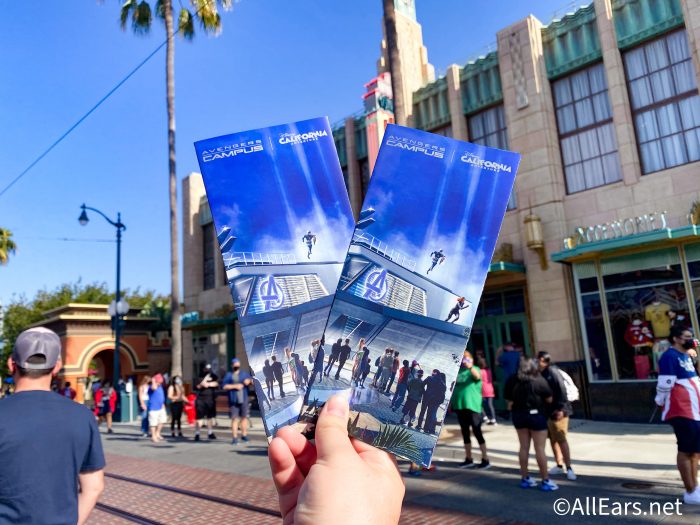 But, there was a LONG wait just to get into the land. The line stretched all the way down to Golden Zephyr before leading guests back to the Avengers Campus entrance.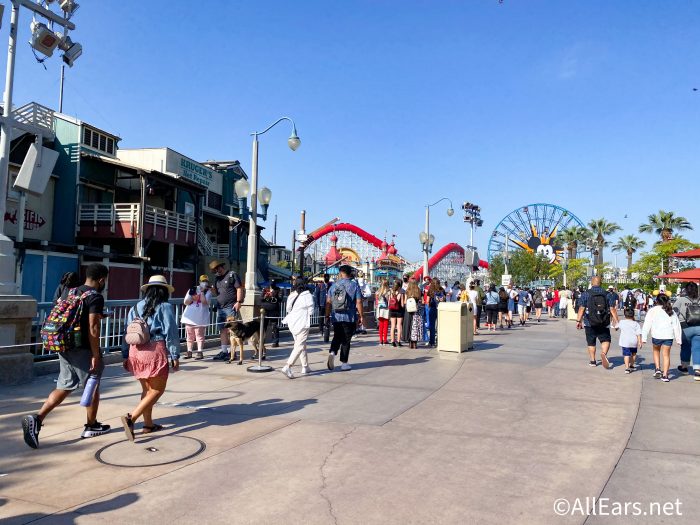 Guests normally have three possible entry points for the land, but today Disney had blocked a few off to control guest flow for the busy day.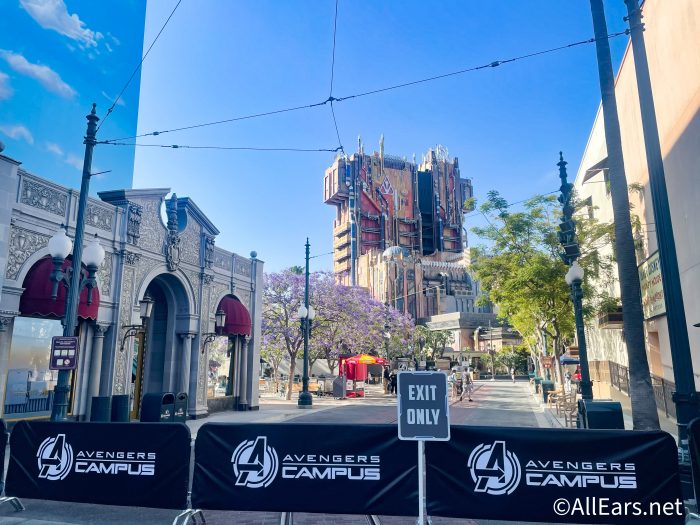 And, after a little wait and a long walk, we were in!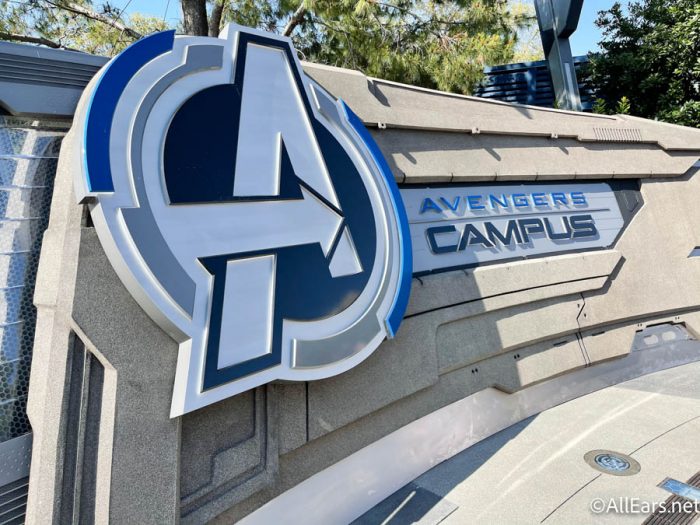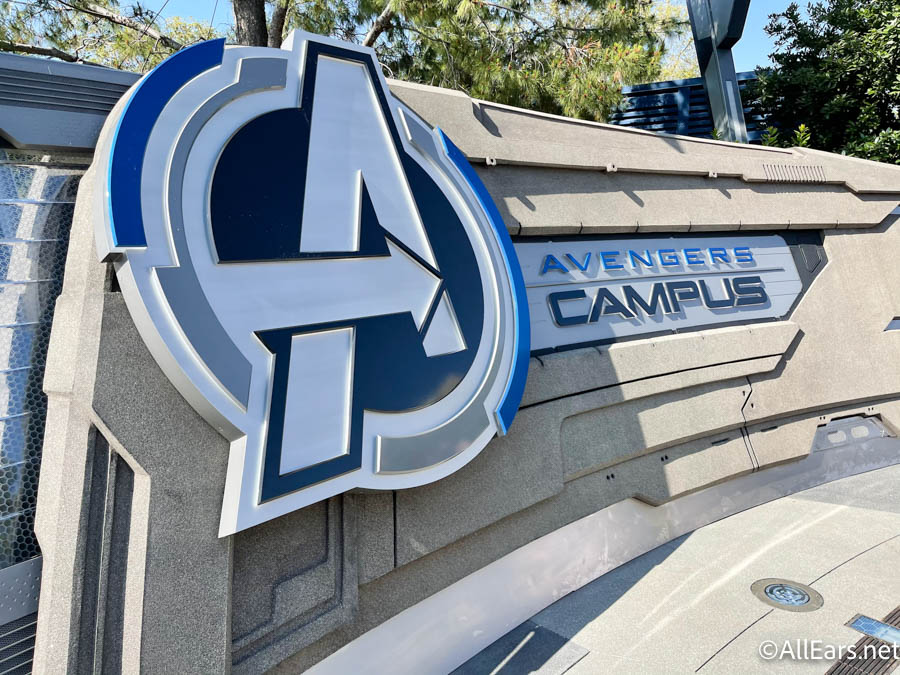 Attractions
WEB Slingers: A Spider-Man Adventure
Upon opening, there is technically only one brand new full-fledged attraction at Avengers Campus. The NEW Spider-Man attraction, WEB Slingers, allows guests to interact with the ride and shoot webs to capture Spider-Bots.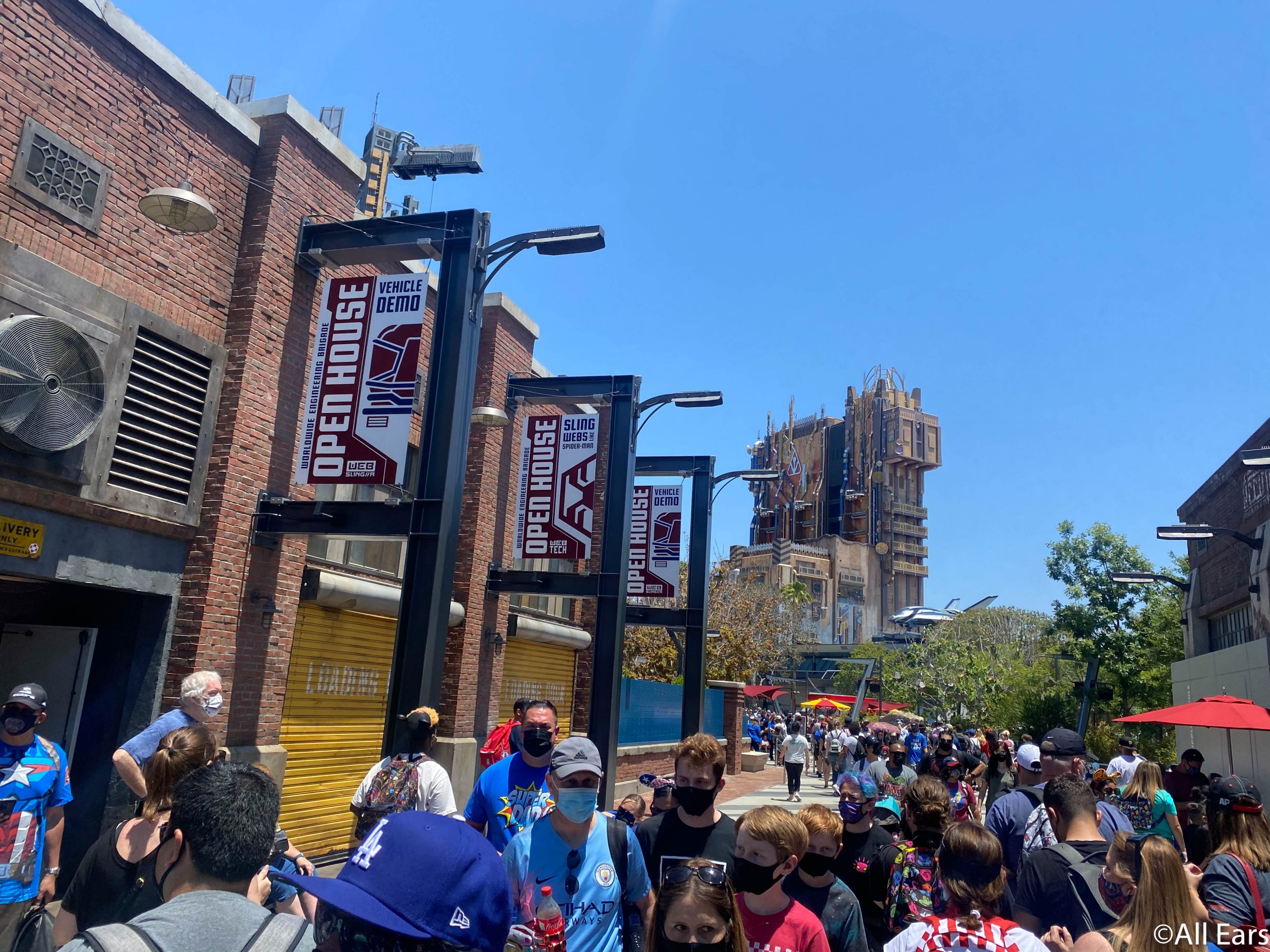 The attraction's operating with a Virtual Queue now and when it's your turn in line, you can actually skip the long wait for the land and head straight to the virtual queue entrance!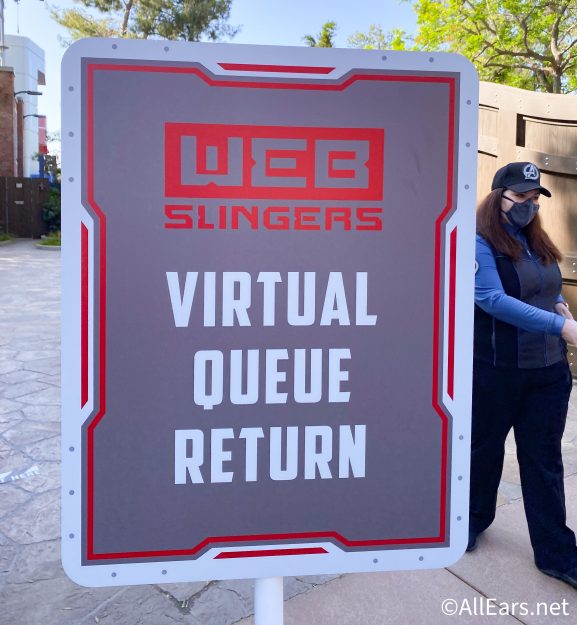 Once you're in Avengers Campus, the ride is pretty hard to miss over by the WEB headquarters! The queue has both a Stand-By Entrance sign and a Single Rider Entrance so maybe this ride won't be using a virtual queue forever? We'll just have to wait and see!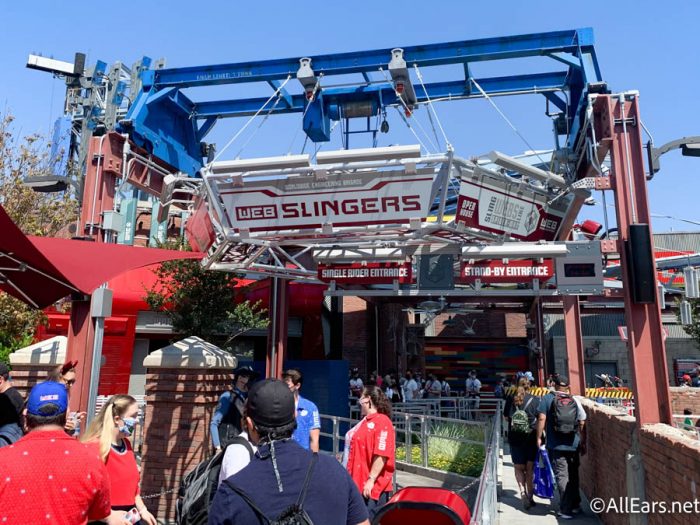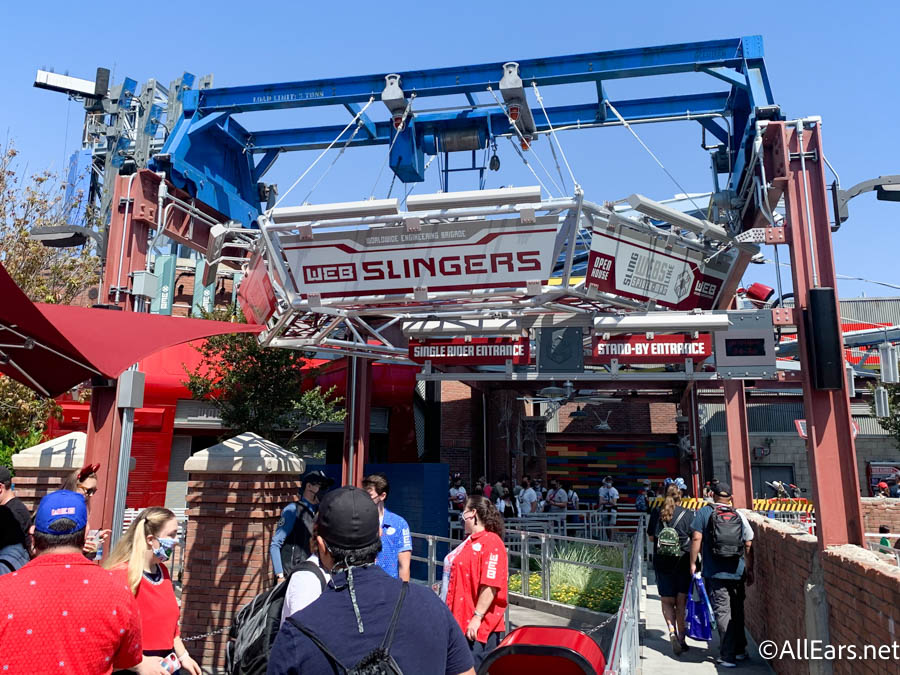 It's important to note that the virtual queues have been filling up quickly, so you'll want to have the app pulled up and ready to go!
Guardians of the Galaxy — Mission: BREAKOUT!
The long-standing ride Guardians of the Galaxy: Mission BREAKOUT! is now officially part of Avengers Campus and if you were looking for a ride with a walk-on, this ride was it! Everyone was busy exploring the rest of the campus, so the line was VERY short.
With a long line outside to get into Avengers Campus, the land's pre-existing ride Mission: Breakout! has almost NO line! pic.twitter.com/HwRR4twF4O

— AllEars.Net (@AllEarsNet) June 4, 2021
And, just outside the ride, you'll find a splash of color all over the ground.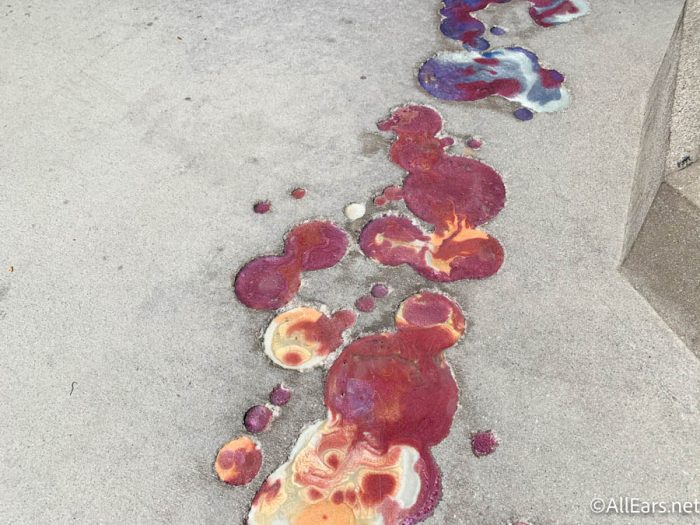 To further the atmosphere, Disney has created the story that the Collector's tower has caused a cosmic disruption in the area ahead of Avengers Campus. Who knew that shaking up the universe could look so pretty?!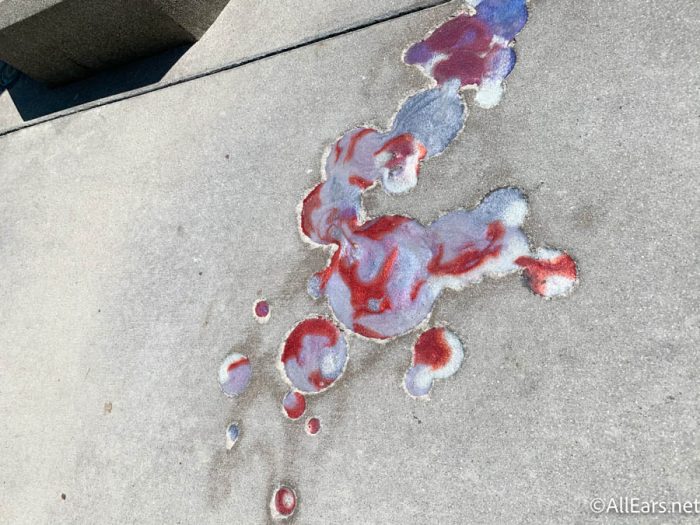 Other Attractions
Guests can also participate in two kinds of training at the Avengers Campus. The first place you can visit is the Sanctum, where Doctor Strange awaits to pass on his knowledge of the Mystic Arts.
The area is super detailed with an orb that will light up with color at night in the center…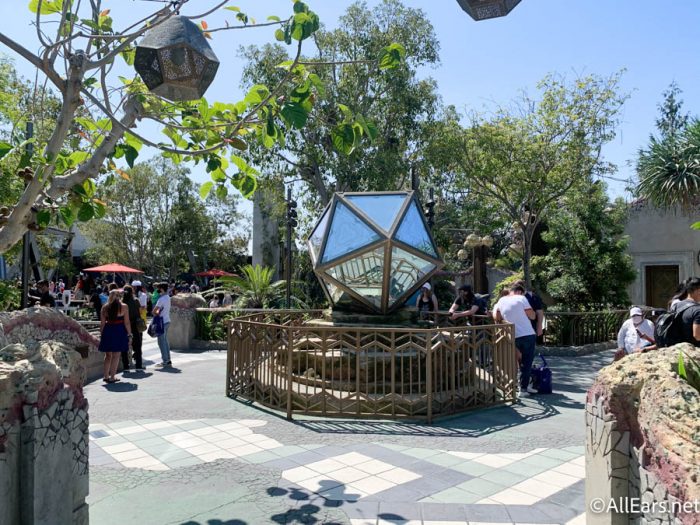 …and other fun paths to explore.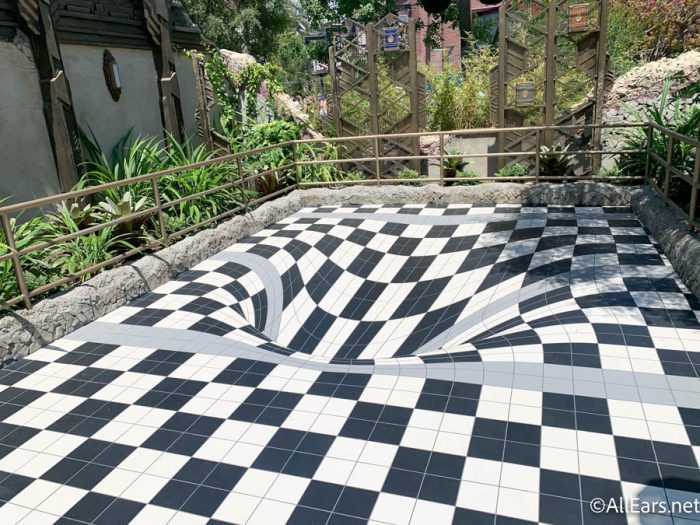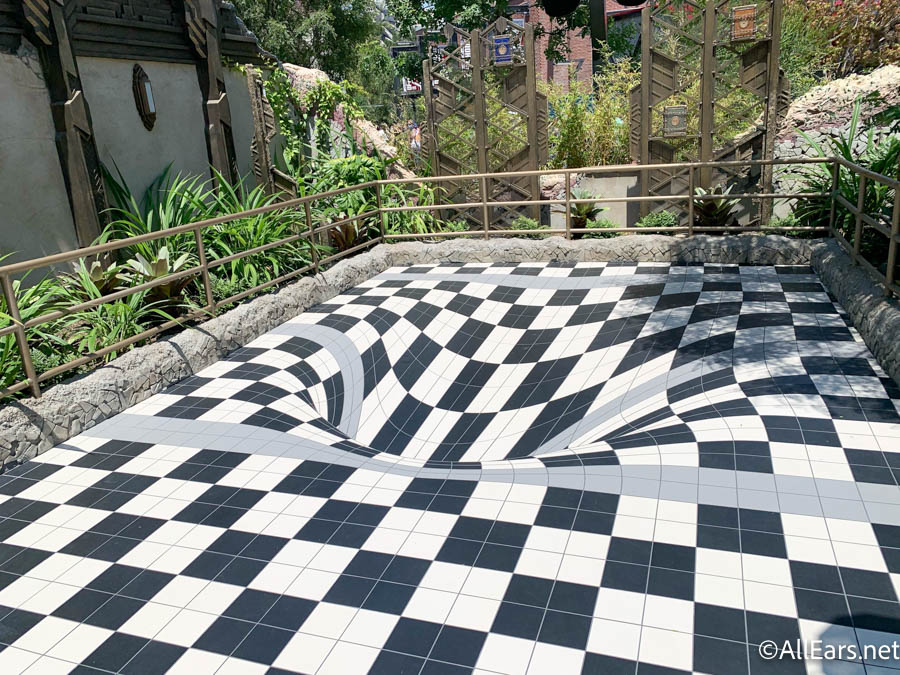 The Dora Milaje are also around the corner to train guests in the ways of becoming a Wakandan warrior.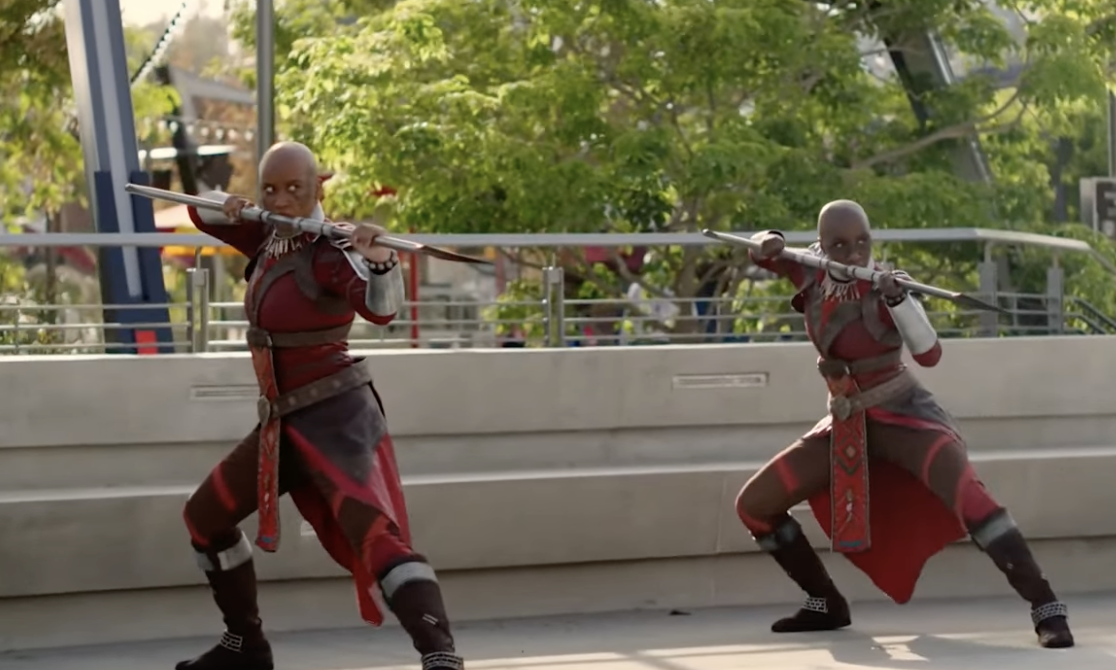 Entertainment
We haven't seen so many Marvel characters in one place before, but the character interactions are INCREDIBLE in Avengers Campus!Early in the day, we spotted Spider-Man over by the WEB headquarters say hi to all the new recruits!
And, over at the Avengers headquarters, we spotted Captain America out with his shield waving to guests high up above!
Saying hi to Steve Rogers' Captain America in Avengers Campus! pic.twitter.com/cWaCfsZUAh

— AllEars.Net (@AllEarsNet) June 4, 2021
He was also out later in the day greeting guests from the Avengers truck!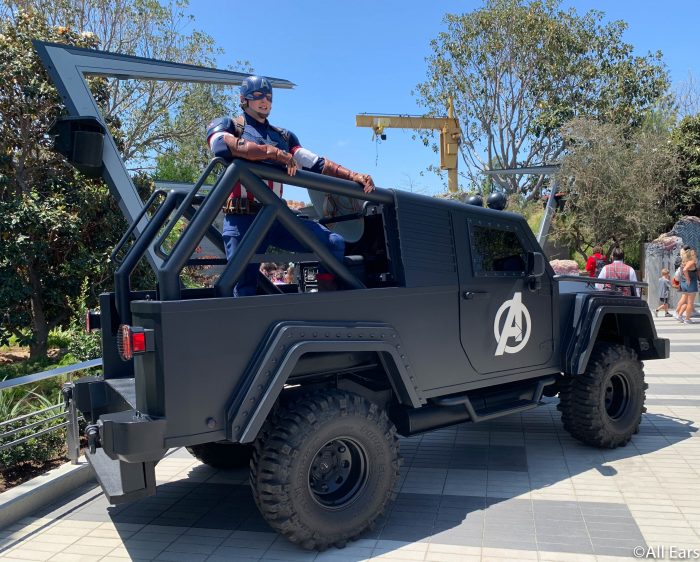 And, a few hours later, we spotted the NEW Captain America up at Avengers headquarters!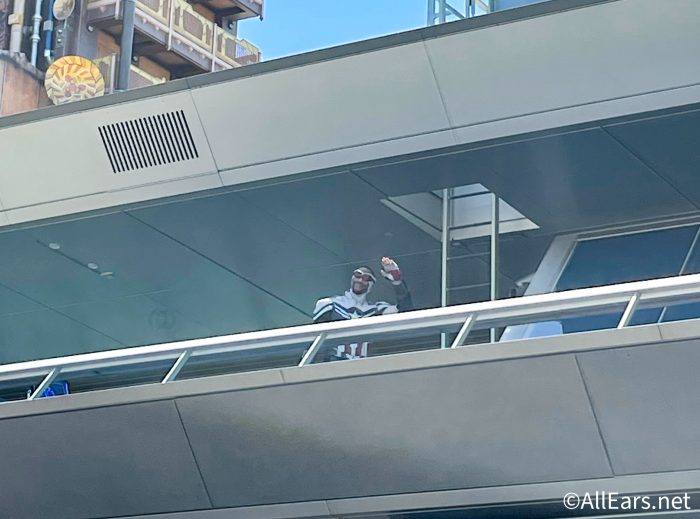 We also spotted Loki making some mayhem over near the Quinjet ahead of his new show's debut next week!
Mickey was also SUPER excited to party with everyone and celebrate the opening of Avengers Campus! So, he put on his best Marvel gear with a Captain America shirt and hat to pose with guests visiting Disney California Adventure.
We even spotted the Spider-Man Stuntronic leaping through the air above Avengers Headquarters! AMAZING, right?!
Part of the Spider-Man Stunt Show at Disney's Avengers Campus! pic.twitter.com/FbwCFW9AFS

— AllEars.Net (@AllEarsNet) June 4, 2021
Dining
Pym Test Kitchen
Banners located throughout the park already had us daydreaming about the massive eats we could find at the Pym Test Kitchen and creative cocktail concoctions next door at the Pym Tasting Lab. And, today we got to take a look inside!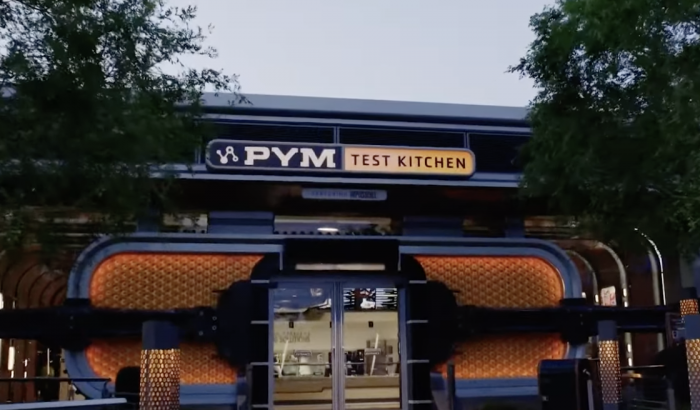 The restaurant is only available through mobile order, so you'll need to be sure that you arrive during your pick-up window (just keep in mind the mobile order problem we stumbled upon earlier today). It is open for breakfast, lunch, and dinner so we stopped by early in the day to give the new menu a try!
A look inside Pym Test Kitchen in Avengers Campus pic.twitter.com/ICO6fKRJ4J

— AllEars.Net (@AllEarsNet) June 4, 2021
Once you step inside, you'll see pretzels on conveyor belts and lots of oversized kitchen items!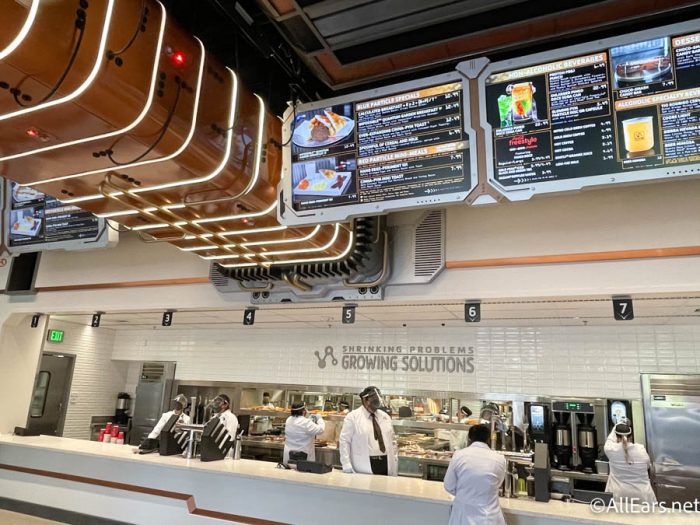 Even the drink taps look a little different than normal!
The menu features a few different sections that are split up by what type of "Pym Particle" was used to make it. The blue particles are used for enlarging foods and the red ones are used for shrinking (hence why they're kids meals).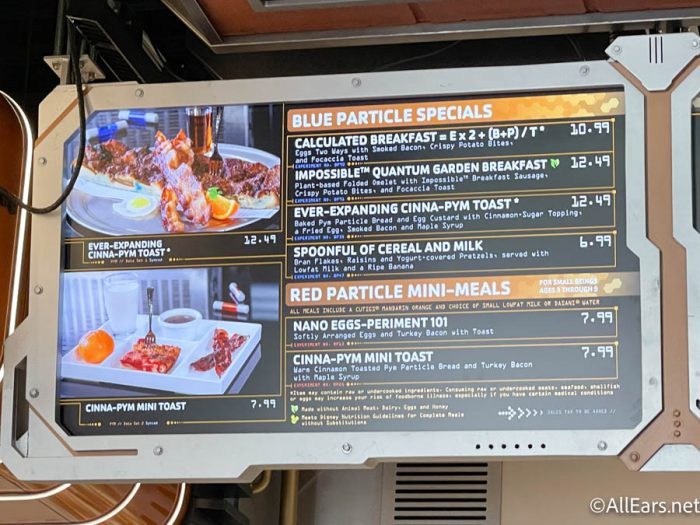 Once you grab your food, you can head over to the Coca-Cola Free-Style machines that are attached to oversized soda cans on the ceiling and grab your drink. Currently, Cast Members are serving up the drinks, so you'll just have to ask them for what you'd like.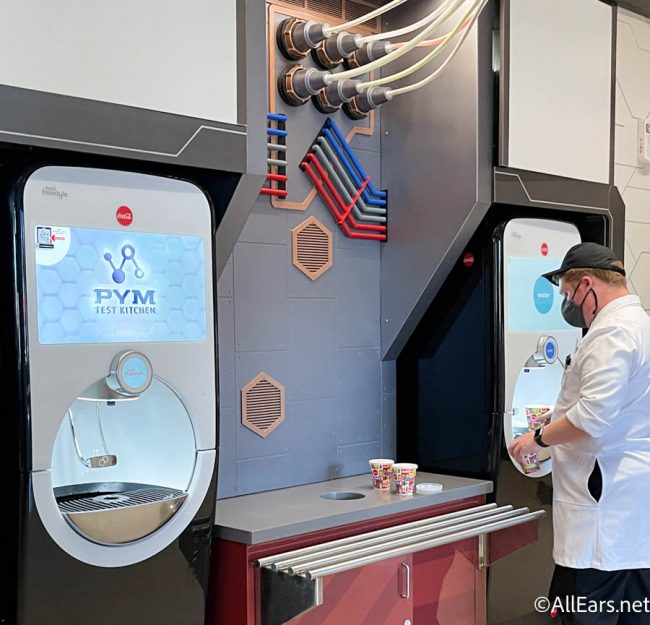 We opted to go for the largest drink Pym Test Kitchen serves up — the Enlarged Pingo Doce Soda Can for $22 each. These can be filled with the Avengers signature Pingo Doce or you can grab a regular fountain drink of your choice.
For breakfast, you can try the Calculated Breakfast = E x 2 + (B+P)/T which comes with Eggs Two Ways with Smoked Bacon, crispy Potato Bites, and Focaccia Toast for $10.99...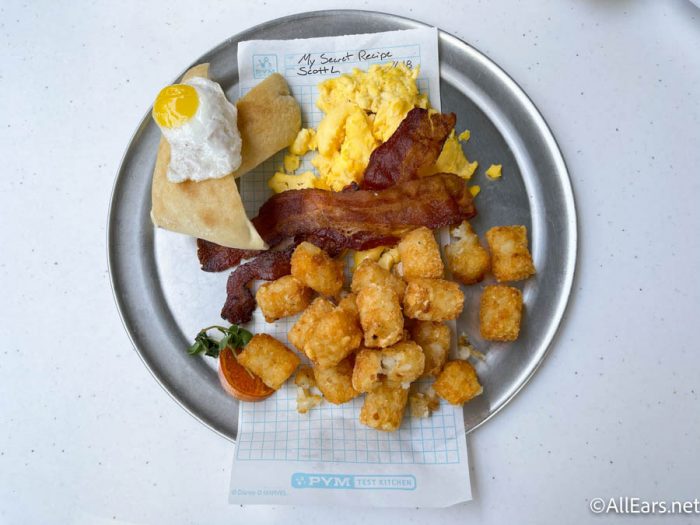 …or go for something sweeter like the Ever-expanding Cinna-Pym Toast which is a Baked Pym Particle Bread and Egg Custard with Cinnamon-Sugar Topping, a Fried Egg, Smoked Bacon and Maple Syrup for $12.49.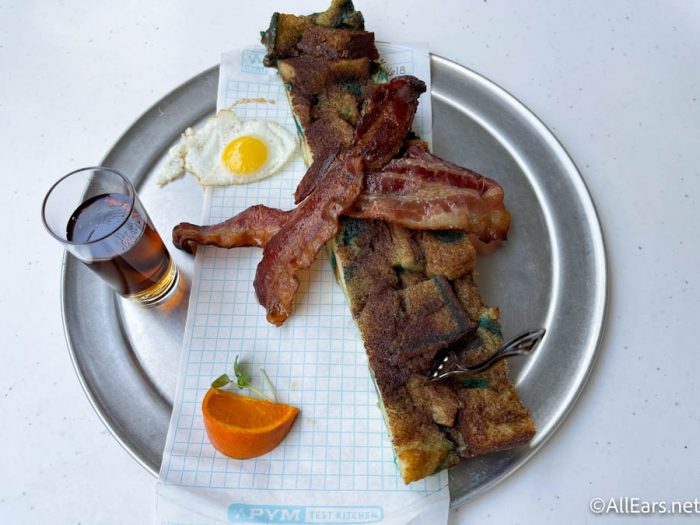 Cereal fans out there can get the (literal) Spoonful of Cereal that is Bran Flakes and Raisins, garnished with Yogurt-covered Pretzels, served with Whole Milk and a ripe Banana for $6.99.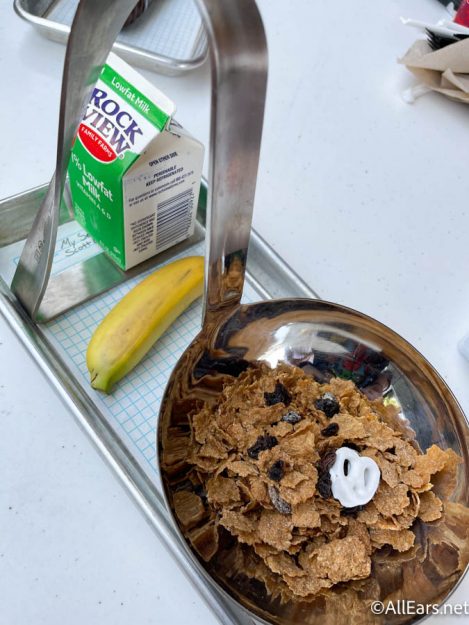 And, the only plant-based option is the Impossible Quantum Garden Breakfast which has a Plant-based Folded Omelet with Impossible Breakfast Sausage, crispy Potato Bites, and Focaccia Toast for $12.49.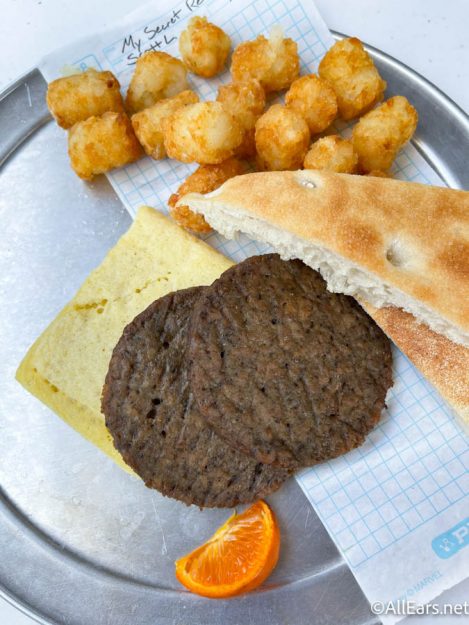 There are two kids' meal options including the Nano Eggs-periment 101 which has Eggs and Turkey Bacon with Toast, served with a Mandarin Orange and a choice of Milk or Water for $7.99…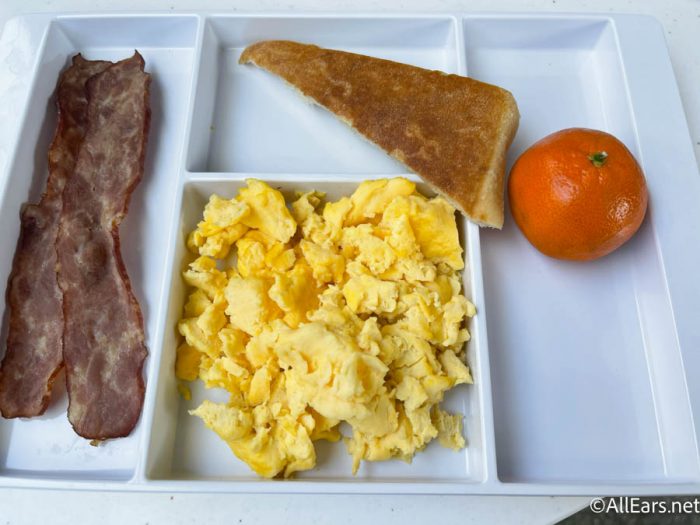 …and the Cinna-Pym Mini Toast which is a warm Toasted Cinnamon Pym Particle Bread with Turkey Bacon and Maple Syrup served with a Mandarin Orange and a choice of Milk or Water also for $7.99.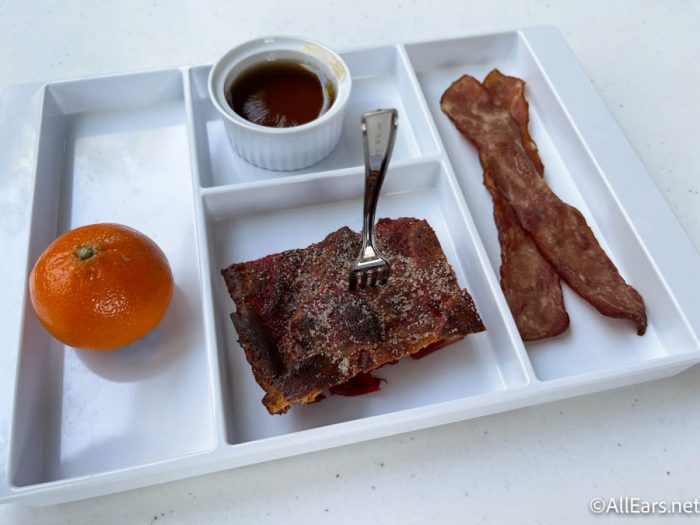 And, if you like dessert for breakfast, the Celestial-sized Candy Bar: Choco-Smash CANDY Bar is available in the morning as well for $7.99!
It is a Choco Smash Candy Bar with Dark Chocolate, Peanuts, Caramel, Nougat, and Chocolate Brownie.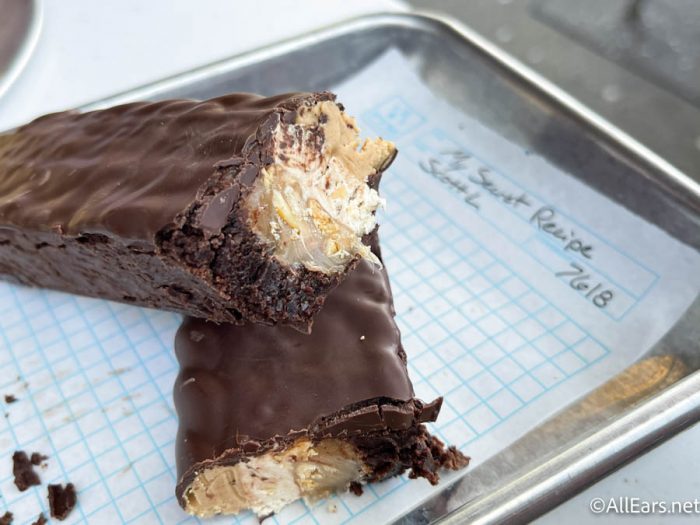 When we went back for lunch, we were able to finally see that $100 Family-sized Pym-ini made with Salami, Rosemary Ham, Provolone, and Sun-dried Tomato Spread on Toasted Focaccia with Arugula Salad…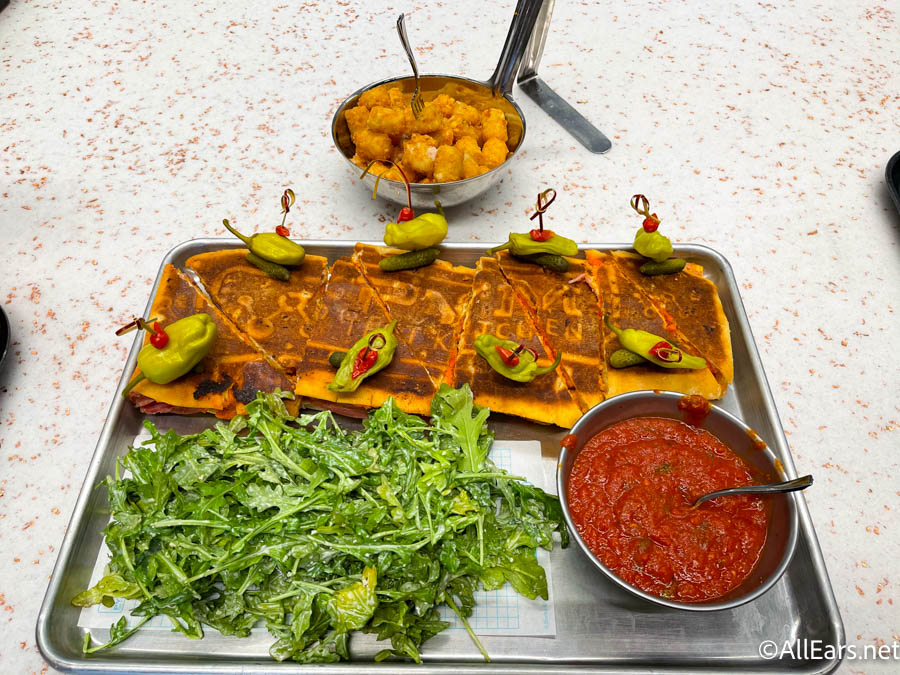 …Marinara dipping Sauce…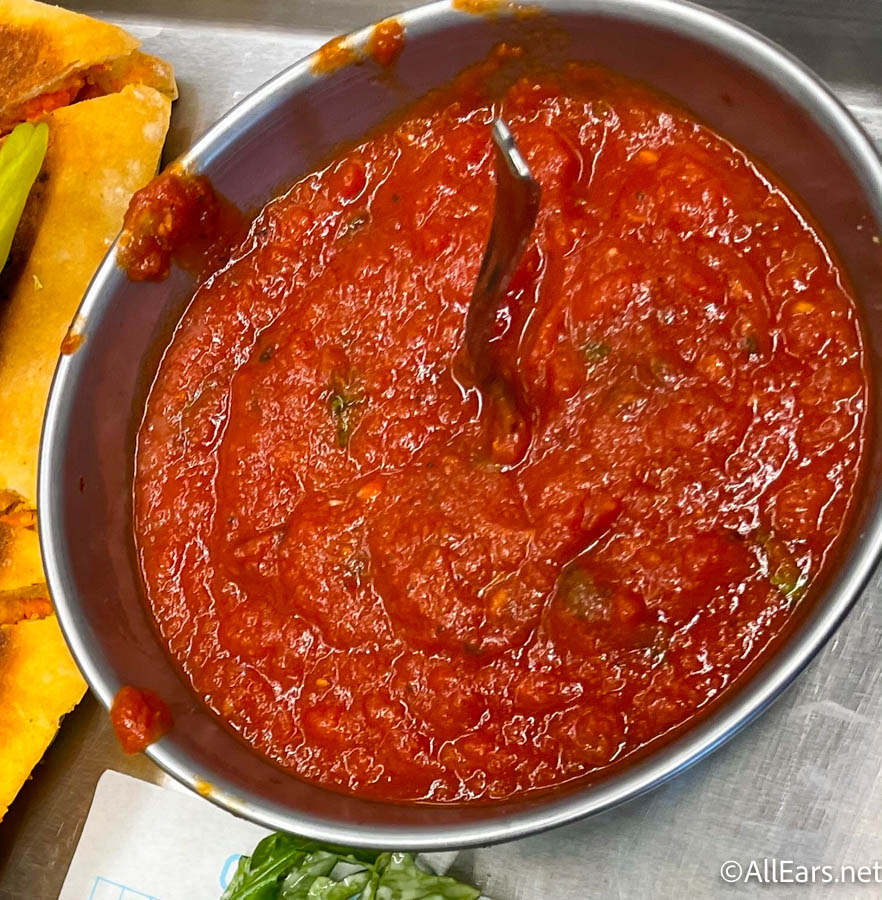 …and Potato Bites that serve 6-8 guests.
And, those super-sized eats will totally leave you full after your adventures in the park!
Pym Tasting Lab
Right around the corner from Pym Test Kitchen is Pym Tasting Lab where you can order up a drink and find a seat outdoors.
The menu features quite a few "experiments" and the bar even features glasses that fill from the bottom up!
Shawarma Palace
If you're looking for something on-the-go in Avengers Campus, though, you can pop over Shawarma Palace as the home to the Avengers' favorite food! The menu is made up of a range of bites with the New York's Tastiest and Impossible Victory Falafel.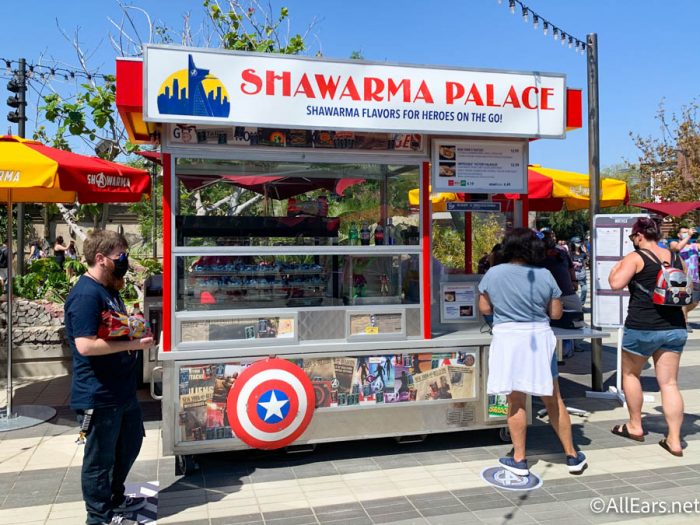 The idea is that Tony Stark and the rest of the Avengers liked the restaurant so much that they asked the owner to open up a cart at their new campus. Of course, the owner is a big Avengers fan so he's got tons of memorabilia around the cart.
And, along with the New York's Tastiest and Impossible Victory Falafel wrap, Shawarma Palace also offers one of the best souvenirs around Avengers Campus with Iron Man's Infinity Gauntlet from Avengers: Endgame with stones that light up for $27.79.
Terran Treats
But, it wouldn't be a trip to the parks without something on the sweeter side. And, Terran Treats is the place to be! It is located near the entrance from Hollywood Land by Guardians of the Galaxy — Mission: BREAKOUT!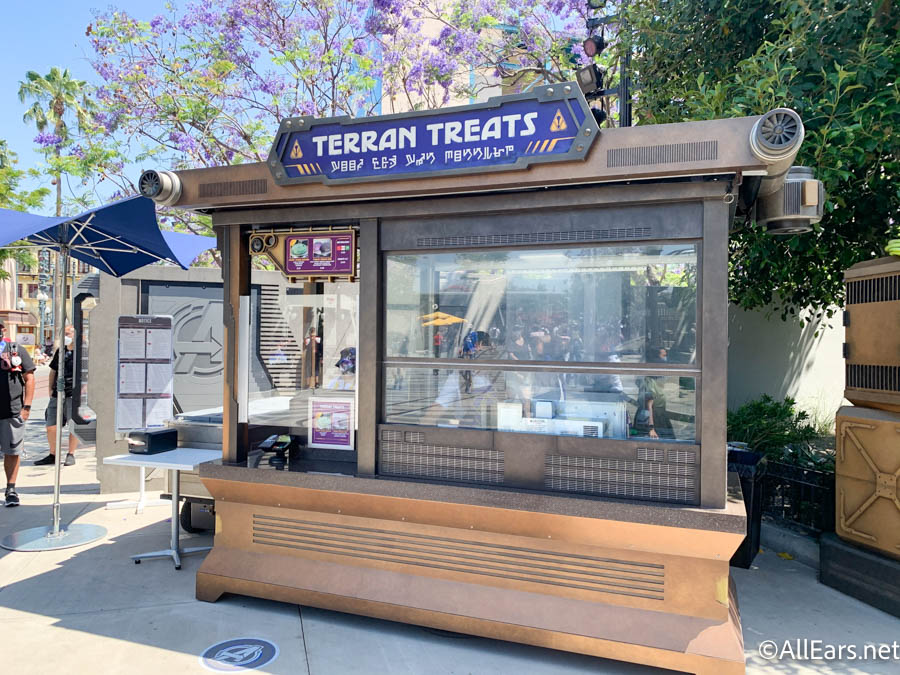 You can even spot some the supplies and luggage that was used to help put together the snack kiosk right next to it!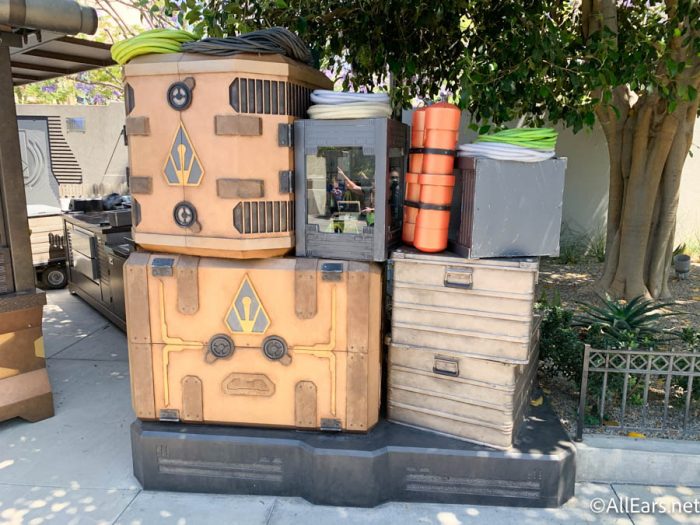 The menu here is on the smaller side with only two main menu items including the unique Sweet Spiral Ration Churros…
…these little circular treats are pineapple churros and cost $5.75…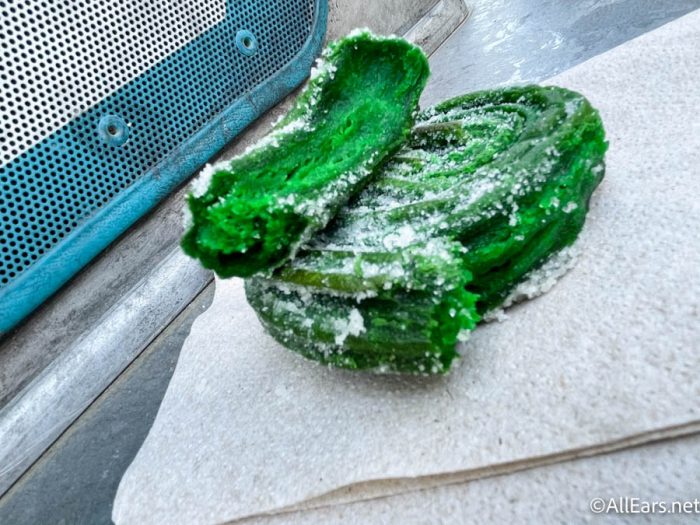 …and the other menu item is a Cosmic Cream Orb which is a cream puff filled with raspberry cheesecake for $6.25.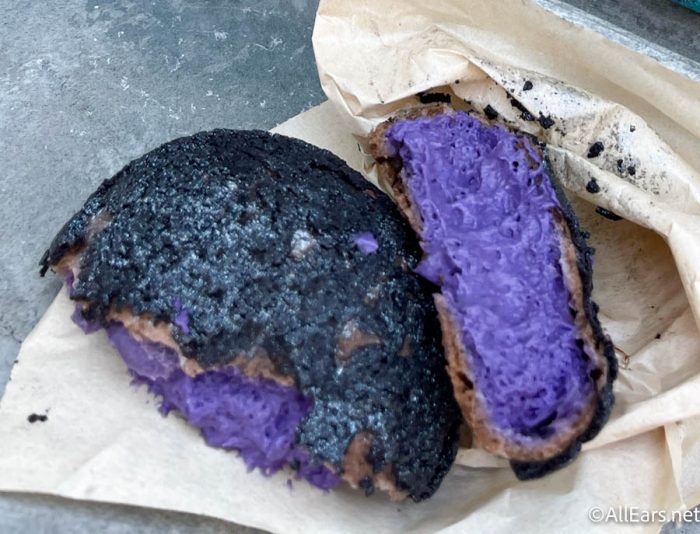 Merchandise
And, Avengers Campus is filled with merchandise that is sure to make you feel like the superhero that you are! WEB Suppliers is the newest shop in the land and features tons of spidey creations.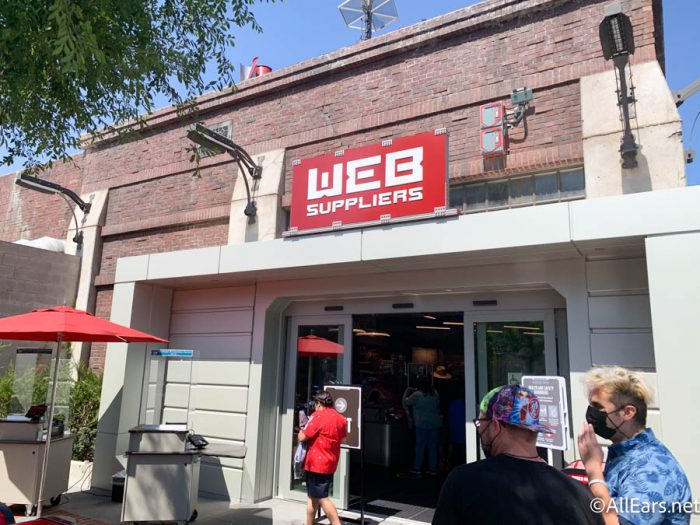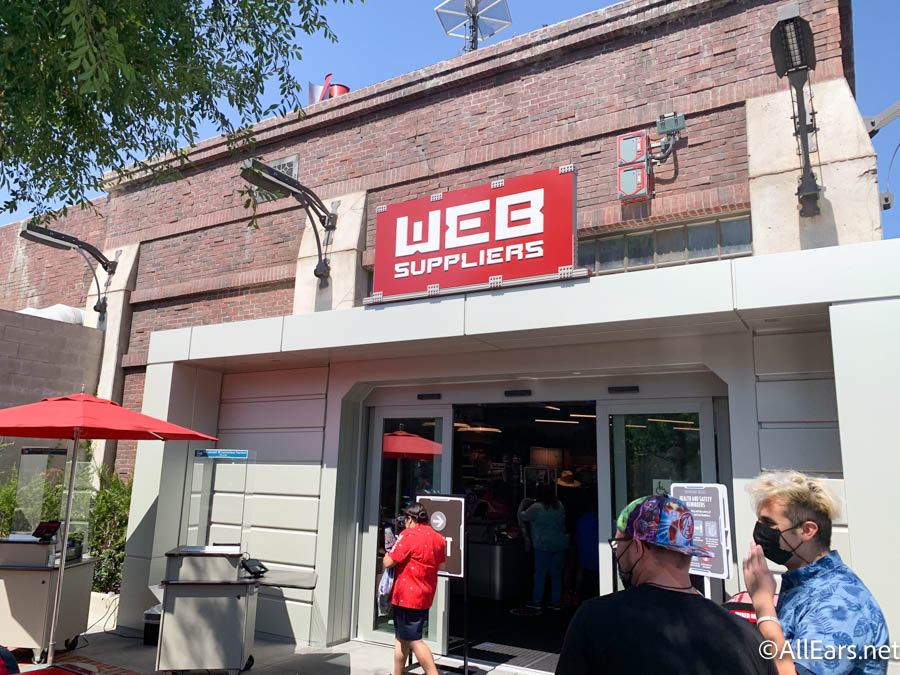 You can take another sneak peek inside the Marvel inspired land with the newest commercial that's debuted as well! And, be sure to keep up with us for the rest of today as we give you a full look at everything happening in Avengers Campus. We'll be updating this post throughout the day so stay tuned!
Will you be visiting Avengers Campus any time soon? Let us know in the comments below!