Although we're back in Disney World, we've seen some pretty wild things happening in the parks!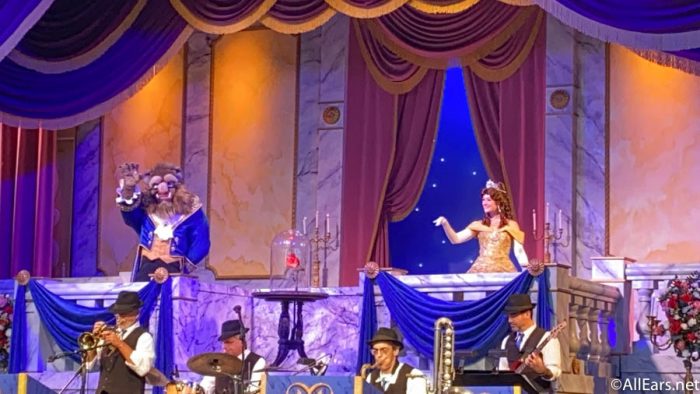 We've spotted Pooh chasing butterflies, completely new ride procedures, and an adorable JAZZ BAND show, among so many other reopening treats. But, along with some of our returning favorites (Dole Whip, anyone?), there are plenty of new sights and merchandise that have us scratching our heads in the parks.
While we've been making our way through Disney World, we've been compiling some of the strangest items we've seen out in the parks recently!
Pandora Windbreaker
Although we've loved traveling all the way to Pandora to go on Flight of Passage, there's just something special about the tranquility of the Na'vi River Journey. While the boat ride through the bioluminescent forest is calming and beautiful, the jacket inspired by the attraction is…well, colorful, to say the least.
The back shows the Sha'man singing along to the beat of her own drum (she's pretty talented, if we do say so ourselves)…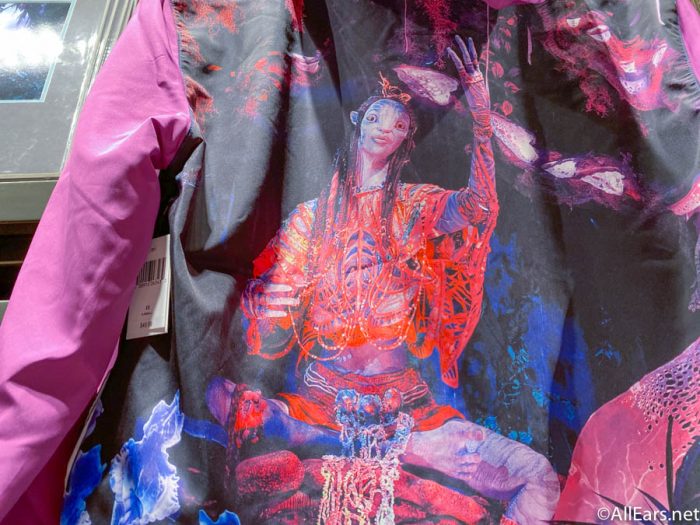 …while the front has an image of the floating rocks in the Valley of Mo'ara. However, the hot pink sleeves along with the vibrant colors is A LOT to take in (and might be brighter than the bioluminescent plants themselves) for $49.99 at Windtraders.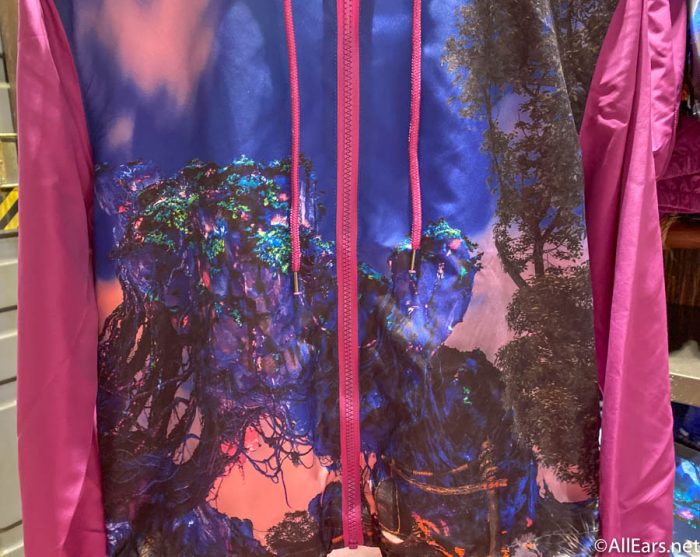 Forky Hair Brush
There are only a few pieces of merchandise in Disney World that make us crack up. And, the Forky Hair Brush had us in stitches when we spotted him at the World of Disney! The brush features Forky with his goofy eyes and pipe cleaners arms (don't you just want to laugh looking at him?).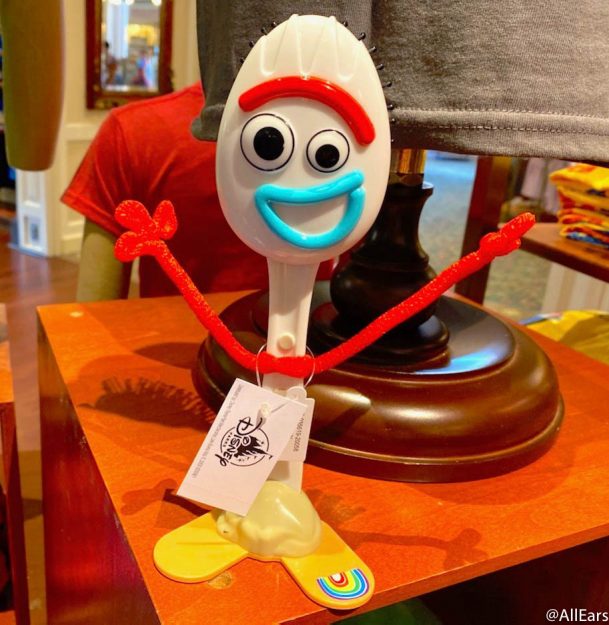 Since the brush can stand up on its own, we think Forky would be a great addition to your vanity or a surprise that pops up around the house every now and then to greet your guests for $16.99.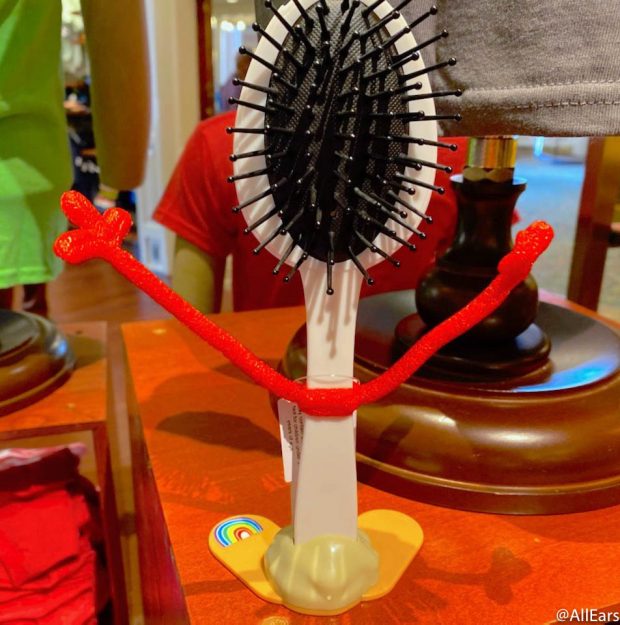 Monsters Inc. Hair Scrunchies
Although you might be scared of the monsters under your bed, these Monsters Inc. Hair Scrunchies are a fabulous way to add some monsters to your — hair routine? While the Sulley Hair Scrunchie has tiny horns, the Mikey Hair Scrunchie goes the full nine yards with horns, arms, legs, AND a giant eye to finish things on a very strange note.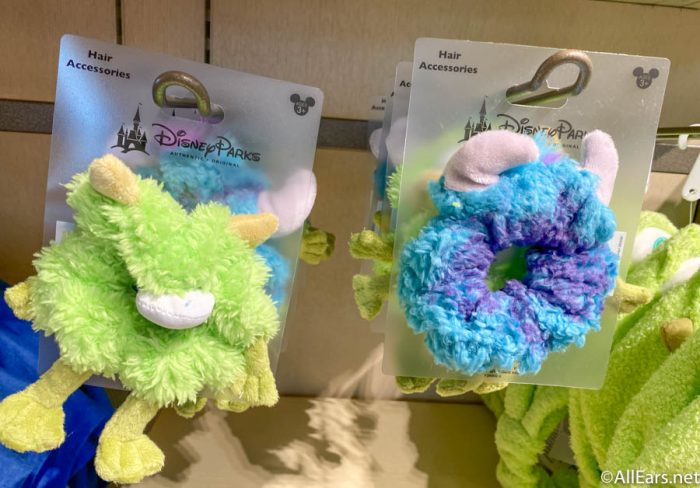 Monsters Inc. Shoelace Charms
But, the fun Monsters Inc. merchandise doesn't stop there! If you thought that your shoelaces needed some sprucing up, may we introduce you to some Monsters, Inc. shoelace charms!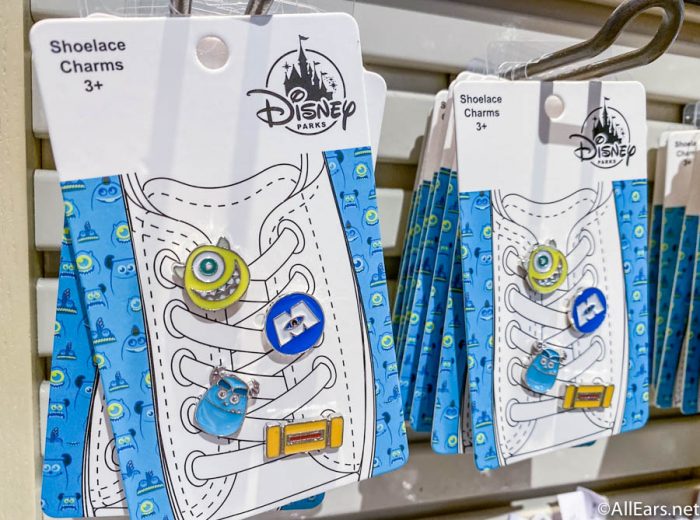 ALL the Basketball Merchandise
Although Disney has had some unconventional items to pick up in the parks, we were surprised to see an entire line of basketball items (seemingly for the NBA only since they are some of the only guests staying at the resort right now). While guests could obviously pick up the new NBA line, the merchandise stand was directed at the teams coming to the hotel.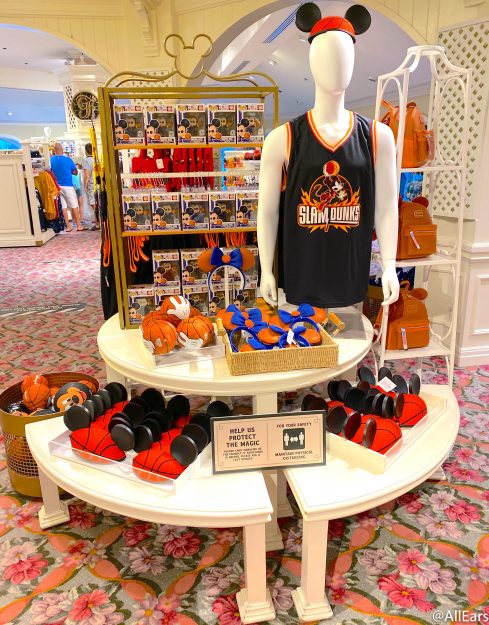 So, we have to wonder…what team members are going to put on a pair of Basketball Minnie Ears?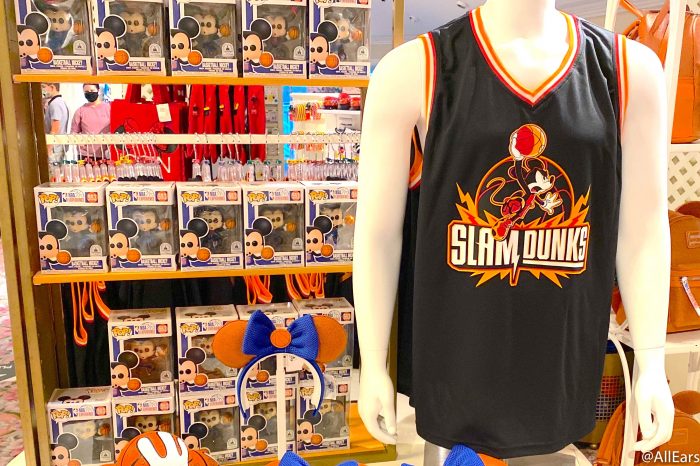 Do you think they spend their time practicing on the court with the Mickey basketballs?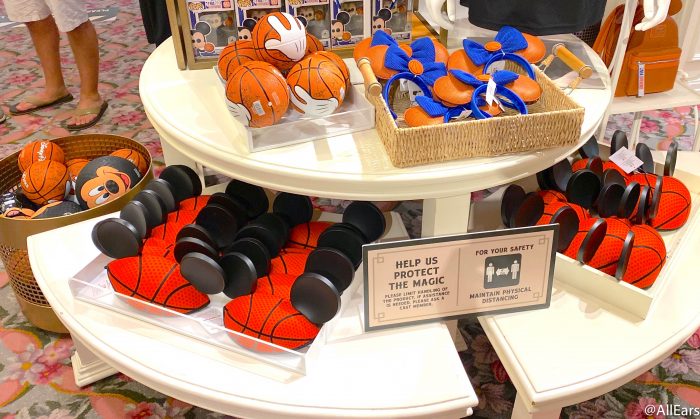 Or, do you think they're maybe keeping all their water bottles and extra masks in their very own Basketball Loungefly Backpacks? When they say celebrities are just like us, we can't help but wonder if they get just as excited about finding an entire line of Disney merchandise dedicated to their favorite sport.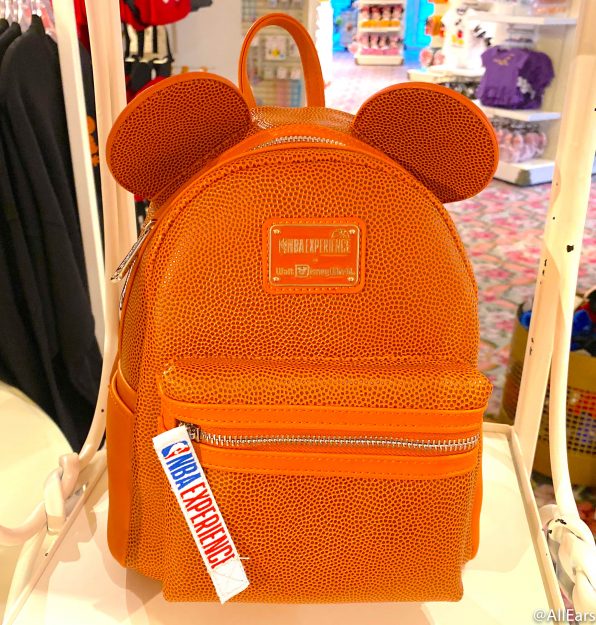 Balloon Ears
Mickey balloons have our hearts since they're only a small fraction of what makes your time in Disney World so magical. And, when we saw the Balloon Mickey Ears, we HAD to have them…that is, until we picked them up.
While you'd think balloons would literally be as light as air, the Balloon Mickey Ears are as heavy as ever.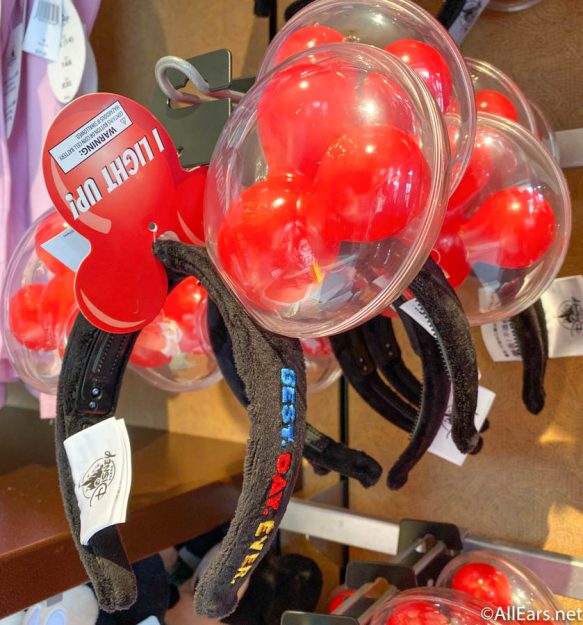 But, we do have to say that they are seriously cute with their light-up balloons that remind us that we're in the Most Magical Place on Earth (even if we're wearing the heaviest merchandise in the parks).
Rainbow Platform Crocs
We all thought that the Croc phase had come and gone, buuut not in Disney World! Although we've seen themed Crocs around the parks, there's nothing like the Rainbow Platform Crocs that could add a few inches to your height!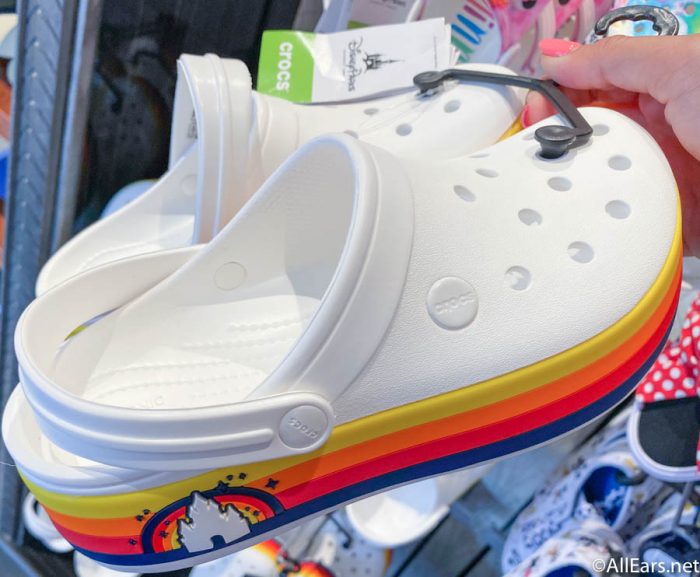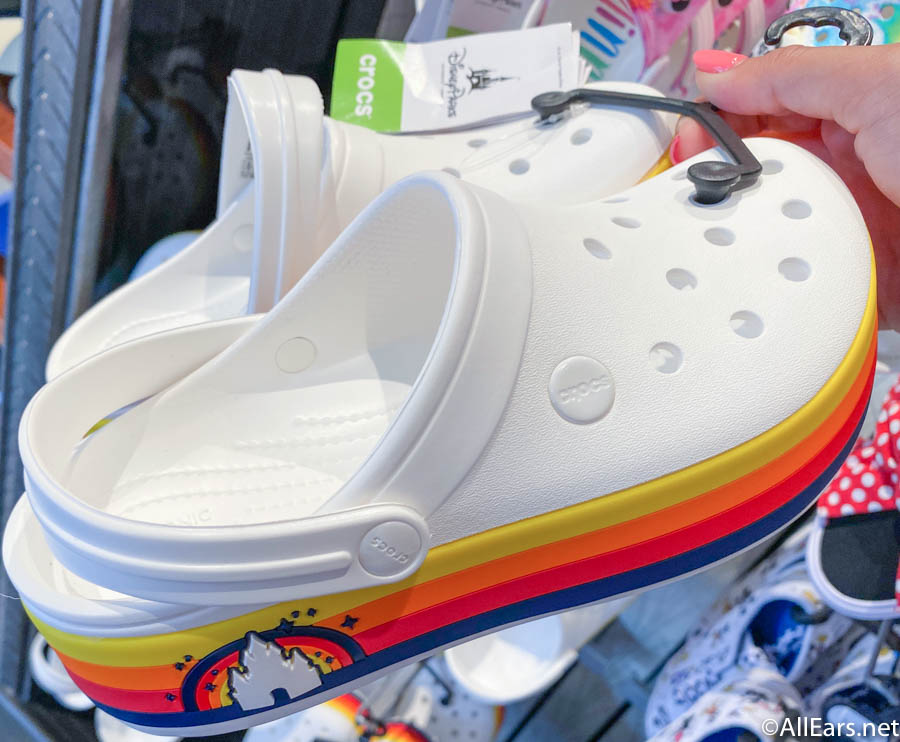 The high top Crocs are a fashion statement with their groovy rainbow stripes and castle design that will match all that retro merchandise we've also seen around the parks recently. Although Crocs might not be your go-to pair of shoes, we have to say that they're pretty comfortable to wear during a rainy day in Disney World (without slipping and sliding in flip flops or sloshing around in wet tennis shoes).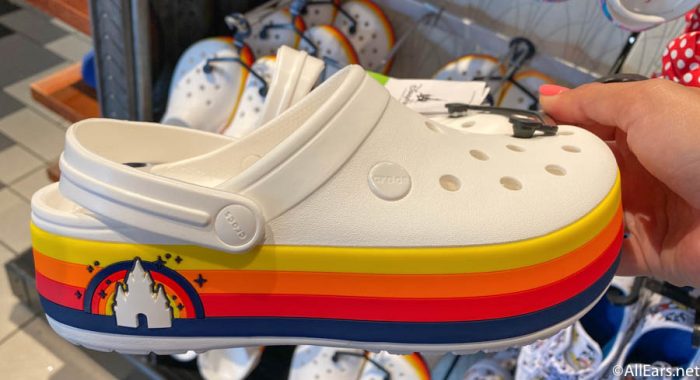 Although we adore being able to visit the parks, we LOVE finding such wildly weird and fun merchandise that Disney has to offer. As Disney World continues its initial reopening, we'll keep an eye out for any other eye-catching items around the parks!
What is the weirdest merchandise you've found around the parks? Let us know in the comments below!
Join the AllEars.net Newsletter to stay on top of ALL the breaking Disney News! You'll also get access to AllEars tips, reviews, trivia, and MORE! Click here to Subscribe!