I have photographed Walt Disney World since 1983. Most of those early photos need to be found and scanned. I do have thousands of digital photos (and a few scans) I can share.
Spaceship Earth is a photographer magnet. It is just so "perfect" in its engineering. However, Disney has tinkered with the look in the past.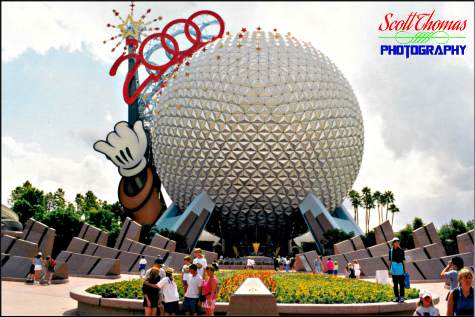 Y2K was either something to look forward to or something to build an underground shelter for. As it turned out, unless you worked in computers, most people did not have to worry about it. Disney wanted to celebrate Y2K by erecting a huge Sorcerer's Apprentice Mickey arm holding up a wand with the year 2000. At night, it all lit up and dazzled.
The wand structure was expensive  so Disney re-imagined it to this…
It wasn't until 2007 when the Epcot Wand was removed. Many photographers and fans rejoiced.
The Innoventions Fountain was a consistent companion for Spaceship Earth since the park opened back in 1982. This past year, it has been turned off and will be removed. I will miss the fountain's uplifting performances.
In 2011, I brought a crystal ball to Walt Disney World.
It took a little cropping and flipping the image (see the link above) to get the final image. Notice the  Leave a Legacy monuments in the photo. Those were also recently removed and the last remnant from the millennium celebration.
I got a Fisheye lens as a gift in 2015 and rushed to Walt Disney World to give it a good shakedown.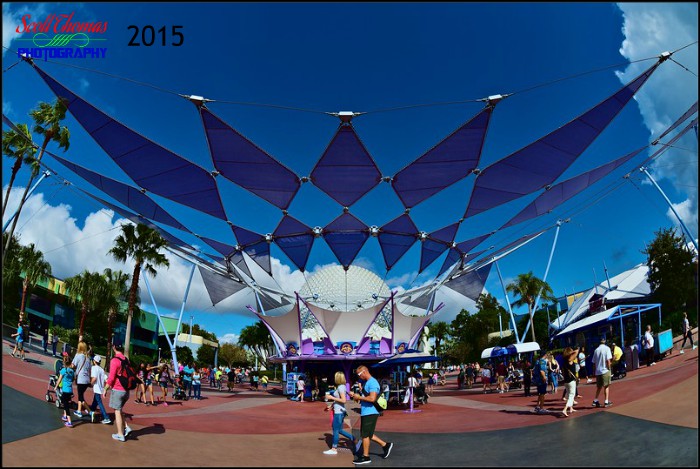 I wanted to emphasize the "shades" behind Spaceship Earth. The fisheye did it beautifully by stretching them out to the edge of the frame.
Currently, Epcot is in the middle of being transformed and is full of construction walls.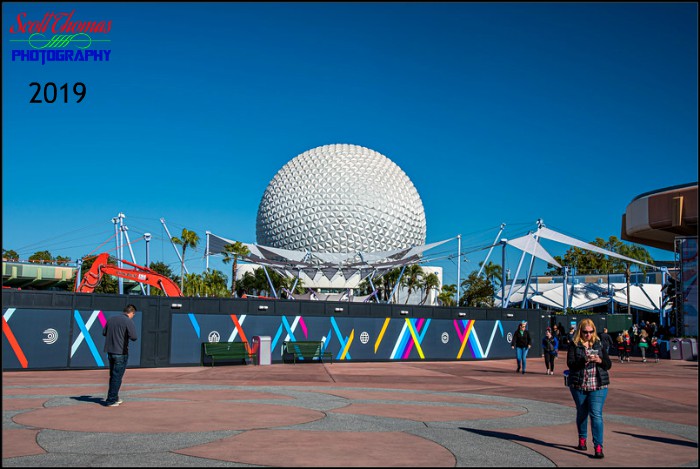 Spaceship Earth's ride was going to be redone, too. It may yet be but COVID-19 has pushed it back for now.
Let me see who was paying attention. Besides Spaceship Earth changing over time. What else changed almost from photo to photo?
Be sure to follow @allearsnet on Facebook, Instagram and Twitter!
Click below to subscribe to the AllEars® newsletter so you don't miss any of the latest Disney news!