Greetings from Batuu! We're at the grand reopening of Disney's Hollywood Studios and we took a trip to Star Wars: Galaxy's Edge to see how this new land works with limited capacity!
We've already gotten a good look at the three other Disney World theme parks and how they work with lower crowds. But we were curious to see how the ever-so-popular Galaxy's Edge would compare!
Attractions
The excitement for Rise of the Resistance has not died down since the closure! Boarding groups are dropped at 10AM, 1PM, and 4PM and so far we've seen two of those groups fill up FAST.
Guests have an hour to return for their boarding group, once called, and Cast Member seem to be enforcing this policy.  We're fixin' to get in line for our group, so we'll update you with the ride and queue experience!
Galaxy's Edge's other attraction, Millennium Falcon Smuggler's Run, is not utilizing a virtual queue like Rise of the Resistance. Instead, guests wait in a regular standby line like the other attractions we've experienced at a reopened Disney World.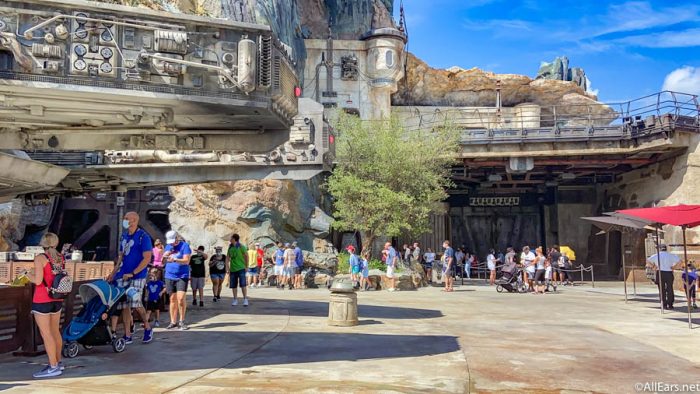 We definitely noticed more guests here than in other areas of Galaxy's Edge. The line, when spaced out for physical distancing, was pretty long!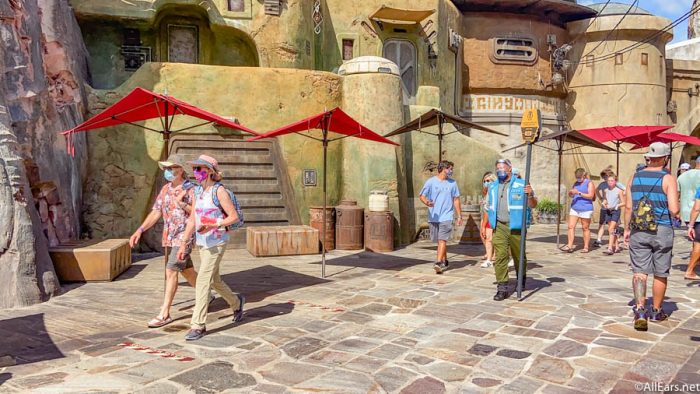 To accommodate physical distancing, the pre-show experience with Hondo Ohnaka is bypassed and the room where he is located is used for additional queue space. Hondo is still there, however!
Characters
When Galaxy's Edge first opened, it broke the character mold in that there were more 'roaming' characters that would interact with guests in more unique ways than simply signing an autograph and posing for pics!  With the new social distancing guidelines in place, however, we wondered how the character experiences would be impacted. Would we see characters at all in Galaxy's Edge? The answer is YES!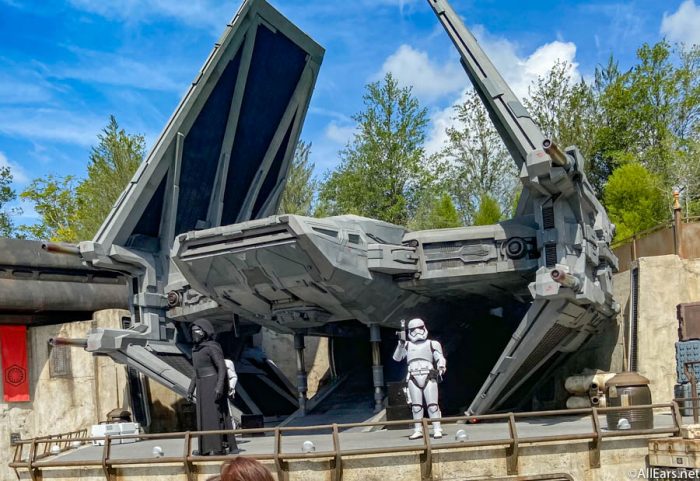 We spotted Kylo Ren and some stormtroopers on the landing platform at Docking Bay 9 beneath the First Order's TIE Echelon assault vehicle. They were even interacting (from a distance) with children as they walked by!
Shopping
The shops in Galaxy's Edge are rather small and tight. When the land first opened in both Disneyland and Disney World, queues needed to be set up outside of the shops when they reached capacity.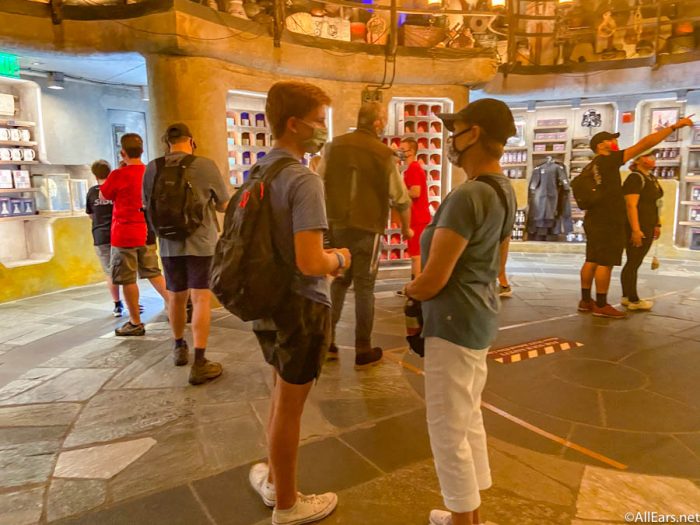 We were told that the current capacity at Dok Ondar's is 26 guests total.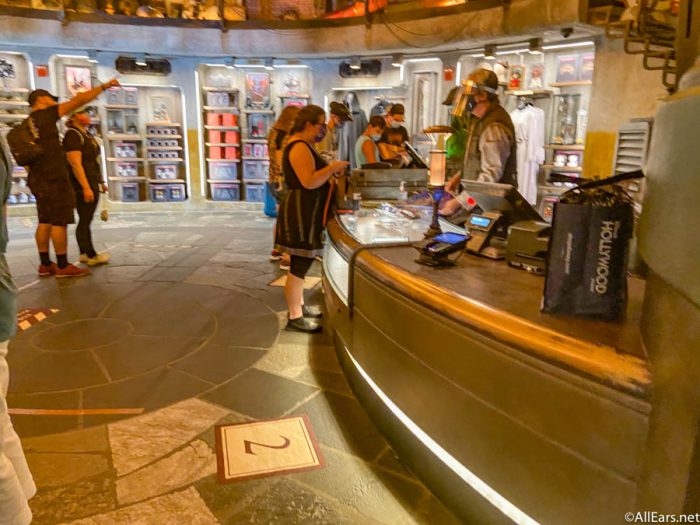 Droid Depot
Physical distancing implementations were very noticeable inside Droid Depot. Markers are on the floor to avoid crowding along the conveyor belt when you pick your parts for the droid.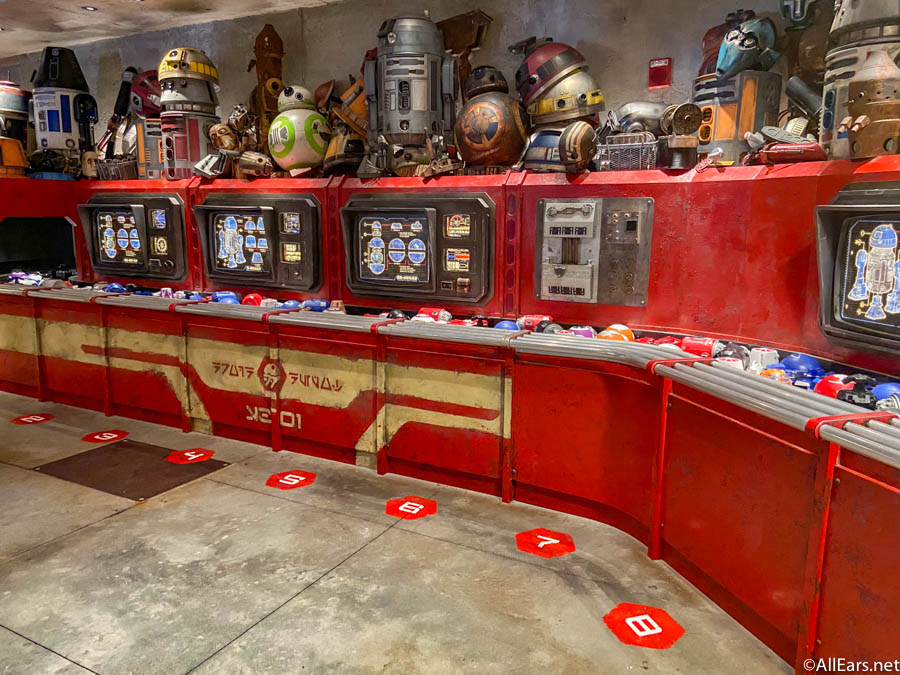 Guests building their droids have two workspace's worth of room to stay distant from the next party, and those groups are separated by plexiglass shields.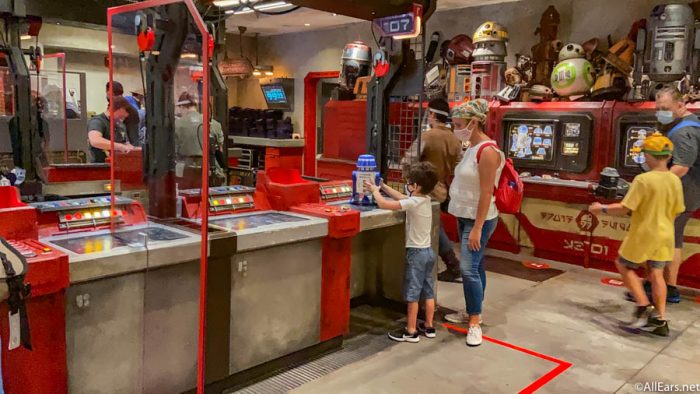 Savi's Workshop
We walked by the entrance to Savi's Workshop and saw the usual amount of folks standing outside. For the time being, Savi's will not have an interactive building experience, but rather you shop for "Legacy Lightsabers."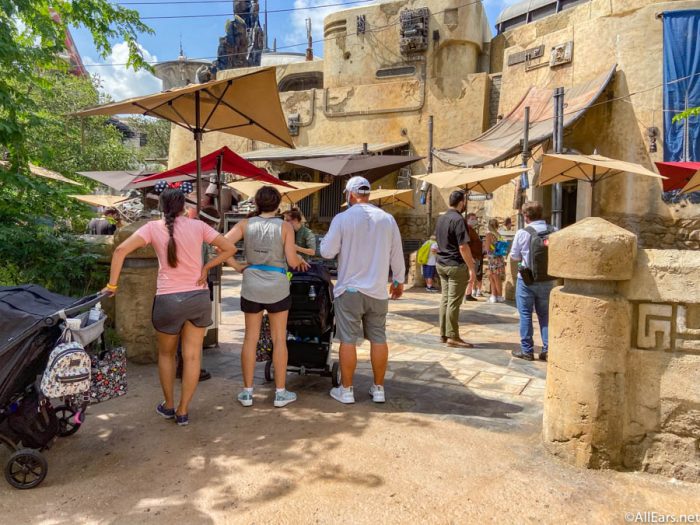 The marketplace in Galaxy's Edge is DEFINITELY enforcing limited capacity. Each of those small shops is limited to ONE party at a time! There was also a standby line to enter the marketplace area.
These shops are notoriously small even BEFORE the closures, so the incredibly small capacity checks out.
Dining
Our first stop, as one does when visiting Batuu, was Oga's Cantina! Oga's is utilizing Mobile Dine Check-In when you first arrive.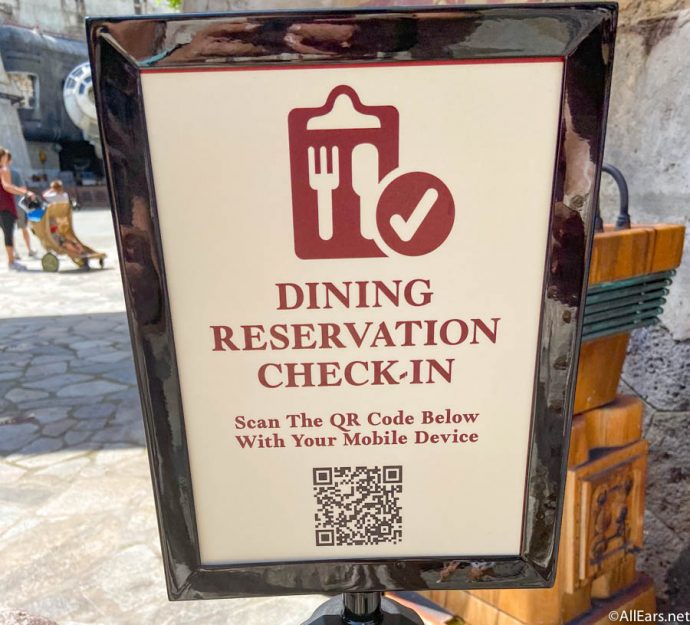 And then it was time to step inside!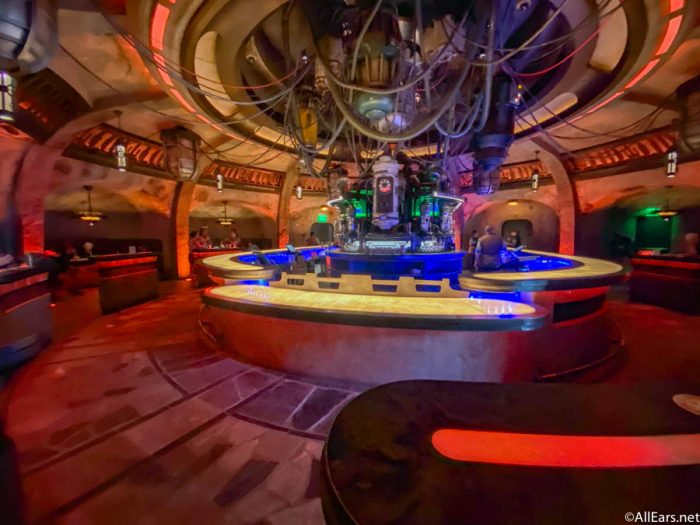 Before the closures, this watering hole was filled to the brim with guests! Visiting this time, however, was VERY different.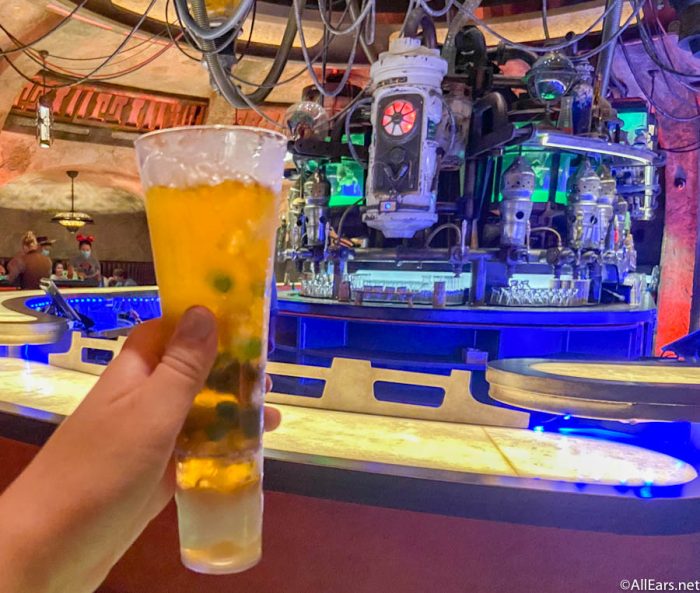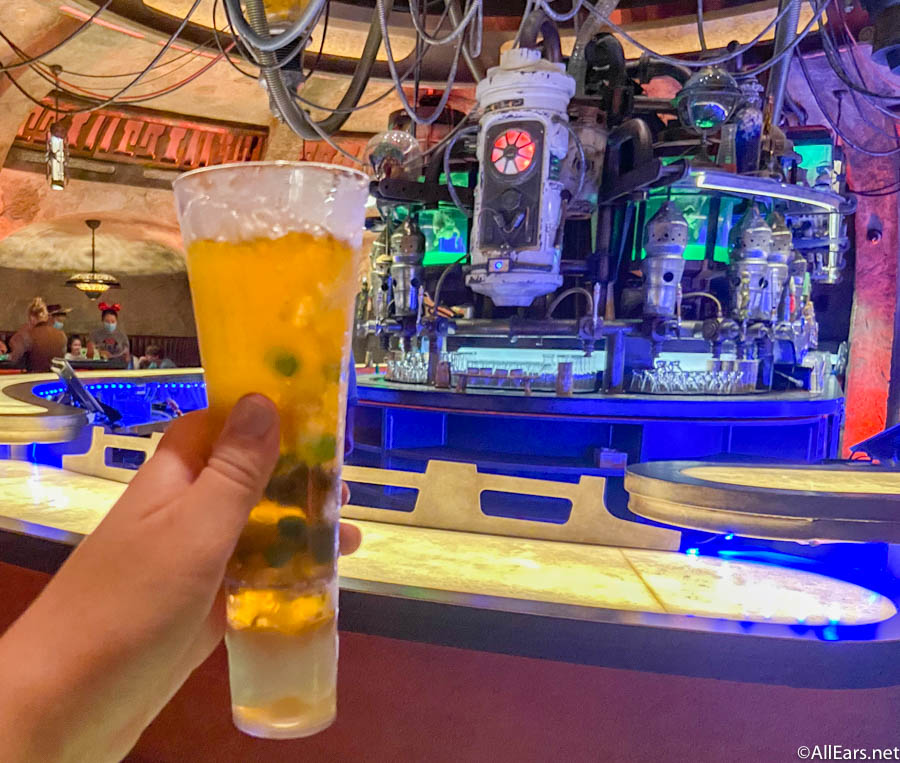 While the drinks were just as great as we remember them, it was much less crowded. Cast Members seemed to be "seating" parties at every other table (there are a lot of standing tables in Oga's). Also, we were the only party brought to our table.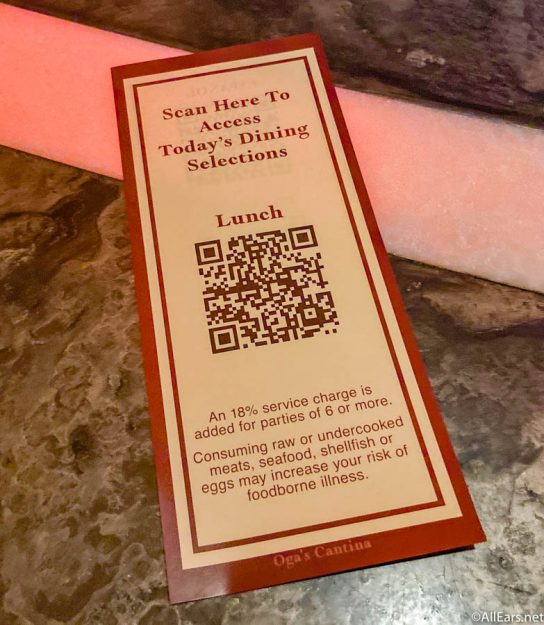 We were also told not to walk around to take pictures. Guests will typically check out DJ R3X and snap a few pics, but it looks like Cast Members want to keep guests at their tables to stay distanced from other parties.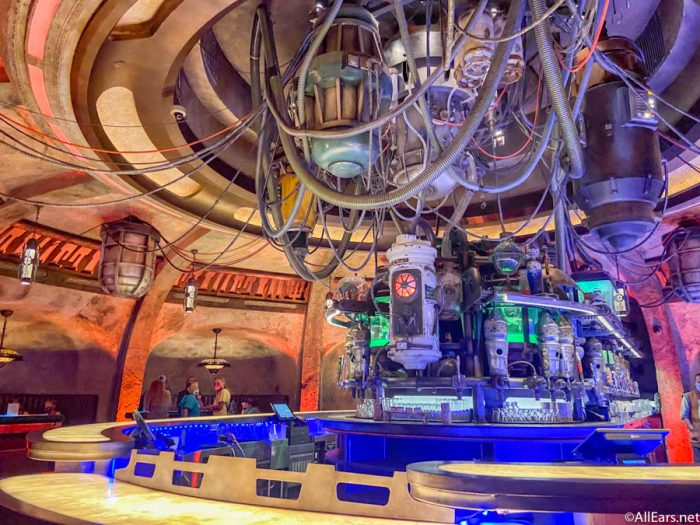 This is a HUGE change from the normal elbow to elbow amount of guests in this watering hole! It actually made the experience quite enjoyable.
Ronto Roasters added a large sandwich board out by the entrance to encourage guests to use Mobile Order.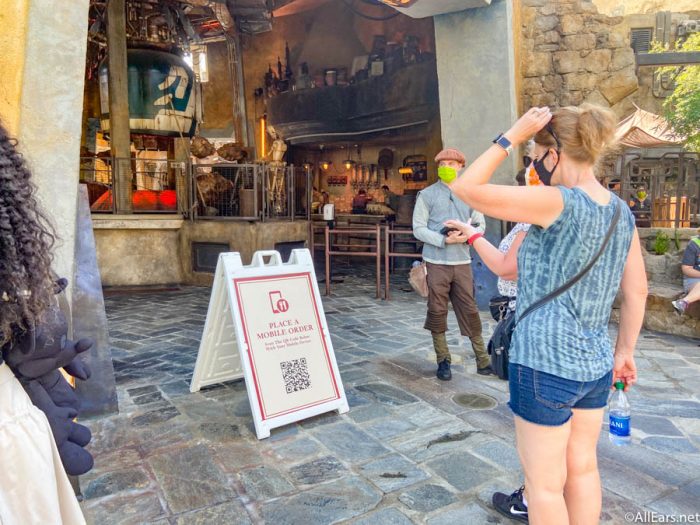 The Milk Stand is where you can try the infamous Blue Milk and Green Milk! Much of this walk-up location looked the same, with physical distancing floor markers in the queue area. Plexiglass shields were also installed at the registers.
And don't forget about those Coca-Cola "thermal detonator" bottles! They are still around and available for sale, with floor markers leading up to the stands.
Have you been able to visit Star Wars Galaxy's Edge since it opened in 2019? Let us know in the comments!