As Auguste Gusteau once famously said, anyone can cook. Even if you're a talking rat.
So why not try to make some of these iconic (and official) Disney recipes from the AllEars recipe collection? You'll be bringing some delicious Disney magic home in no time!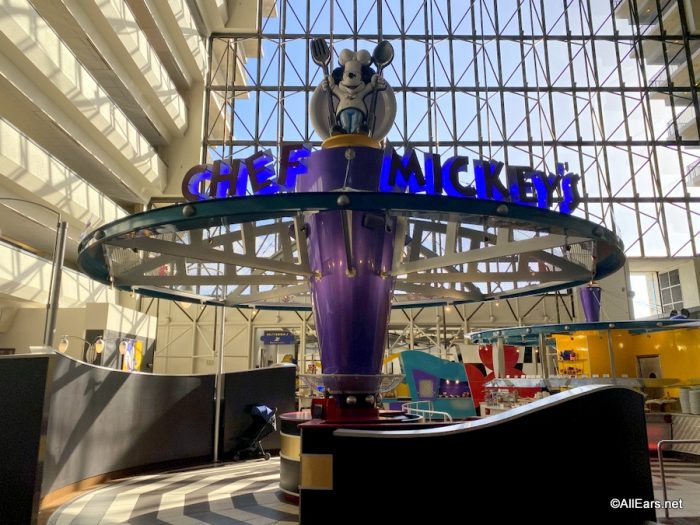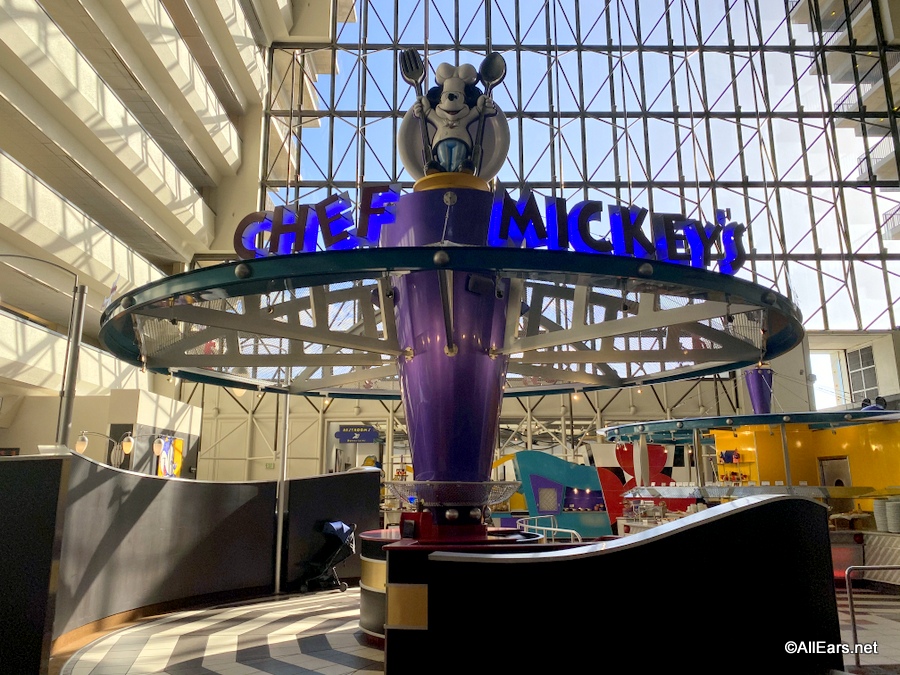 Time is immaterial. Distinctions between meal times are meaningless. Make pizza for breakfast.
This breakfast pizza doesn't come with Mickey Mouse, but it is delicious. Break out the stuffed toys, make one for your kids, and pretend you're at the Contemporary. Perfect way to start your day (or end it — time doesn't matter anymore)!
Yield: 6-8 Servings. Or just one if you're home alone and really dedicated.
Ingredients
1 pre-made multi grain pizza crust
½ cup of ricotta cheese
½ cup cheddar cheese – shredded
½ cup mozzarella cheese – shredded
¼ cup half & half
2 eggs – scrambled & cooled
4 strips of bacon – pre cooked & chopped
Salt & Pepper to taste
Method of Preparation:
Preheat oven to 350º. Scramble two eggs, after cooked place on a paper plate place in freezer to cool down quickly. Once cooled, place in bowl add salt, pepper and mix in half and half. Set aside.
Take the ricotta cheese and add salt and pepper. Spread ricotta cheese mixture over pre made crust, sprinkle both of the cheeses over the entire pizza. Next sprinkle the scrambled egg mixture and chopped bacon over the entire pizza.
Bake @ 350º for approximately 10 – 15 minutes until cheese is melted and golden brown.
Variations
If you don't like the texture of pre-made Pizza crust, many grocery stores offer premixed pizza dough for a more accurate texture. The benefit of using dough also means you can be a bit more flexible with how the pizza is formed. Make it into the shape of Mickey! Make a sausage stuffed crust! The sky's the limit!
You can also mix up the recipe; the heart is the three cheese blend and half-and-half, which provides the perfect stage for your toppings; so long as you have that, you can basically dress it however you want. If you're more of a chorizo gal, swap out the bacon. Vegetarian? Throw on your favorite vegan sausage!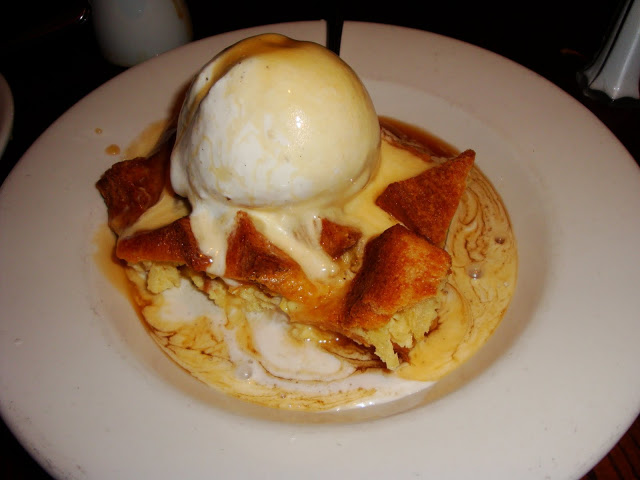 Skipping from breakfast directly to dessert, we've got one of the most delicious and decadent treats Disney has to offer: 'Ohana's signature bread pudding! You'll never look at bread (or pudding) the same way again!
Ingredients
The Bread Pudding
5 eggs
3 cups whole milk
1/2 tsp salt
1/2 tsp nutmeg
1 1/2 cup sugar
8 cups french or 'Ohana breakfast bread
Banana's Foster Sauce (For Topping)4 oz sugar
4 oz brown sugar
4 oz corn syrup
4 oz unsalted butter
1 cup heavy cream
1 tsp vanilla extract
1 cup spiced rum
1 cup banana slices
Method of Preparation (For the Pudding)
1. In bowl mix eggs, milk, salt, sugar and nutmeg. Set aside.
2. Cut bread in medium pieces, place on cookie sheet pan put in 350 degree oven.
3. Bake bread until lightly toasted, about 15 minutes. Remove bread and place in egg and milk mixture.
4. Place mixture in a greased 10-inch cake pan and bake at 325 degree for 1 hour.
5. Let stand 5 minutes, serve hot with ice cream.
For the Sauce
1. Combine sugar, brown sugar, corn syrup, butter and half of heavy cream in a large pan. Bring to a boil and slowly add remaining heavy cream keeping mixture at a steady boil.
2. Add spiced rum and flambé.
3. Candy will brown slightly; cook 3 minutes until candy forms into a firm ball in cold water. Remove from heat and add vanilla. Add sliced bananas. Serve warm.
Variations
While the sauce is key to an authentic experience, you can substitute it with a store bought maple syrup if you're not comfortable making a flambé. Bananas Foster flavored ice cream is also available at many supermarkets. Also, feel free to experiment with other types of bread! One potential hack: using King's Hawaiian Rolls as the base. Not only are they available at nearly every deli and grocery store in the country, but they bring a soft and fluffy texture to the dish.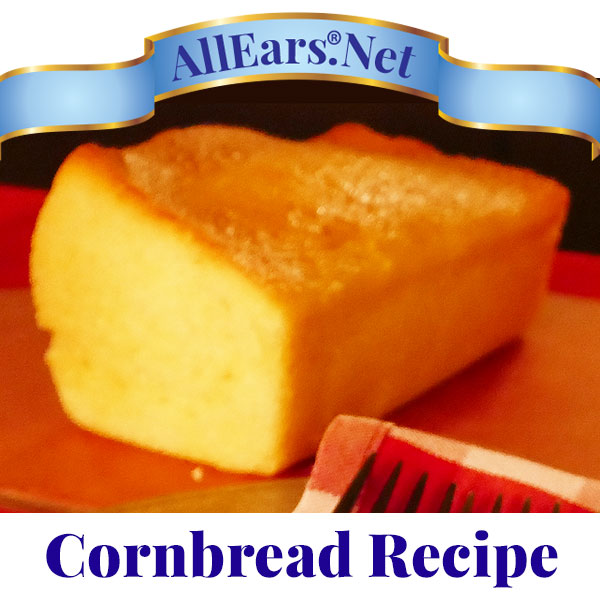 Few sides are as deceptively simple as cornbread. The classic accompaniment to chili, fried chicken, barbecue, or… anything, really. This variation on the classic side comes from the Hoop-De-Doo Revue, where the only thing more corny is the show!  The one ingredient you'll need that you probably don't already have is cornmeal.
Ingredients:
3/4 cup cornmeal
1 1/4 cup sugar
1 1/2 tsp salt
1 T. baking powder
1 3/4 cup flour
1/2 cup vegetable oil
1 cup milk
2 eggs
Method of Preparation:
1. Blend flour, cornmeal, salt, baking powder and sugar in a mixing bowl.
2. In a separate bowl, blend milk, eggs, and oil with a mixer.
3. Using that same mixer, slowly add the blended liquid to the dry ingredients prepared in step 1, mixing just enough to incorporate the wet and dry ingredients.
4. Spray a 9 x 13 baking pan with nonstick food spray and pour the batter into the pan, spreading evenly.
5. Bake in a preheated oven at 375 degrees for 20 – 25 minutes. or until golden brown.
6. Allow to cool.
Variations
Cornbread is a versatile recipe, and while there is a bit of magic in using Disney's recipe, it's pretty basic. Feel free to experiment with the cornmeal to flour ratio. If you prefer your cornbread sweeter, mix in some brown sugar and honey, and swap the plain milk for buttermilk. Like yours with a kick? Mix in some pepper jack and jalapeño peppers! And if you buy corn bread/muffin mix that already has a rising agent and salt, skip those in the recipe above.
Grand Floridian Chocolate Chip Cookies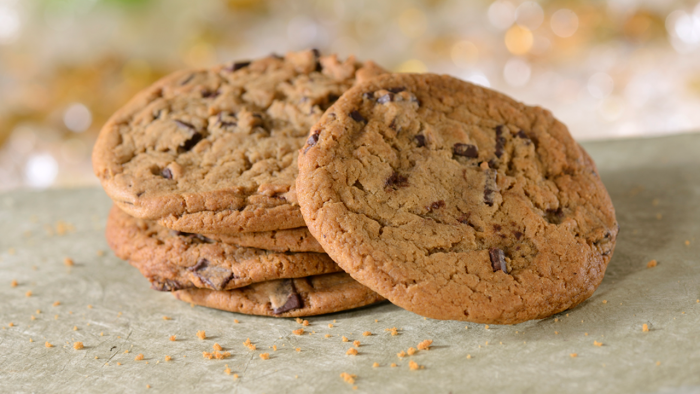 For some reason, people just love hotel cookies. There's a recurring urban legend about how the cookie recipe from some famous hotel was stolen or leaked, and now it's ended up in your email chain! Well, this one isn't stolen; we really do get all of our recipes from official sources.
Ingredients
2 1/2 cups flour
1 teaspoon baking soda
1/2 teaspoon salt
10 tablespoons (1 1/4 sticks butter), softened
1 cup packed brown sugar
3/4 cup powdered sugar
2 eggs
2 teaspoons vanilla extract
12-ounce bag semi-sweet chocolate chips
Method of Preparation
1. Preheat oven to 330℉.
2. Sift flour, baking soda and salt into a large bowl and set aside.
3. Combine butter, brown sugar and powdered sugar in a separate bowl and cream with electric mixer until fluffy.
4. With mixer running, add eggs, one at a time, then add vanilla. Mix until combined, scraping sides of bowl.
5. Slowly add flour mixture, scraping sides of bowl. Stir in chocolate chips.
6. Scoop 1 tablespoon dough for medium cookies and 2 tablespoons for large onto ungreased baking sheet.
7. Bake until light golden, 10 to 12 minutes for medium cookies, 12 to 14 minutes for large.
Variations
Like the Hoop-De-Doo Cornbread, this one is fairly basic. A lot of the signature flavor comes from the use of brown sugar and vanilla extract. With that in mind, feel free to experiment with other kinds of chocolate chip. Or, you can try mixing in some nuts for a crunchier experience!
Ah, the Dole Whip… the classic Disney dessert. No trip to Disney is complete without one of those frozen treats. Now, unfortunately, this isn't a 100% accurate recipe because most people don't have soft serve ice-cream makers.  If you do, in fact, happen to have an ice cream maker, you can just get a huge sack of Dole Whip mix on Amazon. But this isn't an article encouraging you to make irresponsible financial decisions, so with that in mind, here's Dole's official Copycat Recipe.
1 cup pineapple juice, frozen in an ice cube tray
1 DOLE® Banana, peeled and frozen
2-1/2 teaspoons powdered sugar
1/4 to 1/2 cup unsweetened coconut milk beverage.
Method of Preparation

COMBINE pineapple juice,  banana, and powdered sugar in a blender. Cover; blend until smooth, gradually adding coconut milk and scraping down sides if necessary. Serve immediately.
Variations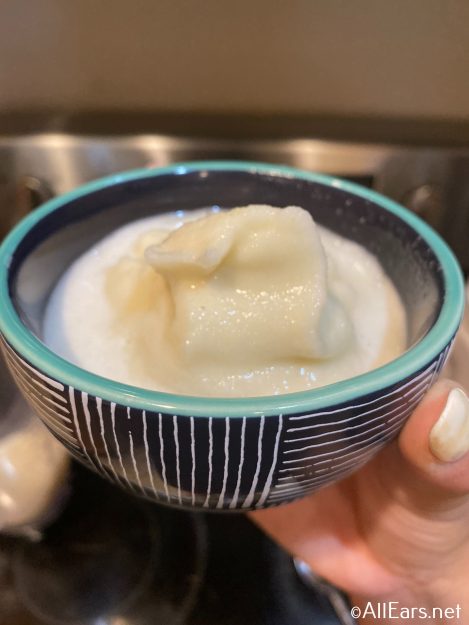 The banana and coconut milk are what gives this treat its creamy texture and flavor, though it won't quite match up to the parks. It's basically banana ice cream with pineapple juice in it. Knowing that, you can actually do some pretty wild experiments. If you prefer Orange or Mango Dole Whips, just substitute your favorite fruit juice. You could also top it with candy, or make it with real pieces of real fruit. If you prefer the float variation, use it to top a glass of your favorite pineapple juice, orange juice, or lemonade.
If you'd really like the classic Dole Whip swirl, use a piping bag (available in the baking aisle) to dispense the Whip into bowls or cones.
So, what do you think? Will you try any of these recipes? Is there one we missed? Let us know in the comments!
Join the AllEars.net Newsletter to stay on top of ALL the breaking Disney News! You'll also get access to AllEars tips, reviews, trivia, and MORE! Click here to Subscribe!