Ever wake up with a super strong craving for The Grey Stuff from Be Our Guest, or wish you could be in Magic Kingdom eating Ooey Gooey Toffee Cake from Liberty Tree Tavern?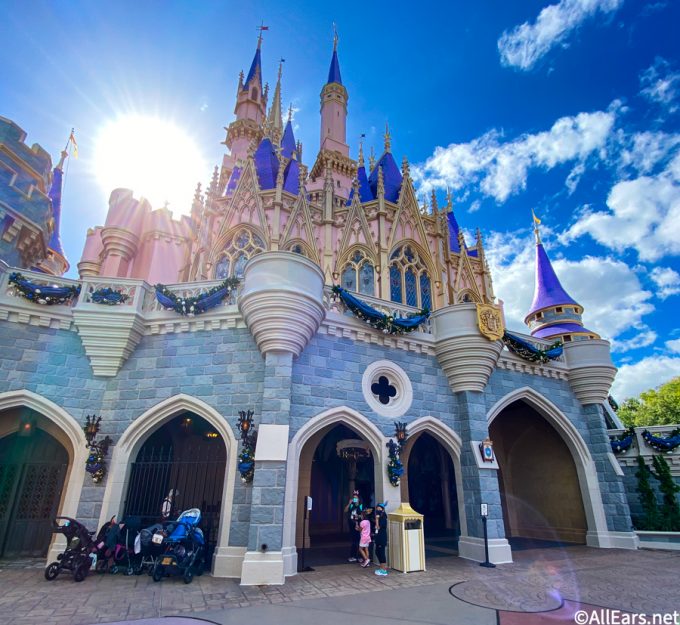 Well, even if you won't be visiting Disney World this year, you can still add some magic to your life with one of the best parts of any Disney vacation — delicious food!
Today we're bringing you 10 awesome Magic Kingdom recipes to make your home feel like the most magical (and delicious) place on earth!
These are just 10 recipes from Magic Kingdom, but we have a FULL inventory of Walt Disney World Recipes from the theme parks, resorts, Disney Springs, and even Disney Cruise Line for you to try out at home! But for today let's focus on 10 fun dishes from Magic Kingdom!
Pineapple Dole Whip
We're starting our list with one of the most classic Disney snacks — a Pineapple Dole Whip! In Magic Kingdom, you can find this refreshing treat at Aloha Isle, but make it at home and you'll feel like you're in a tropical paradise (even if it's snowing outside).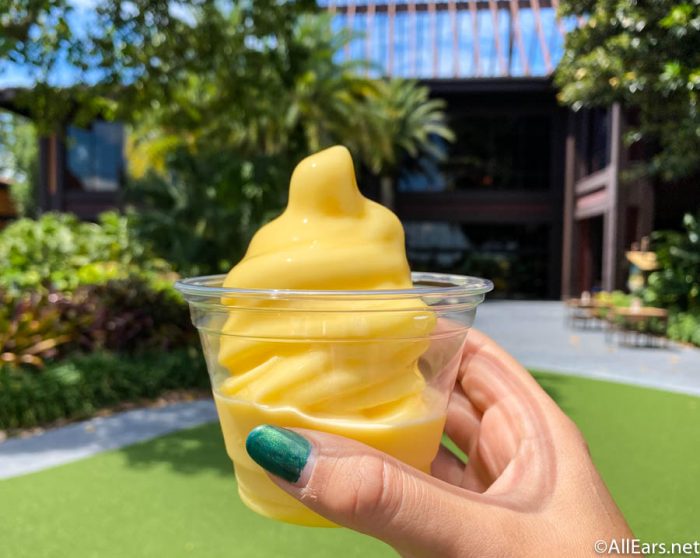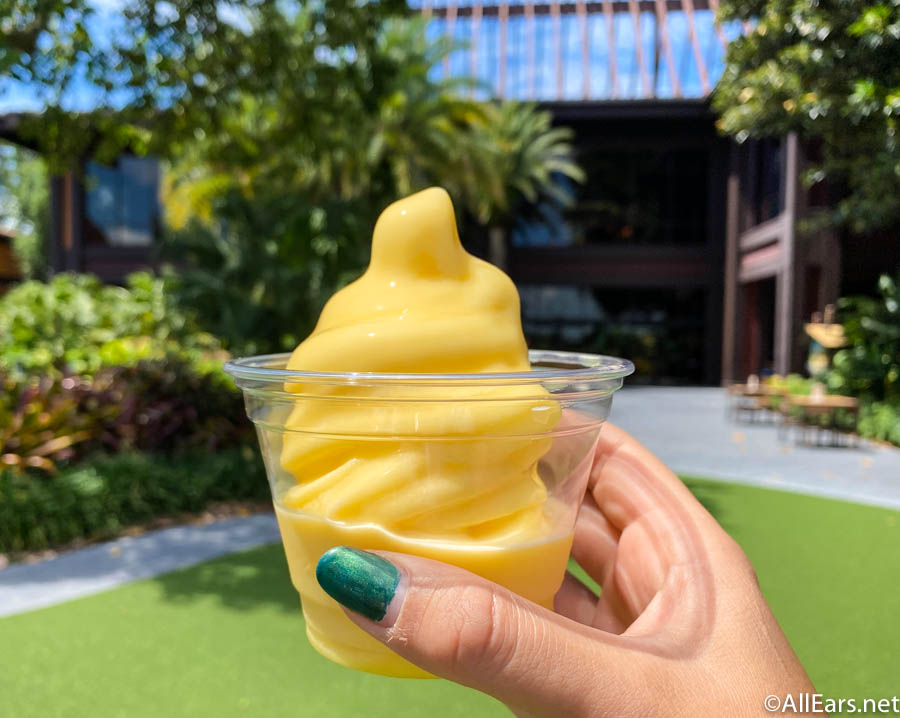 Pineapple Dole Whip Recipe From the Dole Website
INGREDIENTS:
1 cup pineapple juice, frozen in an ice cube tray
1 DOLE® Banana, peeled and frozen
2-1/2 teaspoons powdered sugar
1/4 to 1/2 cup unsweetened coconut milk beverage
DIRECTIONS:
Combine pineapple juice, banana, and powdered sugar in a blender. Cover; blend until smooth, gradually adding coconut milk and scraping down sides if necessary. Serve immediately.
The Grey Stuff
Next, we're traveling over to Fantasyland for The Grey Stuff from Be Our Guest. You'll definitely want to try to make this recipe — we hear the Grey Stuff is delicious. But, don't believe us — ask the dishes! This recipe makes enough servings for 12 so keep that in mind in case you want to make a smaller amount.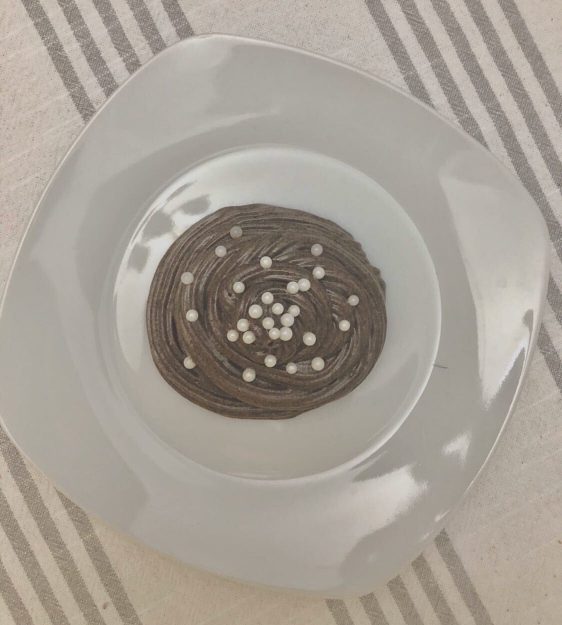 INGREDIENTS:
1 1/2 cups cold whole milk
1 (3.4 ounce) package instant vanilla pudding mix
15 chocolate sandwich cookies
1 (8 ounce) container whipped topping, thawed
3 tablespoons instant chocolate pudding mix

12 scalloped sugar cookies 

Edible sugar pearls
DIRECTIONS:
Pour milk into large mixing bowl. Add instant vanilla pudding mix and whisk for 2 minutes until smooth and slightly thickened. Place in the refrigerator for 1-2 hours, until firm.
Place chocolate sandwich cookies in food processor and pulse until puréed.
Fold puréed cookies into pudding mix. Stir until fully mixed.
Add whipped topping and instant chocolate pudding.  Stir until fully mixed.
Place in refrigerator and chill for one hour.
Spoon grey stuff into piping bag fitted with desired tip. Pipe grey stuff onto cookies. Top with sugar pearls.
Figaro Fries
Have any of your favorite snacks ever disappeared from Disney World? Fiagro Fries were a fan-favorite treat at Pinocchio Village Haus but sadly have left this location. They did, however, reappear as "Plaza Loaded Fries" at The Plaza Restaurant. But now, they can make their way right into your home with this recipe!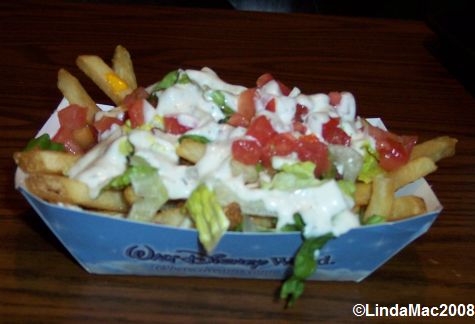 INGREDIENTS:
2 pieces of bacon
French fries
Cheese of your choice
Cubed tomatoes
Shredded lettuce
DIRECTIONS:
Cook 2 pieces of bacon until crispy. Cool and break into small pieces.

Prepare oil for French Fries. Cook to you preference and drain.

Melt your favorite cheese in a small pan or you can microwave until melted. Be careful not to burn.

You can add cubed tomatoes and shredded lettuce. Place on top of fries.

Assembly: Place French fries. Top with melted cheese Top with Ranch Dressing. Top with crumble bacon bits. Add cubed tomatoes and shredded lettuce.
The Lighthouse Sandwich
Even if you make your way over to Magic Kingdom, sadly you won't be able to delight in any of the delicious items typically available at Columbia Harbour House because this location is still temporarily unavailable. But you can bring Columbia Harbour House to you with this recipe to make the delicious (and pretty healthy) Lighthouse Sandwich!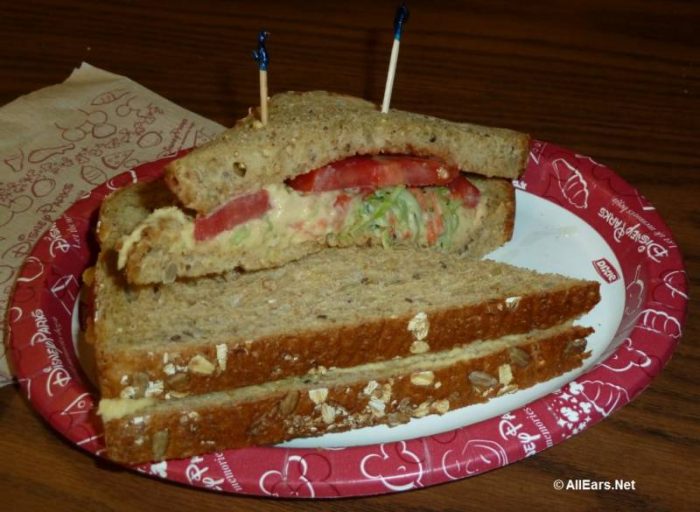 INGREDIENTS:
Olive Panini Bread
¼ cup Hummus (recipe follows)
½ cup Broccoli slaw (recipe follows)
Vine ripe tomatoes sliced (2 slices per sandwich)
HUMMUS
Ingredients:
2 Tablespoons pureed garlic
3 cans (15 oz) garbanzo beans
4 tablespoons water
Juice of 2 freshly squeezed lemons
½ cup tahini paste
1 tablespoons salt
Method of Preparation:
Put garbanzo beans into food processor, mix with garlic, salt and tahini paste. Puree approximately 15-30 seconds, then add lemon juice and water. Continue to puree until smooth. Should yield about 15, 3 oz servings. This recipe can be cut in half to make a smaller portion. The hummus will hold for five days once prepared
BROCCOLI SLAW:
Ingredients:
3 cups shredded broccoli slaw mix (2-12 oz bags in the grocery store)
1 ½ cups honey Dijon dressing (Ken's Brand)
Method of Preparation:
Toss together and set aside.
DIRECTIONS:
Slice bread and spread with hummus, add broccoli slaw and 2 slices of tomato.
Royal Poulet
Want to dine like true royalty? Well, there's no need to hop in a magical carriage to enjoy this next dish — the Royal Poulet, which is a dish that used to be available at Cinderella's Royal Table.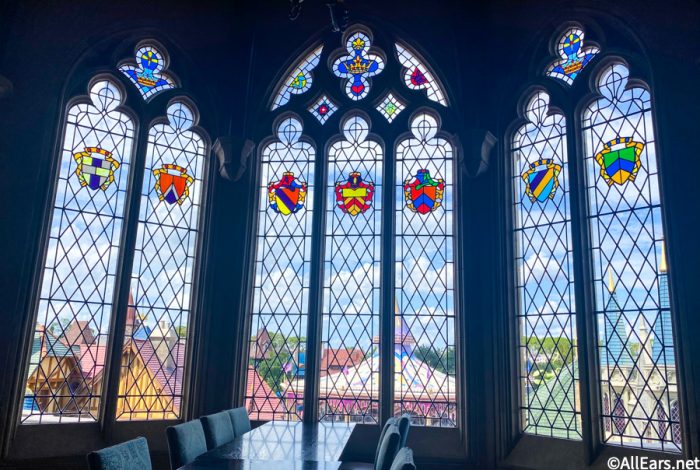 INGREDIENTS:
5 ounces Chicken Breast, sliced
2 ounces Chicken Stock
1 ounce Sliced red onions
4 ounces Tomato Pesto
8 ounces Cooked Pasta
3 ounces Crumbled Feta Cheese
1 ounce Chopped Spinach
1 1/2 ounces Chopped Garlic
1/2 ounce Olive Oil
DIRECTIONS:
In a hot sauté pan, place chicken, garlic and olive oil. Let cook for 2-3 minute and add chicken stock, tomato pesto, and pasta. Cook until pasta is warm then top with Feta Cheese and fresh chopped spinach.
Tomato Pesto may be found at a specialty market. If not, puree:
1 cup of sun dried tomatoes
½ cup Olive oil,
1 tablespoon Chopped garlic
1 tablespoon Parmesan Cheese
1 teaspoon basil
1 teaspoon oregano
Pot Roast
If you're looking to make something other than turkey or ham during this holiday season, you can try something a bit more unique and cook up some Pot Roast, which is served as part of the Patriot's Platter at Liberty Tree Tavern. Serve it with some macaroni and cheese and cornbread stuffing (recipe below) and you'll have one delicious holiday feast!
INGREDIENTS:
4 oz. butter
1/2 oz. garlic
1/2 lb. carrots
3/4 lb. onions
1/2 oz. fresh thyme
3 lbs. shoulder beef
4 oz. flour
6 TB beef base
1/2 lb. celery
2 diced tomatoes
1 cup burgundy wine
DIRECTIONS:
Sear meat in stockpot in butter.

Add flour and wine, beef base and tomatoes. Dice carrots, celery, onion and add fresh thyme.

Simmer for 40 minutes to an hour, or until desired doneness.

Once cooked, remove meat and let cool before slicing.

Pour gravy through sieve to remove all the vegetables, saving gravy to use with meat.

Once meat has cooled, slice and place in a pan. Add gravy, wrap pan and reheat in oven to 165 degrees.
Cornbread Stuffing
Whether you want to make it for the holidays or just love the taste of stuffing, you can now whip up some of the Cornbread Stuffing from Liberty Tree Tavern whenever you want with this recipe.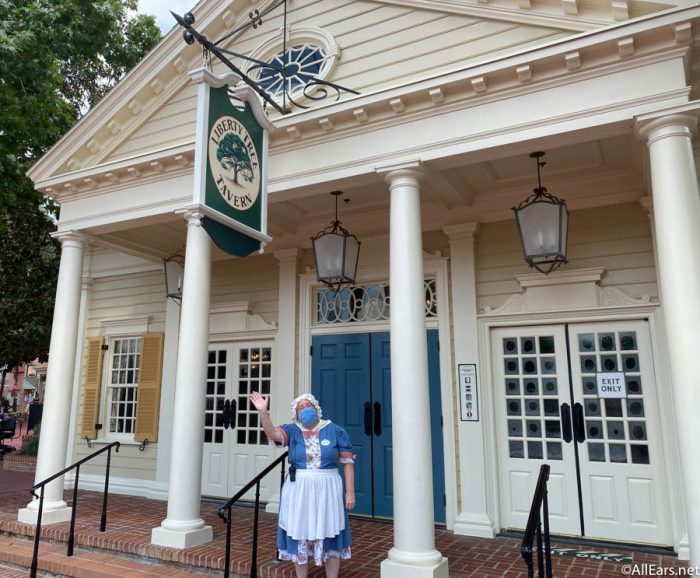 INGREDIENTS:
12 cups cornbread cubes
1 tablespoon fresh chopped garlic
1 cup onion, chopped
1 cup celery, chopped
1 teaspoon rubbed sage
1 teaspoon dried thyme
1 teaspoon poultry seasoning
1 teaspoon kosher salt
1/2 teaspoon black pepper
1 1/2 cups turkey stock (chicken may be substituted)
DIRECTIONS:
In a preheated 400° oven toasts bread cubes 5 to 7 minutes or until barely golden. In a large skillet over medium/low heat cook the garlic, onions and celery for 3 minutes or until softened. Transfer to a bowl and add the bread cubes, herbs, salt, pepper, and chicken broth. Toss well and adjust seasoning as desired. Additional broth may be necessary to achieve the desired consistency.
S.E.A. Shu Mai
Ever wanted to make the S.E.A. Shu Mai appetizer dish that used to be served at Jungle Navigation Co. LTD Skipper Canteen? With some shrimp, pork, water chestnuts, and edamame, you're sure to delight in this unique combination of flavors.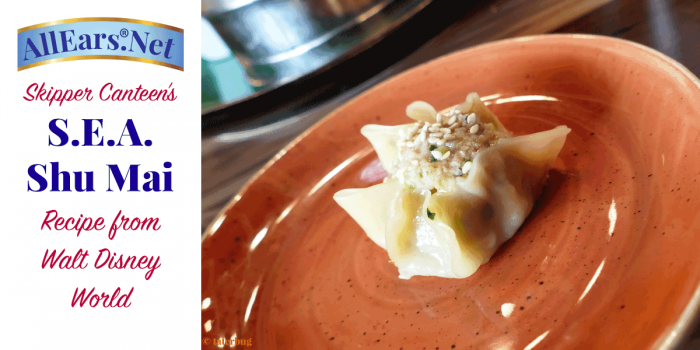 INGREDIENTS:
Shu Mai Filling
1/2 lb Boston Butt, cut into 2 inch cubes
1/4 lb shrimp pieces
1/4 cup water chestnuts
2 tbs chopped shallots
2 tbs mung beans or edamame
1/4 cup tightly packed arugula
1/2 tsp fish sauce
1/2 tsp sriracha
1/4 tsp coarse salt
1/8 tsp black pepper
16 wonton wrappers
Dipping Sauce
1/4 cup lower sodium soy sauce
1 tbsp sambal oelek
DIRECTIONS:
For Shu Mai
Grind Boston Butt, shrimp, water chestnuts, shallots, mung beans, arugula, fish sauce, sriracha, coarse salt and black pepper in a meat grinder or food processor.

Place two tablespoons of filling in the center of each wonton wrapper.

Fold the sides of the wonton wrapper up and gently crimp, leaving the top of the meat exposed.

Steam in a steamer basket over a pot of boiling water for 8-10 minutes until center of Shu Mai reaches 145℉.
For Dipping Sauce
Combine both ingredients.
Serve with Shu Mai.
Ooey Gooey Toffee Cake
In the mood for something sweet? You'll DEFINITELY want to check out the Ooey Gooey Toffee Cake from Liberty Tree Tavern! This dessert is a favorite of ours and is sure to become a favorite of yours, too, when you make it.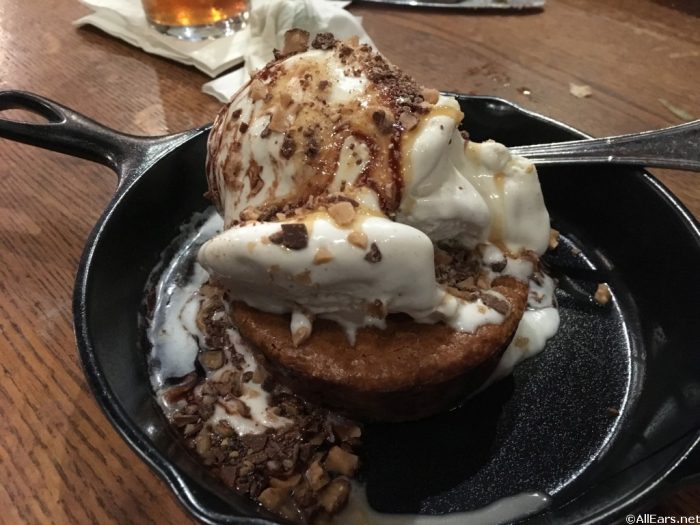 CAKE BOTTOM
Ingredients:
1 box yellow cake mix
1 each, egg
1/2 cup butter (1 stick)
Directions:
Mix ingredients and put in a greased baking pan 13″ x 9″.
CAKE FILLING:
Ingredients:
8 ounces cream cheese
3 each, eggs
1 teaspoon vanilla extract
1/4 cup butter
1 cup semi-sweet chocolate chips
1 cup Heath bar pieces
1 pound powdered sugar
Directions:
Put cream cheese in mixer.
Slowly add eggs and vanilla.
Add butter and mix well.
Put in powdered sugar, then add chocolate chips and toffee pieces.
Just mix; do not over mix.
Put on top of Cake Bottom in pan.
Bake at 325 for 35 minutes, then check.
Breakfast Lasagna
Lastly, we end our list with the rather involved recipe to make the Breakfast Lasagna from The Crystal Palace. Now, the recipe here includes directions to make fresh pancakes, waffles, pound cake, custard, and more, but you could try to use pre-made versions of the same items to make this MUCH easier and still totally delicious!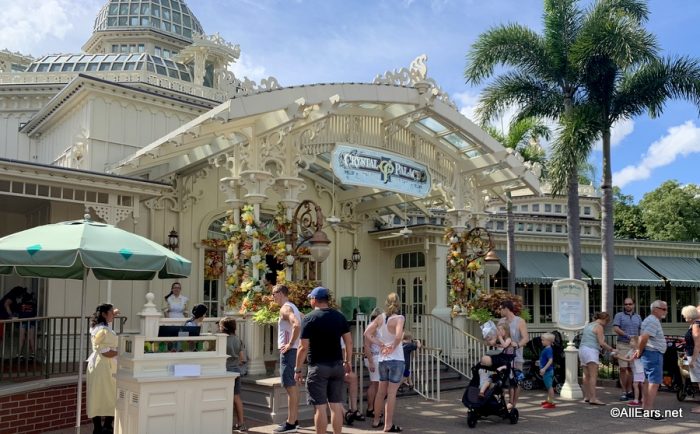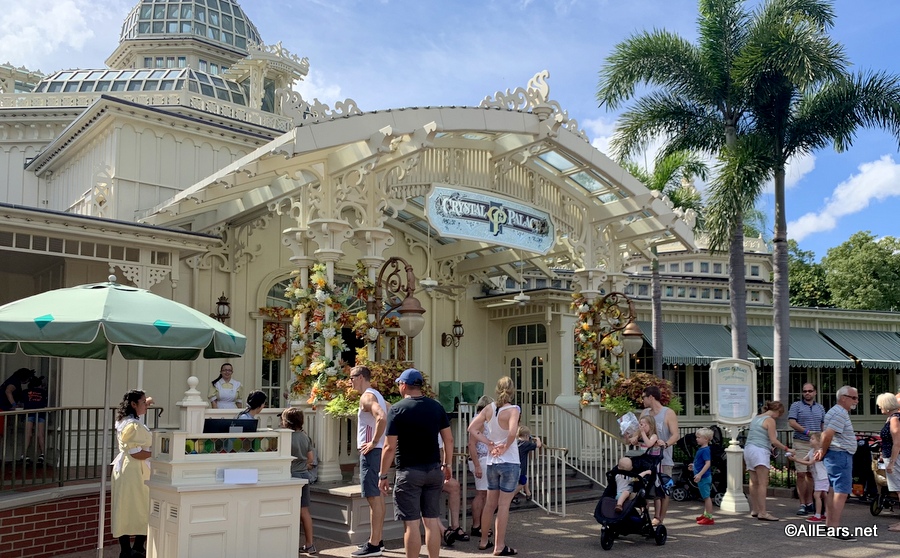 Make the pastry cream first.
PASTRY CREAM:
Ingredients
1-1/2 teaspoons vanilla extract
6 egg yolks
1-1/2 cups milk
1/4 teaspoon salt
1/4 cup all-purpose flour
3/4 cup sugar
Instructions
In a 2 quart saucepan, combine sugar, flour, salt and milk and whisk; over medium heat, cook while stirring until mixture thickens.

 

In a small bowl with a fork, beat egg yolks slightly, beat small amount of milk mixture into yolks.

Slowly pour egg mixture back into milk mixture.

Stirring constantly, cook over medium low heat until mixture thickens.

Remove from heat and stir in vanilla extract. Chill cream until ready to use.
While cream is chilling, make pancakes, waffles and pound cake below.
PANCAKES:
Ingredients
1 1/2 cups sifted flour
2 1/2 tsp. baking powder
3/4 tsp. salt
1 egg, well beaten
1 1/4 cups milk
3 TB. shortening, melted and slightly cooled, or salad oil
Directions
Sift together flour, baking powder and salt. Mix egg, milk and shortening. Pour milk mixture into dry ingredients and stir only enough to moisten. Do not beat or the pancakes will be tough. Bake on a hot griddle, lightly greased if necessary. Turn pancakes only once.
WAFFLES:
Ingredients
1 1/2 cups sifted flour
2 1/2 tsp. baking powder
3/4 tsp. salt
1 egg, well beaten
1 1/4 cups milk
1/2 tsp. pure vanilla extract
3 TB. shortening, melted and slightly cooled, or salad oil
Directions
Sift together flour, baking powder and salt. Mix egg, milk, vanilla and shortening. Pour milk mixture into dry ingredients and stir only enough to moisten. Do not beat or the waffles will be tough. Bake in waffle iron following waffle iron instructions.
POUND CAKES:
Ingredients
3 cups cake flour
6 large eggs
1 pound butter
1 pound sugar
2 tsp. pure vanilla extract
1/2 tsp. salt
1/2 cup milk
Directions
Sift the flour into a large mixing bowl. Stir in sugar, using a large spoon. Add room temperature butter. Add eggs. Using a mixer on low speed, slowly add the milk, and then the vanilla extract. After thoroughly stirred, turn mixer to medium for a few minutes, then to high. Mix thoroughly. Preheat oven to 325 degrees. Grease a standard tube pan with butter, then lightly flour it, shaking the excess from the pan. Pour in the mix and bake the cake for about 1 hour and 20 minutes. Check the doneness of the cake with a toothpick. Allow cake to cool for 15-20 minutes in the pan, then crumble the cake into small crumbs with your hands.
CUSTARD:
Ingredients
6 large eggs
1 1/2 pints heavy cream
1 pint half and half
1 ounce brandy
1/4 ounce nutmeg
1/2 ounce cinnamon
1 1/2 cups sugar
Directions
Combine all ingredients in a mixing bowl and whisky until fully incorporated. Chill until ready to use. Makes 1 1/2 quarts.
ASSEMBLY:
Ingredients
8 pancakes
6 waffles
6 cups crumbled pound cake
(Use the recipes above, or your own recipes. Store-bought/frozen are also OK.)

1 cup frozen raspberries

1 cup frozen blueberries

1 1/2 quarts custard (recipe above)

3 bananas

1 TB. butter
Directions
Put a layer of waffles in a buttered casserole dish. Sprinkle a quarter of the pound cake over the waffles. Peel and slice the bananas. Layer with half of each of the following: the cut bananas, frozen raspberries, and frozen blueberries. Sprinkle half of the remaining pound cake over the fruit, then top with the rest of the fruit. Top the fruit with a layer of pancakes, the sprinkle the rest of the pound cake on top. Press down on the layers to pack firmly. Slowly add the custard mix until the entire dish is saturated.
BAKING AND GARNISHING:
Ingredients
2 1/2 cups pastry cream (recipe above)
1 banana
1/2 pint your favorite fresh berries
1/4 cup brown sugar
Directions
Bake in a 350 degree oven for 60 minutes. (Oven thermometer placed in center of dish should register 165 degrees.) Top the lasagna with a layer of pastry cream. Slice the banana and layer on top of cream. Sprinkle sugar on top and place casserole under the broiler until browned. Garnish with fresh fruit and serve.
Well, that's our list of 10 recipes from Magic Kingdom that are sure to bring that magical feeling to your home. We've got lots more Disney recipes available, so be sure to check those out for more delicious meal ideas!
Which of these recipes will you be trying at home? Let us know in the comments!
Join the AllEars.net Newsletter to stay on top of ALL the breaking Disney News! You'll also get access to AllEars tips, reviews, trivia, and MORE! Click here to Subscribe!