As you may have heard, Epcot will be undergoing quite a transformation over the next few years. Read more about what's happening here!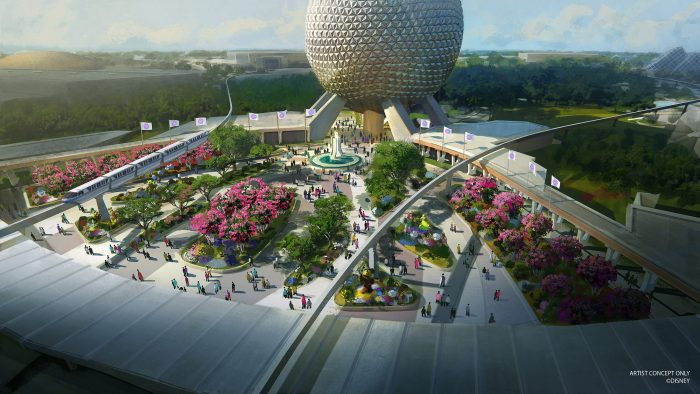 This means that a lot of the familiar views and scenery around Epcot will be changing… and soon! So if you want to capture those images, here are 8 Epcot scenes you need to commemorate on Instagram before they aren't there any more!
Epcot Entrance Fountain/Leave a Legacy
You really have to hurry if you want to get these first two shots! The transformation of Epcot's main entrance is already underway.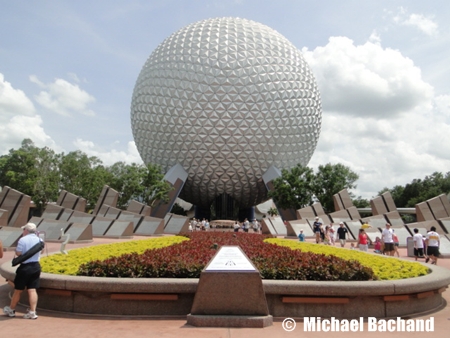 Whether you've loved them or hated them, the Leave a Legacy "monoliths" have been a familiar part of the park's entrance for years. As part of Epcot's renaissance, they will soon be relocated to an area outside the park. Walls have already gone up around Leave a Legacy on the right side of the park entrance, but you still can get a good shot of them from the left side.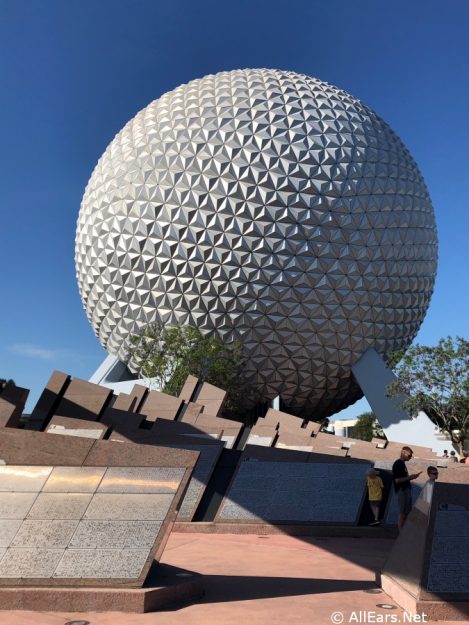 Likewise, you better make a trip to Epcot a priority if you want to get a photo of the fountain before walls go around that as well!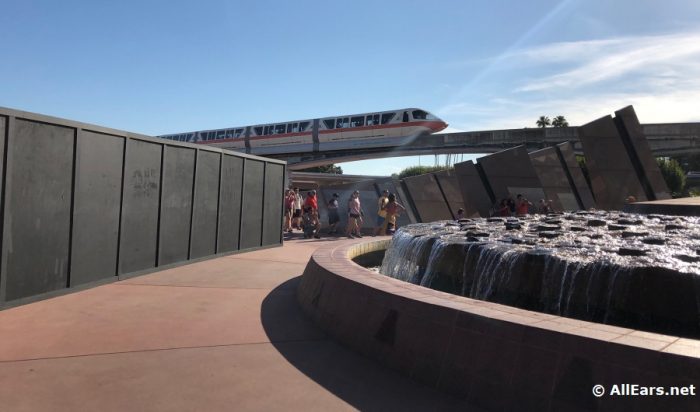 You can caption these photos with a quote or two from Walt Disney, like, "I can never stand still. I must explore and experiment. I am never satisfied with my work. I resent the limitations of my own imagination."
Mission: SPACE Entrance
You may have heard that Epcot's Future World is getting a new space-themed restaurant, slated to open later in 2019.
The new restaurant will be located between Mission: SPACE and Test Track, and it seems like it will actually look down into or be connected to the Mission: SPACE pavilion.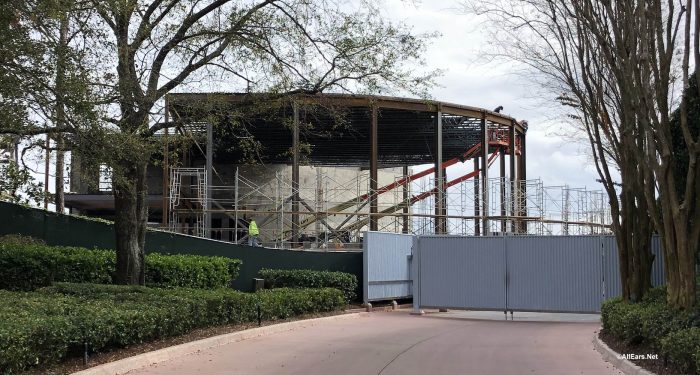 We're not sure yet how, or even if, it will change the entrance to the pavilion now, but to be on the safe side you better snap a pic there while you can!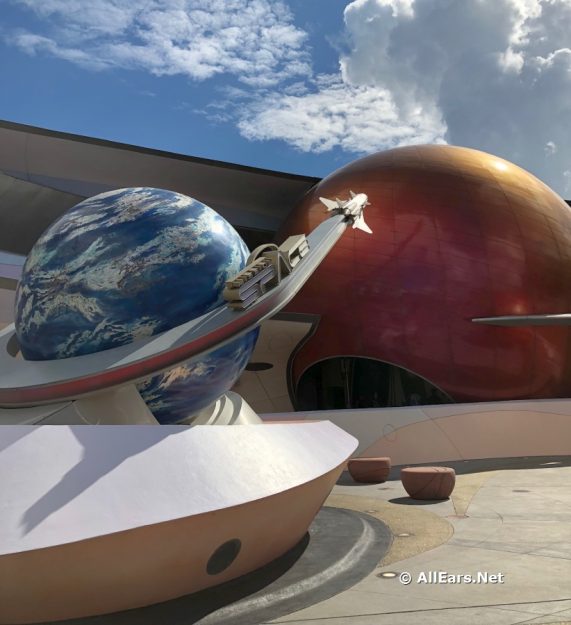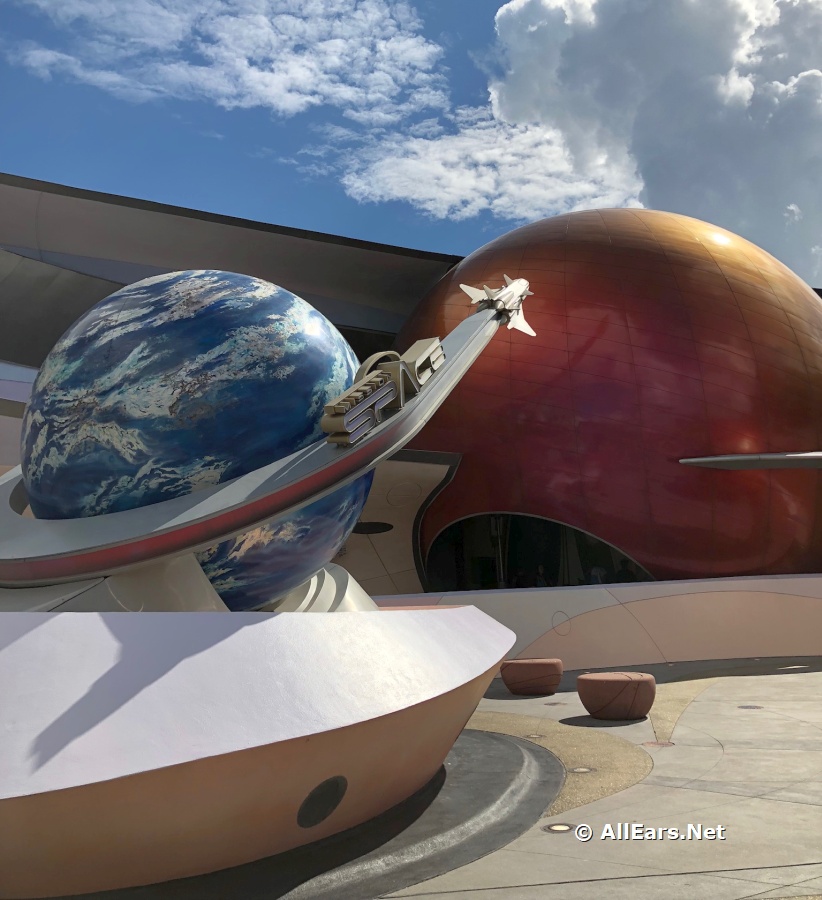 How would you post a photo from Mission: Space? With a caption from Buzz Lightyear, of course! "To Infinity… and Beyond!"
The Odyssey
Also getting a new lease on life is the Odyssey, situated between the Mexico pavilion and Test Track. Once a counter-service restaurant, the Odyssey has served as a sort of special events location in recent years.
As part of Epcot's overhaul, the Odyssey will become an "Experience Center" where guests will be able to see the plans for the park and engage in relate interactive exhibits.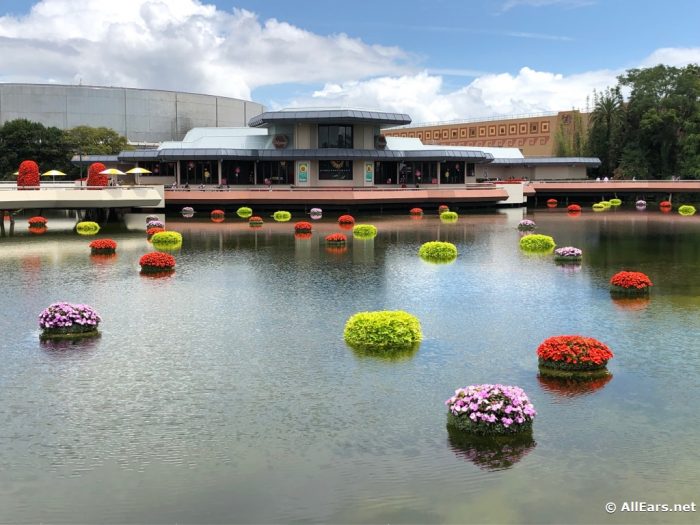 While most of the renovations for the Experience Center should be done on the inside on the building, there's no guarantee that the exterior won't get a bit of a facelift, too. Take your photos now, before there's scaffolding or scrims marring the beautiful scenery in the area!
Maybe a quote from Spaceship Earth would work as the caption for a photo of the Odyssey: "So here's to the next 30,000 years… While no one knows for sure what we'll see or do, I do know it will be quite an adventure!"
Innoventions Plaza/Fountainview
While no plans have been officially announced, Disney has teased that changes are coming to this area of the park, too. As one press release said recently, "Additional significant redevelopment will begin between Spaceship Earth and World Showcase Promenade; more details about the transformation of this area will be announced at a later date."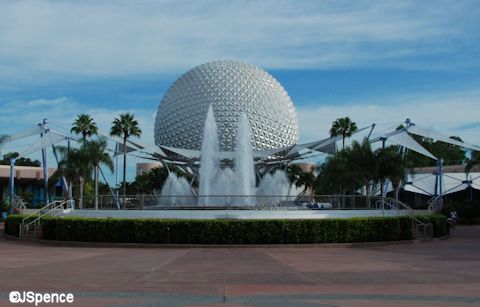 This of course has sparked numerous rumors about how the area will change. Even though we don't know anything definite, we do know that things WILL change. Therefore you better get your photos of the fountain, Fountainview and Innoventions before they go the way of the dinosaurs in Ellen's Energy Adventure!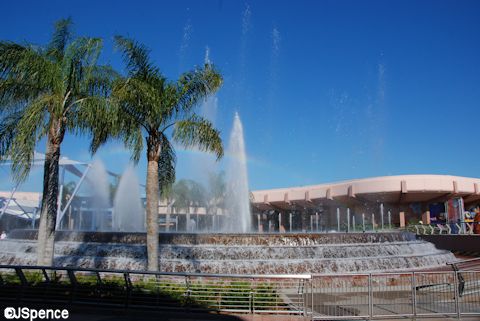 What better way to caption a photo from this area than with another quote from Walt Disney: "Everything in this room may change time and time again as we move ahead. But the basic philosophy of what we're planning for Disney World is going to remain very much as it is right now."
France Pavilion
The Epcot changes aren't limited to Future World — there are a lot of changes going on in World Showcase as well.
The France pavilion is adding two new attractions, Remy's Ratatouille Adventures and a Beauty and the Beast Sing-Along. In addition it's adding a new creperie in an area that will be designed to resemble a typical French street scene.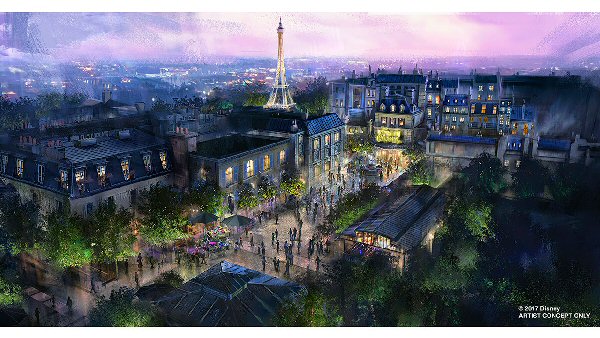 Better run over to the pavilion soon if you want to get some photos in front of the pavilion's fountain and shops as they are now — we're not sure how they may change in the near future!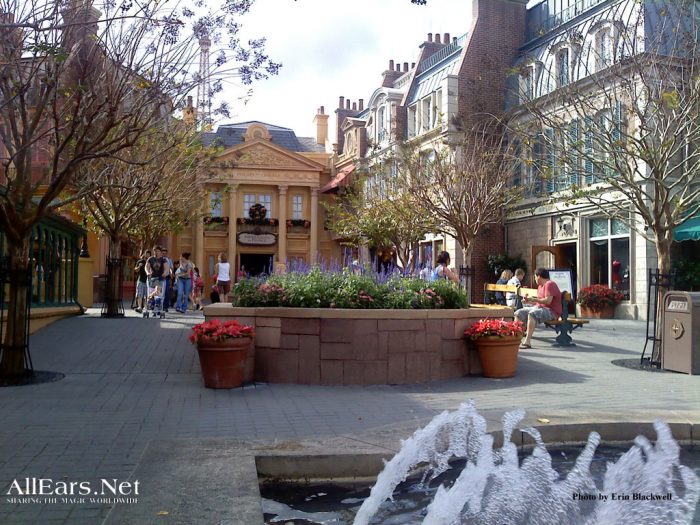 The rear of the France pavilion has already changed dramatically due in part to the construction of the Disney Skyliner. We're anxious to see what additional changes may be in store!
Potential photo caption if you decide to Instagram a pic of the France pavilion: "If you focus on what you left behind, you will never be able to see what lies ahead." — Gusteau, from the film "Ratatouille"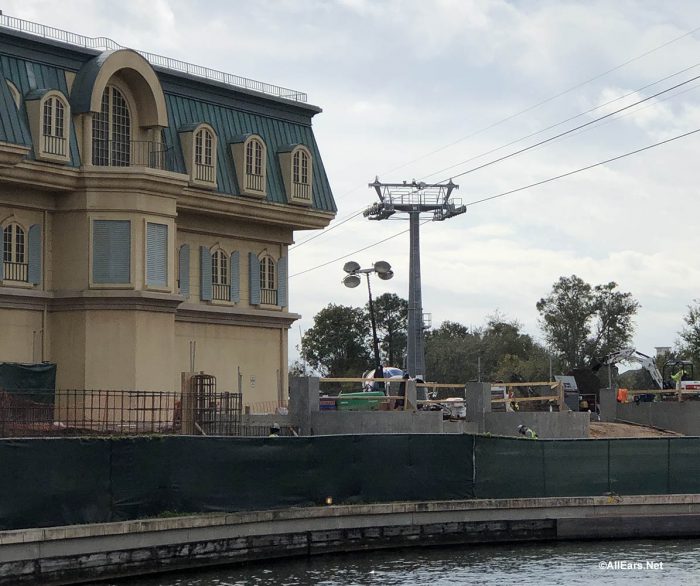 Japan Pavilion
The Japan Pavilion is also adding a restaurant as part of Epcot's transformation. Called Takumi-Tei, the restaurant will be a signature dining experience "inspired by nature."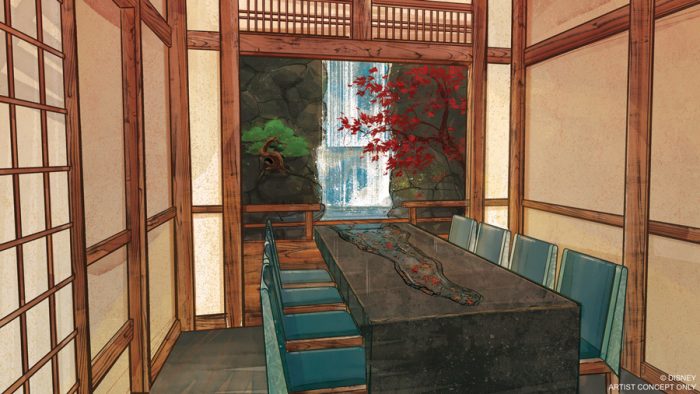 Although you can't really tell from our construction photos, the new restaurant will be located in front and to the right of the Mitsukoshi Department store.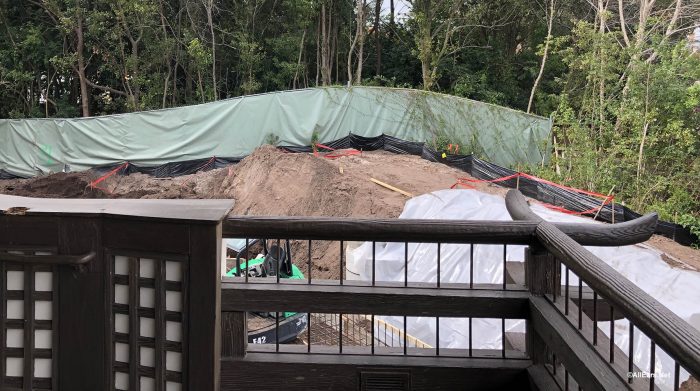 It won't affect the iconic Torii gate that stands in front of the pavilion overlooking World Showcase Lagoon, but it will change the overall appearance of the pavilion. If you want to get a photo, we'd say do it NOW. The new restaurant will be open later this summer!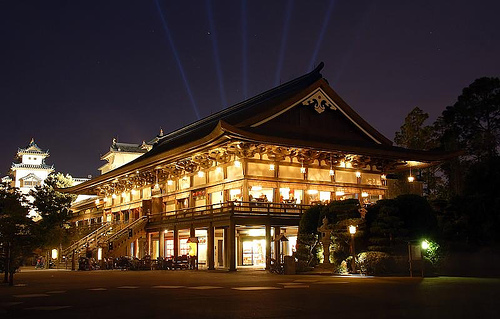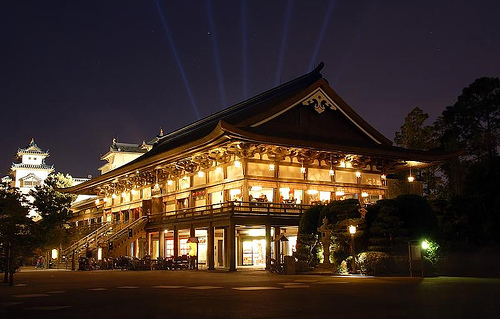 A Japan photo could also use a "Ratatouille" caption: "The only thing predictable about life is its unpredictability." — Remy
IllumiNations
Finally, the one that breaks my heart the most. IllumiNations: Reflections of Earth has its final performance on September 30, 2019, so if you love it like I do, get your cameras ready and see it before then.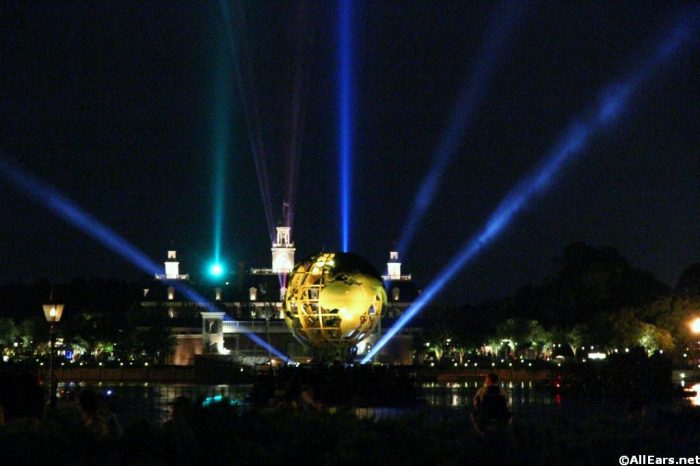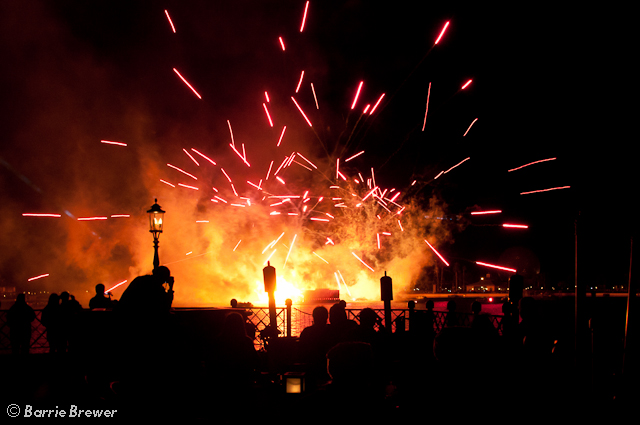 IllumiNations' replacement, Epcot Forever, starts on October 1, so you have just four more months to get your final shots of the best nighttime show ever!
And if you post some photos to Instagram from this beloved show, you might want to try this caption from Walt Disney himself on for size: "In this volatile business of ours, we can ill afford to rest on our laurels, even to pause in retrospect. Times and conditions change so rapidly that we must keep our aim constantly focused on the future."
What Epcot shots do you plan to get before they go away for good? Let us know in the comments below.
Are You on Instagram? So Is AllEars.net! Here's even more for Instagrammers:
Be sure to follow @allearsnet on Instagram and Twitter!
Check out our YouTube Channel for reviews, news, information and more!
Click below to subscribe to the AllEars® newsletter so you don't miss any of the latest Disney news!