We've been hearing talk for a while about this latest Instagram trend — Walls. Walls? Yes, walls. We haven't quite understood what all the fuss was about.
But it seems that these are not just any walls — these are walls that make a perfect backdrop for your photos, especially photos that you're going to be posting to Instagram. Hence their nickname: "Instagram Walls."
Some of these walls are monotone, some have patterns and designs on them. And at Disney Parks, they are growing in popularity. A few of the walls have even made their way on to phone cases available through D-Tech On Demand stations.
One Disney wall has become a little more famous than the rest. I'm sure you've heard of it by now — the Purple Wall!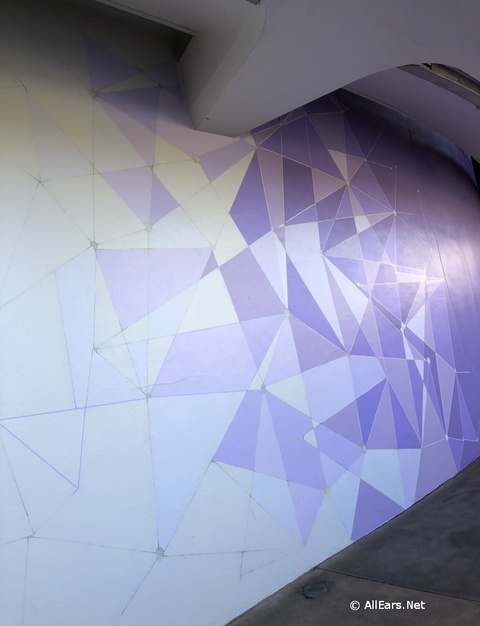 The Purple Wall has earned itself immortality in merchandise that invites you to "Meet me at the Purple Wall." There's even a Purple Wall slushy at Tomorrowland Terrace in the Magic Kingdom! The shake matches the wall and makes the perfect accessory to any photo taken there.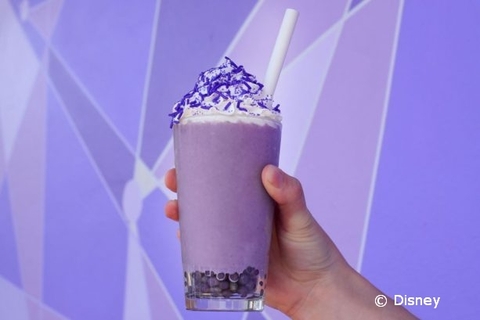 The Purple Wall started out life as a monotone purple wall located in Magic Kingdom's Tomorrowland, between Tomorrowland Terrace and Monsters, Inc. Laugh Floor. Somehow, photo-happy guests discovered that purple background was perfect for their photos. Once Disney saw the popularity of the wall increase on Instagram they added a pattern that gave it some dimension without diminishing its popularity. If you are a Purple Wall purist you can still snap a photo by a "plain" Purple Wall closer to the Monsters, Inc. Laugh Floor end, but the design side is pretty snazzy!
If you snap your picture at the Purple Wall, why not tag us? @AllEarsNet and #PurpleWall (for the portion without the design) or #GalaticPurpleWall (for the portion with the design)
OK, we're ready to jump on the Instagram Wall bandwagon! With the help of D23, the Official Disney Fan Club, Disney Style, and Disney Parks Blog, let's check out the "Walls of the World!:
Walt Disney World Walls
Epcot is home to five, yes FIVE, Instagram walls!
The Bubblegum Wall:
You'll find both the Bubblegum and Blueberry Walls as you leave the Spaceship Earth ride. By turning right or left just as you leave the ride you run into the Bubblegum wall. With its shades of red, pink and blue it can't help but conjure up memories of chewing big chucks of super-flavored bubble gum as we were kids and put a smile on our faces!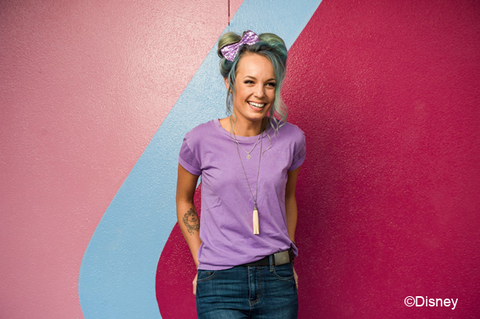 Snap your picture at the Bubblegum Wall and tag us @AllEarsNet and #BubblegumWall
The Blueberry Wall:
After stopping at the Bubblegum Wall, walk a little way and you'll find a wall with shades of blue — and now you are at the Blueberry Wall. As you think of favorite blueberry treats from pies to jams and jellies, smile and snap your picture!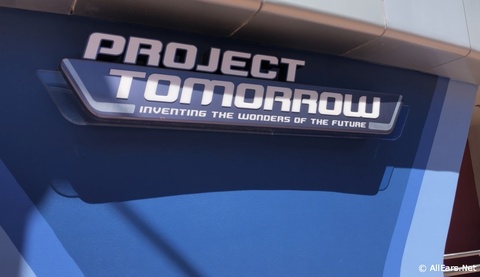 Snap your picture at the Blueberry Wall and tag us @AllEarsNet and #BlueberryWall
The Toothpaste Wall:
If you're looking for Nemo or Dory you're likely to find both of them and the next Instagram Wall at The Seas with Nemo and Friends pavilion. The so-called Toothpaste Wall is a pattern of mouthwash-colored blues and greens — or the blue and green streak you can find in the middle of a brand of toothpaste. Though we aren't certain on the name of this wall it does make a fun background.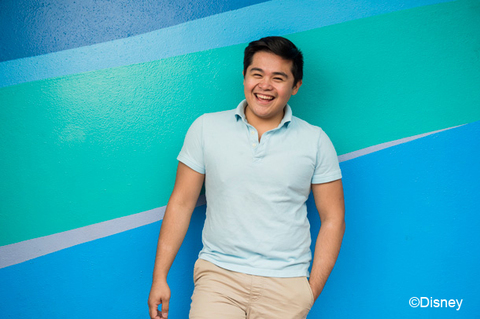 Snap your picture at the Toothpaste Wall and tag us @AllEarsNet and #ToothpasteWall
The Mosaic Wall:
If you're headed to The Land pavilion stop outside at the Mosaic Wall — anywhere that catches your eye, or matches your mood and clothes, and snap a picture with this colorful background.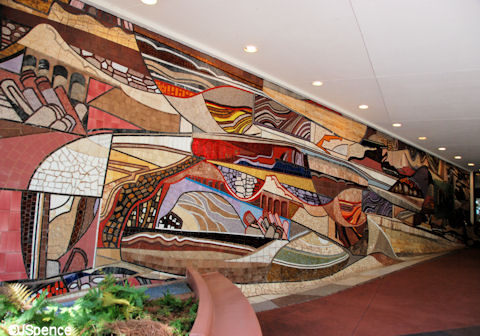 Snap your picture at the Mosaic Wall and tag us @AllEarsNet and #MosaicWall
The Rose Gold Wall:
They tell us that the Rose Gold Wall is located at Mission: Space. We're not sure exactly which area at Mission: Space this is, so if you find this wall and snap a pic with your Rose Gold Ears, spirit jersey, or cupcake, please tag us! @AllEarsNet and #RoseGoldWall
Moving on to Disney's Hollywood Studios, there are another five Instagram walls. Starting with the brand-newToy Story Land, which boast three of the walls in this park.
The Checkerboard Wall:
Outside Toy Story Mania! you'll find a very large checkerboard with a stack of checkers — it's an awesome background for photos, although it was raining when we were there.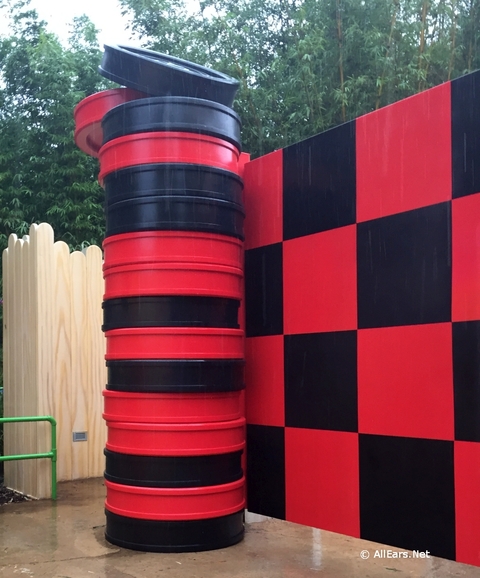 Maybe you'll get there on a sunnier day. If so, tag us in your pic@AllEarsNet and #CheckerboardWall
The Popsicle Wall
This wall is so new we don't have a photo yet — Toy Story Land just opened at the end of June, after all. You can catch a glimpse of it in our Checkerboard Wall photo above, though, so you can see that it's exactly what it sounds like — a wall made of popsicle sticks.
Grab a picture with this wall and and tag us @AllEarsNet and #PopsicleWall
The Toy Story Land Block Wall
The Toy Story Land Block Wall features primary-colored blocks — simple, yet Instagrammable! But we don't have a photo of it yet. Share yours by tagging us @AllEarsNet and #ToyStoryLandBlockWall
The last two Studios walls are on Grand Avenue — the area the Muppets call home.
The Muppet Wall
At least you won't get any real paint on your clothes or shoes from this paint splat! Plus, you'll have Beaker and Animal photobombing your photo. That's a great pair of celebrities to add to your Instagram feed.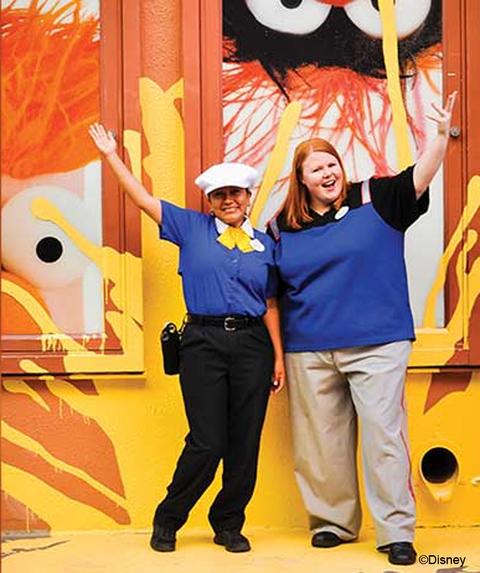 Snap your picture at the Muppet Wall and tag us
@AllEarsNet
and
#MuppetWall
The Muppet Door
Technically not a wall, but a door that works as an Instagram Wall. The contrast of the bright blue, oversized doors and red bricks this makes a fun background for a portrait or selfie. Find this door outside the Muppet*Vision theater.
Snap your picture at the Muppet Door and tag us
@AllEarsNet
and
#MuppetDoor
Disney's Animal Kingdom has four walls:
The Moss Wall
This is arguably the most popular Instagram Wall in Animal Kingdom — some might say even more popular than the Magic Kingdom's Purple Wall. On your trip to Pandora — The World of Avatar be on the lookout for it. This wall captures some of the vivid colors that make Pandora seem so magical — colors that were recreated in a special edition Banshee sold for the park's 20th anniversary earlier this year.
AllEars.Net Editor Deb Koma found the Moss Wall during a recent trip to Pandora — it's in the vicinity of the Wind Traders store and Satu'li Canteen.
Catch your picture at the Moss Wall and tag us @AllEarsNet and #MossWall
"You Are Most Beautiful" Wall
What a beautiful message to incorporate into your photos. You'll find this inspiring and positive wall in the Harambe Market on the park-side of a cast members-only doorway in the Africa area of the park.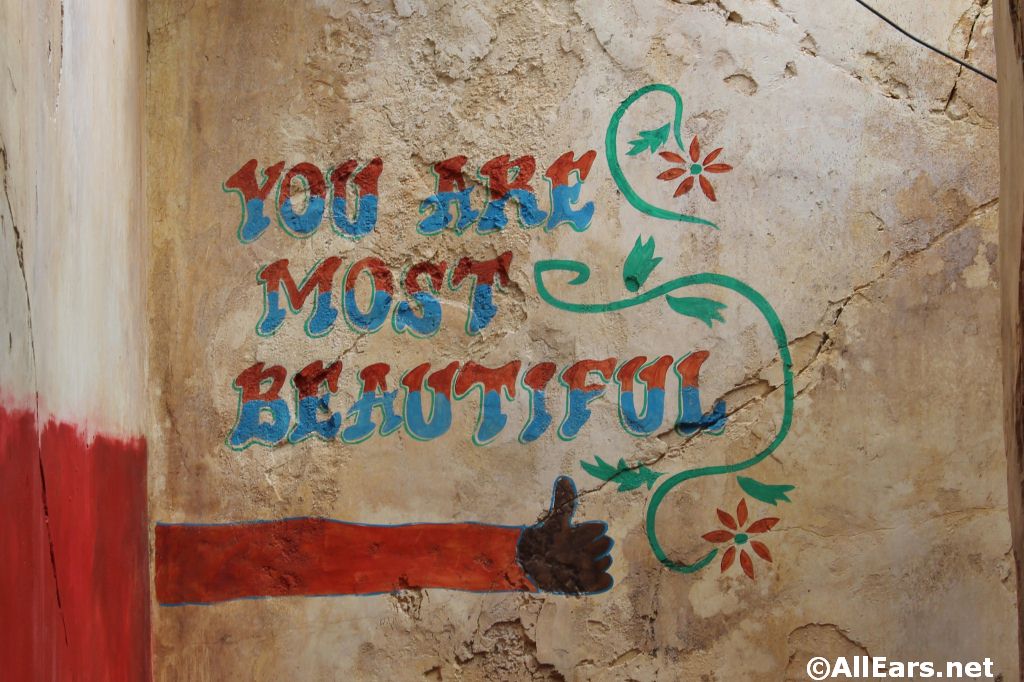 Soak up the positivity and snap a picture at the You Are Most Beautiful Wall and tag us
@AllEarsNet
and
#YouAreMostBeautifulWall
Harambe also claims two other popular walls. The first is a wall with a painting of Mickey, the second an area of a wall with some (prop) bicycles, quotes and ads. You'll want to take a moment to read the quote by the bikes.
Get some pictures at Walls of Harambe and tag us @AllEarsNet and #WallsofHarambe
Disneyland Walls
Not to be left out of the "Walls of the World" craze, Disneyland has a number of Instagrammable opportunities. In fact, the first Disneyland Wall might actually be the oldest in all of Disney! At 52 years of age the "it's a small world" Wall is attracting modern-day attention.
"it's a small world" Wall
There are many photo ops along the wall to this classic and still popular attraction in Disneyland Park. A favorite spot to grab your perfect photo is behind Fantasy Faire Gifts. Check it out on your next visit and let us know what you think.
Snap your picture at the it's a small world Wall and tag us @AllEarsNet and #itsasmallworldWall
The Star Wars Wall
For Star Wars fans visiting Tomorrowland there is a star-filled wall that wraps around Launch Bay. For die-hard fans you can even include those infamous words… "May the Force be With You" in your pictures.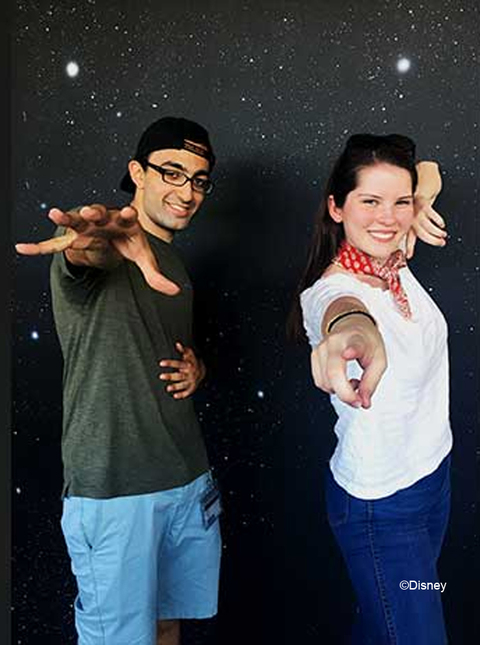 Get your picture at the
Star Wars
Wall and tag us
@AllEarsNet
and
#StarWarsWall
The Minnie Mouse Wall
Minnie is always perfectly dressed and knows how to rock the dots. Now you can join in the polka-dot fun with a brand new Instagram Wall located outside Minnie's house in Mickey's Toontown.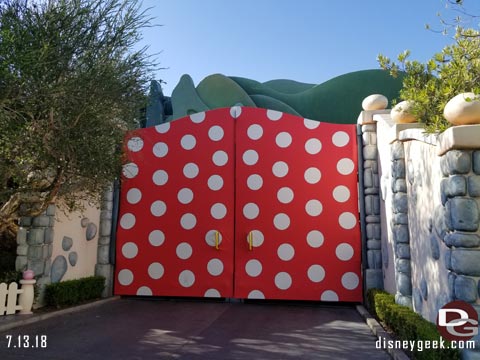 Pose perfectly with these polka dots at the Minnie Mouse Wall and tag us @AllEarsNet and #MinnieMouseWall
Hollywood Land in California Adventure claims the next three Instagram walls, with two of those being some of the newest walls in the parks.
The Blue Wall
Like Florida's Purple Wall, this Wall is well-known and popular for being just one shade. It is a very deep blue — my favorite color! — and will complement any outfit you might be wearing!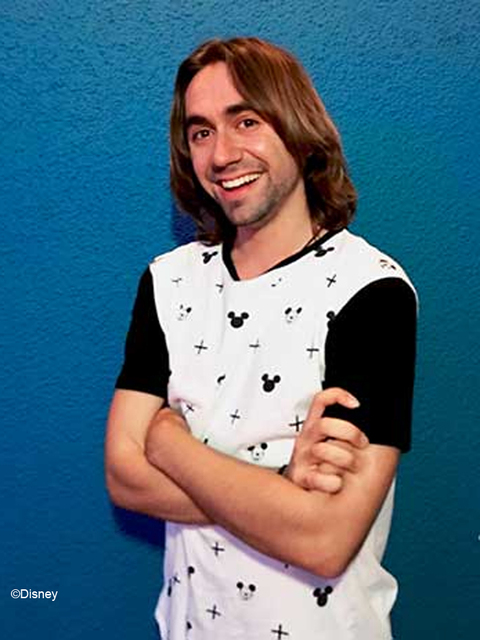 Get your picture at the Blue Wall and tag us
@AllEarsNet
and
#BlueWall
The next two walls appeared for Pixar Fest, but we sure hope to see them stick around.
The Buzz Lightyear Wall
You have a chance to pose like you are lifting off to fly "To Infinity and Beyond" with Buzz's jetpack on your back. This fun wall is around the corner from Monsters, Inc. Mike & Sulley to the Rescue!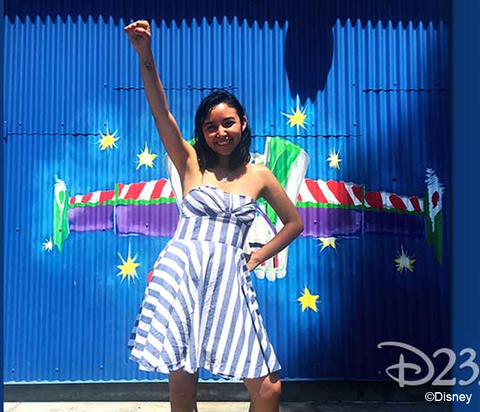 Blast off and get your picture at the Buzz Lightyear Wall and tag us @AllEarsNet and #BuzzLightyearWall
The Up Wall
If blasting off into the cosmos is not quite your speed you can take a gentle balloon ride up in the clouds with hundreds of balloons gathered in your hands instead. The Up Wall is a few steps away from the Buzz Lightyear Wall, letting take your pick for flying around!
Before you float away, get your picture at the Up Wall and tag us
@AllEarsNet
and
#UpWall
And that's all we know! It turned out to be a fairly comprehensive list, didn't it? Did we miss any?
We look forward to practicing our selfie shots at all the Walls of the World out there soon!
Are You on Instagram? So Is AllEars.net! Here's even more for Instagrammers: