The Epcot International Flower & Garden Festival begins in just one week — March 1 — and runs through May 29. Each year, the festival has gotten bigger and better with more blooms, detailed character topiaries and edible gardens. The theme park just seems to be bursting with color each spring!
I recently spoke with Eric Darden, who is the horticulture manager for the Flower & Garden Festival, at the Tables in Wonderland preview event about all the exciting additions this year. Darden has been a Walt Disney World cast member for 30 years and served as the foreman of the topiary team at the first Flower & Garden Festival 24 years ago.
It was a happy surprise to see a Figment topiary appear at Epcot well before the Flower & Garden Festival started. How and why did this happen?
We were originally creating a Figment topiary for Flower & Garden, but during the planning for Festival of the Arts, it became apparent that Figment was going to play a big role in that festival so we were asked if we could finish him in time. The bed is going to get significantly cleaned out for Flower & Garden. We couldn't give everything away! This [addition] is based significantly on guests. We kept hearing from the merchandise folks that our guests just love Figment, and we hadn't had a Figment topiary probably since '92.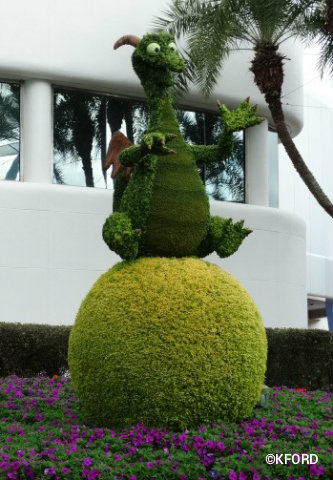 One of the stars of this year's Flower & Garden Festival is the Princess Belle topiary, which has undergone a transformation to make her appear more lifelike. Tell us about the process.
When we first did this with Snow White three years ago, we truly did not know if it was going to work. Now we're in the process of making all our face characters look like this. The body is actually a sculp by a sculptor, so when you look at Belle, you're not looking at just a topiary, you're looking at an individual piece of artwork. And then, of course, we have the sculpted artwork and we have to have a way to attach that to the growing artwork.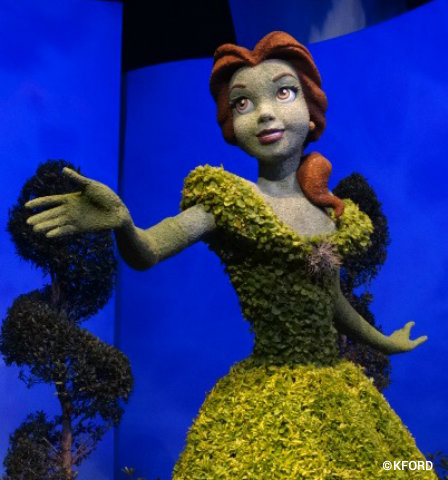 If you were looking at her frame, her dress would be too small. But we knew that ahead of time we were using 3- to 4-inch plant material on her dress so we had to make it truncated. On her torso, that's less than an inch of plant material, so you make that true to size. [Joseph's Coat — botanical name Alternanthera 'True Yellow — is used for the skirt; Creeping Jenny — botanical name Lysimachia 'Goldilocks' — makes the ruffle and bodice; and Variegated ficus is used for her underskirt.]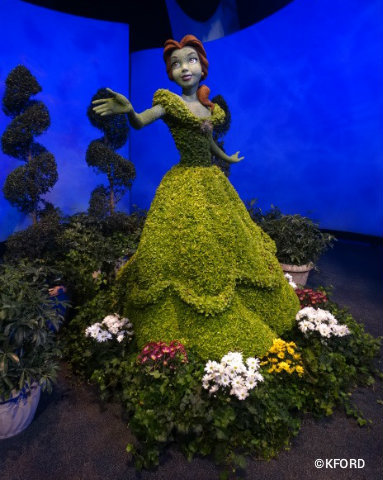 Finally, we're one of the world's largest users of French hairpins. There are hundreds and hundreds of plants on this topiary and this is what we use to hold them in. So, literally, I would guess there are probably 1,000 to 1,500 hairpins on Belle. They are just all over the place in there.
Watering all the delicate topiaries at the Flower & Garden Festival must be a challenge. How does that work?
As we started getting more and more topiaries in the festival, it became a challenge because it takes a long time to water a topiary. Watering an extremity, you just can't hit it once and leave. You have to keep coming back again and again, so it takes a long time to water one. When we were going from 20 topiaries to 80, we knew we didn't have the staff to do nothing but water so, the team back at the nursery found a way to do to a topiary what's done in your yard. Basically, if you have a house with an irrigation system, you have different zones and each of the zones will have a different type of spray head with how much water that area needs. It's the same with these topiaries. We have lots of different tubing going to different zones and areas like extremities that dry out will have a whole lot more water than, say, the thick area of the dress. We started doing that probably 15 years ago and have gotten better and better at it. It really is what has allowed us to have so many topiaries at the festival. Otherwise, we just wouldn't be able to maintain them.
How did topiaries become popular in Disney Parks?
Walt was visiting Tivoli Gardens in Copenhagen (Denmark). This is what gave Walt the inspiration to do character topiaries. He came back and told Bill Evans that he wanted to see his characters in topiary. Bill was an extremely interesting man. Walt had hired him and his brother to landscape his home in LA. You've probably seen the railroad he had in his backyard — Bill and his brother did that. So when it came time to build Disneyland, it was just natural that Walt called Bill and said, "I have this new project that I want you to work on." … He pretty much became the father of theme-park horticulture.
I met Bill and got to interact with him quite a bit as did others in the horticulture department, so we feel fortunate we had that early tie-in to Disney. Until the day he passed, he was coming here all the time, walking your area and giving you hand-written notes of ideas that you might try, which were really fun.
So, Bill told Walt it would take four to five years to create a topiary, and Walt told him he had two. He figured out how to do it with frames. Back then — and for a long time — topiaries were just green representations of Disney's characters. For a long time, topiaries were shrubs. Back in 1994, we had to put signs out to tell our guests which characters the topiaries represented. Well, we got a new vice president who said that was no longer acceptable and we were going to try to bring our characters more to life. So that's when we started working more with our character artists.
How have things changed over the years with the rest of the Flower & Garden Festival?
We noticed about 10 or 12 years ago that we if wanted to double or triple the attendance in a garden, all we had to do was change it from just an ornamental landscape to an edible landscape. The first one we did this in was the garden in Canada. [When we added] an edible landscape, we tripled — almost quadrupled — the attendance in the garden. So, we knew there was a lot of demand for edible landscape even before you started seeing actual food being served at Flower & Garden.
Now we've found that since we've added food, we've changed our demographic. Ten years ago I would very seldom have someone in their 20s [in the Festival Center] asking me how to grow plants. Now it's very common to have someone in their teens, 20s and 30s wanting to know how they can grow plants. They are not asking about marigolds and petunias. They were at Urban Farm Eats and saw cabbage being grown in a container and they want to know if they can do that at their own house. Well, yes you can. So, we in horticulture think if there's a way to get the young people gardening, and there is, it's going to be through edible plants.
And this is not just Disney seeing this. This is a trend throughout the horticulture field. Now you have nurseries that are having cooks doing demonstrations while they have all their vegetables and herbs ready to sell. I say trend, but this is a really a change. I just can't see people going, "You know, I'm tired of eating all this good, healthy food." We see the change directly when we're talking to our guests at Flower & Garden festival. For so long, I think people only thought of flowers when they thought of Flower & Garden Festival.
We're starting to see the lines blur between an edible landscape and an ornamental landscape, and you actually see that in cities that allow you to grow edible gardens in your front yard as well as your back yard. More cities are actually allowing that, just like they are allowing chickens, too.
As we've added edible landscapes, there has been no reduction in our ornamental landscapes. They truly have been in addition to our content at the festival. So, as you walk around, especially if you've been coming for years, look at the little areas— some in Italy, several in Future World and a garden by Mexico — where 5, 6, 7 years ago we just had regular landscape. But we're trying to identify every area where we can make the park even more decorated and tell a better story. I think we're getting there.
Some of the most popular gardens for families visiting at the Flower & Garden Festival are the ones decked out with playground equipment. My own kids have loved these areas for years! What's new for 2017?
The biggest difference this year is that we're having a third playground. We're adding a little playhouse for younger children back in between France and Morocco with the Florida Fresh garden. It's kind of a farmhouse and barn-themed area for the kids ages 2 to 5. The Music Garden Melodies on the Rose Walk is going to be the same theme with all new equipment from Landscape Structures. The playground in the Cars garden will have a couple new pieces, but it also will be similar to past years. [There will be a new character topiary — Cruz from the upcoming Cars 3 movie — and the garden has been renamed Road to Florida 500.] We think that by adding playgrounds during Flower & Garden, it makes the park even more family friendly. It really brings those gardens to life, and it allows the parents to have more time in the gardens.
Finally, the entrance garden is always a centerpiece piece for the Flower & Garden Festival with the iconic Spaceship Earth in the background. What can you tell us about this year's tableau?
You've probably noticed that a lot of our entrance displays harken back to the early shorts that Walt drew. We have found that anytime we were inspired by or even directly lifted a short that Walt did, we'd get a good show, which shouldn't be surprising. With Walt you're getting quality, right?
This year, we're inspired. Mickey, Minnie, Pluto and Daisy are the topiary characters around the maypole. We're calling the main entrance scene: "Welcome Spring Fun, Food and Flowers!"
Editor's note: The festival, including all gardening programs, exhibits, concerts, complimentary English Tea Garden tours and special appearances, is included in regular Epcot admission.
Disclaimer: I was a guest of Walt Disney World at the Tables in Wonderland preview event for the Epcot International Flower & Garden Festival. This did not affect my story. My opinions are my own.