Now in their fifth year, the Outdoor Kitchens at Epcot's Flower and Garden Festival are as much a part of the festival experience as the beautiful blooms. With multiple dishes and drinks at 15 kitchens, there is a lot of sampling to be done!
I attended the Tables in Wonderland preview on Sunday, where I was invited to taste many of the new foods and beverages that will be available to the public, beginning March 1. Here are my thoughts about what you will find. Of course, different people have different palates, but perhaps my suggestions will give you a starting point in your culinary journey and help ensure you don't miss the best of what the festival has to offer!
There are two new outdoor kitchens in 2017: The Berry Basket and Northern Bloom.
"The Berry Basket is really about everything berries," said Chef Gregg Hannon, culinary director of Epcot. "We really thought that featuring one food group, especially during springtime, or Flower & Garden, would really resonate with our guests. Spring is all about the great produce that is being harvested."
The Berry Basket will serve a Lamb Chop with Quinoa Salad and Blackberry Gastrique; Field Greens with Fresh Strawberries, Blue Cheese, Strawberry Vinaigrette and Spice Pecans; Warm Wild Berry Buckle with Pepperberry Sorbet/Ice Cream; Founders Raubeaus Pure Raspberry Ale; Island Grove Blueberry Moscato; and a Twinings Berry Cocktail.
The only dish we were able to taste at the preview was the Warm Wild Berry Buckle with Pepperberry Sorbet/Ice Cream, and it seemed to be a hit at our table. I can imagine it will be popular with festival-goers, too, on warm Florida days.
Northern Bloom is located near the Canada pavilion, which makes sense because this new outdoor kitchen is inspired by the country of Canada and will serve French-Canadian dishes. Look for Seared Scallops with French Green Beans, Butter Potatoes, Brown Butter Vinaigrette and Applewood Smoked Bacon; Beef Tenderloin Tips, Mushroom Bordelaise Sauce, Whipped Potatoes with Garden Vegetables; Naomi Bar Trifle; a Maple Shake (non-alcoholic); a Maple Shake with Crown Royal; Unibroue Maudite; Unibroue a Tout Le Monde Saison; and Unibroue Ephermere.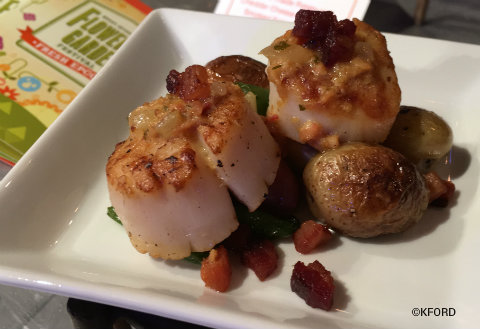 Guests at the Flower & Garden preview could sample the Seared Scallops with French Green Beans, Butter Potatoes, Brown Butter Vinaigrette and Applewood Smoked Bacon, which featured produce that was sourced from Canada, Hannon said. The new craft beer, Unibroue a Tout Le Monde Saison, also was available.
"What goes better with French-Canadian food than beer, right?" said Rick DeCicco, proprietor of festivals. "So, everybody loves craft beers and we're very proud that we'll be featuring Unibroue craft beers at Northern Bloom. For the first time at Epcot, we're going to have a new Unibroue called Tout Le Monde. It will be part of a beer flight which features Unibroue Maudite and Unibroue Ephermere . They are always fan favorites."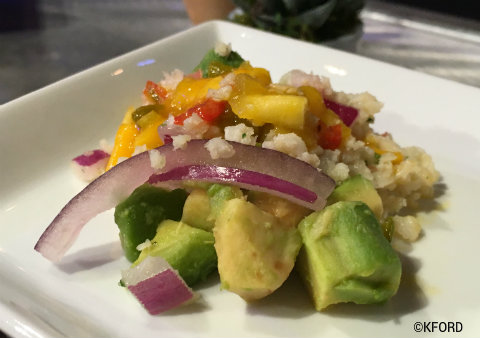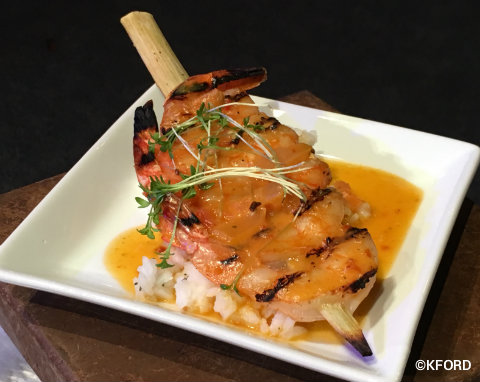 The La Isla Fresca outdoor kitchen returns with three new dishes. At the preview, I sampled — and really enjoyed — the Caribbean Conch Salad with Avocado, Mango and Onions and the Sugar Cane Shrimp Skewer with Steamed Rice and Coconut Lime Sauce. The tropical flavors in both dishes were light and refreshing.
Urban Farm Eats, perhaps best known for its extremely popular Watermelon Salad with Pickled Onions, B&W Gourmet Farms Baby Arugula, Feta and Balsamic Reduction — which you'll be happy to know is returning — is offering one new dish this year. The Crabless Cake with Crispy Vegetable Slaw, Lemon Vinaigrette and Old Bay Remoulade is designed for vegans but is prepared to appeal to a wide range of eaters.
"When I think about Urban Farm Eats or 'urban,' I think about a city or possibly alternative eating and bringing awareness to a plant-based diet," said Hannon. "It's very important and also making sure it has full flavor. So, we're using a Gardein chickenless breast. We grind it up and flake it to have the texture of crabmeat. We mix in some peppers and onions and really traditional crab cake accompaniments. We bread it and we griddle it. On top, we make an Old Bay Remoulade, but we use Vegenaise and we make a slaw with it. Most people who are slightly afraid of a plant-based diet think it's all vegetables, but there's a lot of protein in there. Also when you think of soy-based protein, you also most of the time get no saturated fats, which can be great for you."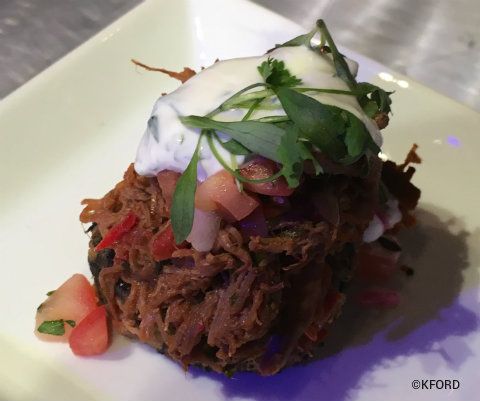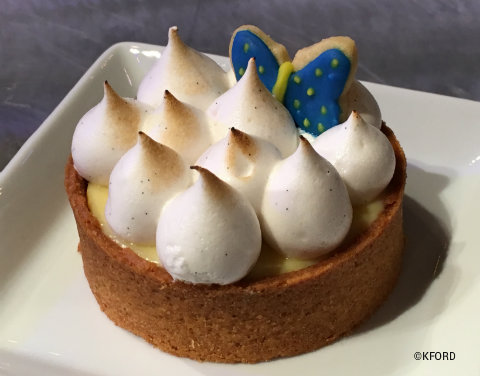 The Florida Fresh outdoor kitchen, which is located between Morocco and France — will serve up two new dishes, and we were able to sample both at the preview. The Carne Asada with Black Bean Cake and Cilantro Lime Sour Cream and the Key Lime Tart with Toasted Meringue represent Florida well. Hannon said the Carne Asada was inspired by South Florida dishes, and the Florida Keys' influence can be seen in the Key Lime Tart. Both were delicious!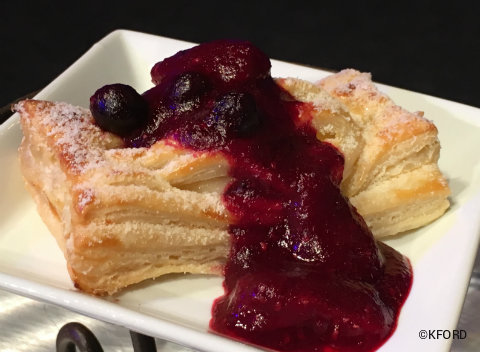 At Bauernmarkt near the Germany pavilion, guests can try the new Warm Cheese Strudel with Mixed Berries. Expect a generous serving of the sweet treat. Both the Cheese Strudel and the Key Lime Tart are large enough portions to share.
Finally, those who enjoy their tea will not want to miss the new Royal Garden Tea Tour. The $15-per-person cost includes a cup of tea and assorted scones. We were invited to sample a cheddar scone with Earl Grey butter and a sweet scone with raisins, clotted cream and jam. The tours take place at 9:30 a.m. daily at the UK pavilion during the festival, and reservations can be made by calling 407-939-8687.
Disclaimer: I was a guest of Walt Disney World at the Tables in Wonderland preview event for the Epcot International Flower & Garden Festival. This did not affect my story. My opinions are my own.