Disney's Imagineers have some of the coolest jobs around. Who wouldn't want to help create the theme parks we all know and love? Well, now's your chance to experience what they do — on a much smaller scale and from the comfort of your own home.
"Kingdom Keepers" author Ridley Pearson is inviting readers to accept a series of writing challenges in the Disney School of Imagineering, which features prominently in his latest series of Kingdom Keepers books. The challenges will center on the theme "writing for the Disney parks," and the first assignment has been posted on kingdomkeepersinsider.com:
"A big part of being an Imagineer is paying close attention to detail. Whether you're working as a character, designing a new ride, or (in our case) writing for the parks, it's the details that make the Disney experience so special. For your first assignment, think of a detail in a Disney park, like the weather vane on the top of the Haunted Mansion, or the bulletin board in Dinoland USA (If you're stumped, try Google). Once you have a detail in mind, write a backstory for it. Where did it come from? Why is it there? What about it is significant or magical? Have there been any times it was used or involved in a part of Disney or character lore?"
To participate, you must post your entry on the website after creating a free account. Other readers will be able to view your work and vote for their favorites.
A word of advice from KKI Brooke: "A quick note before we begin: Many of these challenges deal with actual locations in the Disney parks. If you've never been, that's okay! Google is full of blogs and maps, photos and videos, so there's no need to miss out just because you don't spend as much time in Walt Disney World as the Keepers. Even if you do go to the parks every week, take some time to do your research. Preparation is key, and you never know what you might learn."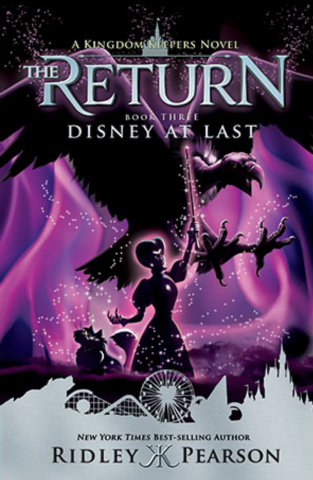 New challenges will appear every two weeks leading up to the release of Pearson's "The Return: Disney at Last" on March 28. Great news for readers in Orlando: Pearson will kick off his book tour again at Walt Disney World and guests will be able to buy "The Return: Disney at Last" before its official release date. Pearson will be signing copies at Epcot on March 24 and at Disney Springs on March 25.
The "Kingdom Keepers" books take place inside Walt Disney World and Disneyland and aboard Disney Cruise Line ships. The final novel in the original, seven-book series was published in 2014, but the following year, Pearson released the first book in a new young adult trilogy that would keep the beloved characters alive. In "The Return: Disney Lands" the five Kingdom Keepers had to solve a puzzle of the past or face a new force of evil. In "The Return: Legacy of Secrets," Finn, Charlene, Maybeck, Willa, and Philby travel back in time to experience the opening of Disneyland in 1955 and the start of the magic we know today. No, in "The Return: Disney at Last," the Kingdom Keepers must face unimaginable choices.
"Kingdom Keepers" fans will be happy to know that Pearson already is at work on a new trilogy set at Epcot, according to an article last week on D23.com. Pearson confirmed to me that the new series will indeed bring back familiar "Kingdom Keepers" characters as well as introduce new ones.