Does a made-for-adults 101 Dalmatians purse set your heart racing? This Harveys Seatbeltbag collection was so popular that many of the bags minutes sold out within minutes of being posted online in mid-January.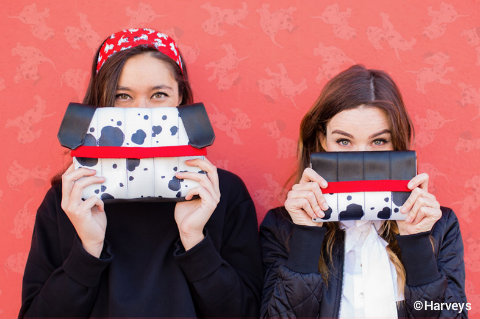 High-end Disney-themed purses and bags continue to increase in popularity — both those sold in the theme parks and those sold at outside retailers. And the primary and secondary markets don't seem to be slowing down anytime soon.
Three of the most well-known manufacturers of Disney bags — Vera Bradley, Dooney & Bourke and Harveys Seatbeltbags — have been staples at Walt Disney World, Disneyland and Disney Cruise Line for years now. In 2016, Coach and Kate Spade collaborated with the Mouse and debuted new lines.
I have to confess that I'm one of the shoppers fueling sales of Disney-themed Vera Bradley, Dooney & Bourke and Harveys Seatbeltbags. Although I by no means have an extensive collection, I have added pieces over the years. And I love to see the incredible creativity in each new pattern. So, if you're a new Disney purse sister, here are some tips that you might find useful:
** Harveys bags are no longer sold in the parks, so unless you live near a store in California, you'll need to order online. Some lines, such as the 101 Dalmatians collection, are only released online anyway. But shopHarveys.com isn't the only resource. Be sure to also try Zappos.com and MaterialGirlhandbags.com, which also stock the brand. Follow Harveys on social media for sneak peeks of new collections and advance notice of release dates.
** Disney Dooney & Bourke bags are sold at Walt Disney World, Disneyland and Disney Cruise Line plus they can be ordered online at DisneyStore.com and through the Shop Disney Parks app. Annual pass and Disney Vacation Club discounts can be applied to purchases in the theme parks and on the app. Periodically, DisneyStore.com and the Shop Disney Parks app offer additional discounts as they are doing now. Both have 10 percent off now through Sunday. And sometimes consumers will find different stock online and on the app, so be sure to check both. For example, DisneyStore.com is offering a Disney Dooney cosmetic bag for $29 with a $100 purchase. Disney Vera Bradley bags are sold in the same physical and online locations.
** For many runDisney races, Dooney & Bourke releases a new runDisney-specific pattern on three silhouettes of bags. Runners often are invited to pre-order the bags, but they also sell them at the Health & Fitness Expo before each event. (The expos are open to public and you do not have to be running to enter.) When I went to packet pickup at Walt Disney World Marathon Weekend, there were still plenty of Disney Dooneys for several days. That's not always the case, though.
** When Disney decides to retire certain Dooney & Bourke and Vera Bradley patterns, you may see them on sale online. But if you are in Orlando, you also can visit two Disney outlet stores that carry official Walt Disney World merchandise, including these bags. The selection is more limited, but the prices are significantly discounted.
** Popular patterns and prints do sell out quickly, especially for Harveys bags because of the smaller inventory. Recently Harveys posted a survey asking shoppers which Disney patterns they would like to see become a staple in its collections. Follow Harveys on Facebook if you want to take the survey. And cross your fingers for more Disney Harveys Seatbeltbags!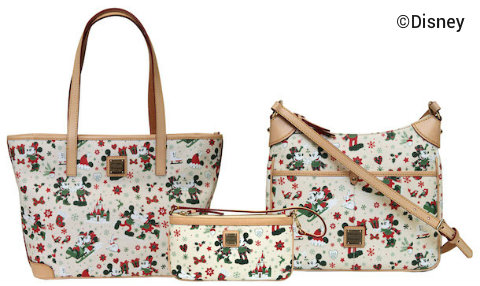 ** Some Disney fans choose to use personal shoppers, which largely can be found on Facebook, for their purse purchases. If they can't be at a store themselves, consumers want people they trust to pick the "placement" on such expensive bags. Disney Dooneys, for the most part, feature patterns with repeating icons, and each person may prefer a different image be displayed prominently. Personal shoppers will search for the desired placement on bags.
** Purse charms are a thing. I had no idea until I joined a private Facebook group dedicated to high-end Disney bags, but, boy, do I love them now. I even gave some as Christmas gifts. Etsy is the place to look for purse charms.
** Finally, although eBay might be the easiest place to buy Disney bags you missed out on, it's not always the most economical. Many Facebook groups feature sellers of Disney merchandise who are just looking to recoup what they paid, so it might be worth your while to join a few online groups.
Happy shopping!