A couple of new limited time events started at Disneyland on Friday, February 10. So I decided to make a quick trip to Disneyland to check them out.
A sneak peek of the upcoming "Beauty and the Beast" movie is showing in the Sunset Showcase Theater in Disney California Adventure. The movie opens on March 17, so the preview will probably run through March 19th.
Lots of movie artwork along the entrance to the theater.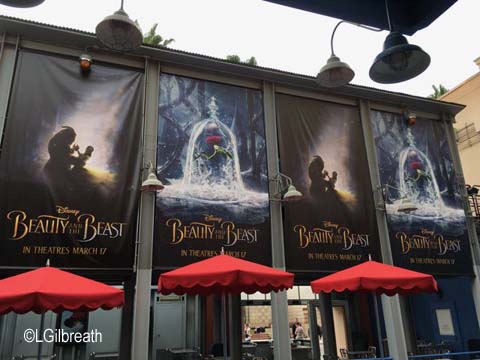 The entry and lobby area of the theater have been redesigned – all traces of Arendelle have been removed, and now it looks more like a generic theater.
In the lobby are two display cases with props from the movie. This one has Belle's "town" dress and the "Magic Atlas."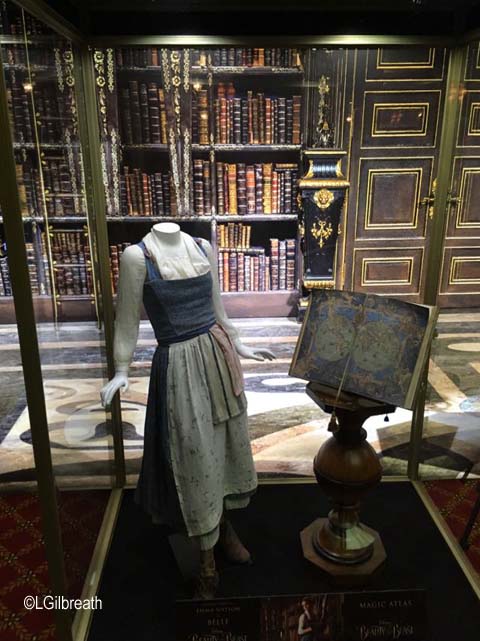 The other has the rose and the "Enchanted Mirror."
The preview is in 3D and is about 10 minutes long. It features the entire opening "Belle" song with the townspeople and Gaston followed by a short trailer. (Josh Gad is excellent as Lefou.) While you're waiting for the preview to start, take a look at the "Enchanted Mirrors" on both sides of the theaters above the entrance and exit doors. You'll see some familiar characters.
I really enjoyed it – I'm looking forward to seeing the movie.
Also at DCA…work on the Guardians of the Galaxy: Mission BREAKOUT continues – part of the facade was visible. I thought it looked better than I was expecting.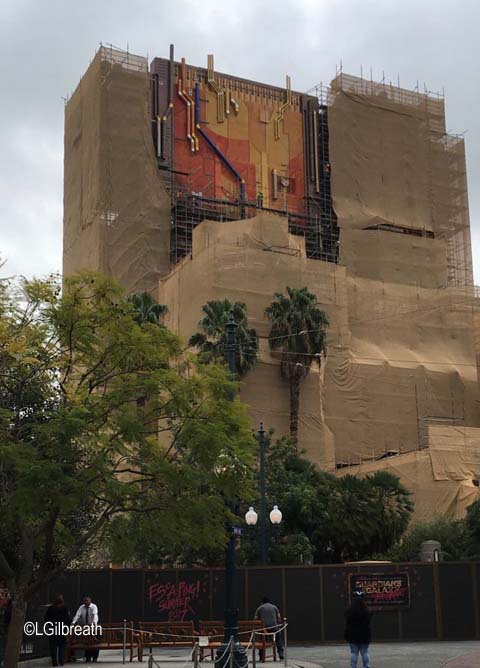 In the Paradise Pier area there are construction walls up along the bay in front of the Carousel – this would seem to be the logical location for the new Fastpass kiosks for Toy Story Midway Mania. No word on when those Fastpasses will be available.
Over at Disneyland, AP Days, a celebration for Annual Passholders, runs through March 9. This time it has a Main Street Electrical Parade theme.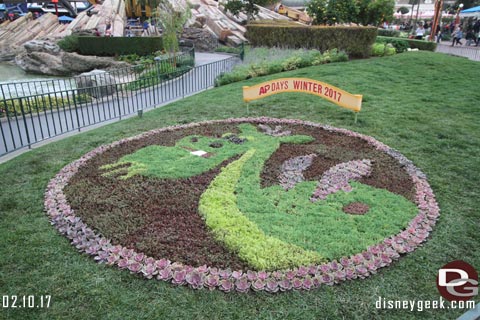 The Welcome Center is in the Starcade in Tomorrowland.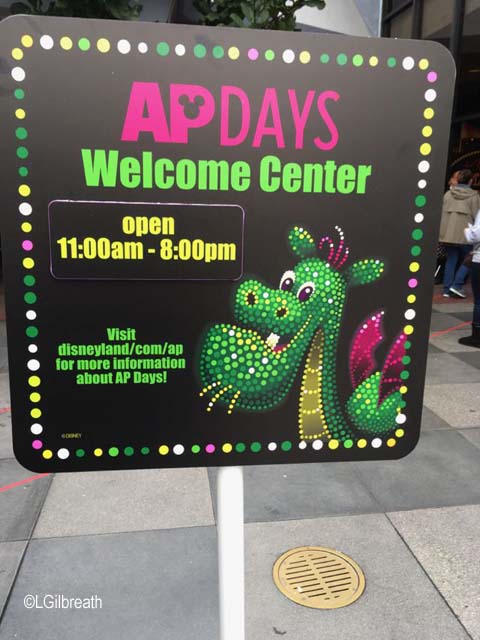 There was a pretty long line to get in when I was there – they had a queue set up in front of Path of the Jedi.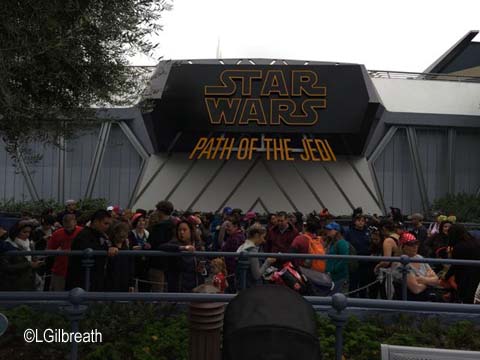 Each Friday there's a new button. Cast members were scanning passes (one button per pass) outside the Welcome Center, so there was no need to wait in line to get the button.
There's an AP Adventures brochure that has some additional information. Inside there is information on the Electrical Parade and some trivia questions.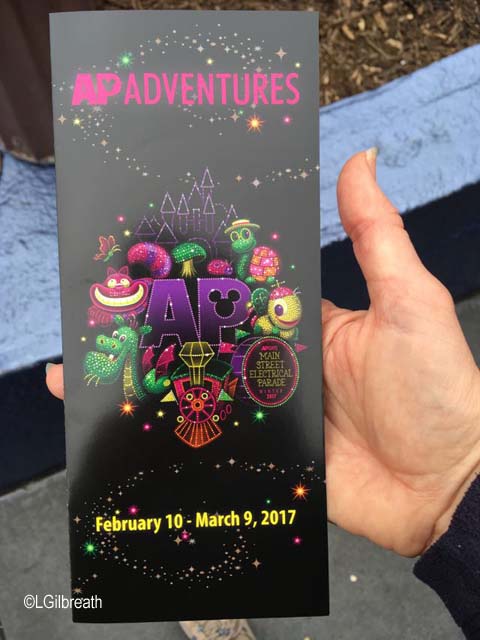 There's additional information on the back – including an announcement for the next AP event, which will be at DCA during the Food and Wine Festival from March 10-April 16.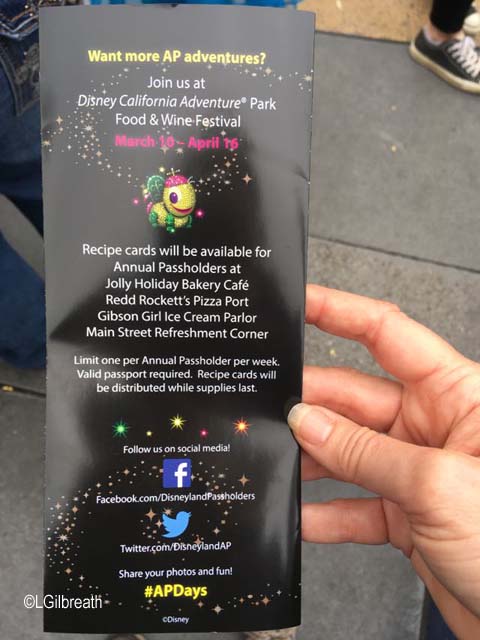 Once inside the Welcome Center, I would recommend that you first find the cast members who are distributing tickets (basically a Fastpass) for the character greeting area. They were not letting people simply line up for the characters – everyone needed a ticket. You can leave the Welcome Center while you're waiting for your return time – once you're inside your window you can show your ticket at the door so you don't need to wait in line again to enter.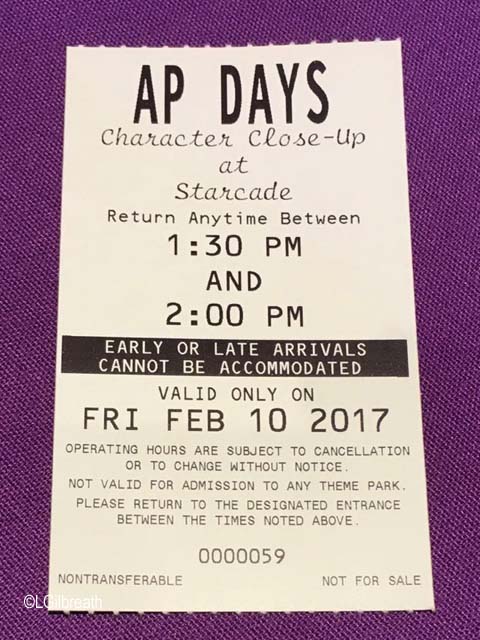 The characters are "retro" characters. For this week there were Robin Hood and Friar Tuck.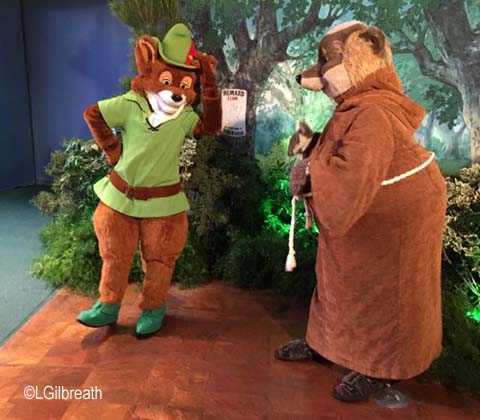 Alternating with the Sheriff of Nottingham and Prince John.
Just inside the entrance is a special photo backdrop with a PhotoPass photographer.
Also as you enter are the retro video games: Donkey Kong Jr., Missile Command, PacMan, and Asteroids.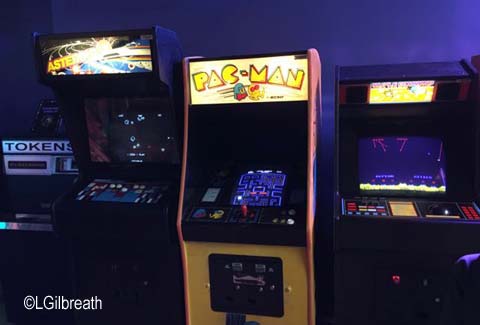 The token machine is next to the – authentic STARCADE tokens. These looked brand new.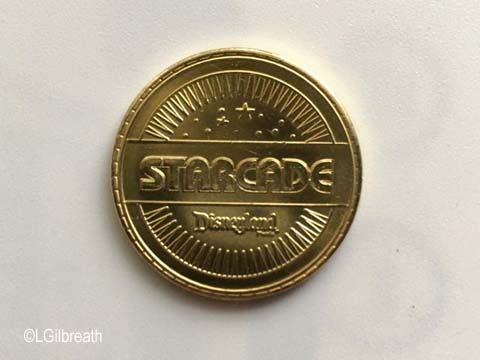 Special AP merchandise is available in the Welcome Center – it's also available in Disney Showcase on Main Street. There were wine glasses, pins, lanyard, hat, and tumbler.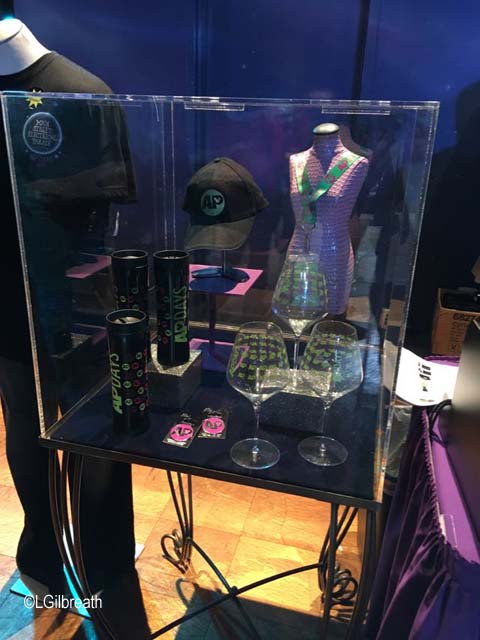 Also shirts. Here's the back of the men's version (you can see the front logo on the left of the photo above).
This is the women's shirt.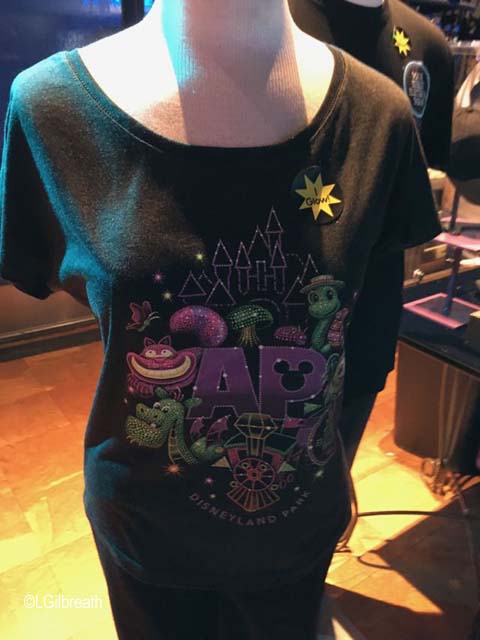 There's a lounge area with comfortable-looking sofas and chairs.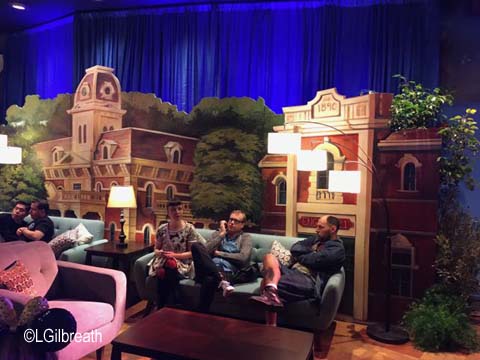 With a charging station.
Some artwork outside the lounge area.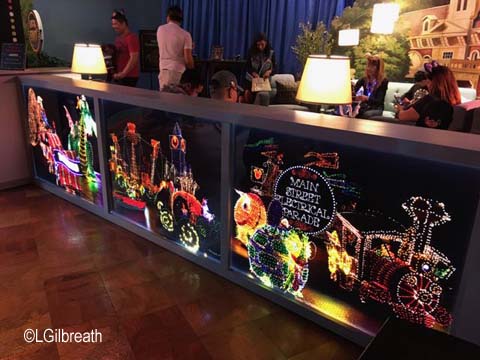 There are a couple of different activities in the "Activities and Fun" area.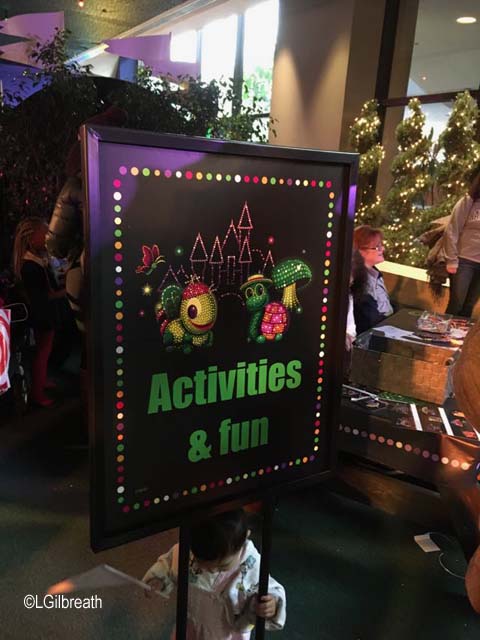 You can color your own MSEP pennant: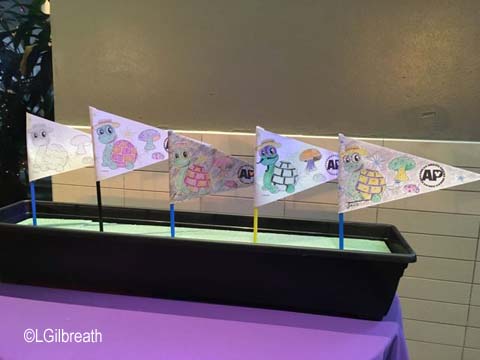 Or you can build your own parade – this card has perforations to separate each photo. And then there were pieces of ribbon available to tie them together.
During AP Days, recipe cards, a new one each week, will be available at several locations in Disneyland. The same card is available at each restaurant. You have to ask for the cards. Participating locations are Jolly Holiday Bakery Cafe, Redd Rockett's Pizza Port, Gibson Girl, and Main Street Refreshment Corner.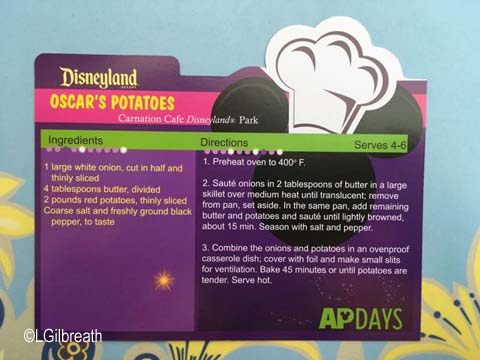 Another part of AP Days is daily screenings in the Opera House at 5:00, 6:30, and 8:00 p.m. Wristbands are distributed at the Opera House entrance earlier in the day, until they are all gone.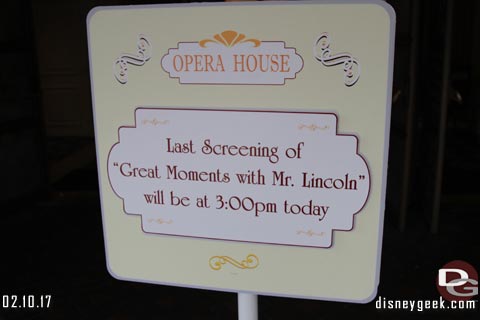 I didn't see it, but Jason did, and said it was the Disney Channel Backstage Disney show on the Main Street Electrical parade from 1986.
A special offer for Passholders at the moment is a refillable popcorn bucket. It's $15 for the initial purchase (which includes popcorn), After that, you can get refills for $1 (you also must present your AP) through April 16. There's a DCA version of the popcorn bucket, also. I was required to show both my AP and my id to purchase it.
There are also supposed to be special menu items available at a few quick service restaurants, but I was not successful in my attempt to order the Fried Chicken and Waffles that are supposed to be at the Plaza Inn. The cast member seemed to have no idea what I was talking about.
There are many other Main Street Electrical Parade-inspired treats that are not secret and are easier to find. Many of them are at the Jolly Holiday Bakery Cafe. I tried the PB&J Eclair. Which yes, was an eclair filled with a soft peanut butter filling and a layer of strawberry jam. I thought it was just ok.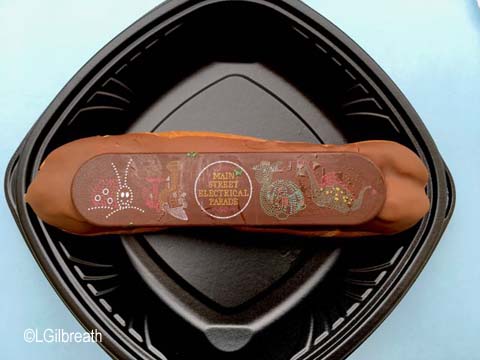 I also tried the Cheshire Cat Shortbread Cookie. Also with a strawberry jam filling. This was better – though I think I would've preferred the shortbread without the filling. The filling made it soft, and I like shortbread to have a little bit of crunch.
Also available at the Bakery are a Pineapple Coconut Parfait and Ladybug Macarons. The Raspberry Drum Cake that I'd seen at the preview is at River Belle Terrace. There's a Hazelnut Tart at the Market House (I'll have to try that one), Fantasia Mousse Cake (shaped like a turtle) at Blue Bayou, and Fantasia Ice Cream at Gibson Girl. I've never understood the attraction of the ice cream – the combination of pistachio, cherry, and banana does not appeal to me at all.
At the Plaza Inn there's a colorful "puzzle" cake.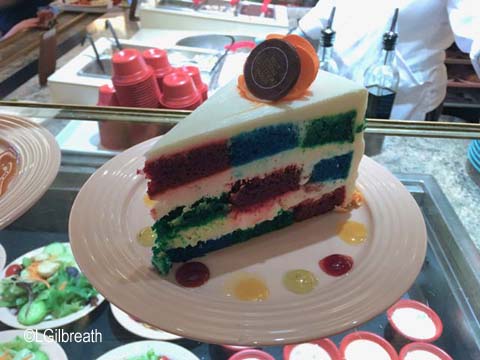 With Valentine's Day and Beauty and the Beast coming up, various treats are available around the resort. At Trolley Treats in DCA I saw these Minnie Mouse and Belle cupcakes: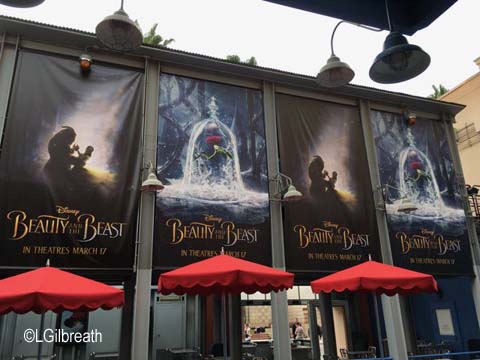 Also these heart cookies: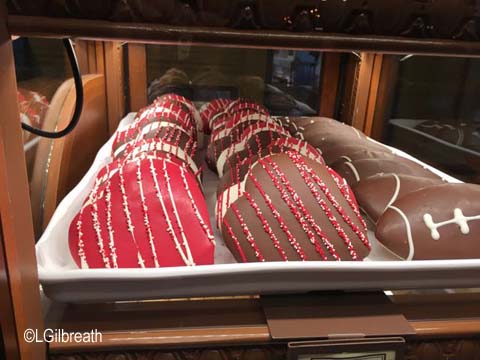 And at the Candy Palace in Disneyland there were rose and pink frosted cake pops as well as pink frosted krispy treats.
The specialty caramel apple of the month is covered with dark chocolate, cherries, and nuts.
Special cherry vanilla swirl cotton candy is available at a few locations. I only saw it on Main Street.
Jason will have a much more complete construction update, but I took a few photos from the construction wall area near Big Thunder Mountain. There's some rock work visible now.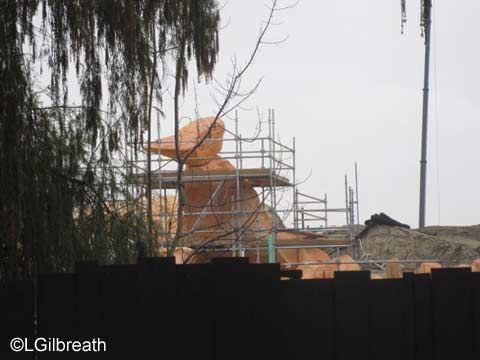 Bob Iger announced earlier this week during the Walt Disney Company Q1 FY17 Earnings call that Star Wars Lands at both Disneyland and Disney's Hollywood Studios will open in 2019. So I guess we still have two years to wait.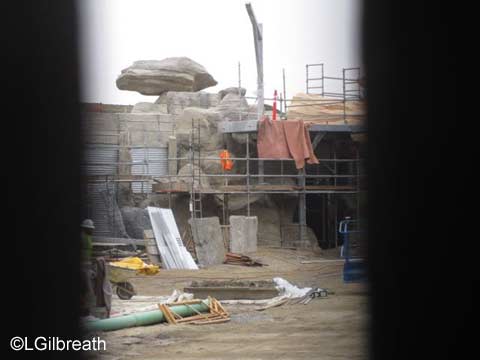 As I mentioned, look for Jason's update in the next couple of days – he has more construction photos, the new entrance to Big Thunder Mountain Railroad, and Grand Californian refurbishment updates, etc.,