To all who come to this photo trivia game, Welcome! Along the way, the photos can make us relive memories and see details Walt's Imagineers put into everything we love in Walt Disney World!
It's been such a sad week in two different ways. My heart goes out to all the victims and their families.
Now for Challenge #437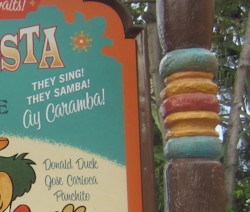 And here's the answer:


Copyright © Erin Blackwell
My favorite pavilion, as you know, and one of my all time favorite attractions! A lot of you do too and I was so glad to read your notes! I don't know about you, Players, but I was very pleasantly surprised on how great the restored animatronics look!
We're talking about the entrance sign for the Gran Fiesta Tour Starring The Three Caballeros in the Mexico Pavilion in Epcot!
Jennifer Rowell was the first to send in the correct answer! Congratulations to Evanna and to all our winners this week! Jennifer RowellThe Kertes Family, Claire Gregory, Kerry A, Evanna Huda, Phyllis, The Gunnels Gang , Martha Collins, Bob, Bruce Hinterleitner, Mary Beth Tarbet, Antoinette Leblanc, Russ Morgan, Jim Misstishin, Matt Wildey, Jim Logue, Linda College, Daniel, Ed Adams, Margaret Convery, Brenda Mclean, Joyce & Steve, Ryan Mccorristin, Julia Wickware, Luis Rodriguez , Julie Signor, Ken Maikowski, Sharon Powell, Team Hill, Joseph M. Zafia, Marguerite Garofalo, Arlene Vicek, Maryann Eckenrode, Kenny, Sandie Albrecht, Melissa Such, Chris Horne , Todd Johns, Renee Hardiman, Tim Starnes, Christi Ison, Brian, Emily Hudson , Staci Baustad, Carla C, Ruben O'meara, Tammy Warmouth , Axel Beer, Angela Johns, K Beasley, Angela Johns, Deb Ragno, Smitty, Laurie Walker, Les Whitten , Mark Donahue, Carol Baranowsky, Tianna Hudspeth , Herb Miller, Kara D & Jay R, Claribel, Belicia, Lori Rienhardt, Scott C., Tricia Petty, The Parker Family, Karen Ramirez, Ken Savage, Gloria Martin , Lee Anastasi, Blake Schmidt, Grumpy's Groupies, Leach Family, Beth Mcmeekin, Josette Gabel, Mike Haeberle Jr, Janet T Thorn, Jim & Lorie Sonnen, Ronnie Alvarado, Tom Koval, Hobbes And Snorky, Linda Lundsten, Adolph And Kimberly Timm, Sands Family, Larry Sprenkle, Jason Hocker, Andreas Beer, Linda Ranatza, Donna Frank, Kristi Strembicki, Paul Newman, Robert Hildebrandt, Sarah And Chris, Theresa Rucando, Maureen And Warren Handy, Ashley Collins, Mary Tougas, Vera And Izzy Williams, Kerri Coggins, Bonnie Jean, Andrew Carrieri, Michaela O'brien, Mike O'brien, Karen O'brien, Tim Johansen, Nancy Johansen, Olszak Family, Vickie Barca, Jan Rosato, Maryann Romagnano, Kyra, Erin Loring, Team Bonnie Sue, Kris Nixon, Lynne Simpson, Theresa Maradei, Heidi Burke, Paula Massarelli, Vanessa Stjohn, Paul Dickson, Karen Taylor, Jeff Blank, Shannon, Mickey Eckert, Chris, Gretchen, And Katie Barnes, Brian Gallant, Emma Ramsey, The Holmes Family, Robert Wescovich, Wendy T Faler, Karen Costa, Matt Holley, Chris Bauman, Zachary Ott, Patrick Broaddus, Josh Weiss, Erin Hammer, George Mundy Jr, Rob Blundin, Caroline Burmester, Jeremy Reichelt, Scott Greenbaum, Carol Ney, Scott Sangston, Hillary Waldroop, Jason Steinmetz, Vicki Britt, Andrea Kruszewski, Rebecca Keenan, Jim Thompson, Matthew Frey, Cheryl E, Dave Carriere, Tammi Guy, Diana Grady, Carri Marotto, Tricia Noble, Jamie Poynton, Jim Finley, The Harper Gang, Tracy Discher, Wendy Barney, Kristan Bertelmann, Wendy Barney, Cathy Connors, Michael & Jackie Mclucas, Mark Hardy, Seth Kunis, Glenn Meyer, Elaine Kleinhenz, Robert P. Flaherty, Sheila Bagg, Lori Ann Milito, Terri Thornton, Frances Donahue , Don Purney, Jo Ann Bailey, Barclay Bakkum, Cindy Vaught, Chris Kelly, Nicole Benoit, Melody Odonnell, Jackie Graebel, Alison Rosenberger, Stacy Guarracino, Wayne Witherspoon, Matt Earl, Meredith Anzur, Reilly, Gallagher Family, and Linda Hoffman!
__________________________________ _____________________
Challenge #438 Where in the world is this?
I don't think it's a toughie; I hope not! I don't want to mess up Father's Day for all the dads! 🙂
And btw, it's my birthday on Monday. 🙂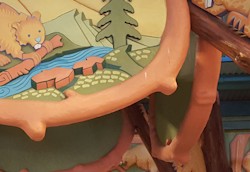 Do you know? Do you have a guess? Please send in your answer, before the end of the day on Thursday, June 23rd, by clicking on the blue box below.
Please do not post answers using the Feedback Form link at the bottom of this post.
See you soon, Players!


_______________________________________________________________________
Everyone who sends in a correct answer to a Where in the World Challenge this month will be entered in a drawing at the end of the month for some special AllEars® goodies!