Dory may be forgetful, but "Finding Dory" is not forgettable. Not by a long shot.
Disney-Pixar's sequel to 'Finding Nemo" takes us deeper into the Big Blue World and introduces us to a new cast of characters that blend seamlessly with Marlin, Nemo and other favorites from 13 years ago. Has it really been that long since we met the clownfish?
"Finding Dory" takes moviegoers on a journey that is highlighted by laughter. I can't remember the last movie that prompted me to laugh out loud so much in one sitting. And if our theater's audience — which was comprised of a mix of adults and teens on their own and families with younger and older children —- was a good example, the humor appealed to all ages.
The movie starts by giving us the back story explaining why adult Dory (voiced again by Ellen DeGeneres) has short-term memory loss. We see baby Dory, who is the cutest thing ever, and when Dory meets Marlin (Albert Brooks). Then the story jumps forward a year to when, through a series of flashbacks, Dory remembers who her parents are — Jenny (Diane Keaton) and Charlie (Eugene Levy) — and where she grew up — Marine Life Institute in Monterey, Calif. Her desire to reunite with her parents leads Dory, Marlin and Nemo (now voiced by Hayden Rolence) on a long-distance swim from the Great Barrier Reef off Australia to the west coast of the United States.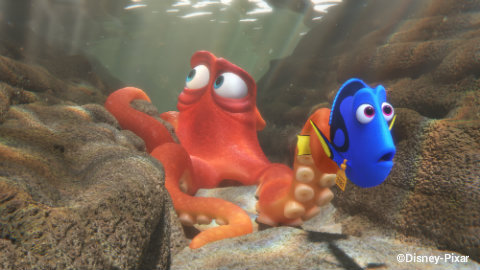 This first part of the movie echos the storyline of "Finding Nemo," and moviegoers may be tempted to think this sequel is just repurposing a tried-and-true format. Not so. Returning director and co-writer Andrew Stanton deftly shows us how this sequel joins the story that "Finding Nemo" started and then plunges us into a new world of hilarious and lovable characters. Dory's sidekick is Hank (Ed O'Neill), a gruff, chameleon-like septopus — an octopus that lost a tentacle — who agrees to help her if she promises to do something for him. Along the way, Dory is reunited with a childhood friend, Destiny, a near-sighted whale shark who taught Dory to speak whale when they were younger.
Destiny's tank mate is Bailey, a beluga whale that is convinced his sonar skills no longer work. My almost-12-year-old daughter and I especially loved this part of the movie because it really explains visually how echolocation works — something my daughter is interested in because of her love of dolphins. We also meet a pair of snippy and clever sea lions and a crazy loon at the marine institute who help Dory in her quest to find her parents.
Without giving away the details, watch for Hank and Dory's stroller scene, which my kids and I found hilarious. Also, the otters steal the show with their "Cuddle Time!" toward the end of the movie, so don't get up to go get more popcorn then if you can help it.
"Finding Dory" comes to a satisfying conclusion after imparting positive messages about family, disabilities and perseverance. You might find yourself leaving the theater asking "What Would Dory Do?" as the blue tang does when she is gaining self-confidence. Surely, you'll be making plans to see "Finding Dory" again, as my family and I did as we walked to our car. It's truly that good.
By the way, make sure to stay in your seat through all the credits or you will miss out.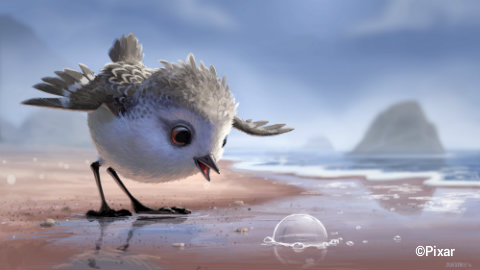 A tip: Don't miss the new Pixar short, "Piper," that plays before the movie. It excels in its ability to evoke a range of feelings in those watching while conveying laughs and a good message without words.
DISCLAIMER: I viewed "Finding Dory" and "Piper" at a media screening before its official release. This did not affect my review; my opinions are my own.