UPDATE: Congrats to Christina Santiago who won the cool Poster! Email on its way.
Finally, guests at Walt Disney World can find out what it feels like to be part of the world of Disney-Pixar's "Cars." Although we haven't gotten our own Cars Land on the East Coast yet, the Richard Petty Driving Experience is putting youngsters inside cars designed to look like racers from the Piston Cup in Pixar's "Cars," and they can feel the exhilarating speed portrayed in the movie.
Beginning today at the Walt Disney World Speedway, kids ages 6 to 13 can choose the new Junior Ride-Along experience, which allows them to ride with a professional driver for three laps on a 1-mile course in cars that bring characters Sage VanDerSpin and Aiken Axler to life.
In the movie, No. 80 VanDerSpin races for Team "Gask-its" and is the youngest winner of the Junior Piston Cup Pro Series. Axler is the No. 28 Nitroade racer who captured the Vitoline Rookie of the Year honors in his first full season of Cup competition. The two full-size custom character cars were created by "Cars" creative director Jay Ward, who was at the Orlando track on Friday to introduce them to media.
Petty Holdings initially began its relationship with Pixar when Richard Petty became the voice of "The King" in the original "Cars" movie.
Long before the kids get in the real-life cars, though, they go through a multi-step process of safety instruction that is reassuring to both the young riders and their parents. First, kids must be at least 48 inches tall — there is a fun mural for families to make sure their youngsters measure up — and meet the age requirements.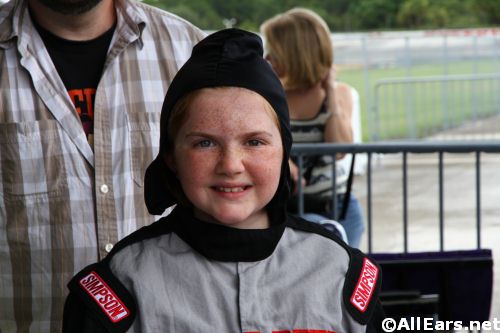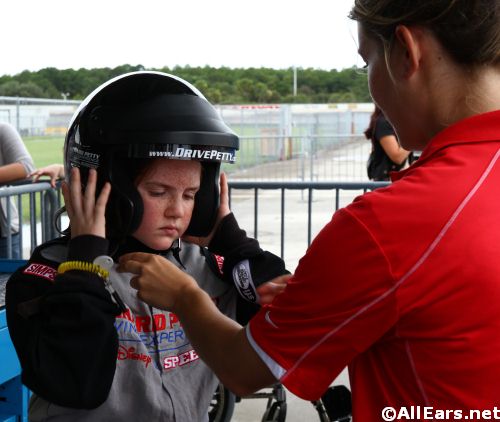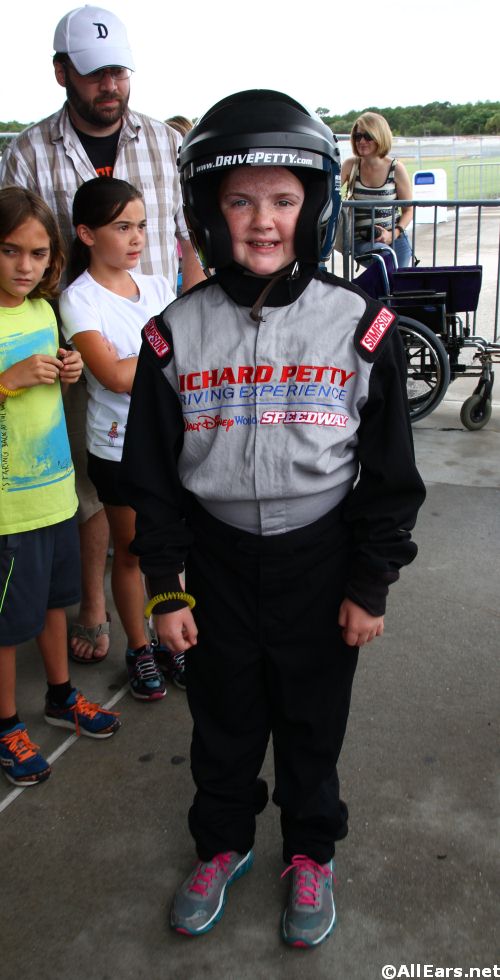 Then, each child suits up in a coverall to protect him or her from any parts of the car that may have heated up in the Florida sun. A soft, knitted cap goes under the snug-fitting helmet, and a HANS (Head and Neck Support) device is fitted around the neck and attached to the helmet. Inside the car, each person wears a five-point harness, which can be seen in the video below. In addition, the seats for this children's program were custom-built by The Joie of Seating, which makes racing seats for professional drivers.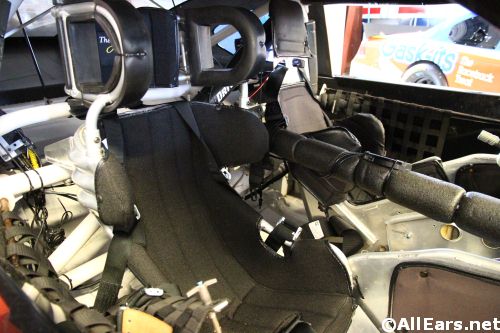 Watching your child get into a car that will travel at about 100 miles an hour is not something most parents take lightly. However, the emphasis on safety at the Richard Petty Driving Experience and the experienced professional drivers make this a very controlled racing event, which set my mind at ease.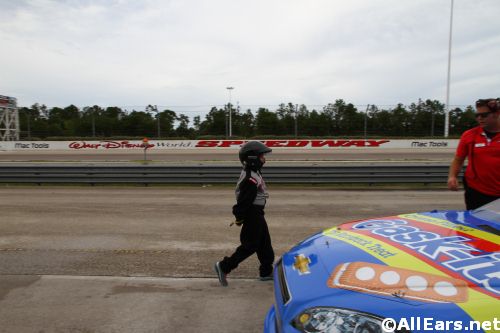 My nine-year-old daughter, who has never met a roller coaster she didn't like, was excited about the new themed Junior Ride-Alongs. She said she really enjoyed traveling in the blue VanDerSpin — the faster, the better. The best part was crossing the checkered finish line, which made her feel like she was in the "Cars" movie.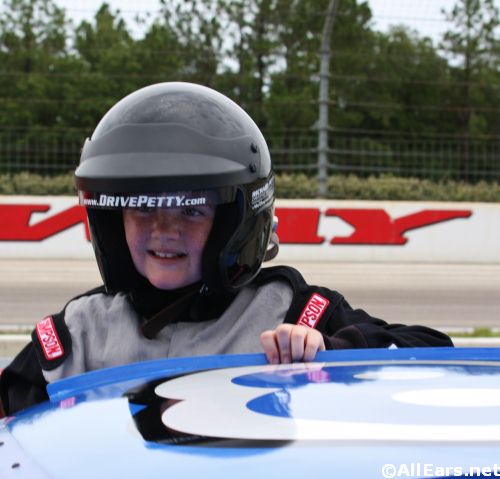 Fans who want to take home a souvenir of their once-in-a-lifetime experience can purchase a video like the one below for $49.
The new Piston Cup Cars Junior Ride-Along costs $59 plus tax. Parents must be present with their children and sign a waiver for them to participate. The Walt Disney World Speedway also offers ride-alongs for those 14 and older in other stock cars for $79 plus tax.
Reservations are not necessary for ride-alongs, which are available from 9 a.m. to 4 p.m. daily. For additional questions, visit DrivePetty.com or call 1-800-237-3889.
If you have visited the Richard Petty Driving Experience at Walt Disney World or have questions about the junior ride experience, tell/ask us about it in the comments for a chance to win the poster pictured below. A winner will be chosen at random and notified by June 20, 2014.
RELATED LINK:
Automotive Designer Chip Foose talks about working with Pixar and Disney on the Cars franchise. Foose designed Ramone in the first Cars Movie.
DISCLAIMER: My daughter and I were guests of the Richard Petty Driving Experience. This did not affect my story; my opinions are my own.