Father's Day is just around the corner, which means moms of young children everywhere might be scrambling to finish those homemade gifts featuring handprints and footprints or kids' artwork. We all cherish those, to be sure. But if you're looking for some new ideas for crafts — especially those with a Disney theme — let me offer some easy and inexpensive ideas that can be completed in time for Sunday's celebration.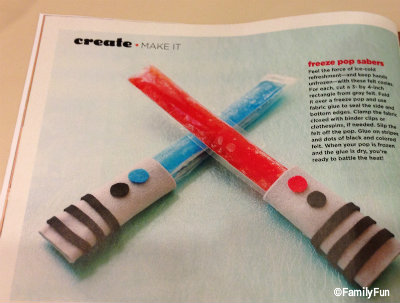 For the Star Wars fan, Freeze Pop Sabers will help banish The Dark Side and keep everyone's hands from freezing in the process. No Carbonite here! This clever idea is in the June/July issue of FamilyFun magazine.
The directions:
For each, cut a 3-inch by 4-inch rectangle from gray felt. Fold it over a freeze pop and use fabric glue to seal the side and bottom edges. Clamp the fabric closed with binder clips or clothespins, if needed. Slip the felt off the pop. Glue on stripes and dots of black and colored felt. When your pop is frozen and the glue is dry, you're ready to battle the heat!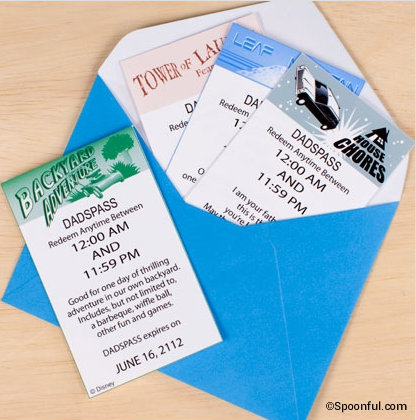 I can't tell you how much I love this next gift, which is a free sheet of printable coupons. Dads who spent their vacations criss-crossing the theme parks of Walt Disney World to gather the old paper FastPasses will appreciate this present, as well. The twist on the time-honored tradition of giving fathers the gift of doing his household chores is that the coupons are designed to look like paper FastPasses, which were retired earlier this year.
The directions:
On Disney's Spoonful.com, go to this printable PDF, which includes six DadsPasses. You cannot edit the file, but there really isn't a need to. The expiration date is 2112, meaning the passes are good for Dad's lifetime. Just don't give him any trouble when he's ready to cash them in!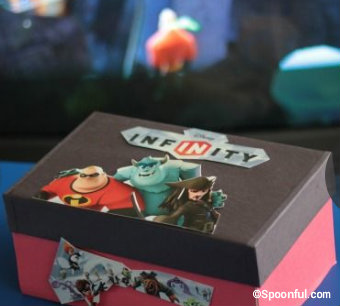 Does the father in your family enjoy video games just as much as the kids? If so, the kids can create a personalized storage box for all your Disney Infinity figures and discs.
The directions:
This craft can be as simple or elaborate as you choose. Start with a box that is the size of a shoebox or larger. Cover it in plain craft paper or construction paper of various hues. Then, let your child decorate it. You can use pictures from the game pieces' packaging, stickers that show Disney characters or your child's own artwork. The possibilities are infinite!
Turn an ordinary visor into a mouse-ear hat. Whether you're planning a trip to Walt Disney World or just want to show your appreciation for The Mouse, this hat will provide protection from the sun and rock Dad's Disney side at the same time.
The directions:
Purchase an inexpensive plain foam visor and a sheet of self-adhesive black foam from your local craft store. Cut out four circles of the same size and two small rectangle tabs. Place the rectangles between each pair of the circles on the edge and stick together. The rectangles will serve as tabs to be inserted through small slits on the visor. Once the ears are in place, tape the tab on the underside of the visor with colorful duct tape. This idea is modified from one on Disney's Spoonful.com
Of course, no celebration is complete without cupcakes! Disney's Spoonful.com features these adorable beach-inspired Mickey Mouse cupcakes that are perfect for any summer holiday.
The directions:
Cut a square of freezer paper that is slightly bigger than the top of your cupcake — about a 3.5 inch square. You'll notice that one side of the paper is shiny and one side is matte. On the matte side, draw or trace your design. Using a sharp craft knife, cut out your design. (This is a job for adults!) Frost your cupcakes with a knife or spatula. Lay your stencil, shiny side DOWN, on top of the frosting and press gently around the edges to prevent leaks. Pour graham cracker crumbs all over the top of the cupcake and then shake it gently over a bowl to remove the excess.
Happy Father's Day!