Disney's Animal Kingdom Lodge has, for a long time, been one of my favorite resorts. It is a resort whose theming and attention to detail are second to none. Emphasizing traditional African architecture and art, Animal Kingdom Lodge has a certain grandeur and majesty that make it truly special and this is only enhanced by the sprawling savannah sitting just outside. Taken as a whole, Animal Kingdom Lodge has a level of authenticity unmatched by the other Disney resorts.
A stay at this resort offers Guests not only rest and relaxation, but also the opportunity to be immersed in African culture. A major part of this culture is the uniqueness of African cuisine. The Animal Kingdom Lodge opened with two highly popular restaurants, Boma and Jiko. With the addition of the Disney Vacation Club at Kidani Village came yet another dining option, Sanaa. While Sanaa may not receive the same notoriety as Boma or Jiko, it offers a truly unique dining experience. In Swahili Sanaa means "work of art," and after dining here it is easy to see why that name is so appropriate.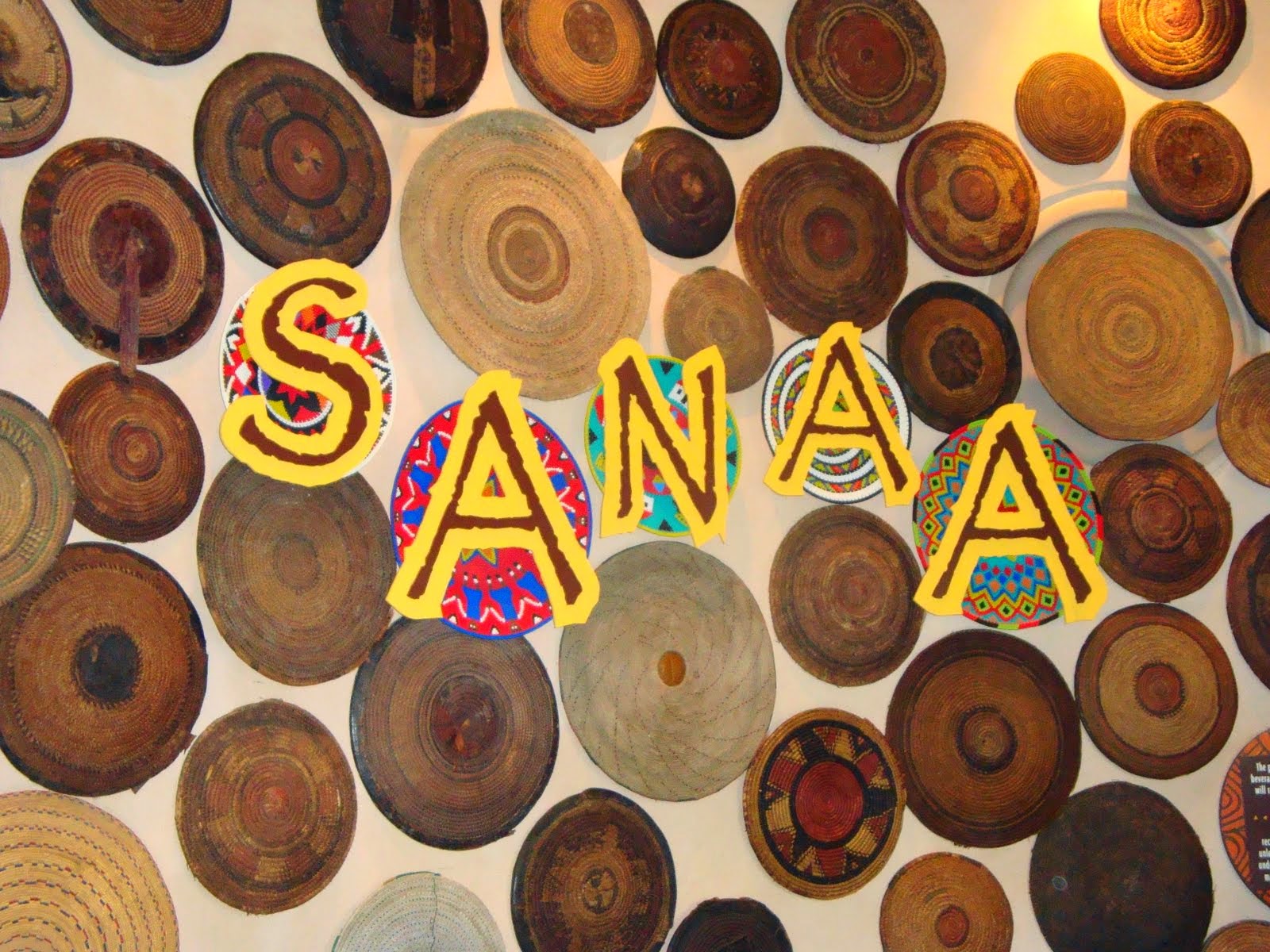 Overview:
As soon as one enters the lobby of Kidani Village your eyes are greeted with a spectacular sight. Although not on as massive a scale as Jambo House, the lobby of Kidani Village sets the tone for the rest of the resort. From its high-vaulted thatched roof ceiling and huge window overlooking the savannah to its colorful light fixtures, intricately carved furniture, and traditional works of African art, the level of detail is astounding.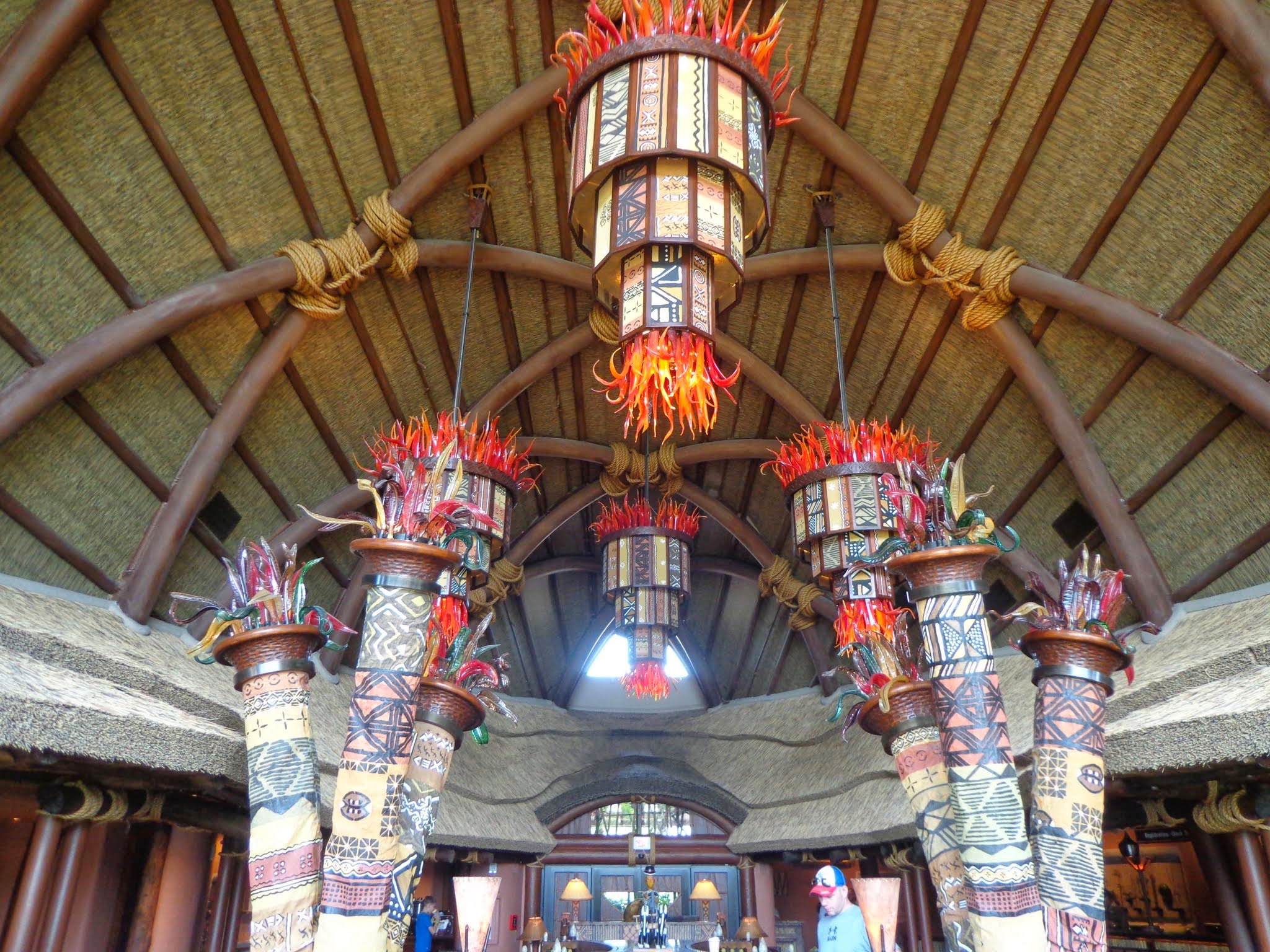 Sanaa is located just down the stairs from the main lobby and overlooks the resort's African savannah. The Animal Kingdom Lodge as a whole has a certain adventurous and exotic quality about it, as though you are journeying through a wild and unknown land. Likewise, Sanaa offers diners a culinary adventure (and one that is certainly not for the faint of heart). It is also a restaurant that offers something for all the senses, with sights, sounds, smells, and tastes that all contributed to immersing Guests into African culture.
Atmosphere:
From the moment Guests enter Sanaa it is easy to feel as though you have stepped into a work of art. The décor could be considered "modern African," combining more abstract elements with more traditional and ethnic works of African art. The restaurant has a very natural, organic feel and a color scheme that relies heavily on earth tones.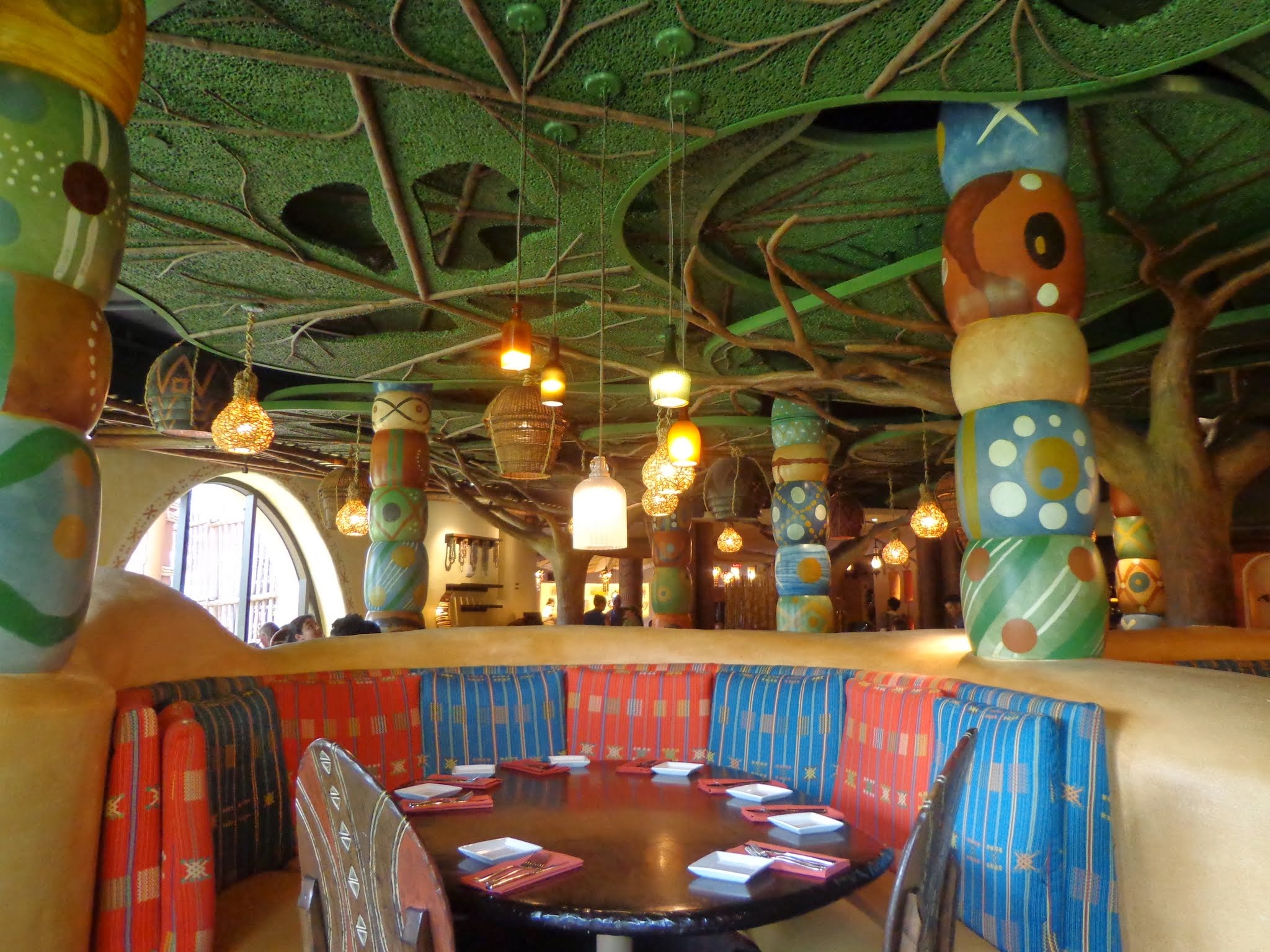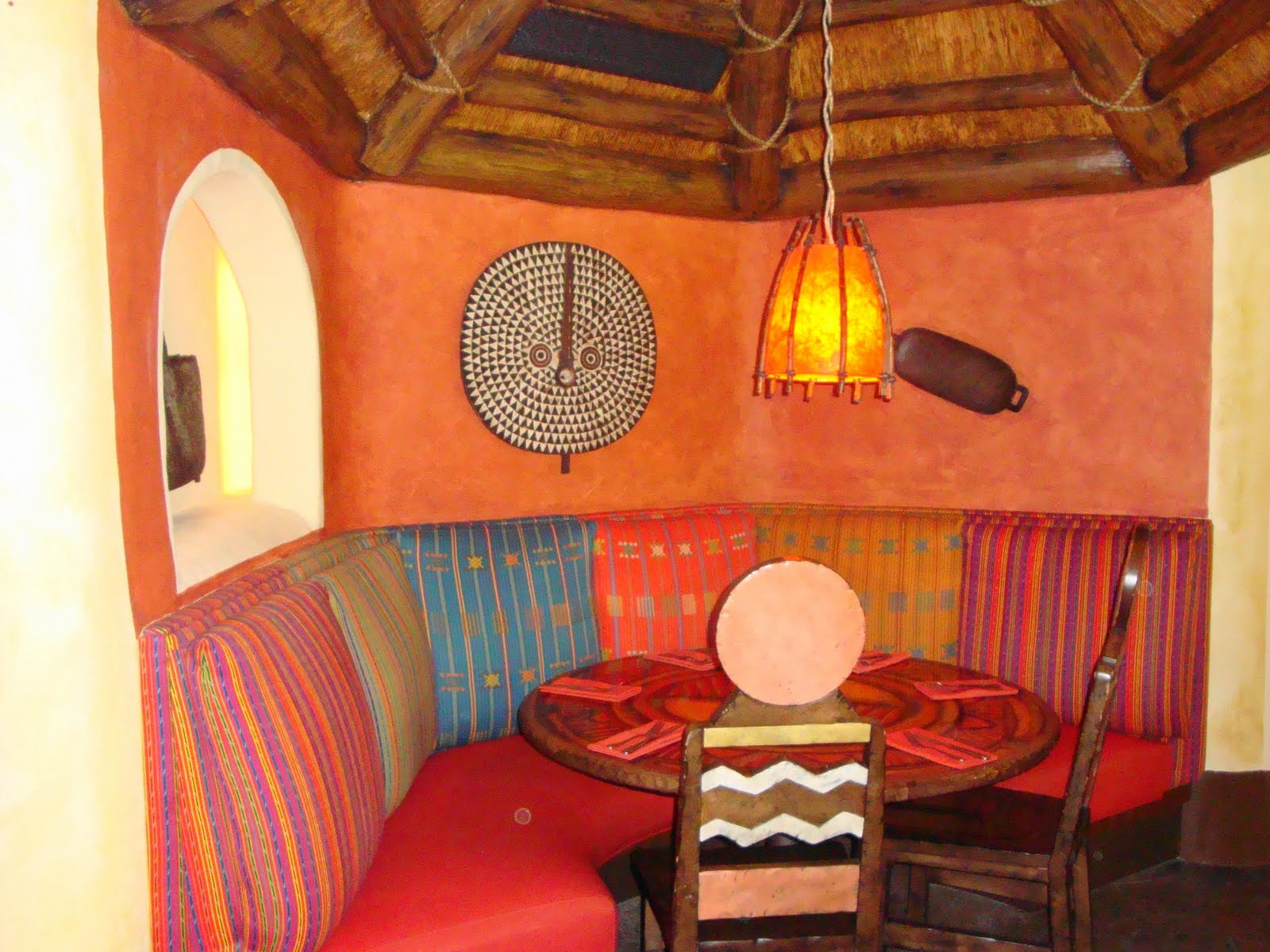 This natural feel is enhanced by columns designed to look like the trunks of trees and a ceiling covered with large leaves.
Holding true to its ethnic theming, other columns throughout the dining room are meant to look like colorful beads featuring a variety of different colors and patterns while still others feature more intricate wood carvings.
Meanwhile the walls of the restaurant are covered with various works of African art, ranging from practical pieces such as ceramic jars, woven baskets, and cooking utensils to more elaborate works including carefully detailed animals made of colorful beads.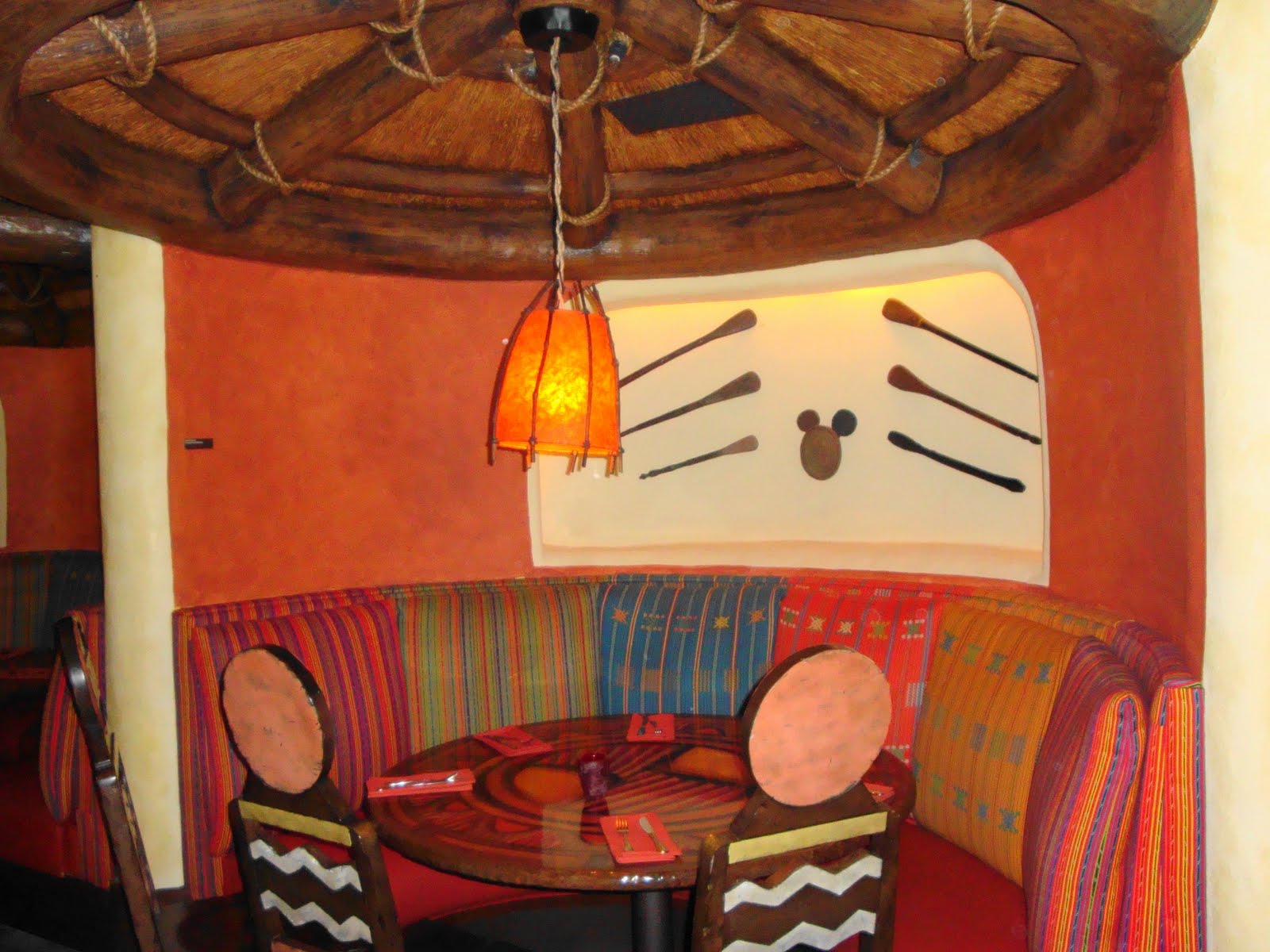 Even the light fixtures are works of art; some of the larger ones are made from ceramic pots and baskets while others have a more modern touch featuring beads and colored glass.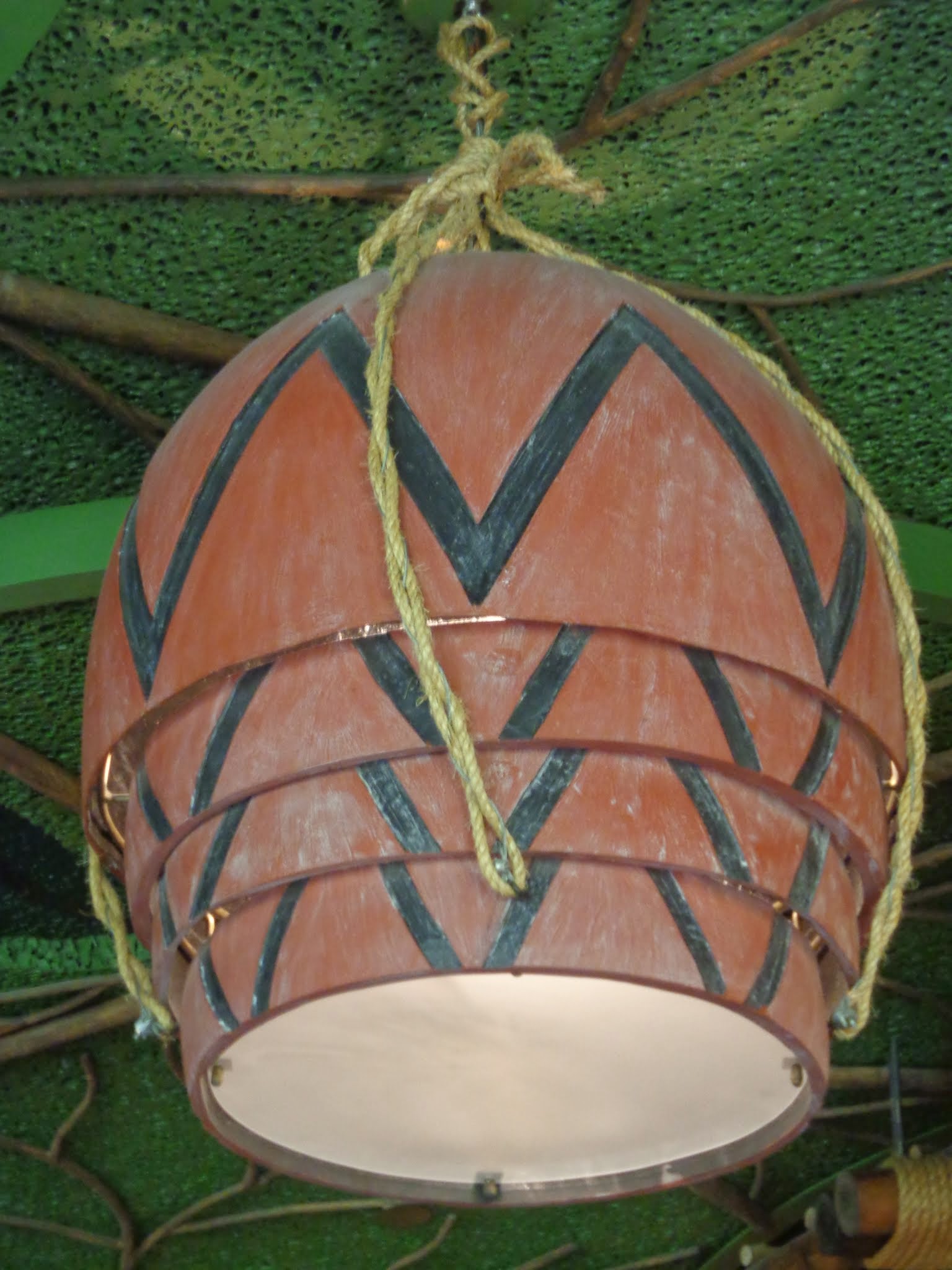 Also, be sure to listen carefully. While the music playing may not be loud (and might not even be noticed if the restaurant is crowded), the traditional African rhythms add even more to the authenticity of the restaurant. Overall, the impact of the décor is one of awe and wonder at the unique beauty and craftsmanship of African art.
With so much to look at and absorb inside the restaurant, it is almost possible to forget that there is a savannah with wild animals sitting just outside the windows. In fact, the savannah is really not the main attraction of the restaurant but rather serves to enhance the authenticity, and immersion of the dining experience.
I would go as far as to say that Sanaa would be just as appealing even if it was not overlooking the savannah, although it does make for a more special dining experience when you can see animals such as wildebeest and zebra walking by.
It is surprising how close these animals can actually come to the windows. At the same time, unless you have a table right by one of the windows, the view onto the savannah is just another part of the décor rather than the essential aspect of the restaurant.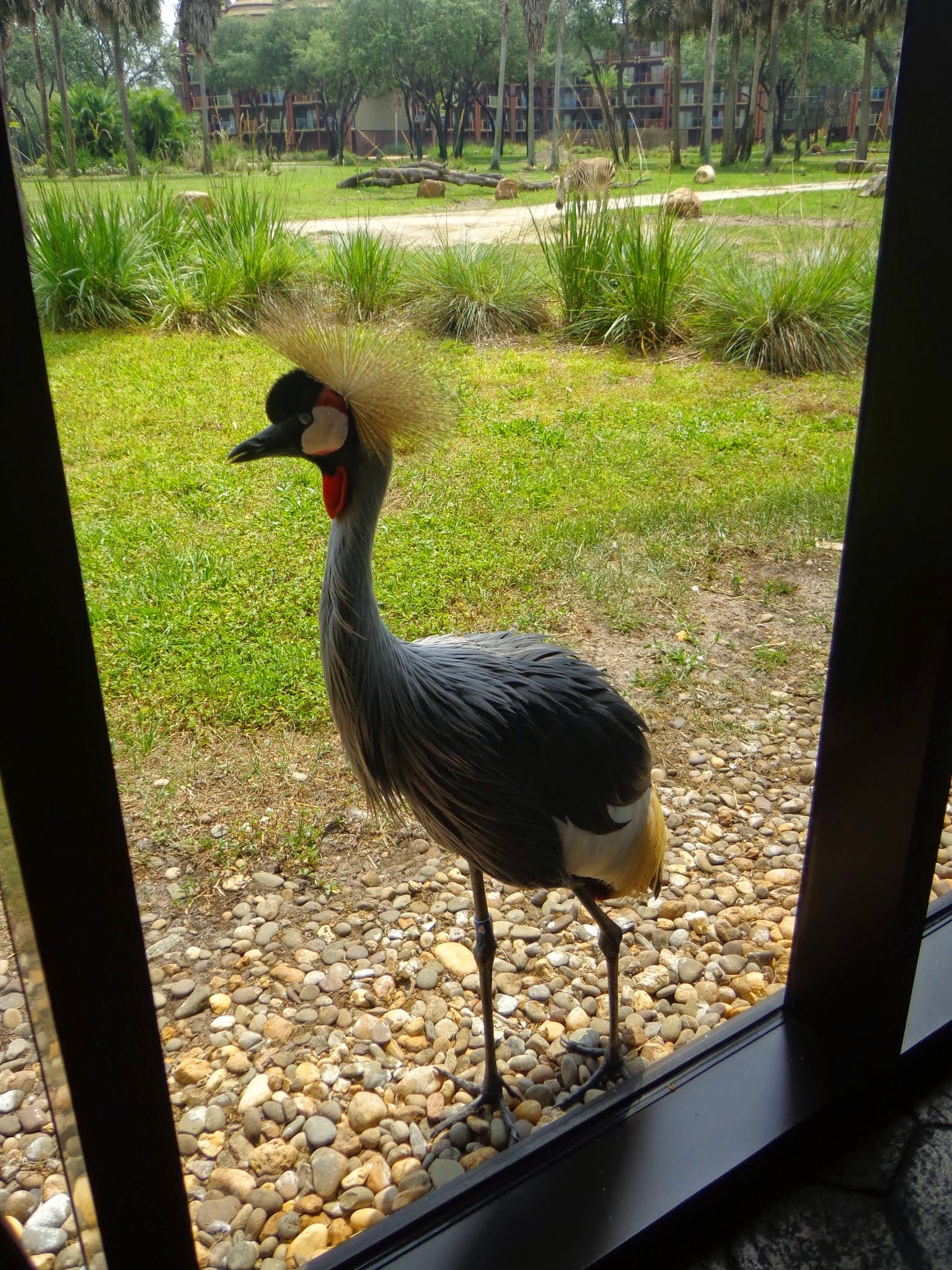 The Menu:
Sanaa's menu highlights "the art of African cooking with Indian flavors," and thus presents a different spin on African cuisine compared with that of Boma or Jiko. The menu features many non-traditional items and is definitely for more daring diners who like to try new things. One of the most striking elements about Sanaa is the wide variety of flavors found in its dishes. All of these flavors are thanks to the number of spices that played an important role in the histories and cultures of both Africa and Asia. The restaurant's menu acknowledges this importance noting that "Spices didn't just make merchants rich across the globe, it established vast empires, revealed entire continents to Europeans, and tipped the balance of world power."
The menus for lunch and dinner have some differences. For appetizer offerings, both menus include the Indian Style Bread Service with a choice of three breads and three accompaniments ($9.99) or all nine accompaniments with the three breads ($11.99). Other appetizers include Chana Tikki ($6.99), which are spiced chickpea cakes with tomato chutney, Lamb Kefta Sliders ($8.99) topped with goat cheese, piquante peppers and pickled shallots, Potato and Pea Samosas ($8.49) with a choice of tamarind or mango chutney, Tomato Soup ($6.49) with paneer cheese, and a Sampler for Two ($15.99) that includes the Potato and Pea Samosas, Lamb Kefta Sliders, and a choice of Chana Tikki or Soup. Appetizers found only on the dinner menu are the Peri Peri Shrimp ($11.99) served with cucumber, apples, and cilantro and the Goan Style Crab Cakes ($12.49) topped with tamarind yogurt.
Both the lunch and dinner menus include a pair of entrees that offer diners a sampling of items. First is the Slow Cooked in Gravy, Simple, and Well Seasoned ($22.99) that offers a choice of two of the following served with either Basmati Rice or Five-Grain Pilaf: Butter Chicken, Spicy Durban Chicken or Shrimp, Beef Short Ribs, or Sustainable Fish with Goan Curry. There is also the Vegetarian Sampler ($16.99) that offers a choice of two of the following served with either Basmati Rice or Five-Grain Pilaf: Paneer Tikka, Seasonal Vegetable Wat, Seasonal Greens and Tomatoes, Lentil Dhal, or Chana Masala.
The lunch menu also includes a number of sandwiches such as Tandoori Shrimp ($15.99) served open-faced on naan bread with minted greens, tomato, onion, and cucumber raita, Tandoori Chicken ($15.99) prepared the same way, Grilled Lamb Kefta ($13.99) served on a naan bun with tamarind and cucumber raita, the Sanaa Burger ($13.99) served on a naan bun and topped with goat cheese and spiced mustard sauce, and a Roasted Turkey Sandwich ($13.99) served on ciabatta with avocado, smoked bacon, pickled red onion, and lemon mayonnaise.
The dinner menu replaces these sandwiches with a variety of entrees including Tandoori Chicken ($19.99), Tandoori Lamb ($19.99), and Tandoori Shrimp ($21.99) baked in tandoor ovens and served with seasonal slaw and coriander khichdi. There is also a Lamb Shank ($24.99) braised with tamarind and served with coriander pilaf and a wild mushroom sauce as well as the Grilled New York Strip ($29.99) served with Indian-style roasted potatoes, seasonal vegetables, and tomato-date chutney.
For my lunch I decided upon the Grilled Lamb Kefta. It should be noted that, even though the menu lists this item as served on a naan bun, they can also prepare the dish served open-faced on freshly baked naan bread. This was the option that I chose for my meal and it is definitely the type of sandwich you are going to need to eat with a fork and knife.
As with every dish at Sanaa, the amount of flavor is astounding. Kefta is an Indiana-style meatloaf in which the lamb meat is mixed with a variety of spices. As a result, the lamb kefta itself has a major kick and it is reliant upon the other flavors and ingredients in the sandwich to counterbalance it and cool it down. While the tamarind sauce adds an additional zing of spiciness, the cucumber raita provides a cool contrast (similar in taste to tzatziki sauce that is common in Greek cuisine). The lamb is served over a bed of greens that includes a hint of mint. While this might seem like an odd combination, the mint actually lends a light and refreshing flavor that compliments the other flavors very well. It is amazing that so many varied flavors can combine so well together in a way that no one flavor overpowers any of the others.
For dessert I decided upon the Tanzanian Chocolate Mousse ($5.99). In contrast to your typical chocolate mousse, however, this one had a hint of Kenyan coffee. The mousse itself was very rich and creamy, although I was expecting a little more of a coffee flavor. The mousse was a darker semi-sweet chocolate and came served atop caramel sauce garnished with sea salt. While the caramel provided additional sweetness to the dessert, the sea salt provided a contrasting flavor that still paired very well with both the caramel and chocolate.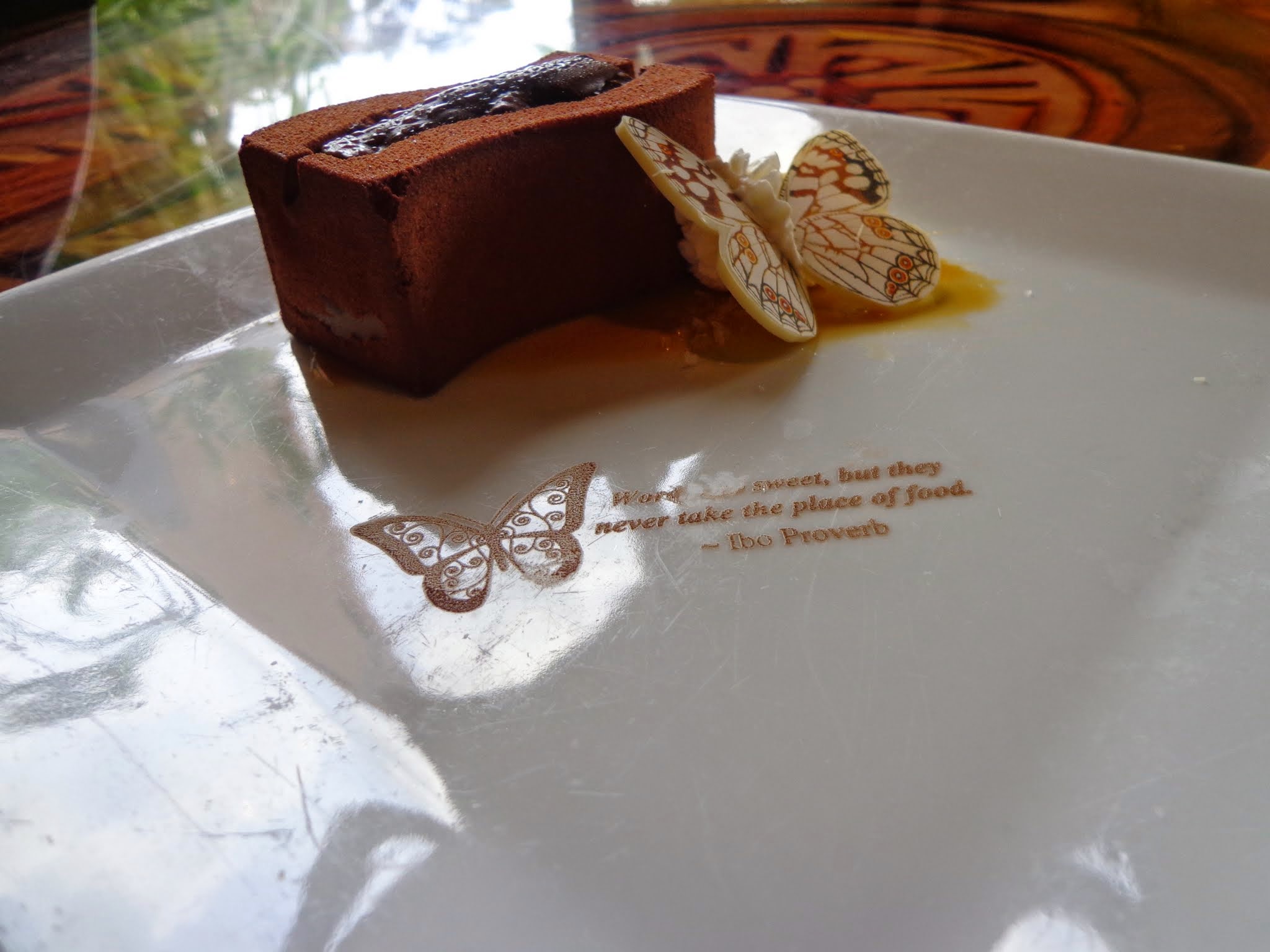 Dining at Sanaa truly offers an adventure for your taste buds and, if you are someone who has simpler tastes, this may not necessarily be the restaurant for you. However, if you are looking for a unique culinary experience, the menu offers a chance to experience flavors that contrast and complement each other in ways one does not usually encounter.
Service:
I was very impressed by the service at Sanaa. With a menu that has so many unfamiliar and unconventional items, my server was extremely helpful in going through and providing descriptions of almost every dish, even explaining which selections were spicier and which were milder in flavor. My server also assisted by pointing out some of his favorite items as well as the restaurant's more popular choices. I found all the servers in the restaurant to be very friendly and conversational. Even though the restaurant was a little crowded, the servers still took time with their Guests. It was clear that they all truly cared about the Guest's dining experience and wanted to provide the best service possible.
Dining on a Budget:
Overall, the prices at Sanaa are very reasonable, especially for lunch. It is a great option for those looking to experience African cuisine but at a much cheaper price than Animal Kingdom Lodge's other dining options at Boma and Jiko. With sandwiches ranging in price from $13.99 to $15.99, Sanaa offers diners a high-quality meal full of flavor for a very affordable price. One possible option for those looking to save even more money would be only ordering appetizers. The menu features a wide assortment of different appetizers and, from what I saw, the portion sizes were all very good. The Indian Style Bread Service can be a meal unto itself whether choosing either the three breads and three accompaniments for $9.99 or all nine accompaniments for $11.99. The Sampler for Two for $15.99 is another good appetizer option that offers a number of options including the Potato and Pea Samosas, Lamb Kefta Sliders, and a choice of Chana Tikki or Soup. For a little more money, the Slow Cooked in Gravy, Simple, and Well Seasoned entree for $22.99 is a great option for those who want to experience a number of different African flavors and a sampling of dishes.
Sanaa is on the Disney Dining Plan and is one table service credit for both lunch and dinner. The restaurant also participates in Tables in Wonderland and offers a 20% discount for members. In addition, Disney Vacation Club Members and Annual Passholders receive 10% off both lunch and dinner while Disney Visa Card Members can get 10% off lunch only.
The Overall Experience:
As someone who likes to experiment with new and different dining experiences and try different types of food I would not normally eat, I was extremely impressed with Sanaa because it opened my eyes to a completely new type of cuisine and all sorts of new flavors to which I am not accustomed. However, it is for this same reason that I would caution anyone who wants to try this restaurant. If you are not the type of person who likes strong flavors and has more simple tastes this is definitely not the restaurant for you. But, if you are like me and have an adventurous spirit when it comes to dining, you will definitely be rewarded. Sanaa is one of Disney's hidden gems. Because it is located at a resort rather than at one of the theme parks it is typically going to be less crowded and less well-known, but the secret is starting to get out. Whereas in the past you could go at almost any time without a reservation and get seated right away, I would now definitely recommend making reservations in advance. Sanaa offers a dining experience that is totally unique and unlike anything else in Disney World, combining the beauty of African art, the majesty of an open savannah complete with wild animals, and the exotic flavors of African cuisine. All of this helps Sanaa live up to its name. It is truly a work of art.
See past restaurant reviews by guest blogger Andrew Rossi.
Check out Reader Reviews of Sanaa and post your own too!