To all who come to this photo trivia game, Welcome! Along the way, the photos can make us relive memories and see details Walt's Imagineers put into everything we love in Walt Disney World!
Sara Holloway, here's your Mickey Ice Cream bar! Don't worry about the outside temperature. Wrap yourself up, nice and cozy, and enjoy!

Wait! Jonathan Ward: you're telling me that Epcot has caramel apple oatmeal cookies?! And Alan Mize says they have croissant doughnuts?! Why didn't someone say so sooner! This is what happens when I don't work on menus for awhile. AND I need a Tiki Tankard! (Thanks for letting me know, Claire Gregory!)
From last week: Challenge #321: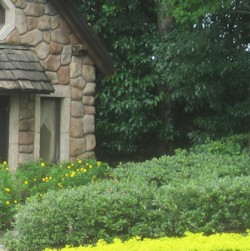 And here's the answer:


Copyright © Erin Blackwell
The Gardeners' Cottage in the Victoria Gardens at the Canadian Pavilion in Epcot. Imagine if you could stay there! Gabriella, Terry And Matthieu gave more details: "We think it's our home country of Canada (Epcot) in the Victoria Gardens, which is called Butchart Gardens here in Victoria on Vancouver Island, British Columbia."
Rebecca Siimith, if your garden looks like this, can I stay with you this Spring? If not, we can go to Cindy Pinki's. Her place is going to look like this. Dibs on the cottage!
Judy Simonsen, Jack Spence is a wonderful person and a great blogger! I'm hoping to be him when I grow up. 🙂
Davida, I didn't know that! Now I'll have to look for pictures of the house near Niagara Falls to how much the cottage looks like it!
Jen Tremley were the first to send in the correct answer! Congratulations to Jen and to all our winners this week! Craig, Kristi Strembicki, Linda Ranatza, Phyllis, The Kahle Family, Sharon Pierce, Donna Frank, Mary Beth Tarbet, Murr Family, Trina Noggle, Chris Kelly, Bill Mckim, Kenny, Kirsten Miller, The Kertes Family, Kirsten Miller, Laura V., Antoinette Leblanc, Melanie Emmons, Andreas Beer, Adam Lucas, Carol Gilliland , Andrew Carrieri, Tim English, Marian Sefcik, Julia Wickware, Mary Walsh, Lexi Franquiz, Carol Ney, Nancy Ahlsen, Rebecca Smith, Cindy Pinki, Nicole Doney, Pamela Csonka, Melissa Thomas, Vanessa Stjohn, Brigitte Fagan, Cathy Derecola, Crystal Ellis, Becky Norman, Patti Gumiela, Dave Freemyer, Dave Cole, Tinkerbell Wells, Ken Daube, Rob Blundin, Theresa Lucotti, Ellen Sullivan, Sisk Family, Jennc, Candice Grimes, Kelly Sroka, Susan Lawrence, Mark Deroia, The Parker Family, Janet T Thorn, Michele Zowacki, Disney Bob, Samantha Fontana, Shari Prater, Liz Paxton, Ken Maikowski, Jon Landis, Tyler Otts , Andrea Kruszewski, Ellie Argaluza, Keirsten Sangster, Trish Roam, Jen Cerce, Trish Roam, Marielle Montoro, Tammy Wilson, Suzanne Renfroe, Tom Steveley, Team Hill, Michelle Bunton , Katherine Pretzman, Chris England, Pat Schwier, Melissa Rymer, Liz &Dave Fullerton, Katie Bray , Les Stewart, Scott Precise, Jamie Tauer, Holly Liska, Tony Stevens, Michelle Darabaris, Jacquelyn Law, Dee Dee Kenney, Maryann Eckenrode, Christi Ison, Mildred Popp, Vera And Izzy Williams, Tim Johansen, Terry Blair, Deb Ragno, Gabriella, Terry And Matthieu, The Pearsall Family, Amiee Augustine, Pat Morin, Danielle Rennicks, Judy Simonsen, Beth, Bryant And Ruben O'meara, Tom Mcgrew, Elaine Kleinhenz, Ryan F, Melodye Berry, Popek Family, Kris Nixon, Carolyn Como, Anne Heffentreyer, Kathy Wilkerson, Taylor Kmiech, Karen Ramirez, Tricia Petty, K Beasley, Sarah Orman, Pam Manseau, Gerald Skanes, Jan Benton, Doug Olson Family, Heather Pedulla, Jodi Lupp, Kathleen Thornton, David Forister, Ed Suscreba, Scott Greenbaum, Amanda Campbell, Megan Krainski, Kathy Love, Roger Vollmet, Susie Howard, Jennifer Rowell, Julie And Kody Rider, Gina Smith, Kerry A., Lori Rienhardt, Jason And Melinda Lenz, Ashley Collins, Barbara Ajak , Pam Lorenz, Dennis O'rrilly, Janet Harp, Charissa Troup, Maggie Klotz, Mike O'brien , Sarah A, Michaela O'brien, Karen O'brien , Brian Miller, Sandie Albrecht, Lindsay Arlene Clayton, Helen Amer, Emily Hudson, Dawn Bach, Nan Amor, Ron Harper, Chris, Gretchen, And Katie Barnes, Jim &Lorie Sonnen, Gail States, Ruth Senecal, Lisa Zitek, Maureen Handy, Melesia Love, Chris Nichols, Patrice Hollenshead, Leach Family, Donna Currier, Stefan Owens, Renee Hardiman, Frank Kishel, Tracey Mayfield, Darlene Haven, Jonathan Ward, Diane Furtado, Mary Sanderson, Blake Schmidtd, Jennifer And Elizabeth Geno, Eric Enli, Nathaniel Clements, Lesli Rendall, Paul Dickson, Darrin Brooks, Rob Hepler, Duskin Henard, Stacey Kiefer, Vanessa Gordon, Wendy Snelgrove, The Hoekzema Family, Kerri Coggins, Nathan York, A. Beaulieu, Michele Mongeon, Bob Patterson, Dallas Hamilton, The Patterson Family, Matthew Jadro, Mike Haven, Patrick Broaddus, Tricia Noble, Josh Carney, David Wang, Kevin Parmeland, Angie Grimes, Melody Odonnell, Wendy Markwood, Mickey Eckert, Betsy Silvestri, Alex Gamill, Carol Gamill, Kelly Smith, Cameron Lange, Maja Kodani, Anastasia Macneil, Sharon Dale, Terry Fleming, Barclay Bakkum, Mark Proper, Patti Mccaffrey, Michael &Jackie Mclucas, Kay Moss, Alison Rosenberger, Randy Thomas, Vicki Shearman, Rebecca Keenan, Scott Sangston, Lizanne Fisk, Theresa Rucando, Mike Amor, Amy L Santapau, Reagan, Jan Rosato, Belicia Cullen, Scott Cullen, Kirk Hardy, Amy Guerrini, Tom Koval, L Dean, Andy Schumacher, Dan And Elizabeth Johnston, Jullie Pudem, Becky, Kris Nixon, Terry W., Carrie R, Matt Holley, Alan Mize, Claire Gregory, Karen Ford, Luis Rodriguez, Vicki Britt, Jo Ann Bailey, Jennifer Bogdan, Vickie Scioneaux, Jane Johnson, Team Bonnie Sue, Joseph M. Zafia, Cheryl Costello, Shirley Garcowski, Pamela Vanaustin, Bonnie Cummings, Penny Urell, Tom Higbee, Douglas Florey, Steve Thorpe, Jill Davoll, Collette Beuther, Peggy Saeger, Heidi Goodhue, Jim Thompson, Larry Brooks, Davida, Hillary Waldroop, Jenny Leek, Kimberly Stephens, Margie Larmon, Rachel Hoover, Danielle Harsley, and Agnes Ciotti. Each of you are entered in this month's winners' drawing.
__________________________________ _____________________
Challenge #322 Where in the world is this?
Going to a different park. Who is this? Remember: you can't just tell me what park!

Do you know? Do you have a guess? Please send in your answer, before the end of the day on Thursday, March 13th, by clicking on the blue box below. Please do not post answers using the Feedback Form link at the bottom of this post.
See you next week, Players!


_______________________________________________________________________
Everyone who sends in a correct answer to a Where in the World Challenge this month will be entered in a drawing at the end of the month for some special AllEars® goodies!