Disneyland is something that will never be finished. It's something that I can keep developing. It will be a live, breathing thing that will need change. — Walt Disney
Such is the premise on which Walt Disney World was also built upon. Change happens all the time in the parks. I know many people feel this is a bad thing. Other people wish they could bring closed attractions and shows back. If I had my way, I would wish for the Tarzan Rocks! stage show to be brought back to Disney's Animal Kingdom.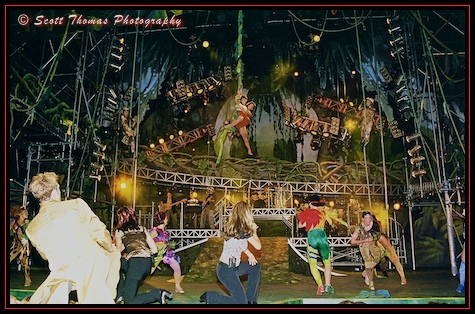 Tarzan and Jane swing on stage at Tarzan Rocks!
Alas, I usually never get my way.
This is a scanned image from a Tarzan Rocks! show I took back in 2000 a few years before I got into digital photography.
Come back on Thursday when Lisa shares her Disney Pic of the Week on Closed Attractions.