A Short History of Tony's Town Square Restaurant
By Jim Korkis
When Main Street U.S.A. opened at the Magic Kingdom in Florida in October 1971, right there in Town Square was the Town Square Cafe with an open air porch where patrons could watch the stream of guests rushing in and out of the park.
The food and beverage location offered breakfast, lunch and dinner and was themed to the elegant Victorian era. Originally, the venue was going to be sponsored by a coffee company but the proposed participant backed out.
It ended up being sponsored by Oscar Mayer from 1971-1981. Diminutive spokesman for the company, Little Oscar (actually affable George Molchan) in his white chef's hat, was there greeting guests and handing out the iconic wiener whistles to eager children.
However, it was not a variety of Oscar Mayer hot dogs that were served at the location but upscale fare like a Monte Cristo sandwich and Crepes Jambalaya. Both Coca-Cola and Pepsi-Cola were available as well on the menu.
When Oscar Mayer declined to renew its sponsorship, the location was taken over by Hormel who handled the operation from 1981 to 1989. The menu was a large four page newspaper entitled "Town Square Times" with the first page devoted to the history of the Hormel company. The new sponsor still sold a Monte Cristo sandwich along with a Main Street Deli Plate and Fresh Catfish.
When Hormel decided not to continue sponsorship in 1989, the Disney Company did an extensive rehab of the restaurant converting it into Tony's Town Square Restaurant.
The restaurant references the Italian restaurant in the Disney animated feature classic Lady and the Tramp (1955) where two canines shared a romantic moment over a plate of spaghetti and meat balls.
The proprietor of the film's eatery is a larger-than-life, black-mustached, friendly character named Tony voiced by actor George Givot, known for his dialect comedy and fine singing voice, who passed away in 1984.
After a recent rehab, Tony's image is now smiling from a brand new overhead sign.
The waiting area has a television playing a clip from the film and the interior of the restaurant is decorated with Lady and the Tramp artwork as well as a sculpted fountain.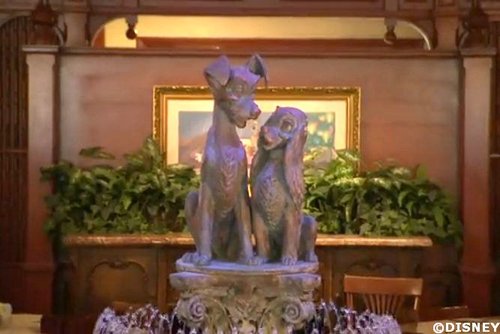 For over thirty years, Don "Ducky" Williams has been a Senior Character Artist at Walt Disney World. During that time, he supplied artwork for memorable pieces of merchandise like the special limited edition lithographs for the Disney Cruise Line and the Disney Vacation Club.
Sometimes, his talents were tapped for unusual projects like Tony's Town Square Restaurant.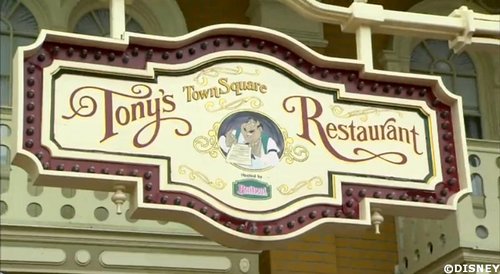 "I did the artwork for all the china, signage, menus, etc. In fact, when it first opened, it had plates, saucers, creamers and more with my Lady and the Tramp artwork on it," commented Williams when I interviewed him. "They found the guests loved it so much that they kept stealing it so they replaced them with regular china. The remainder they had they sold at Disneyana conventions.
"Do you see all those framed paintings on the wall? There are twelve of them and I did them all. Those are the original paintings framed under glass, not prints or reproductions. If they ever change out that place, I would love to have those back to put up in my house."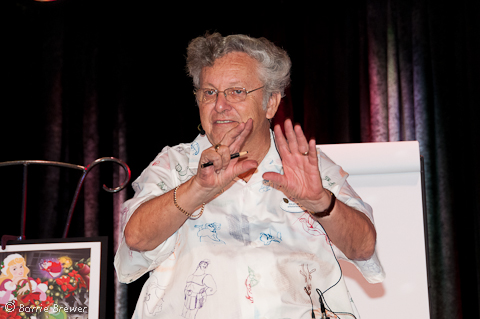 Disney enthusiast Greg Ehrbar was responsible for writing the original two-sided kid's menu that was designed to resemble the comics section from the "Main Street Gazette". Besides the menu, it featured games and puzzles and an original comic strip. Unfortunately, this particular menu has been retired.
Some Disney fans are unimpressed with the menu offerings at Tony's but everyone is appreciative of the artistic "theming" of the space and how it captures the spirit of one of Disney's most beloved animated features. I wonder if there are any left over hot dogs in the back from Oscar Mayer for Tramp's many friends?
Deb's Note:
Ducky was a special guest of AllEars during our December to Remember Celebration in 2011. We designed a special AllEars Trading Card dedicated to his work at Tony's Town Square.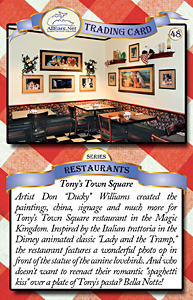 RELATED INFORMATION AND LINKS
Disney Historian Jim Korkis goes up into his imaginary attic to rummage around his archives and often stumbles across an unusual story about Walt Disney World. Those who have met me know that I take real joy in talking about Walt Disney.
====================
Check out Jim's other "From the Attic" Blogs
Full features from the Walt Disney World Chronicles series by Jim Korkis can be found in the AllEars® Archives: /ae/archives.htm
ABOUT THE AUTHOR:
Jim Korkis is an internationally respected Disney Historian who has written hundreds of articles about all things Disney for more than three decades. As a former Walt Disney World cast member, his skills and historical knowledge were utilized by Disney Entertainment, Imagineering, Disney Design Group, Yellow Shoes Marketing, Disney Cruise Line, Disney Feature Animation Florida, Disney Institute, WDW Travel Company, Disney Vacation Club and many other departments.
He is the author of three new books, available in both paperback and Kindle versions on Amazon.com:
The Book of Mouse: A Celebration of Walt Disney's Mickey Mouse
Who's Afraid of the Song of the South
"The REVISED Vault of Walt":