It's finally our turn! This month, Walt Disney World annual passholders are receiving invitations to customize and order their MagicBands. The resort has been testing its billion-dollar technology investment, called MyMagic+, for more than a year, but the test was limited to guests staying at Disney resorts.
So, annual passholders, if you've been waiting — patiently or otherwise — here is what you need to know about getting your MagicBands.
First, for those who aren't familiar with the new vocabulary, a MagicBand is a waterproof bracelet with an RFID chip embedded in it that stores information about each guest electronically. Each MagicBand is designed to allow you to enter the theme parks with just a touch-and-go process; charge meals and merchandise to your account; open your hotel room door; make FastPass+ and dining reservations in advance and use them; and allow cast members to call you by name. (For a detailed explanation of FastPass+, please see my previous blog post here.)
Walt Disney World is issuing MagicBand invitations to passholders on a rolling basis in March, and the first bands will be shipped mid-month. To be considered, you first must create an online account at My Disney Experience and enter your current passholder card number. If you have more than one person in your family, link the members together. Then, check this Tickets and Passes page regularly. I did not receive an email notification, but rather discovered that my order was pending on the website.
When you are eligible to order your MagicBands — which are free, by the way — the top of the page will have a spot that states "MagicBand Order" and a button that says "Add Shipping Address." To begin the process, click on "Add Shipping Address" and fill out that page.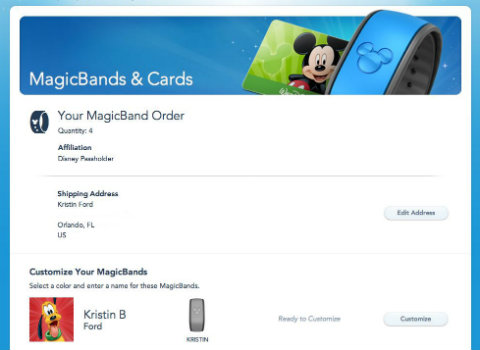 Next, you will be allowed to customize each MagicBand that is being shipped to the same address. That means you have a choice of colors: red, yellow, green, blue, gray, orange and pink. Don't worry if two family members want the same hue — a scenario that certainly could cause siblings to do battle — because each band is further personalized with a name imprinted on the inside.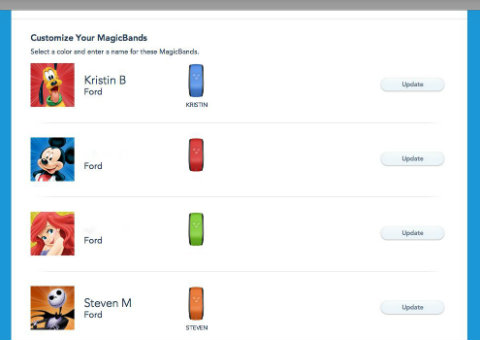 Once you are happy with the colors and names you have selected for your family's MagicBands, it's commitment time. Hit the "Ship Now" button to get in the queue for deliveries. Once you have clicked "Ship Now," no additional changes can be made.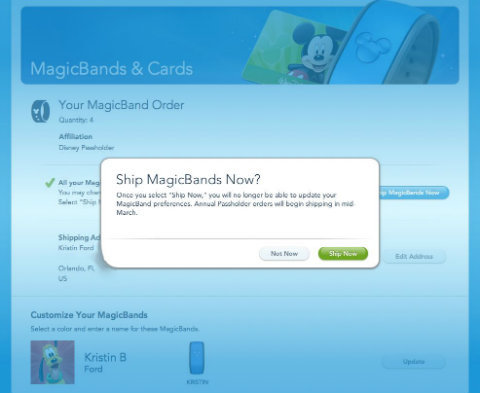 Within a few days of completing this process, passholders gain access to booking their FastPass+ reservations online — even before they receive their MagicBands. Passholders are permitted to book seven days of FastPasses in a 30-day period. The days do not have to be consecutive, and the three attractions in one park per day rule still applies. Once an existing day is used, another can be booked.
Along with their MagicBands, Walt Disney World passholders will receive a special passholder slider for the band and a card to be used for discounts and parking, if applicable. Although these sliders are an exclusive for passholders, guests will find many accessories for their MagicBands, including sliders, covers and charms in gift shops throughout the property.
Finally, if you prefer not to use a MagicBand, which uses technology that can be read by short- and long-range readers at Walt Disney World, you can choose not to customize your MagicBands. Instead, ask at your hotel for an RF card, which cannot be detected by long-range readers.