With Valentine's Day right around the corner, many of us are thinking about ways to celebrate love. Wedding ceremonies are, of course, a very public declaration of romantic love, and since 1995, Disney has taken the celebrations to a whole new level. Disney's Fairy Tale Weddings & Honeymoons is known for the elaborate and customized destination weddings that its consultants plan at Walt Disney World and Disneyland. But what if your dream is to be married in a more exotic locale? Disney Cruise Line can make that happen, too.
I have seen brides onboard when I was sailing on two different Disney ships and wondered about the planning. After all, organizing a traditional wedding can take months of work that often is stressful for some because of all the decision-making and efforts to stick to a budget. (If you've forgotten what was involved or have yet to go through it, I recommend watching "Father of the Bride.")
Happily, a Disney Cruise Line wedding is one that can be accomplished with just a little planning and a set budget, so the two of you can focus on starting your new life together. Ship weddings really are geared toward couples who will have a small number of guests in attendance. In fact, the basic packages allow for eight guests, though you can add more at an additional charge. And although brides have choices to make, they are not open-ended because of the limitations of being at sea for the wedding. And perhaps that is just as valuable as having numerous choices — because once the choices are made, the couple can relax and leave the rest in the Disney consultants' hands.
Disney Cruise Line offers two basic cruise ceremony packages — one that allows the couple to have their ceremony onboard for $3,000 and one in which the couple marries on Disney's private island, Castaway Cay, for $4,000. Those rates are in addition to the price of the cruise. Included for the onboard ceremony:
** On-site ceremony coordinator to coordinate your ceremony day events
** Choice of personal fresh floral for the couple (You may also opt to include floral for your bridal party, available at an additional cost)
** Solo musician (pianist) for the Ceremony and Cake & Champagne Celebration
** Officiant to perform the ceremony
** Cake & Champagne Celebration onboard the ship which includes an elegant 2-tier wedding cake with keepsake cake topper, one bottle of champagne and one bottle of sparkling cider (non-alcoholic) for the toast, served by host or hostess
** Dinner for the couple at Palo on night of ceremony
** Disney Cruise Line Commemorative Ceremony Certificate
** Steaming for the couple's ceremony attire
** The ceremony couple will also receive a $100.00 onboard stateroom credit that may be used towards merchandise, spa treatments, other onboard activities and port adventures. (Any unused portions are non-refundable and non-transferable.)
For those who get married on Castaway Cay, the package also includes transportation for the couple and their guests from the ship to the ceremony location, which usually is at Pelican Point, overlooking the water with the docked ship in the background. The Cake & Champagne Celebration still takes place onboard the ship.
Photography packages for both types of ceremonies cost extra.
Now for the smaller decisions "¦ If you get married onboard one of the ships, you'll choose between two venues — a private outdoor patio or an elegant lounge tucked away from the other guests. That was easy, right?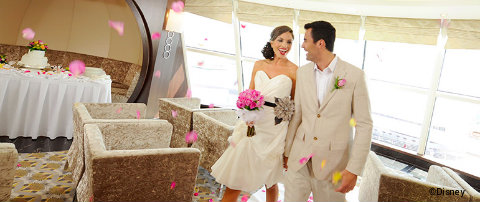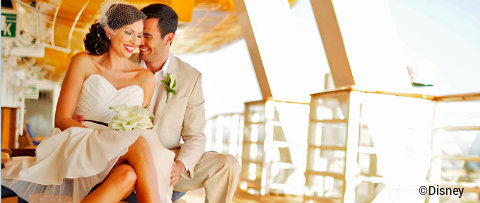 Brides select their bouquets from six designs that have been created not only for their beauty but also for their ability to stay fresh during the cruise. (Some weddings do not take place until the end of the vacation, but everything must be loaded onto the ship when the guests embark.) Choices include: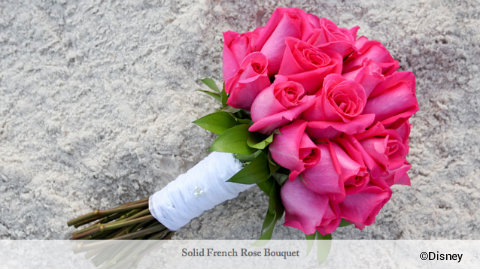 ** Solid French Rose Bouquet – Available in red, white, ivory, hot pink, lavender, yellow and orange. You may combine up to 2 colors.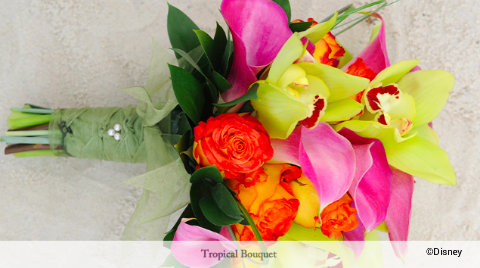 ** Tropical Bouquet – Made with eye-popping shades of hot-pink, orange and yellow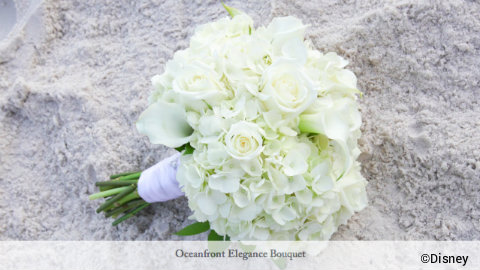 ** Oceanfront Elegance Bouquet – A beautiful all-white arrangement of roses, lilies and hydrangeas
** Garden Bouquet – Delicate pastel shades of lavender, green and white with violet accents
** Orchid and Rose Bouquet – Red roses with fuchsia and green orchids
** Calla Lily Bouquet – Available in crystal white, garnet glow, majestic red, orange mango and Florex gold. Colors may not be mixed.
The groom's boutonniere is made to match the bride's flowers. Plus, there are more floral options that can be added to your package: crystal accents for the bride's bouquet; adding flowers for other members of the bridal party, and even a basket of rose petals for the flower girl; floral cake toppers; rose wands; orchid leis; and island-inspired décor of palm branches, shells and floral tiki torches for Castaway Cay.
Two decisions made and two to go! The wedding cake is a two-tiered confection iced in white fondant for a classic look. Couples choose the cake flavor, fillings, and the design from these four options: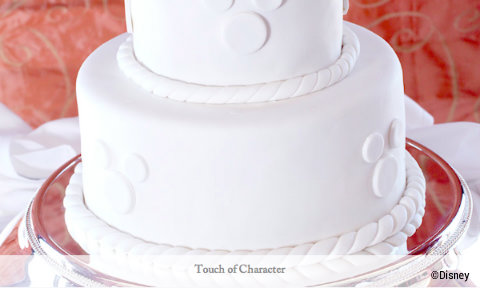 ** Touch of Character – The familiar 3-circle Hidden Mickey emblem adorns both tiers
** Touch of Whimsy – Cutout dots of different sizes stud both tiers
** Touch of Romance – Wreaths of roses trim the base of each tier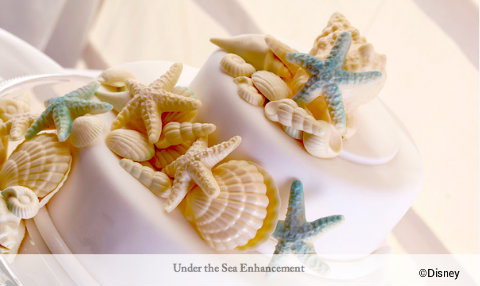 ** "Under the Sea-" Beautifully molded white chocolate seashells and starfish adorn an otherwise-plain 2-tier cake, emblematic of your romantic wedding at sea. (This is considered an enhancement therefore is available at an additional cost.)
A cake topper is included, but couples are welcome to bring their own, too.
Finally, you can select your music for the ceremony and celebration from a set list of traditional and Disney-themed music, or you can bring your own music on a CD.
One thing to note is that the actual marriage takes place on embarkation day as a civil ceremony with an officiant because the ship's officers are not able to legally marry couples.
So, for all the unwed couples enjoying their flowers and boxes of chocolates next week, remember: If you do decide to take another step in proclaiming your love to one another, wedding bells don't have to be in your future. Maybe a ship's horn will be, though.
To get started planning, call Disney's Fairy Tale Weddings & Honeymoons at 321-939-4610 or visit the website, https://www.disneyweddings.com/cruise/