As soon as you set foot in Liberty Square at the Magic Kingdom you feel as though you have been transported back to 1776. Although it is the smallest of any of the Magic Kingdom's lands, it may be the best themed of them all. From its replica of the Liberty Bell to its colonial architecture, wooden stockades, and even smaller details such as a window with two lanterns signifying the "two if by sea" of Paul Revere's midnight ride, Liberty Square provides a view into what life was like in the thirteen original colonies. If Walt Disney were around today, Liberty Square would probably be his favorite place in the Magic Kingdom as he was once noted as saying, "If you could see close in my eyes, there's an American flag waving in both of them."
Liberty Square features a little bit of everything. It has two of the most classic Disney attractions in the Haunted Mansion and Hall of Presidents, various little shops such as Yankee Trader and Ye Olde Christmas Shoppe, as well as a number of dining experiences, such as Sleepy Hollow for snacks and the counter service restaurant Columbia Harbour House. Even though Magic Kingdom has a limited number of sit-down restaurants, Liberty Square's Liberty Tree Tavern still tends to be overlooked by many as they make their way past toward Frontierland. However, this restaurant provides Guests a tremendously themed dining experience that helps make it one of the best dining options at Magic Kingdom.
Overview:
The Liberty Tree Tavern's very name is one filled with history and heritage befitting of Liberty Square. In 1765 the British government imposed a Stamp Act on the American colonies. It required all legal documents, permits, commercial contracts, newspapers, pamphlets, and playing cards in the American colonies to carry a tax stamp. In August 1765, a crowd gathered in Boston under a large elm tree to protest this hated tax. Patriots who later called themselves the Sons of Liberty hung an effigy of Andrew Oliver, the colonist chosen by King George III to impose the Stamp Act, in the branches of the tree. It was the first public show of defiance against the Crown and spawned the resistance that led to the American Revolution. A sign saying "Tree of Liberty" was later nailed to the trunk of the tree and soon other cities and towns across the thirteen colonies began creating their own Liberty Trees with lanterns hung amongst the branches. As resistance to the British grew, flags bearing a representation of the Liberty Tree were flown to symbolize the spirit of liberty. Liberty Square features its own Liberty Tree and the restaurant that bears its name pays homage to several of the Founding Fathers who played a major role in the creation of the nation.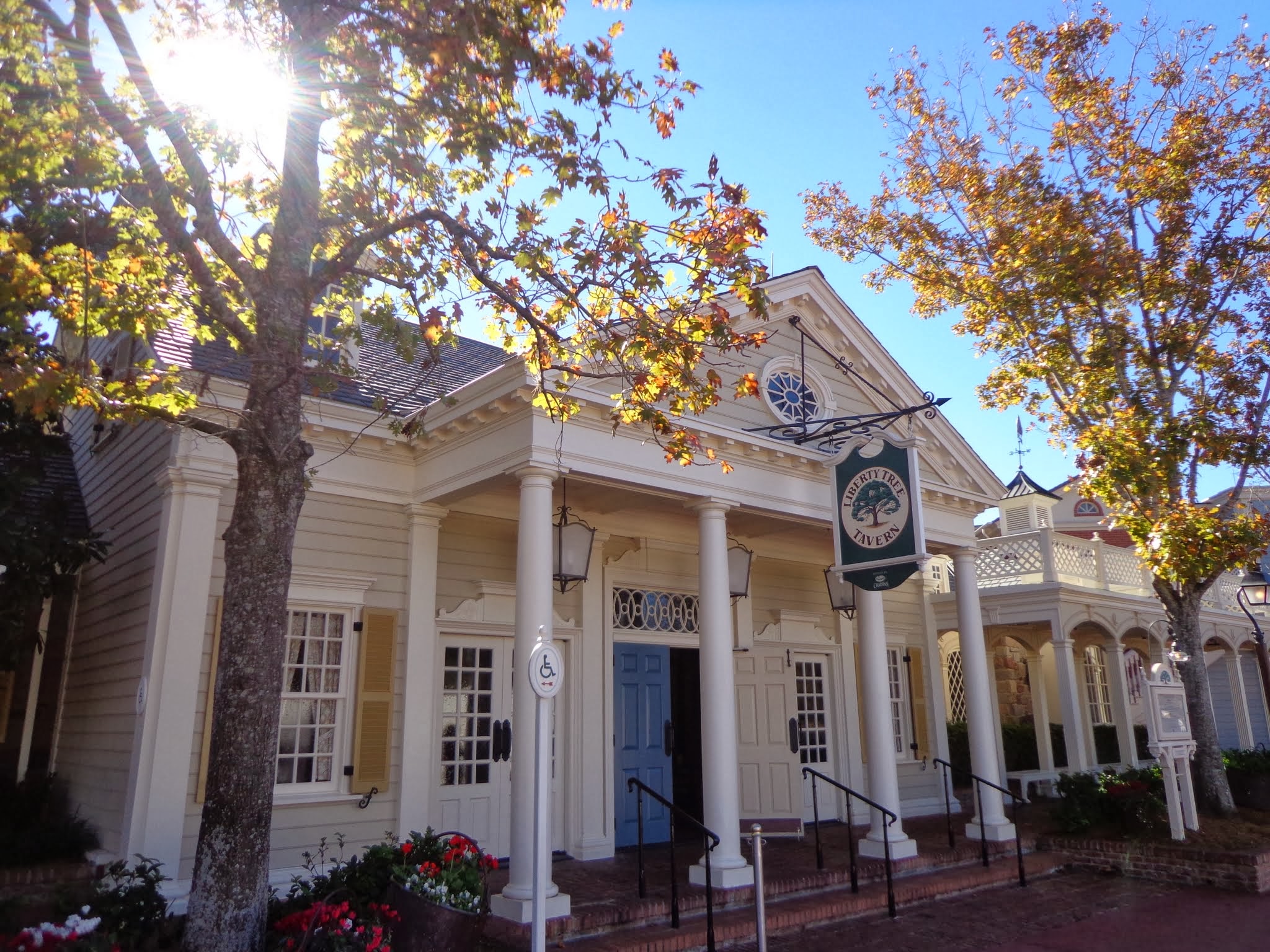 Atmosphere:
One of the most endearing characteristics of the Liberty Tree Tavern is how well it carries the overall theme of Liberty Square inside the restaurant. Every element of the restaurant, from the lighting to the furniture to the costumes worn by the servers, all contributes to the Colonial/Revolutionary Era feel. One of the first words that comes to mind to describe the feel of the restaurant is quaint, with a tremendous level of detail and authenticity that give it an old-world charm. The restaurant is divided into a series of smaller rooms, giving it a much more intimate feel. As you walk through the dining area you feel as though you are passing through different rooms in a house, each having a different look and feel in terms of décor, color, and architecture.
Each of these rooms, in fact, is specifically themed to one of the Founding Fathers and the architecture and décor of each reflect their different backgrounds and the roles they played in gaining American independence. Among the Founding Fathers honored are Thomas Jefferson, George Washington, John Paul Jones, Benjamin Franklin, Paul Revere, as well as Betsy Ross.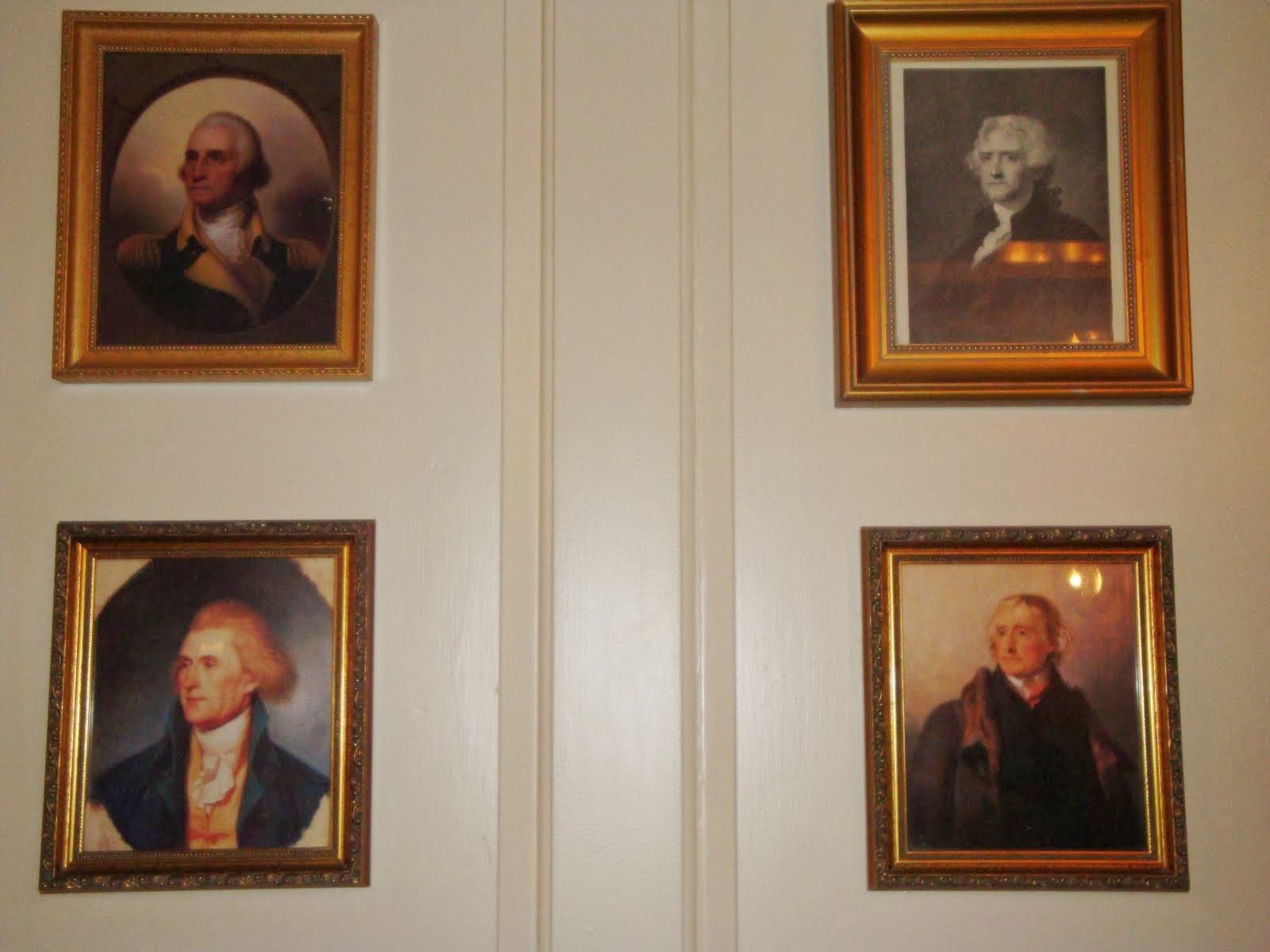 In addition to featuring their portraits, each room features various themed elements that help to tell the story about that particular person.
It comes as no surprise that the John Paul Jones room has strong nautical influences with model ships, navigation equipment, and nautical knots. Both the Jefferson and Washington rooms on the other hand have a decidedly more upscale feel, reflecting their well-to-do Virginia lifestyle.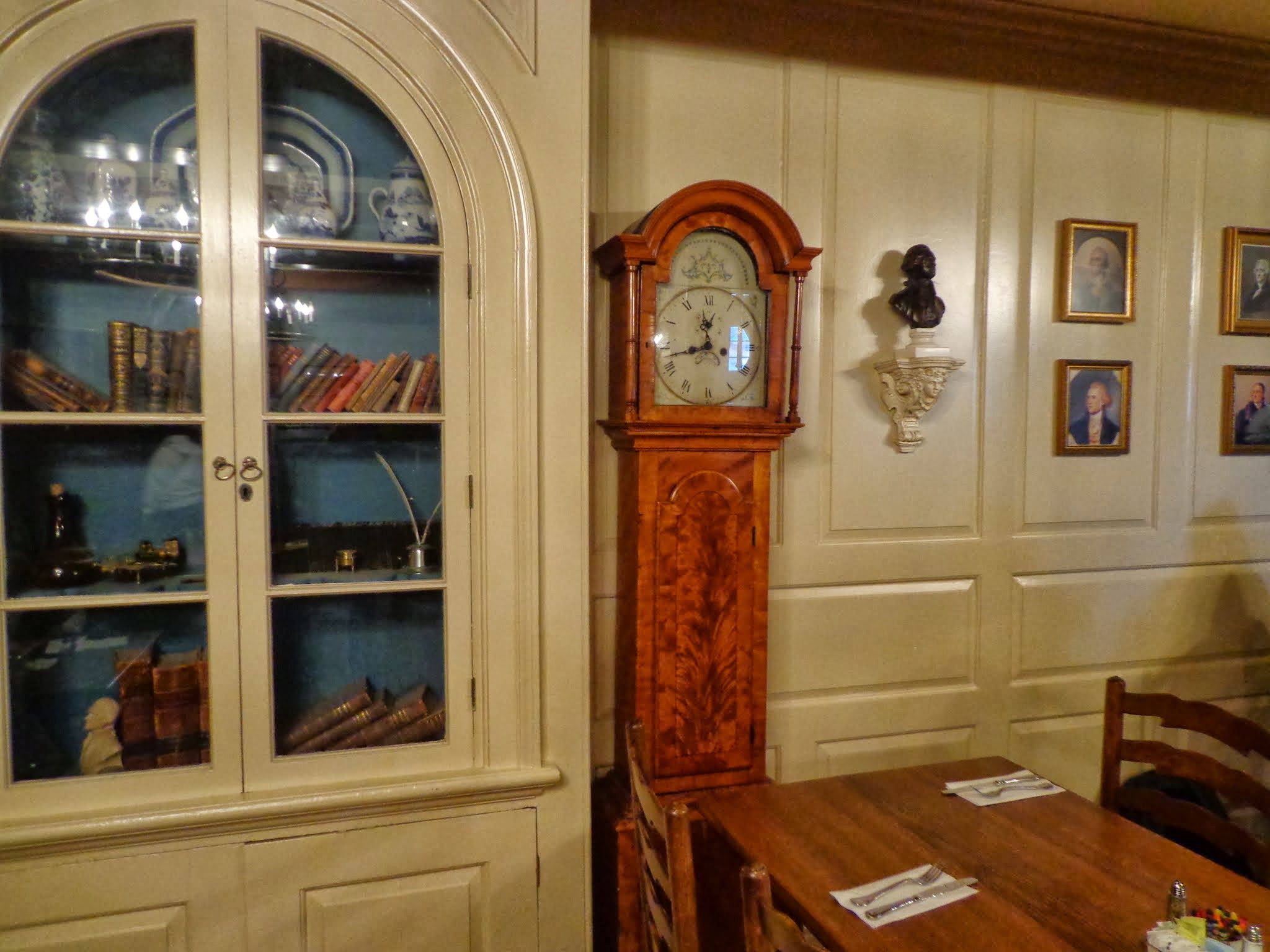 Meanwhile, the Paul Revere room has a much more simple appearance reflecting his humble occupation as a silversmith.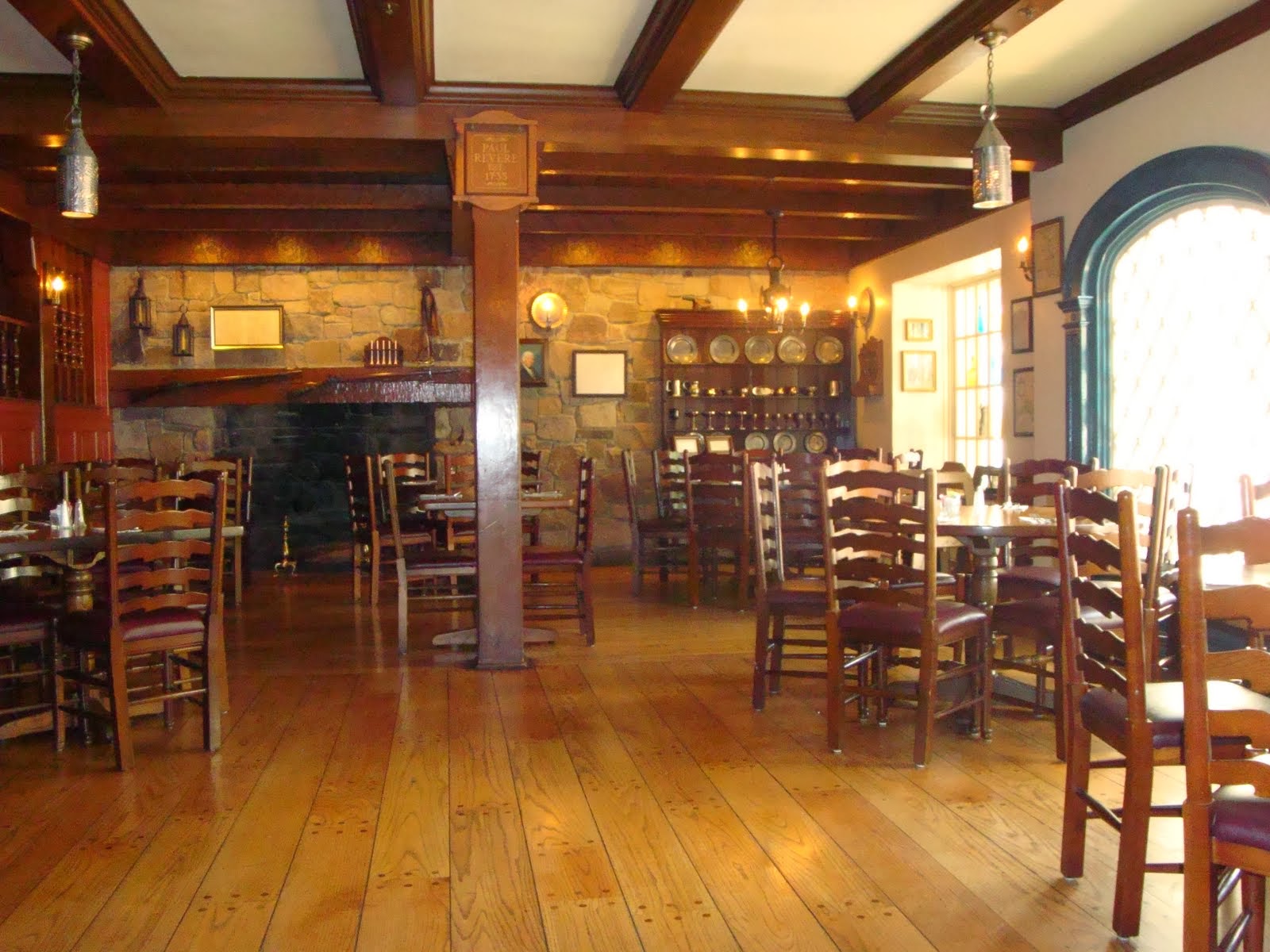 The level of detail found throughout the entire restaurant is outstanding and there are probably many elements that go unnoticed by most Guests. While larger objects such as the faux fireplaces, portraits and paintings of the Founding Fathers, and colonial-era muskets all contribute to the overall theme of the restaurant, it is really the smaller items which greatly add authenticity to the dining experience.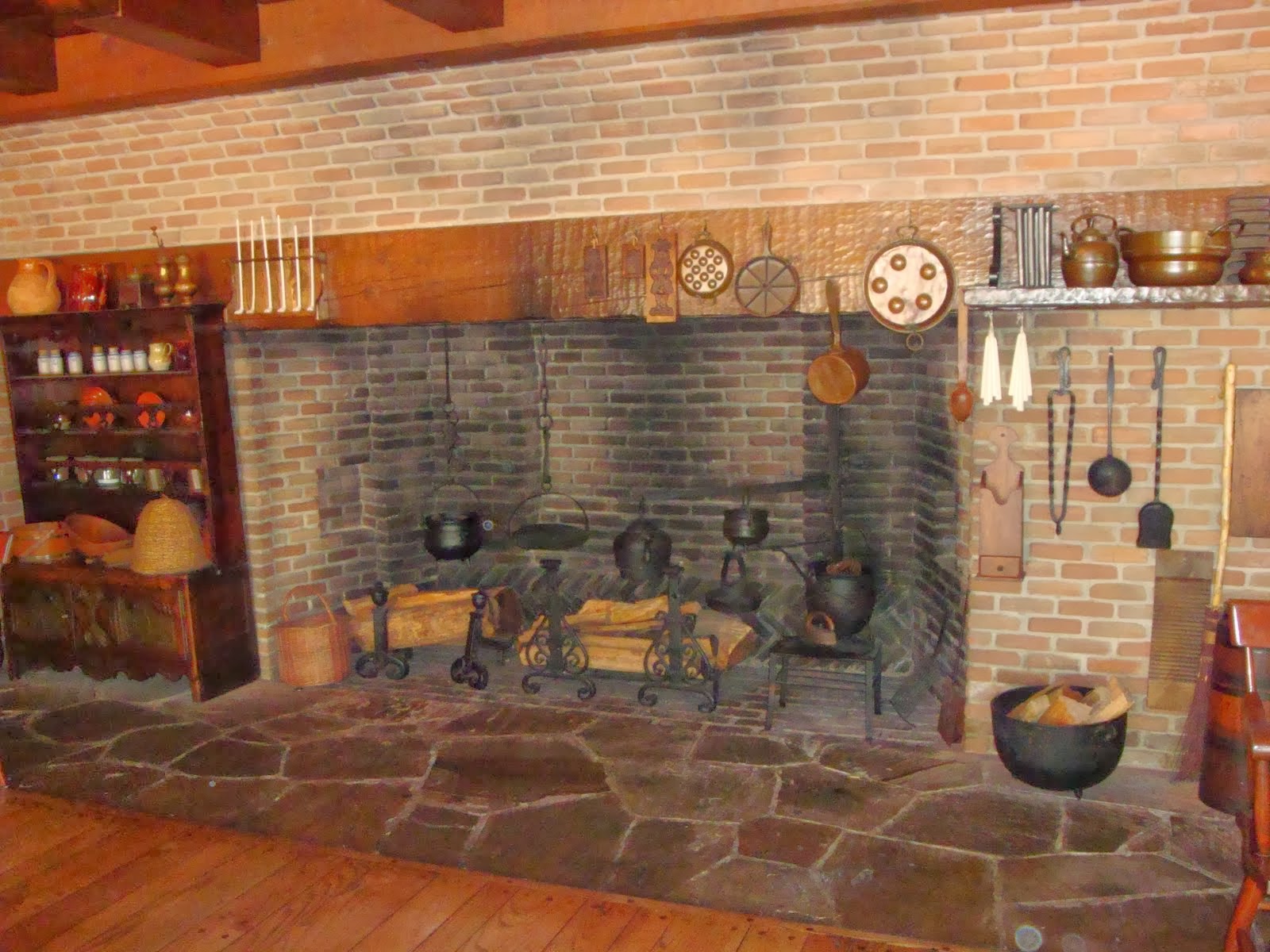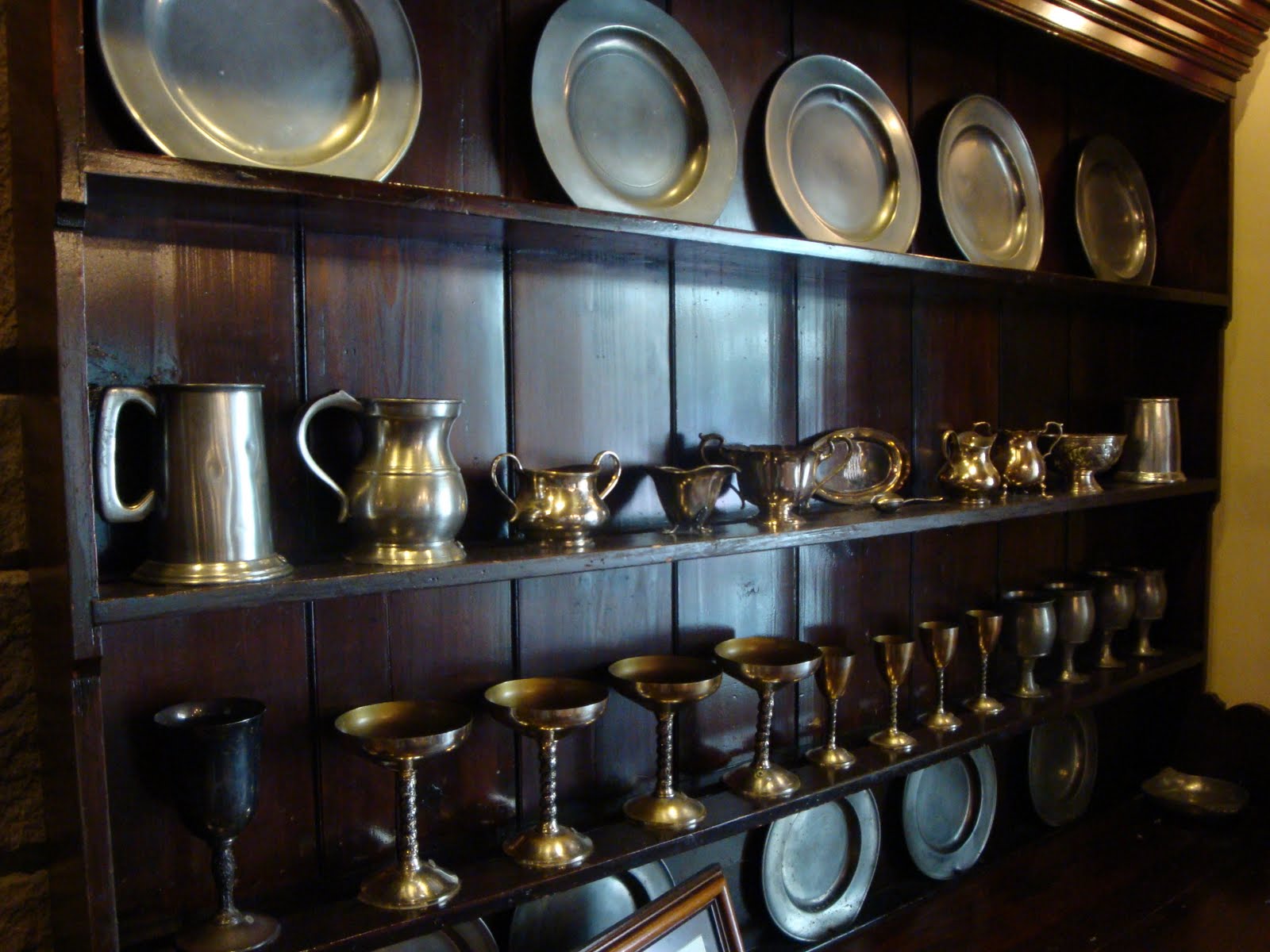 Everywhere you look throughout the restaurant your eye always seems to pick out some new detail, with many of the items looking as though they could belong in a museum. Some of the more interesting items included ceramic pipes, a copper tea kettle, maps of the thirteen colonies, an old-fashioned flat iron, a butter churner, and an alphabetical list of members of the Sons of Liberty.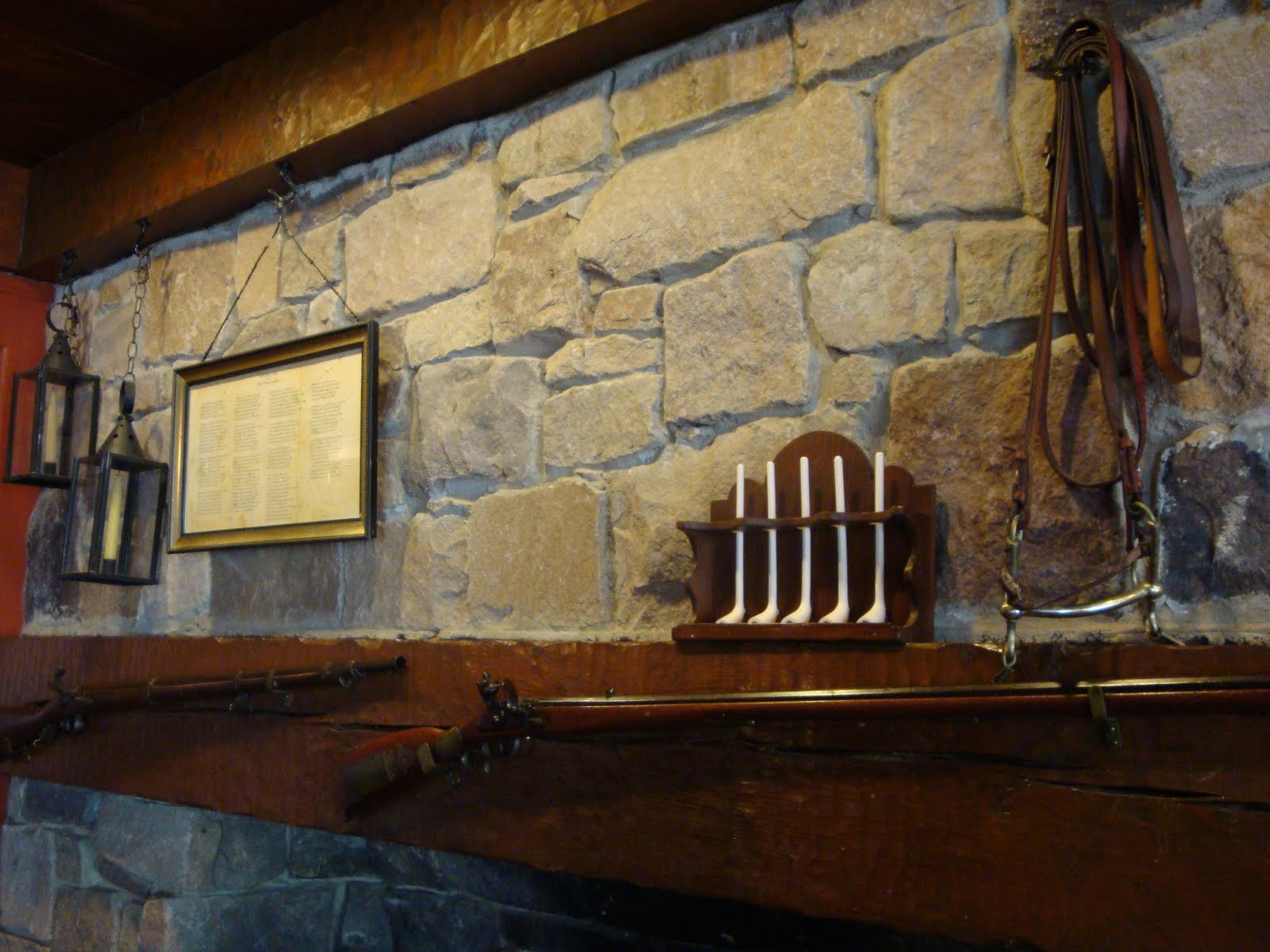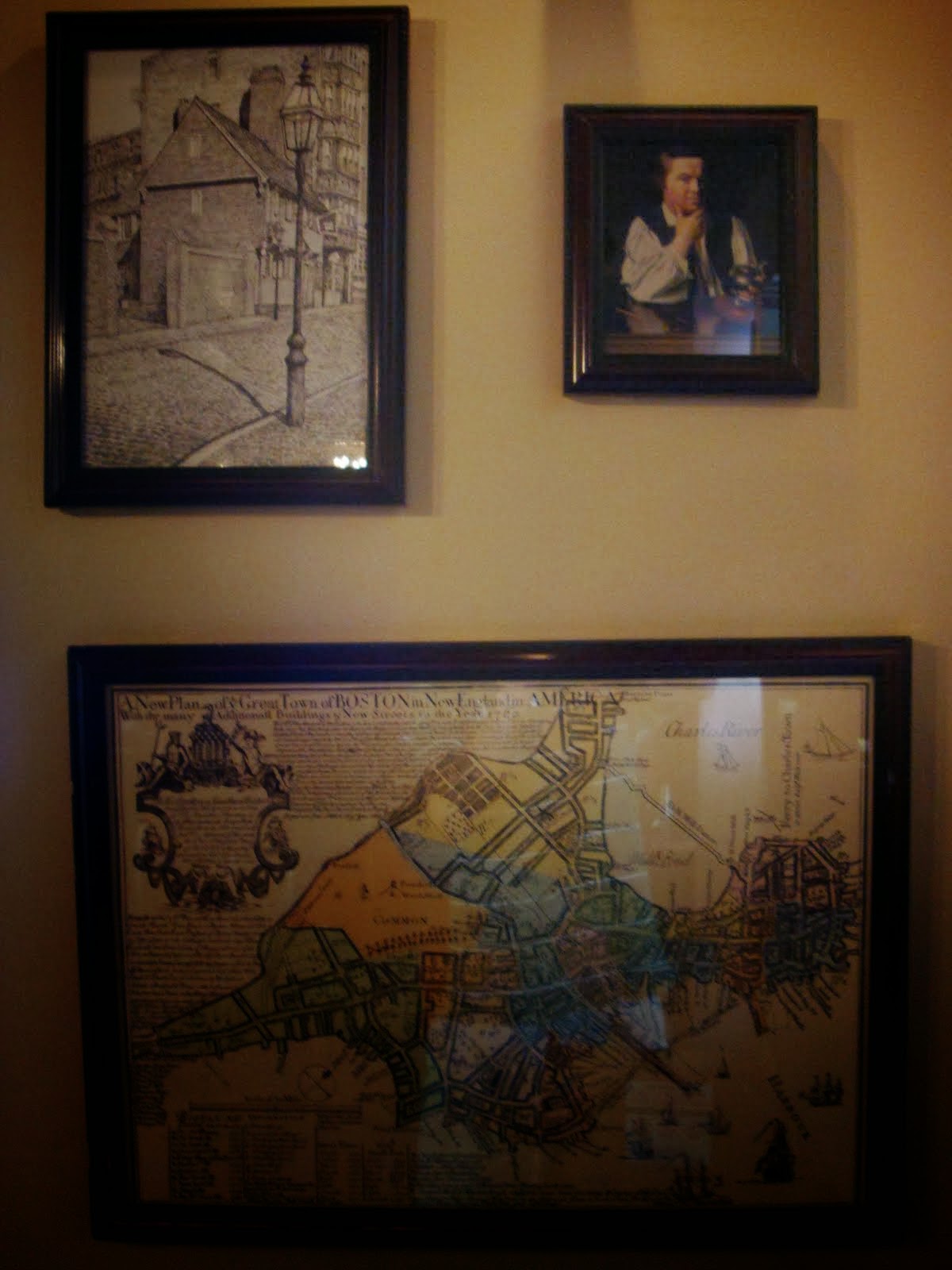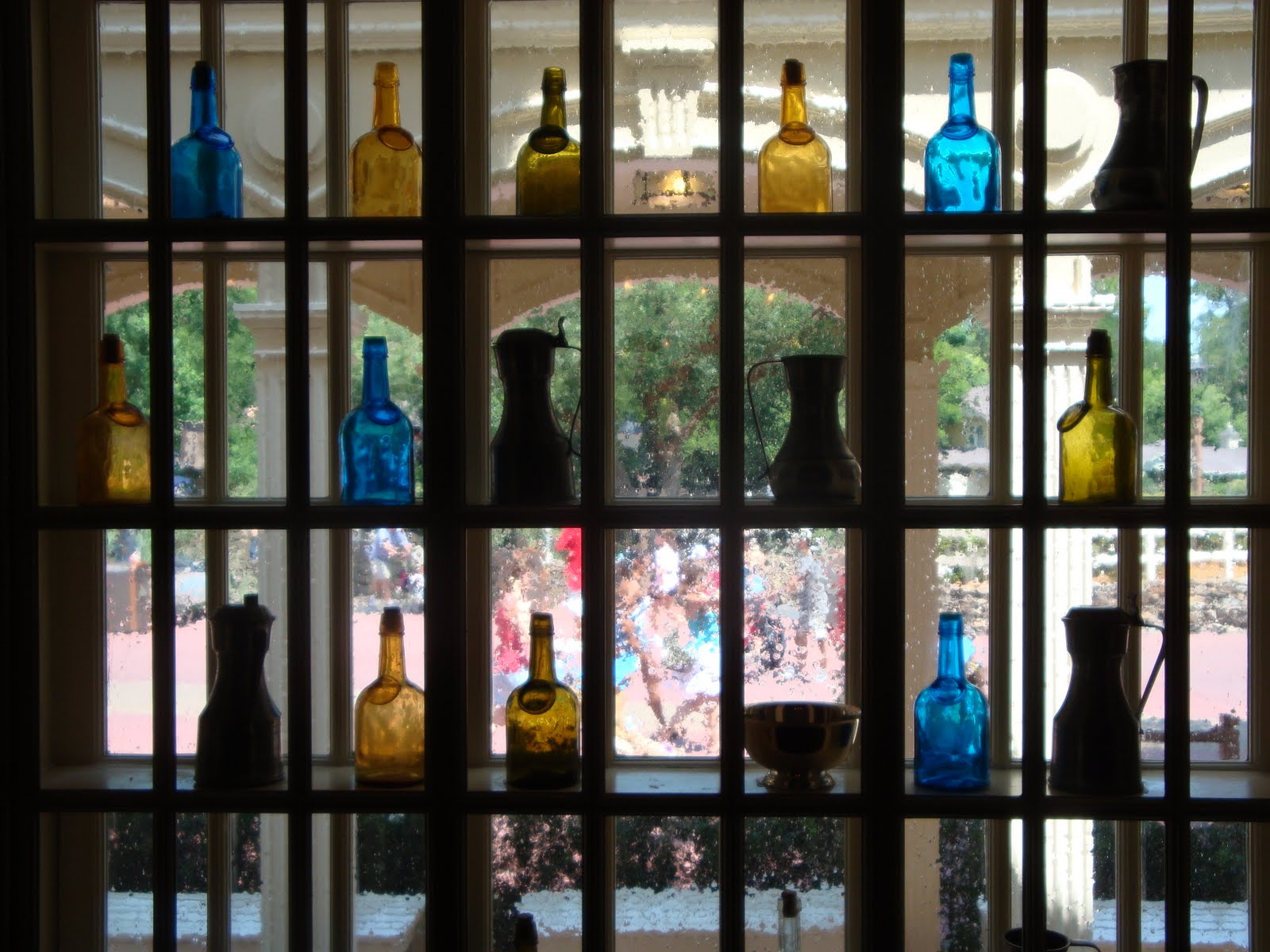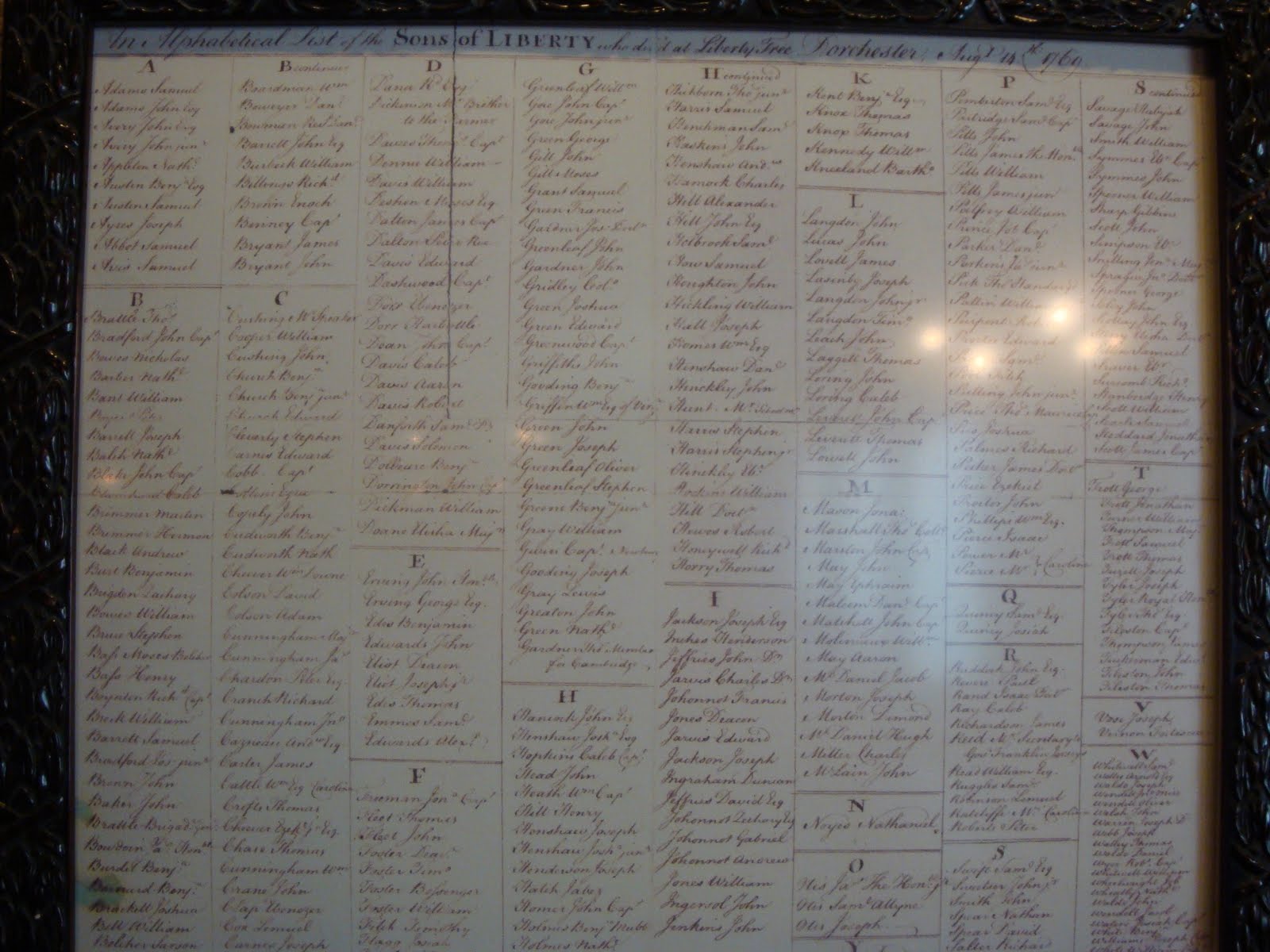 Whether it be maps, lanterns, blankets and quilts, cooking utensils, or pewter dishes, all these little details complete immerse you in the overall theme of Liberty Square and make you feel as though you are dining in a colonial-era home. This level of detail and theming found in the Liberty Tree Tavern is definitely Disney Imagineering and storytelling at its best.
The Menu:
The Liberty Tree Tavern is a restaurant that gives you a totally different dining experience depending on whether you go for lunch or dinner. Lunch offers an al a carte menu featuring an array of classic Americana cuisine. Meanwhile, dinner is an all-you-care-to-eat meal served family style that includes roast turkey breast, carved beef, smoked pork loin, mashed potatoes, seasonal vegetables, herb bread stuffing, and macaroni and cheese. Given the choice between the two, I prefer lunch over dinner because the lunch menu has a number of interesting choices and at a cheaper price than the family-style dinner. While the menu features nothing overly exotic or elegant, it does offer many traditional Americana favorites.
For lunch, the appetizer offerings include the Crab and Spinach Dip for Two ($10.99) featuring blue crab combined with spinach and cream cheese served with warm flatbread, Declaration Salad ($5.49) combining field greens and vegetables tossed with your choice of tavern-made dressing or roasted garlic buttermilk dressing, Tavern Fried Cheese ($5.99) served with marinara sauce, New England Clam Chowder ($7.49), and Today's Soup Kettle ($5.99), which happened to be chicken noodle on the day I was dining there.
The menu also features a good array of entrée offerings ranging from New England Pot Roast ($18.99) with braised beef in a cabernet wine and mushroom sauce served with mashed potatoes and garden vegetables to Freedom Pasta ($19.99) featuring fusilli pasta with sauteed chicken, seasonal vegetables, and mushrooms tossed in a cream sauce, The Liberty Boys BLT ($13.99) topped with slow roasted pork, fresh greens, and tomatoes on house-made bread with caramelized shallots and a mushroom-mayonnaise spread, the Pilgrims' Feast ($15.99) which combines traditional roast turkey with herb bread stuffing, mashed potatoes, and garden vegetables, the Colony Salad ($14.49) featuring apples, sweet pecans, applewood smoked cheddar, dried cranberry craisins, and grilled chicken tossed with field greens in a honey shallot vinaigrette, an Angus Chuck Cheeseburger ($13.99) topped with bacon and cheddar or mushrooms and provolone, and the Vegetarian Burger ($11.49).
There are also several delectable desserts available. Among these are the Ooey Gooey Toffee Cake ($7.49) featuring a vanilla cake with a toffee filling, caramel sauce, and vanilla ice cream, Martha Washington's Cake ($7.99) which is a slice of rich chocolate cake, layered with a chocolate coffee icing, Fruit Crisp ($5.49) combining baked seasonal fruits with a crisp streusel topping and homemade ice cream, and Johnny Appleseed's Cake ($7.49) filled with apples and craisins and topped with ice cream.
For my entrée I decided upon the New England Pot Roast, which happens to be one of the restaurant's most popular dishes. After sampling just a few bites I could see why this dish came so highly recommended by my server. The braised beef was cooked to perfection and so tender that it fell apart at the touch of my fork. Alongside the beef were a generous portion of carrots, celery, mushrooms, and onions all atop a heaping helping of mashed potatoes, which had a smooth and fluffy consistency. Topping it all off was a rich cabernet wine and mushroom sauce that provided a tremendous flavor that soaked into the beef and potatoes. This is the type of home-style comfort food that you can expect at the Liberty Tree Tavern and was the perfect meal to warm up on a cool January afternoon.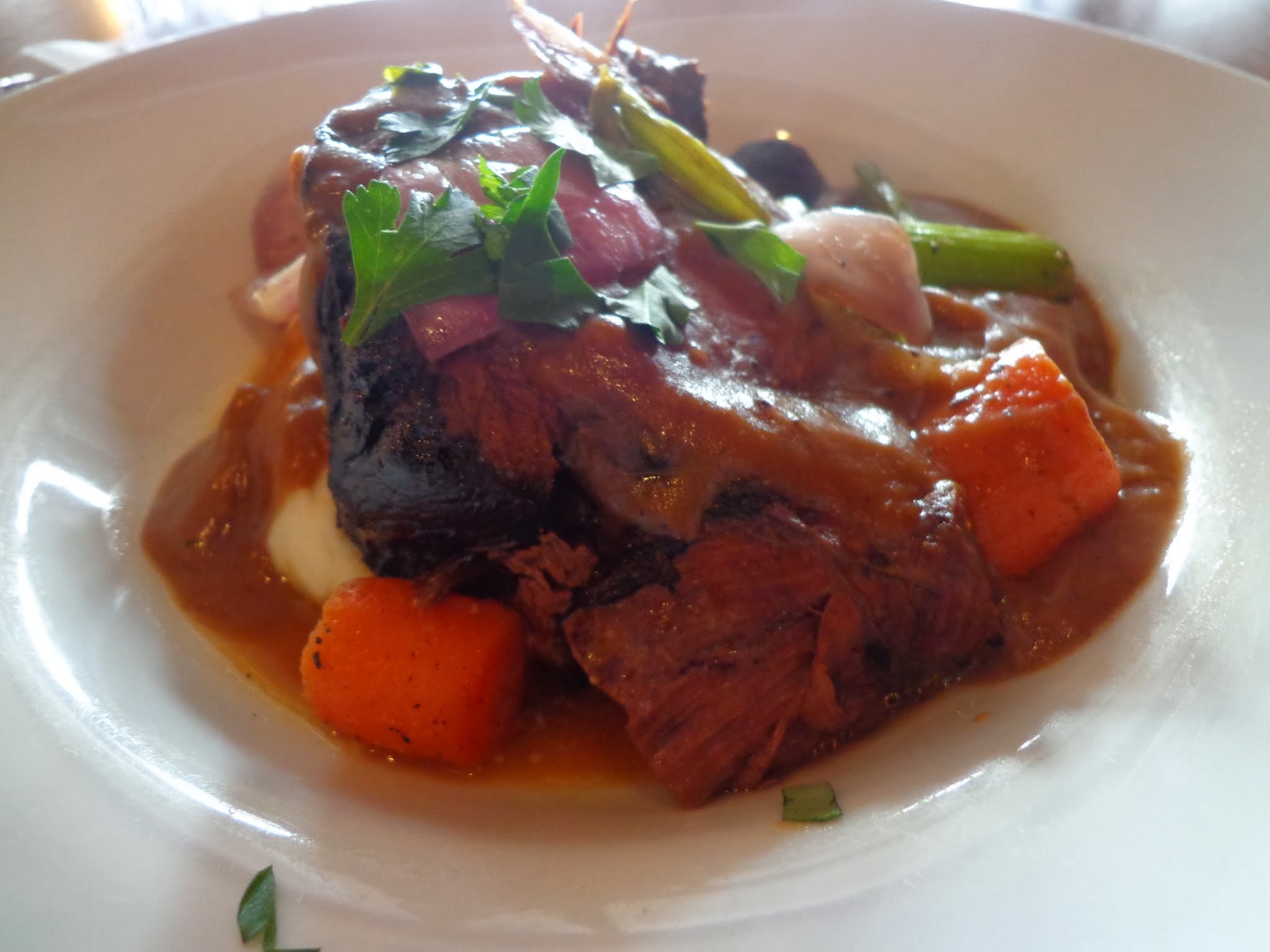 For dessert I chose the Ooey Gooey Toffee Cake, which has become one of my favorite desserts in all of Disney World. One of the things I like most about this dessert is the mixing of so many different flavors. The chocolate, caramel, toffee pieces, and vanilla ice cream all have their own distinct flavors, but combine together deliciously. The cake itself was served warm with the appearance and taste of a big, thick chocolate chip cookie. Topping the cake is a large scoop of vanilla ice cream whose refreshingly light taste provides a nice compliment to the more rich and heavy cake. The toffee pieces that top the dessert give added flavor and texture along with a healthy amount of chocolate and caramel sauce. It is certainly a filling dessert and can easily be split by two people, but it is so good that you might want to eat the whole thing yourself.
Service:
I was very impressed by the efficiency of the service at Liberty Tree Tavern. Even though the restaurant was a little crowded during the lunchtime rush, I was still seated very quickly and, upon placing my order, the food was brought out in a very timely manner. However, the meal did not progress so fast that I felt like I was being rushed. I also noticed that the restaurant had good number of servers, which gave each a smaller number of tables to wait upon and allowed them to offer more attentive service to their Guests. My server frequently checked in on me to make sure that I was enjoying everything and to see if he could get me anything else that I might have needed. In fact, he was so attentive that never once did my glass of water get more than halfway empty before he came around to fill it back up. My server was also very helpful in pointing out several of his favorite items on the menu, which dishes were the more popular choices, and provided a little description of each.
Dining on a Budget:
If you are looking to save a little bit of money, then lunch at Liberty Tree Tavern is definitely the way to go rather than dinner. Not only are the lunch prices more reasonable, but you also get a fairly wide selection of choices on the menu and portion sizes that are generous. One of the best values on the menu is probably the Pilgrims' Feast, which gives you a full Thanksgiving dinner for just $15.99. Other economical options would be the Colony Salad for just $14.49 or the Liberty Boys BLT that costs $13.99. Seeing other people get these I noticed that the portions are likewise a very good size, but if you still wanted a little something more you could always split an appetizer or dessert. Speaking of appetizers, the Tavern Fried Cheese is a great value at just $5.99.
The Liberty Tree Tavern is on the Disney Dining Plan and worth one table service credit for both lunch and dinner. Thus, if you are on the Dining Plan, you would actually get a better value for your money by going here for dinner, which regularly costs $34.00. While the restaurant does participate in Tables in Wonderland, there are no further discounts for either Annual Passholders or Disney Vacation Club members.
The Overall Experience:
While Magic Kingdom may not have many sit-down restaurants, this lack of quantity does not necessarily mean a lack of quality. I highly recommend the Liberty Tree Tavern because it is truly the type of dining experience that you expect to get from Disney. It all starts with a great theme which is carried throughout the restaurant in the tiniest of details and creates a fully immersive dining atmosphere. This combines with food that may be simple and traditional, but is also extremely tasty and generously portioned. Along with efficient service and reasonable prices, this all helps to create a memorable dining experience that can be enjoyed by the entire family. Next time you are at the Magic Kingdom and are looking for a little break from all the hustle and bustle, lunch (or dinner) at the Liberty Tree Tavern is a great way to relax, refresh, and get reenergized for the rest of your day.
See past restaurant reviews by guest blogger Andrew Rossi.
Check out Reader Reviews of Liberty Tree Tavern and post your own too!