This time around (Get it? Around? Carrousel?), I'm going to show you what my loving Canon EOS 30D, Canon 17-40mm USM L, and I shot at Magic Kingdom, Walt Disney World.
It was an early morning and I staggered my way through Cinderella Castle into Fantasyland. Cartoon birds hovered around me, chirping classic Disney tunes Everybody Wants to be a Cat and Go the Distance but the Spanish version, No Importa la Distancia. Half awake, I delighted in seeing Prince Charming Regal Carrousel up and running (Get it? Horses? Running?). At least I thought it was running. Maybe I made it move in my mind or with my mind. I have telepathetic powers.
Standing still, I affirmed that it was the carrousel moving and not me. Taking into account the wicked awesome light and the moving subject, I went with shutter speed priority. I set the camera at 1/200 to freeze the action and ISO 400 to handle the light. Records show the camera chose f14 as the aperture.
Ready. Aim. Depress shutter button.
Alright, the lighting looks good here. I'm going to keep those settings and zoom in.
I like it. C'mon horsies, work it, work it.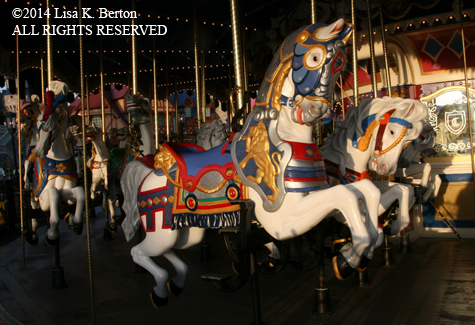 Yeah, even better. Happy with the results, I moved on in search of Prince Charming. In fact, I'm still looking.
Come on over and "Like" my Facebook page or follow me on Twitter, my handle is lisano1.