To all who come to this photo trivia game, Welcome! Along the way, the photos can make us relive memories and see details Walt's Imagineers put into everything we love in Walt Disney World!
Thank you, Mickey Eckert! I think it's cool that we broke the record too. A Disney Balloon for everybody!
Congratulations to new DVC owner, Sarah Thomas!
Challenge #291: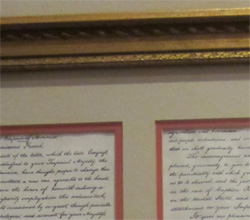 And here's the answer: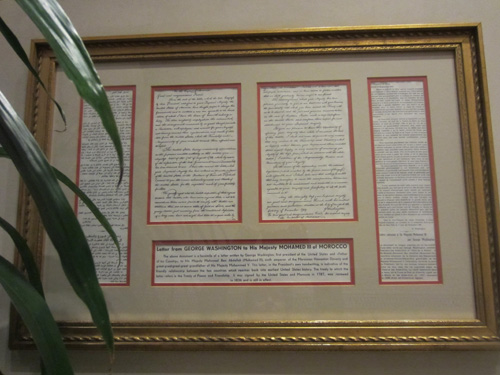 Copyright © 2011 Erin Blackwell, Canon PowerShot ELPH 300 HS, f/2.7, 4 mm, ISO-1000, 1/20 sec
This was a toughie!
It's the framed letter from George Washington to His Majesty Mohamed III of Morocco in Restaurant Marrakesh in the Morocco pavilion in Epcot. Morocco was the first ally America had in their Revolutionary War. This letter is a reproduction; the King still has the original that's been handed down through the generations. I love that.
Mike and Susan of Team Hill were the first to send in the correct answer! Congratulations to Mike and Susan and all our winners this week! Kerry A., Vicki Britt, Jill Davoll, and Jane Johnson. Each of you are entered in this month's winners' drawing.
_____________________________________________________ _____________________
Challenge #292 Where in the world is this?
Staying in the parks!

Do you know? Do you have a guess? Please send in your answer, before the end of the day on Thursday, August 15th, by clicking on the blue box below. Please do not post answers using the Feedback Form link at the bottom of this post.
See you next week, Players!


_______________________________________________________________________
Everyone who sends in a correct answer to a Where in the World Challenge this month will be entered in a drawing at the end of the month for some special AllEars® goodies!