The subject this week is cars found inside the Walt Disney World resort. This is not about the movie, Cars, whose characters are seen numerous times in and around the parks. These cars are seen on display at Epcot's Test Track and around Disney's Hollywood Studios. Street performers on Main Street USA and Hollywood Boulevard often are driving around in cars of a different era.
With Chevrolet being a major sponsor at Walt Disney World, I was a little surprised to find a Yellow Ford Taxi Cab sitting on Sunset Blvd. in Disney's Hollywood Studios. To eliminate the distractions surrounding it, I got in close and focused on the emblem of the car's manufacturer.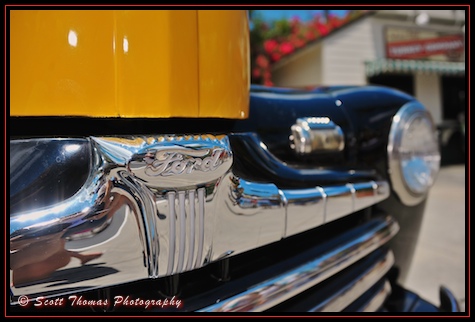 Yellow Ford Taxi Cab parked on Sunset Blvd.
Nikon D700/28-300VR, 1/3200s, f/5, ISO 200, EV +0.3, 32mm focal length.
Lisa will be here on Thursday to share her Disney Pic of the Week about Cars.