Today's article about Old Key West marks a mini-milestone in my blog history with AllEars. See if you can figure out what it is. The answer will be at the end of tomorrow's blog.
(This really is a MINI-milestone. Don't put too much gray matter into it.)
Disney's Old Key West was the first Disney Vacation Club (DVC). It opened on December 20, 1991. In the beginning it was called "Disney's Vacation Club Resort" – hardly a romantic and alluring name. It was called this for several reasons. First, since it was the first vacation club, it didn't need a unique designation. But there was a more important reason for the moniker. Disney did not like the word "timeshare." They wanted the public to know that what they were offering in "vacation ownership" was different than everyone else's product. So they decided that by including the words "vacation club" in the resort's name, it would bring this point home.
On October 1, 1995, Disney's second DVC opened in Vero Beach, Florida and on March 6, 1996 their third on Hilton Head Island, South Carolina. In addition, a fourth DVC was under construction at WDW which would become the Boardwalk Resort. It was now time to give the first DVC a unique identity to separate it from the rest. So in January, 1996, the name was officially changed to Disney's Old Key West Resort.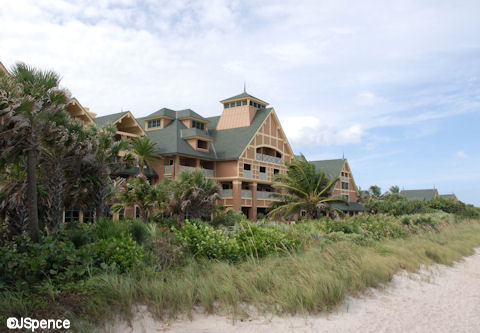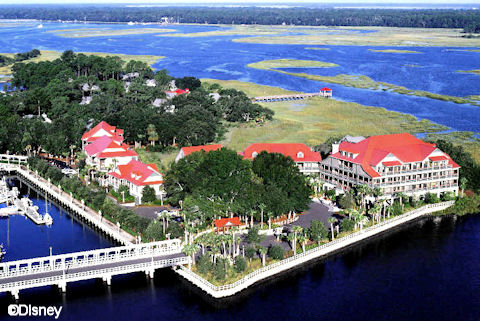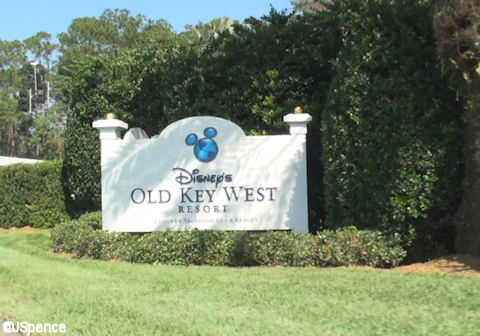 Old Key West is located off of a small road that connects Bonnet Creek Parkway with Buena Vista Drive. For many years, this road was called Community Way, but it too received a name change. After the opening of Saratoga Springs in 2004, the road was renamed Disney Vacation Club Way.
Folks enter Old Key West on Peninsular Road. Like all Disney resorts, they are greeted by a guard who will acknowledge them with a friending "Welcome home."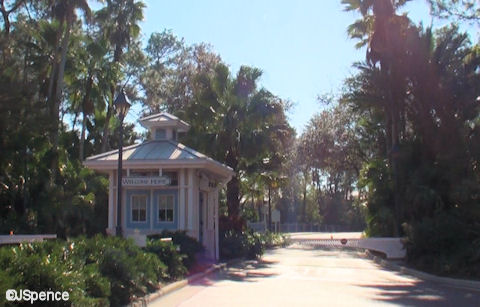 The first stop at Old Key West is Hospitality House located at Conch Flats (Conch rhymes with honk). Conch Flats is where guests will find most of the resort's facilities. Underneath the porte-cochère guests can arrange luggage handling with Bell Services.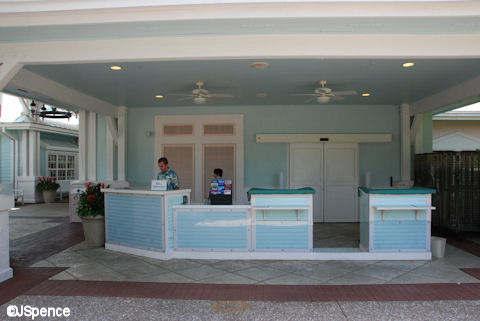 Next to the porte-cochère is one of the resort's bus stops for transportation to the parks. More on this later.
The lobby and check-in can be found off of a charming breezeway.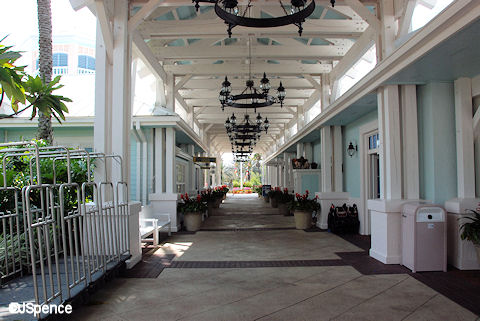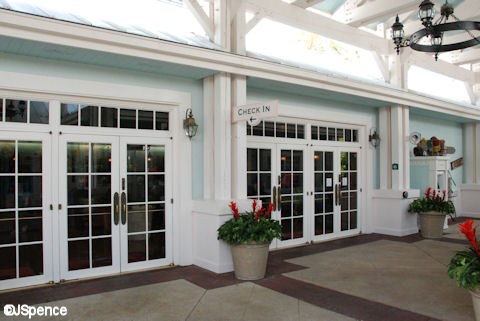 The lobby is very inviting. The floor uses dark woods that have been polished to a luster. A beautiful inlay can be found in the center of the room. The check-in desk is made up of lighter toned woods. The ceiling planks are white-washed. On the back wall, a watercolor featuring the architecture of Key West can be found. All of this combines to create a sophisticated yet welcoming atmosphere.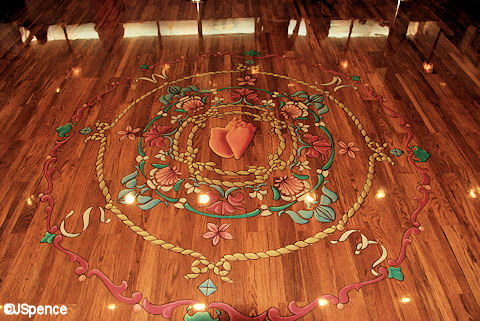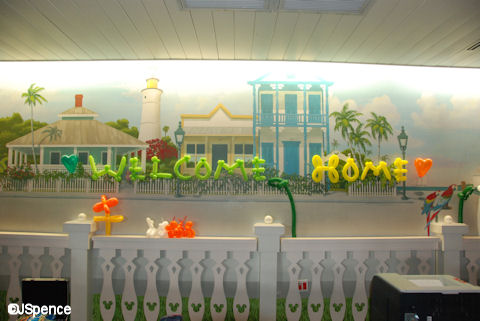 To help speed up the check-in process, Disney resorts have begun stationing one or two cast members out front of the check-in desks. In hand they carry an electronic tablet that is connected to the central reservation system. These helpful individuals have access to everything their behind-the-desk counterparts have. In essence, they can also check you into your room. Remember, the official check-in time for DVC units is 4pm.
Off of the lobby is one of my favorite spots in all of Walt Disney World. This sitting room is extremely comfortable and inviting. A fireplace, bookshelves, bric-a-brac, and overstuffed furniture combine to create a relaxing retreat. If ever the parks become too much for you, find a good book or magazine and snuggle up in this lovely lounge. A television can be found in the corner of the room, tuned to Disney cartoons for the little ones.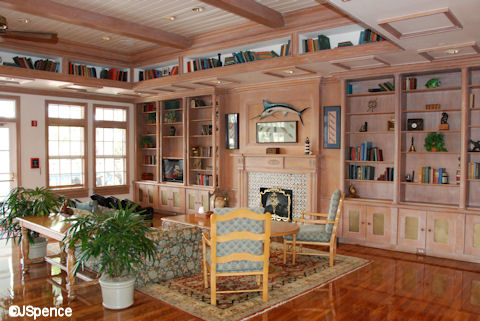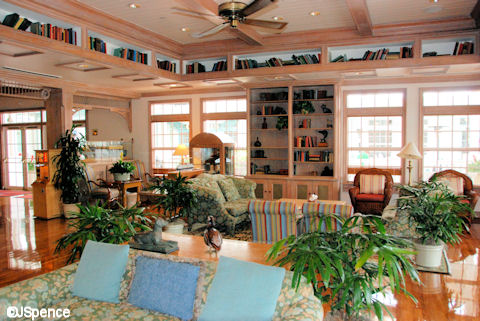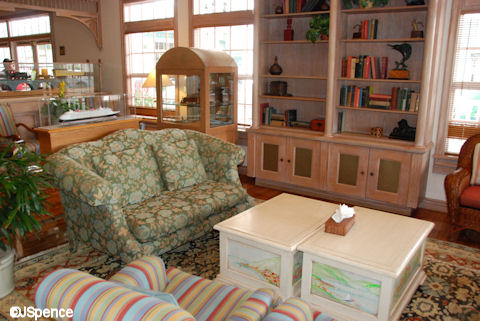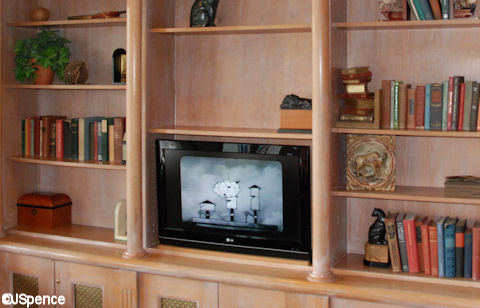 Across from the check-in lobby is Conch Flats General Store. Designed to resemble an old-time general store, the type that might be found on the island of Key West, this spot offers "cargo and provisions" for your stay. Open from 7am to 11pm, Conch Flats General Store sells a small selection of Disney souvenirs, magazines, DVC-branded merchandise, and foodstuff for your unit's kitchen.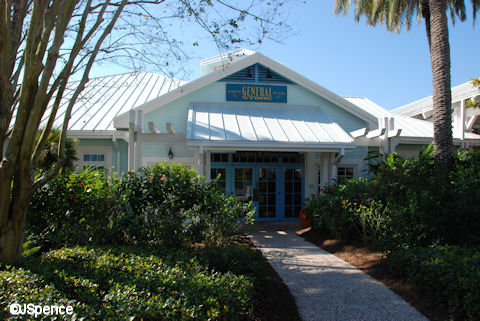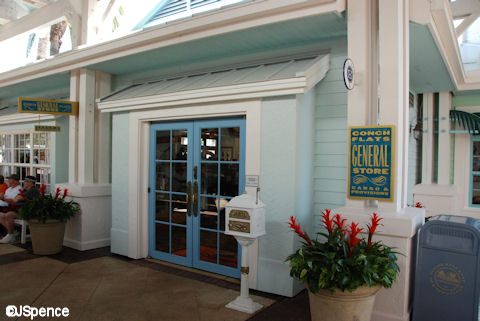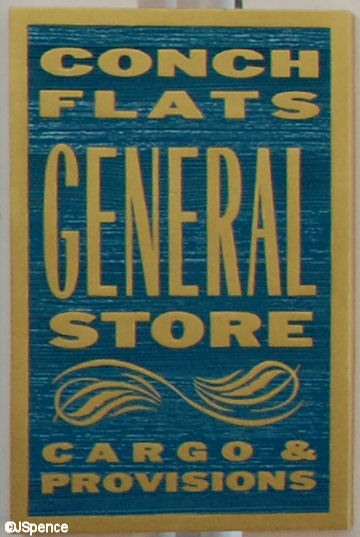 Prior to your stay, DVC members may order "provisions" by faxing a Disney grocery list to the resort. After arrival, your items will be delivered to your room. There is a nominal fee for this service. For more information, check out the Vacation Planning module on the DVC Member Website.
Next to Conch Flats General Store is Olivia's, the resort's restaurant. The atmosphere here is relaxed and comfortable. In the main dining room, a row of booths line one wall, while wood-topped wrought-iron tables and painted wooden chairs make up the rest of the seating. Nautical and Key West memorabilia adorn the walls and an attention-grabbing fan turns overhead.
The backstory for Olivia's is rather simple. Olivia was a local resident of the island and a good cook. Friends and neighbors kept dropping by at mealtime for a bite to eat. Eventually, Olivia decided to hang a shingle out by the door and turn her generosity into a profit.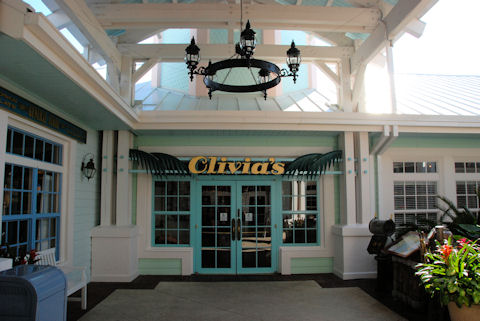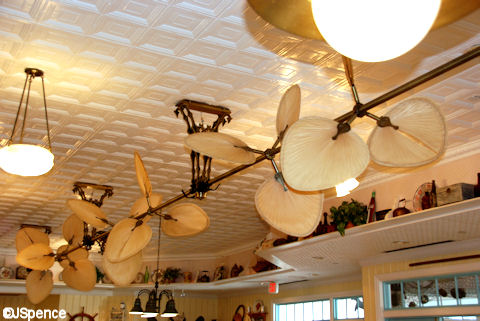 In the early years of the resort, it was the custom for members to present Olivia's with a framed photograph of their family. One by one, these pictures were added to the walls of the restaurant, eventually covering every square inch of space. However, when the dining room needed a fresh coat of paint a few years ago, most of these were removed and retired. Today, only the restaurant's lobby and secondary dining room sport these smiling faces.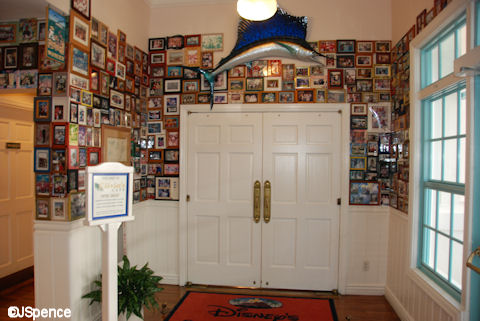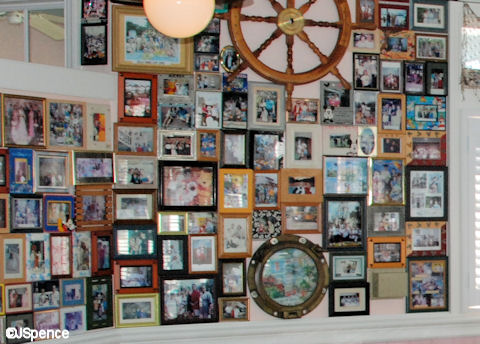 Besides the two indoor dining rooms, Olivia's also offers outside seating. When the weather is nice, this is delightful place for a meal.
I like Olivia's very much. I eat here so often that many of the cast members know me by name and treat me like family. However, I've watched these same cast members interact with other guests and I realize that I'm not being treated any differently than anyone else – everyone is made to feel at home here.
I do have one negative comment about Olivia's. The noise level can get a bit loud when the restaurant fills up. This is because the flooring is tile and there is very little fabric to absorb the sound.
Here are the current hours:
Breakfast: 7:30am to 11am
Lunch: 11:30am to 5pm
Dinner: 5pm to 10pm
Note, lunch and dinner service use the same menu. To see what is offered at Olivia's, click here.
Beyond Olivia's is a promenade that runs the length of Conch Flats. Located along this walkway is where you'll find most of the resort's recreation facilities and services.
The first stop we come to is D.V.C. Ferry. This is where you can catch a water-taxi to Downtown Disney. The hours are 10am to 11pm and the boats run every 20 minutes. The boat makes no other stops along the way. Note, if you're thinking of taking the ferry as an excursion ride only, you may be required to disembark and reload if a line has formed at Downtown Disney.
Next to Olivia's is Gurgling Suitcase. This hole-in-the-wall spot serves hard and soft drinks along with a limited menu from Olivia's.
Although the name of this establishment might seem rather strange, it actually harkens back to the days of Prohibition. As Key West is just a stone's throw away from Cuba, rum was often smuggled into the United States through the Florida Keys in false-bottom luggage – thus, "Gurgling Suitcase."
The hours of this establishment are 11:30am to midnight.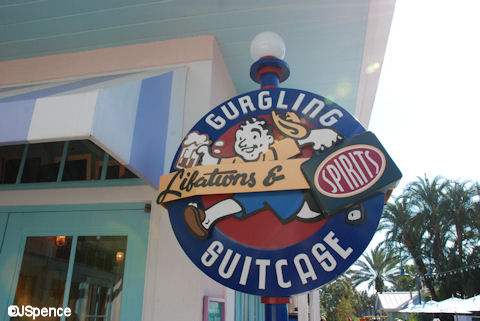 "On the way or coming back, Good's is best for meals or a snack."
This is the motto for Good's Food To Go, the quick-service establishment that satisfies the appetites of those poolside. There are also several picnic tables nearby for guests wishing to eat in a more "dignified" manner than reclining in a lounge chair. As you would expect, burgers, hotdogs, and the like are for sale here.
Good's is open for breakfast between 7am and 11:30am. Lunch and dinner is served between 11:30am to 10pm.
To see the complete menu, click here.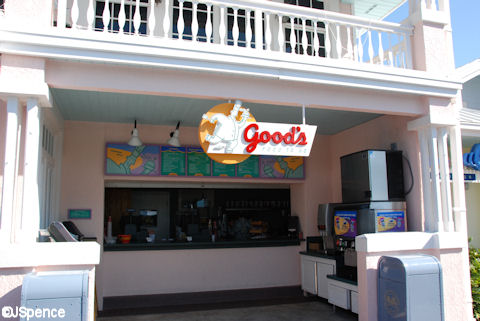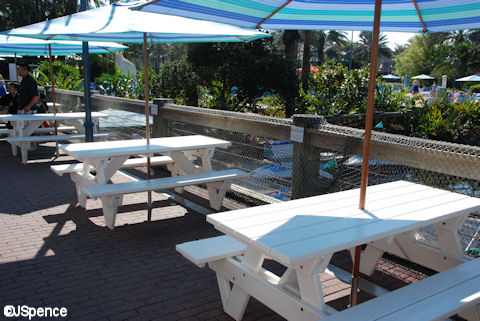 As we proceed along the promenade we come to Electric Eel Gameroom. As the name implies, this is the spot for electronic game wizardry. Although a somewhat small facility, there is still a lot of fun to be had here.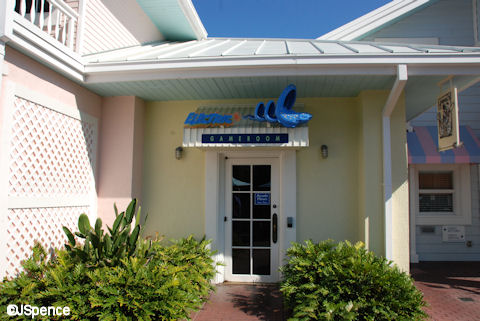 R.E.S.T. is the acronym Old Key West uses to help guests remember what is offered at Conch Flats. It stands for Recreation, Exercise, Swimming, and Tennis. To that end, Hank's Rent 'N Return can help you out with the recreation end of things. This is the place to rent a bicycle, surrey bike, pontoon boat, and a Sea Racer. Shuffleboard, tennis, volleyball, and basketball equipment can also be secured here. All of the courts are conveniently located nearby. This is also the spot to rent DVDs to play in your room.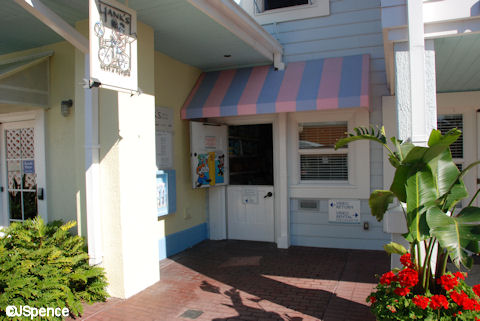 Next to Hank's Rent 'N Return is Conch Flats Community Hall. Most DVC resorts have a Community Hall and they all offer similar diversions. Games, videos, and arts & crafts are available for the younger set. Pool (or other "table" games) is on hand for the older kids. Be sure to check the Community Hall schedule to see what activities are on hand each day.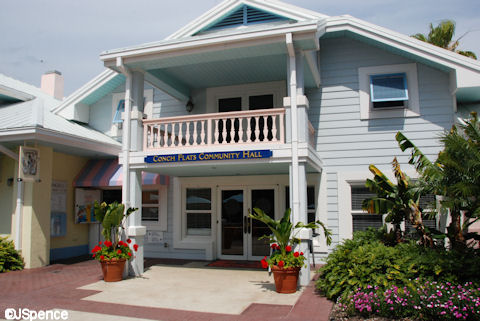 The "Exercise" portion of R.E.S.T. can be taken care of in the Exercise Room. A number of cardio-workout machines are available as well as a limited number of weight training options. For jogging trail information, check with the Concierge Desk in the lobby of Hospitality House.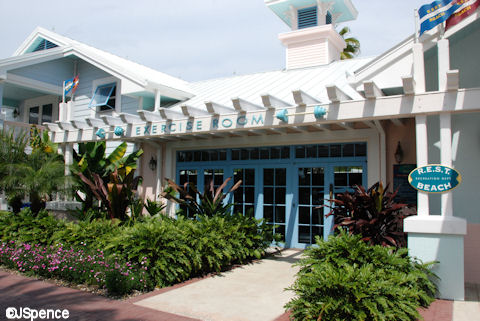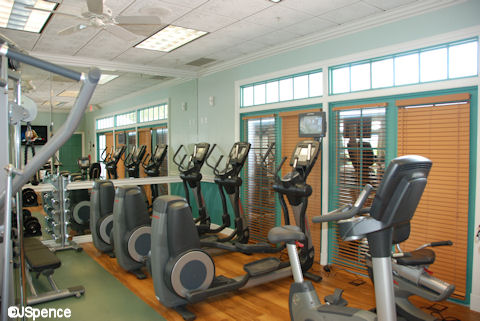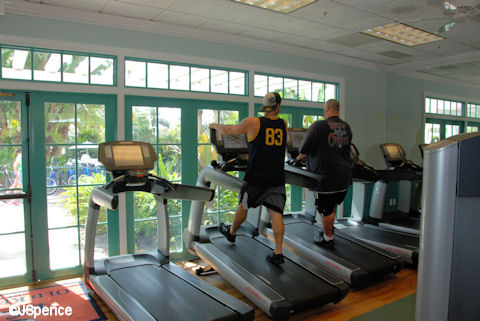 In the shadow of a towering lighthouse is the resort's main pool. The theme here is "fun at the beach" as the pool's slide is hidden inside a giant castle of "sand." The nearby playground continues this theme with more sand structures and giant beach toys such as a plastic bucket and shovel.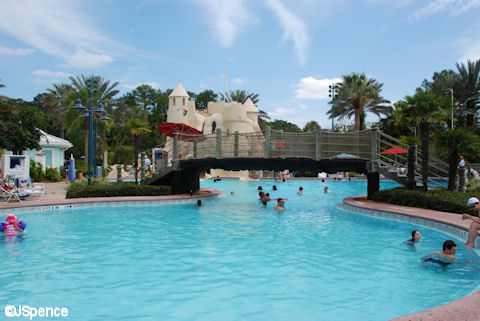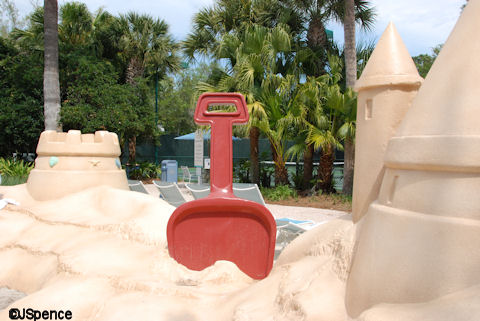 Inside the lighthouse is a sauna. To my knowledge, no other pool at Disney offers this amenity poolside.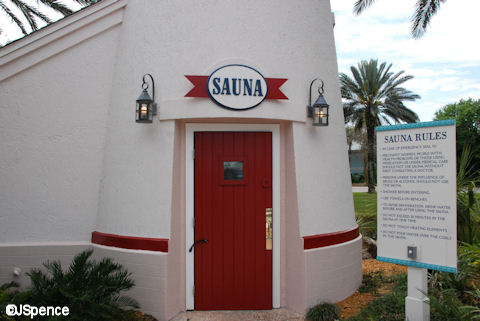 Adjacent to the pool is a children's playground with slides and other energy-burning apparatuses. Further down a path is a lovely fire pit and benches.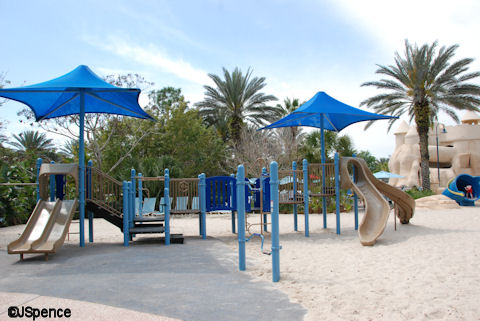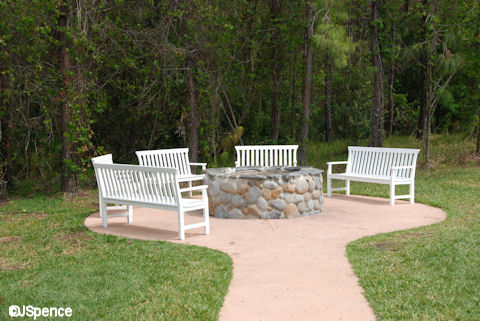 Old Key West is large. Although there are sidewalks throughout the resort, the distance from your room to Conch Flats may be more than you'd like to traverse on foot. To help you out, Disney offers an internal bus that continually circles the various sections of Old Key West, pausing at each of the bus stops. These same stops are where you'll catch a bus for the theme parks.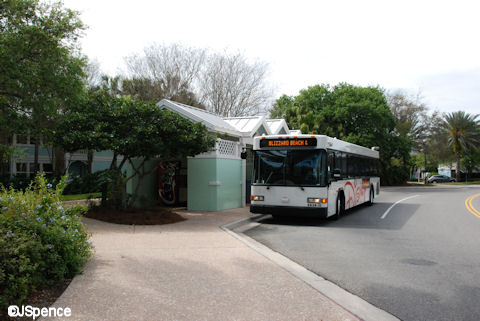 Old Key West wraps around the Buena Vista Golf course, affording many of the units a wonderful view of the greens. This layout necessitated that the various buildings be positioned along a number of "spur" roads rather than laying the property out in a circular pattern. This means that the buses must navigate in and out and around when traveling from one bus stop to the next. I am prone to motion sickness. For me, the bus ride through Old Key West is a little tough on my tummy. If you also suffer from motion sickness, I thought you'd like to know and plan accordingly.
Besides the main swimming pool, there are three other pools scattered around the resort. All of them are nice, but none have any particular theming.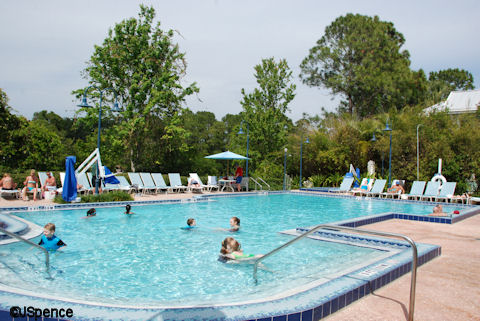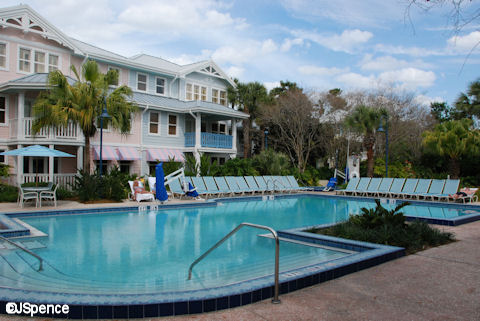 The pool located between buildings 41 and 42 offers food and beverage service at Turtle Shack Snack Bar. This spot is operated seasonally, weather permitting.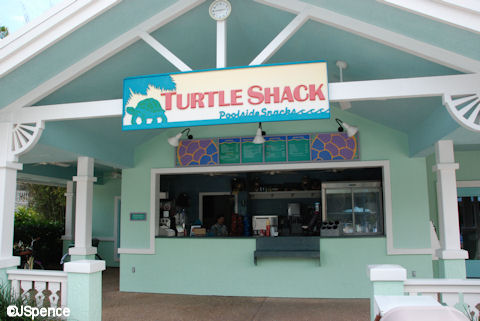 One, two, and three bedroom units at Old Key West have their own washer and dryer. Studio units do not. For them, laundry facilities can be found near all four swimming pools.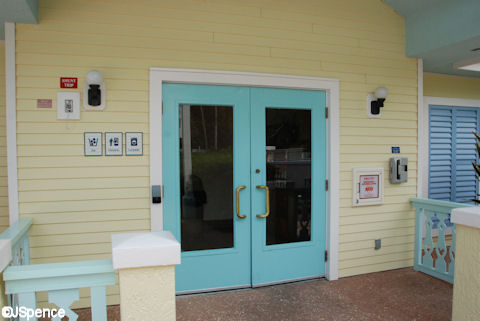 That's it for the facilities and amenities offered at Old Key West. To see a film of the overall resort, check out the video below. Check back tomorrow when I'll discuss a studio and two-bedroom unit.