Good news for Disney fans who subscribe to AT&T's U-verse services in their homes: The company announced this week that a set of new apps will allow viewers to watch Disney Channel, Disney XD and Disney Junior live on their iOS, Android, Xbox and Kindle Fire devices.
The new mobile streaming is available at no extra charge to customers who purchase cable packages that include the three Disney networks. Plus, on-demand content will be included with the service. "Phineas and Ferb" on the go? Yes, please! The ability to watch "Shake It Up" while waiting for an appointment or riding in the car? My kids, like many other Disney fans, will be thrilled.
The apps fall under the WATCH umbrella of products from AT&T, which recently launched the WatchESPN service. The new streaming apps — called WATCH Disney Channel, WATCH Disney XD and WATCH Disney Junior — are billed as "kid-friendly," though it's hard to image that most of today's children who grow up with technology will have difficulty operating any apps. Once the WATCH apps are downloaded, users will need to sign in to verify their U-verse accounts and then they'll be on their way to watching their favorite TV shows.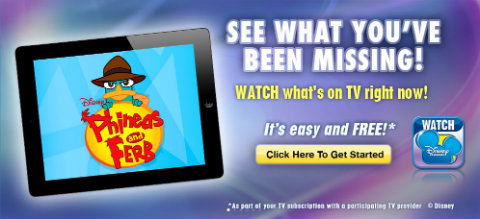 AT&T U-verse customers who prefer to watch the Disney programs online on their desktop computers can access the networks at WATCHDisneyChannel.com, WATCHDisneyXD.com and WATCHDisneyJunior.com.
According to the Orlando Sentinel, AT&T's U-verse isn't the only provider to offer the Disney WATCH apps. Others include Comcast and Cox Communications. In addition, this week it was reported that Verizon FiOS TV subscribers will get access to Disney's WATCH apps soon, as well.
Disney Channel fans have a lot to look forward to with new seasons of "Good Luck, Charlie" and "A.N.T. Farm" poised to premiere; Mickey Mouse cartoon shorts coming in June; the original summer film, "Teen Beach Movie," scheduled for July; and new seasons ordered for "Austin & Ally" and "Jessie."