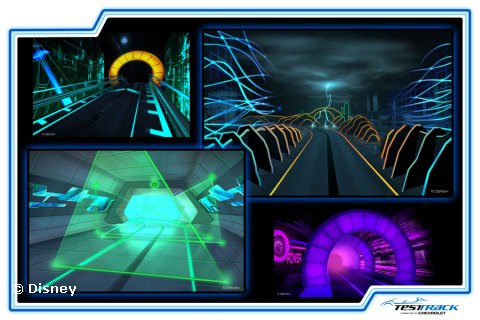 My family and I finally got to ride the new Test Track at Epcot last weekend, and — though we all still enjoy the ride — we're divided on whether we prefer the new version or the previous one.
For those who haven't read about Test Track 2.0 since it officially reopened on Dec. 6, the popular thrill ride was closed for more than half of 2012 while the inside of the attraction was re-imagined. Though the actual track for the cars remains the same, it feels altogether different with the new minimalist storyline, new futuristic imagery inside the attraction and new interactive concepts for guests to enjoy while waiting in line.
See for yourself with this Test Track ride-along video:
In the previous version of the attraction, which was sponsored by General Motors, guests were part of a storyline of testing cars by pushing them to extreme conditions, but it was in a more low-tech setting compared to the revised version today. Back then, guests were taken inside an industrial vehicle-testing laboratory filled with the loud clatter and pounding of mechanical testing devices that seemingly measured the structural designs of the cars and the safety afforded to crash-test dummies who rode in them.
Along the journey in the previous version, guests got a sense of how real passenger vehicles might be tested for braking ability or power over an inclined ramp, for example. Part of the transit also exposed guests to segments that suggested how cars and trucks are painted and exposed to extreme temperatures.
Of course, near the end of the route came a danger-avoidance steering thrill involving a semi-truck and, ultimately, the scream-provoking speed test in the open environment.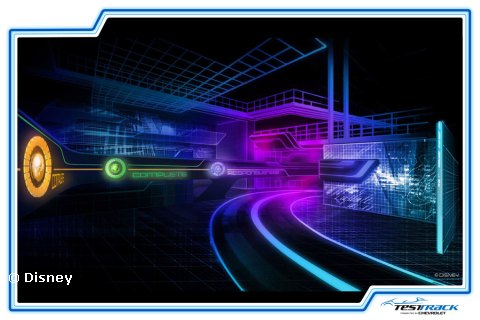 Now, though, guests enter the Chevrolet Design Center at Epcot, where they first design and then "digitally" road-test their so-called SimCars. The futuristic journey takes guests through dark sets illuminated with neon lights. Have we stepped off the grid? It sure feels like it, given the Tron-like imagery seen along the journey now.
The ride is just as physically thrilling as before (remember – it's the same track as it always has been), but gone are the realistic Imagineering components that suggested that guests are in an actual vehicle-testing facility at General Motors. For realists like my husband, that diminished part of the fun of the attraction. He thought it was akin to riding the Expedition Everest coaster without the Himalayan mountain scenes or the Yeti.
He was impressed, however, with one new part of the revised attraction that all of us – and especially our kids – found to be creative fun.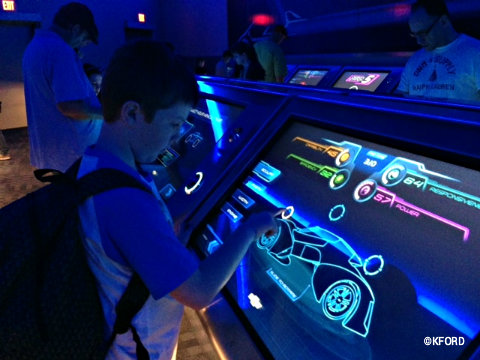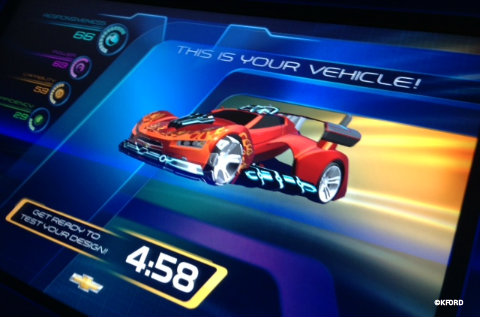 We agreed that perhaps the best thing about Test Track 2.0 is the design studio, where visitors actually draw their dream vehicles on large-screen computers and customize their shape, color, accessories, speed and more. These virtual concept vehicles are simple enough to create with touch-screen options that even young kids can do it. If there are questions, a cast member is standing by to jump in and help.
My 8-year-old daughter and 10-year-old son really enjoyed this process and even wished we had more time during this part of our wait in line before boarding our cars on the track.
During another previous segment of our queue, we also got to use a touch-screen monitor to experiment with adjusting various aspects of vehicles to see how shape, power and various physical forces can affect a car's performance. It is an intriguing concept but one that my 8- and 10-year-old kids struggled with to make it work effectively. And, unlike the interactive games offered in the queue of, say, Space Mountain at Magic Kingdom, the kids didn't have their own individual workstations at which to experiment. So, as you might imagine, multiple kids would crowd the screen and push to jump in for their turn to play.
After guests disembark from their cars on the track, they do get to interact with other similar interactive games at individual stations, and most youngsters will find this enjoyable. Were we not in a race to make our next FastPass destination, we probably would have spent much more time in this area between the ride and the Test Track 2.0 gift shop.
Is the new version worth all the hype? Certainly. It's still a fun attraction that will thrill your inner speed freak and, with the latest revision, even spark some creative fun, too, as you design your dream car.
But taking on the role of a crash-test dummy in the previous version of the attraction left quite an "¦ well, impact on us, and we'll always look back on that ride fondly, too.