A brief reminder that one last blog showcasing your photos from the Black and White Challenge will post in a few weeks. Get your images in now to make the cutoff of Friday, December 21st. You can find the details and links about the challenge and get in on the action.
It seems that I keep saying, break out of your normal vacation photography mindset and step back to see things from a new perspective, and I'm doing it again. Being creative is fun and gives you a nice boost of adrenaline. It's exciting to try something new and your friends and family will "Oooh and ahhh" like aliens from Toy Story in great awe of your talent.
Quick lessons on how to get fancy photos:
1. Remember that abstract photography is the complete opposite of photojournalism. You're not supposed to see exactly what is happening but rather pay attention to light, shadows, color, shape, and texture.
2. Keep it simple, it's easier than you might think.
The inner tubes at Blizzard Beach were loosely stacked and created a good opportunity for abstract imagery. However, from my perspective, foliage was in the way. The greenery and single brown leaf created too much information.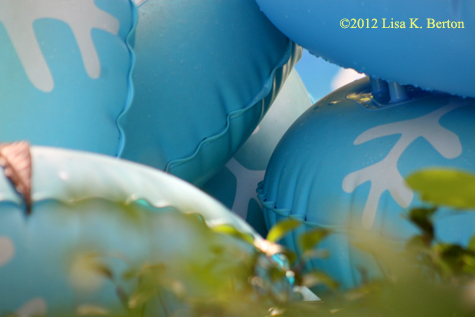 By slightly changing my point of view and a little cropping in post production, my image is now what I wanted.
3. Pay attention to patterns and designs as they are great for abstract images when you zoom in tight.
4. Use appropriate camera settings based on your desired look. Apertures like f8, f11, and f16 will provide pictures with everything in focus. Whereas f6.7, f5.6, and f4 will only sharpen one plain or focal point.
Test Track has or had depending on the rehab, a queue that leads you through a small and funky room. Triangular blue metal adorns the walls. I'm not sure what they're supposed to be, if anything specific, but they make for great abstract photos.
Points coming from various positions is fine but that void on the left and black ceiling make you stare at it and try to determine "What's back there?" That kills the whole idea of appreciating color, texture, shape, and lighting.
By physically moving and viewing the wall from a different perspective, the image is now stronger and more artistic.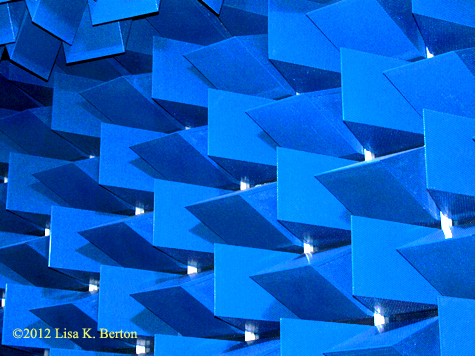 5. You can combine other aspects of photography with abstract.
Follow the neon and you'll find yourself at Soarin' over California. Cold metal, warm neon lights, long leading lines, and repetitive drilled holes form the abstract image you see here. By placing myself against the wall and angling my camera lens, I've made an adjustment to how we normally view the wall. Try it next time you're waiting in line.
Want to see more? Read my blog, Create Abstract Photos Thru Glass .
Sled on down to my Facebook page. I sometimes have contests, post questions that lead to new blogs, and showcase my non-Disney photography.