As we move closer to October 1st and the 30th anniversary of Epcot, I thought I'd dig into my archives and share some images and information.
Over 300 sculpted art works, including 154 in World Showcase, helped theme the brand new park. Blaine Gibson, head of the WED sculpting team, explains "There are many things that have to work together in creating sculpture. The art must conform to our purpose and relate to the surrounding architecture and period."
The American Adventure theater has 12 "Spirits of America". The life-size sculptures include cowboys, pilgrims and scientists symbolizing the spirit making up this great nation!
The photo below is a Disney sculptor at WED Enterprises in California creating one of the "Spirits of America".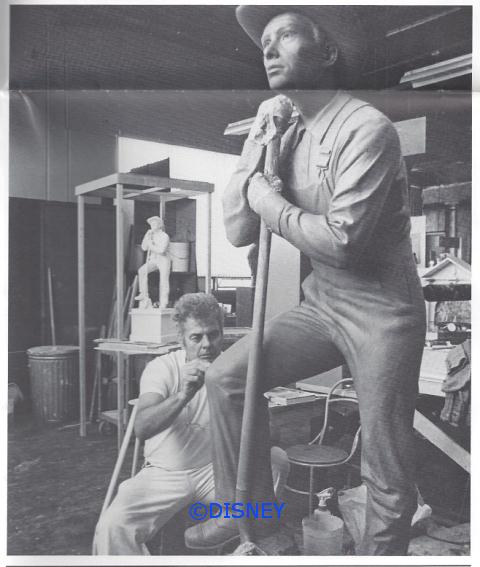 And as they are today:
These statues range in height from 5'5″ to more than 6′. Each sits atop a 3′ square base. Here is a list of the Spirits and who was chosen to represent the different categories.
Spirit of Adventure – Seaman
Spirit of Compassion – Doctor
Spirit of Discovery – Mountain Man
Spirit of Freedom – Pilgrim
Spirit of Heritage – Native American
Spirit of Independence – Colonial Soldier
Spirit of Individualism – Cowboy
Spirit of Innovation – Scientist
Spirit of Knowledge – Teacher
Spirit of Pioneering – Aviator
Spirit of Self-Reliance – Farmer
Spirit of Tomorrow – Woman and Child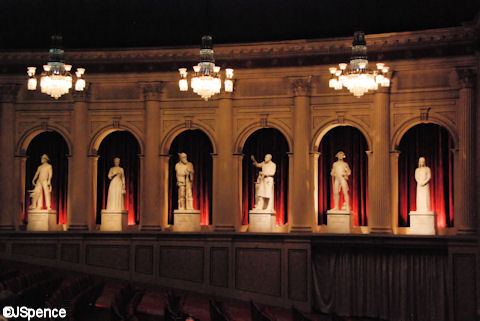 To read more about the America Adventure attraction in Epcot begin HERE!