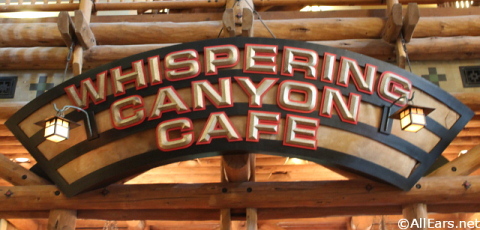 A few days ago, Whispering Canyon Cafe at the Wilderness Lodge introduced new menus for breakfast, lunch and dinner. I stopped by on Thursday to get the new menus and also to have lunch!
Special thanks to our server, Cajun Chad, and Chef Junior for their great service during our lunch!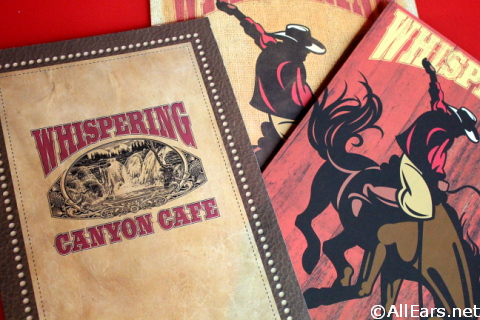 Several important notes about the menu changes before I get to the actual review…
Breakfast is basically the same as it has been.
The biggest lunch change is that the All You Care To Eat Skillet is gone! The breakfast and dinner "All You Care To Enjoy" skillets are now called "Platters".
At dinner, there are no more entrees to select from, everything is a Build Your Own All You Care To Enjoy Family Platter at $32.99/per person. The platter includes choice of 3 items (ribs, chicken, beef strip loin, fish or sausage) along with sides of fresh vegetables, Yukon gold potatoes, baked beans and corn on the cob. A dessert sampler is also included in the price!
One of the new menus items is the Fried Fish and Country Chips. With my shellfish allergy, I had to ask about the fryer oil. Unfortunately, everything fried (spring rolls, french fries and fish) is now done in the same fryer oil. I was assured there was no shell-fish in that oil, but there was fish. If this presents an issue for you, upon request, the chef can heat up a separate pot of oil for your food. However, it was explained this would take extra time.
For the kids, not much changes. There is a new item "Multigrain Grill Cheese Dippers" which turns out to be what was described to me as a grilled cheese sandwich on multigrain bread and a small serving of tomato-like soup.
Vegetarians and those with special dietary requests should make notation when you make your reservation and speak to a chef upon being seated. A few options may be available including the off menu entree Sautéed Red Quinoa Cakes. Also, at the time of this writing, the restaurant was still working on its vegetarian options.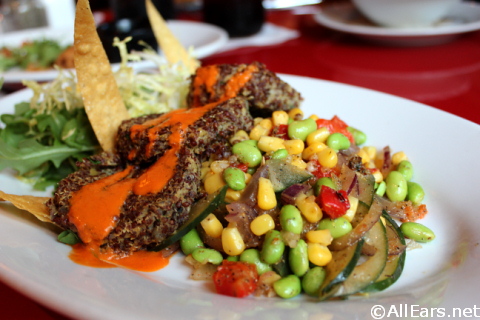 Saut̩ed Red Quinoa Cakes Рwith Edamame Salsa $16.99
Now, on to our review :
We wanted to try several different items in each category, so in addition to those, we also requested take home containers (which nicely provided us dinner).
New starters on the menu include the Yukon Potato Leek Soup and Flash Fried Navajo Bread. Now gone is the Cheddar Cheese Soup, Citrus Brine Oak-smoked Trout, and Venison Chili.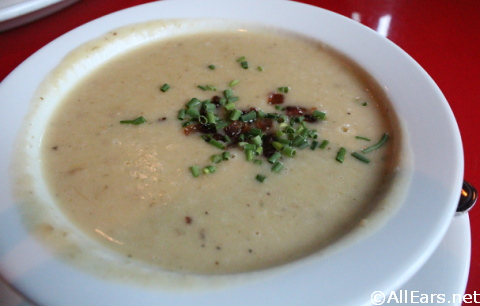 Yukon Potato Leek Soup – topped with candied smoked-bacon $7.49
The Soup was yummy! It was creamy, almost thick, with a slight smokey flavor. Both of us really enjoyed it. Sometimes soups are over-salted for our tastes but this one wasn't. It was "bowl-lickin" good.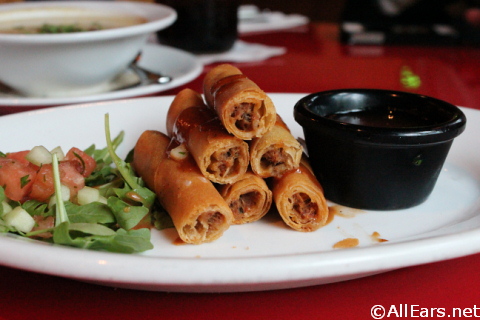 Slow-Smoked Pork Spring Rolls Sweet Chili dipping sauce $11.49
We found the pork spring rolls to be a disappointment. While they certainly looked like there was pork inside, we never tasted any. Dipping it in the accompanying sweet chili sauce did nothing to enhance the pork flavor. This starter was more like crispy spring roll (minus the filling) dipped in the sauce. If there had been more pork, there hopefully would have been more flavor.
The new sandwich on the menu is the Chuck Wagon Angus "Bacon and Egg" Burger. New entrees include the Western Salad, Fried Fish and Country Chips, Tuna Melt, Smoked Salmon Quesadilla and the Kansas City-style Smoked Pork Ribs.
Gone are the Grilled Barbeque Chicken and Field Greens Salad , Griddled Meatloaf Sandwich and Whiskey Maple-Glazed Trout
Our Selections: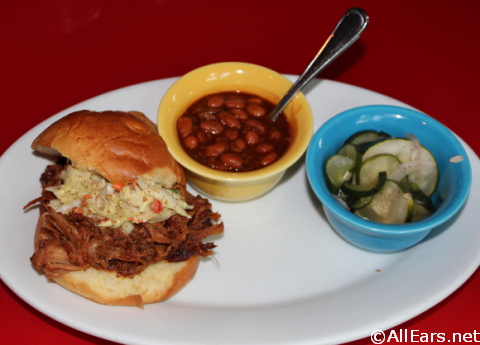 Slow-smoked Pulled Pork Sandwich – Cowboy Beans, Cucumber Salad $12.49
We both really enjoyed the pulled pork. It was slightly sweet, but not too much. Very lean (little fat) which is a huge plus for us. The one thing the menu didn't say was that the pork came topped with cole slaw with a kick! So, if you don't like spicy heat, ask for the slaw on the side or not at all. The pork sandwich also came with Cowboy beans – nothing of note to report here expect there were not overly sugared (yea). The cucumber salad was a pleasant surprise, sweet, tangy and flavorful. Almost like being bread and butter pickles.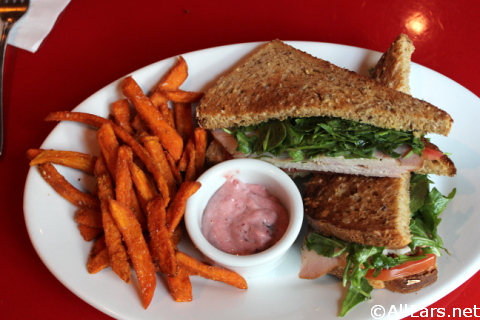 House-smoked Turkey Sandwich – toasted Multigrain bread with arugula, Tomato and cranberry mayo $12.49
When the sandwich arrived I wondered, where is all the turkey You'll understand why when you see the next photo. It's the Turkey and Swiss sandwich from the Magic Kingdom's Main Street Bakery that I enjoyed last week!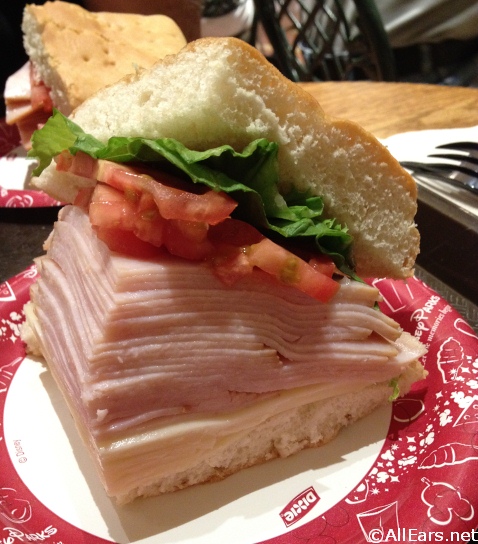 " />
Turkey and Swiss Sandwich – Main Street Bakery – Magic Kingdom $6.99
Needless to say, before I even took a bite, I was quite disappointed. I found the smoked turkey was not at all tender and for me, the smokey flavor was overpowering. I eat smoked turkey sandwiches at lots of places, but this one just didn't do it. That said, the sweet potato fries were great!!!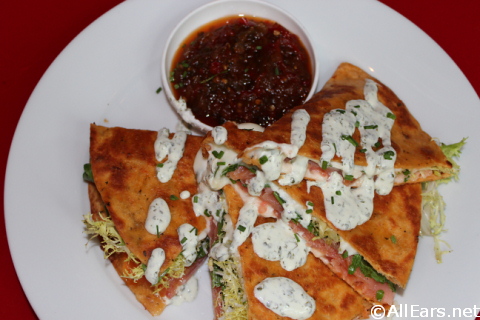 Smoked Salmon Quesadilla – with arugula, frisee, tomato, goat cheese, mozzarella and a side of pepper jam $16.99
The salmon quesadilla was very rich with lots goat cheese — it was very filling and went a long way. The pepper jam jelly was not spicy and nicely complimented the quesadilla It would actually make an excellent breakfast or brunch dish.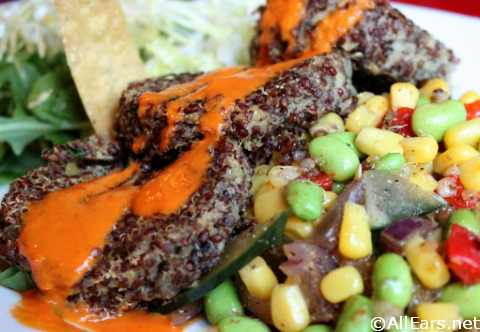 Saut̩ed Red Quinoa Cakes Рwith Edamame Salsa $16.99
Saut̩ed Red Quinoa Cakes РThe winner on this dish is really the edamane salsa Рit is full of flavor! Just the right mixture of edamane, corn, red pepper, cucumber, and onion. The sauce was a little spicy with a bit of heat and that enhanced the flavor of the quinoa cakes. I had this item when it was first introduced some time ago. I give kudos to the chefs for creating an entree that is not the normal vegies and pasta or vegies and tofu. Even as a non-vegetarian, I really enjoy it! I was glad to learn while not on the menu, it is usually available upon request.
And now dessert………….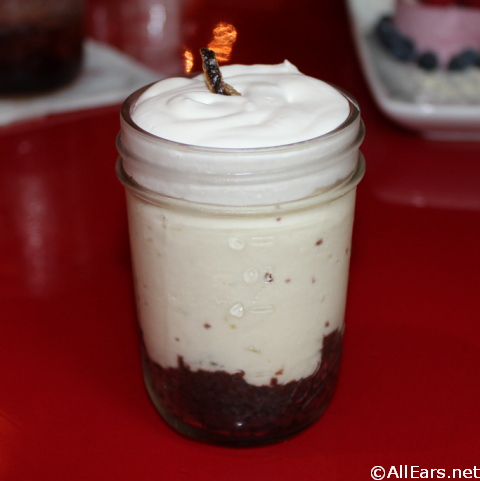 Jalapeno-Lime Cheesecake – with candied jalapeno $6.99
When it appeared in a short mason glass and not the traditional wedge on a plate we were surprised. Creamy, thick with real pieces of jalapeno inside. Tangy but not hot. The brownie on the bottom was hard to get to but complimented the cheese cake nicely.
No Sugar Added Seasonal Mousse – $6.99
The no sugar added berry mouse is by far one of the best I have tasted. Actually, both of us really enjoyed it! Full of flavor, not overly sweet, and the berries were fresh and tasty!
All You Care To Drink Milkshakes are still available!
Overall we really had a fun time at the Whispering Canyon Cafe. There was lots of ketchup shuffling going on between tables and folks seemed to be having a good time.
Remember our taste buds are not yours and experiences vary. I would recommend giving lunch a try!