For years the Coral Reef Restaurant was a mainstay whenever I visited Disney World; no vacation was complete without dining there. Whenever someone would ask what one of my favorite Disney restaurants was I would answer without hesitation saying the Coral Reef Restaurant. However, a few years ago I had a couple of less-than-stellar experiences there; the food quality and quantity, the menu choices, and even the service was not nearly as good as I had been accustomed. It was not just me. I discovered that other friends and family members had disappointing experiences at the Coral Reef Restaurant. As a result, I stayed away for quite some time but recently decided to give it another try. Much to my surprise and delight, I found that the Coral Reef Restaurant had vastly improved since my previous visits and was once again how I remembered it when it was among my favorite restaurants at Disney World.
Overview:
The Coral Reef Restaurant is truly a unique dining experience among all the restaurants at Disney World. While the food certainly contributes to the overall experience, it is the view into the aquarium that makes dining here so special.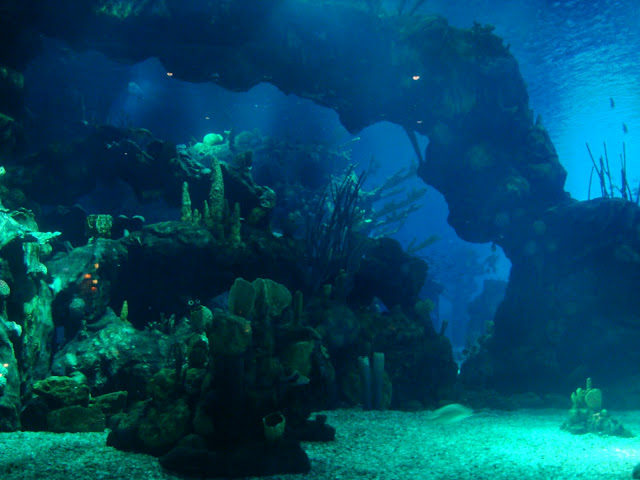 The 5.7 million gallon aquarium is the second largest in North America (next to Atlanta). It is so big that Spaceship Earth could fit inside of it with enough room to spare to drive a Disney bus around the perimeter.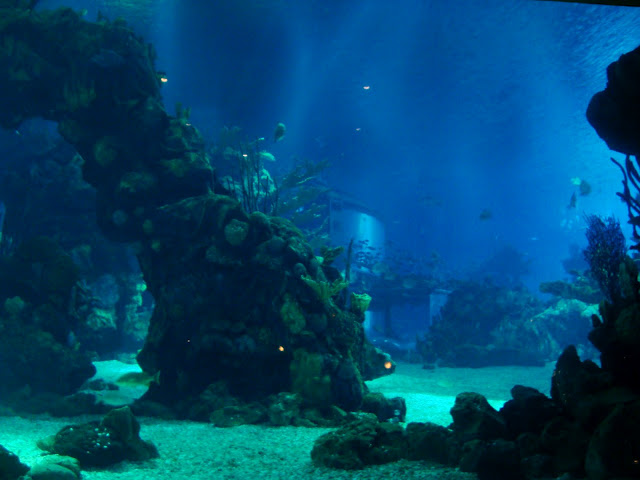 In fact, if you were to take an inch of water from the surface of the aquarium it would be enough to fill a standard size swimming pool.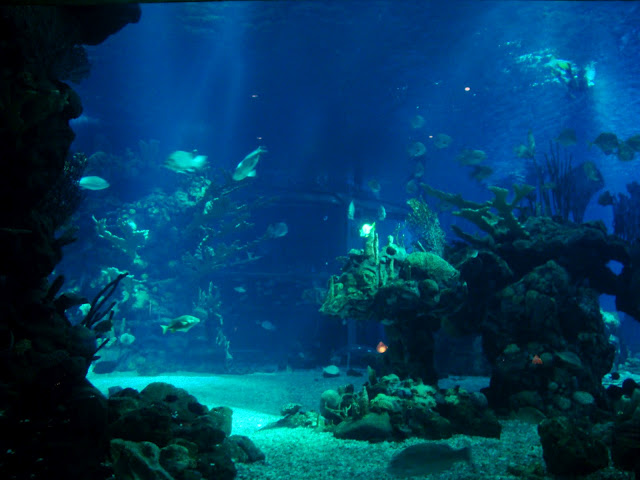 The glass through which diners look through is eight inches thick and is made of special acrylic designed not to magnify or distort the view.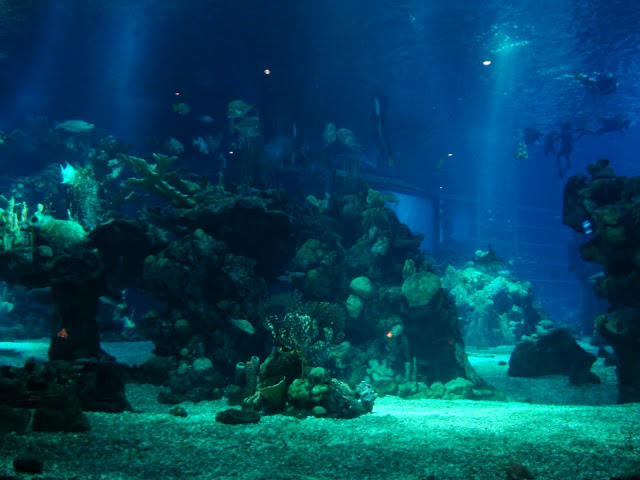 Inside, the aquarium contains nearly 3,500 individual specimens of marine life comprising 65 species, including everything from sea turtles to sting rays to sharks. Each table in the restaurant has a fish-finding guide to help diners identify the different types of marine life they see swimming by. This is the same underwater environment that be viewed on The Seas with Nemo and Friends attraction as well as from the observation deck of Seabase, providing a different angle from these other locations. This massive aquarium gives the restaurant a certain sense of grandeur and wonder; there is just something about the underwater world that fascinates us.
Atmosphere:
I would describe the Coral Reef Restaurant as being family-friendly upscale. The restaurant's subdued lighting and predominantly blue-green color palette give the restaurant a more elegant and intimate feel.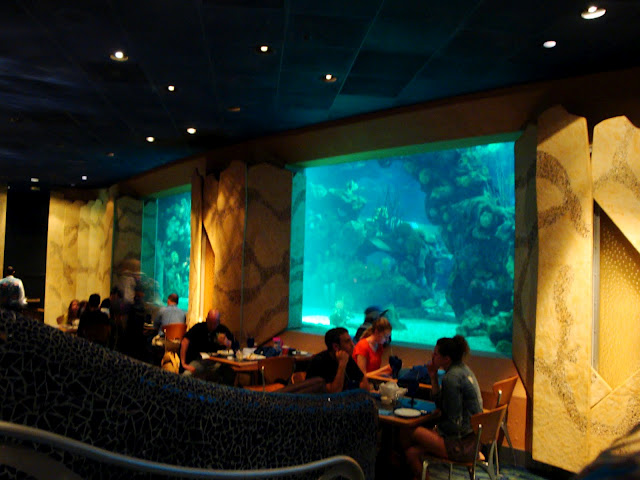 At the same time, however, there are more whimsical touches (such as the light fixtures shaped like shells) and children of all ages are greatly entertained watching the various marine life swimming past throughout their meal.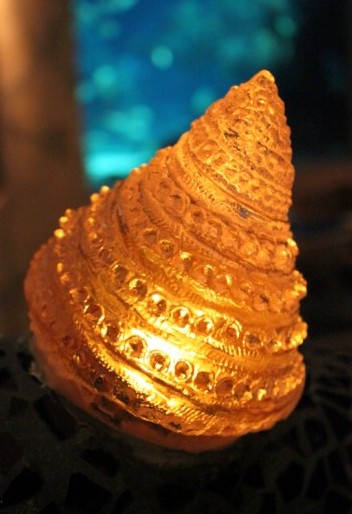 In this way, the Coral Reef Restaurant provides a great atmosphere for those couples looking for a romantic night out but at the same time provides a fun and entertaining environment that can be enjoyed by the entire family.
The restaurant has a definite underwater theme, but with a more artistic and abstract flair. This is evident as soon as you enter the waiting area. It is this area that helps set the tone for the rest of the restaurant and begins to immerse you in the undersea environment. Here you will notice that walls move in a curved, wave-like pattern and the floor is covered with a beautiful and intricate seashell mosaic of blues and greens that is carried throughout the rest of the restaurant.
There is also a variety of artwork meant to resemble various fish and marine life.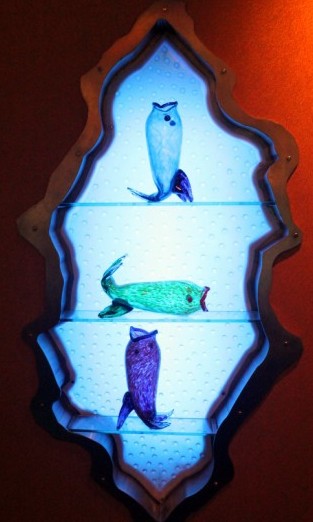 The aquarium is certainly the main allure of the Coral Reef Restaurant and, despite the dining room's large size, every table offers a great view.
The tables are all positioned to face the aquarium and arranged on multiple levels. As you move further away from the aquarium windows the tables become more elevated, meaning that tables even at the very back of the dining room have an unobstructed view.
In fact, it might actually be better to be positioned further away from the windows as that affords a larger perspective of the aquarium as opposed to being right up against the glass.
The constant visual of the fish swimming by makes for a very calm and serene environment for your meal. The restaurant's subdued lighting and predominantly blue-green color scheme make the dining room a cool escape from the hot Florida weather. The Coral Reef Restaurant is a perfect example of how Disney restaurants help to transport and completely immerse you in a new environment; dining here almost makes you forget you are in the middle of a theme park. This restaurant is a great way to take a break from the all the hustle and bustle and all the crowds. It provides an upscale and quiet, yet relaxing, environment to enjoy a meal while at the same time taking in the majestic beauty of the undersea world.
The Menu:
It should come as no surprise that the Coral Reef Restaurant features a menu that is predominantly comprised of seafood dishes. That being said, there are still a variety of choices that will appeal to seafood and non-seafood lovers alike. While the lunch and dinner menus contain some subtle differences, the appetizer offerings are the same for both.
The appetizers include several different seafood offerings such as Crispy-Fried Shrimp ($11.99) with Coral Reef slaw and a spiced rémoulade, Crab Cakes ($11.99) with a tropical fruit salsa, Fish Tostadas ($8.99) with cabbage, avocado-cilantro cream, and fresh lime, a Rustic Seafood Stew ($11.99) with clams, mussels, white fish, and toasted ciabatta, Creamy Lobster Soup ($7.99) made with tarragon and brandy, Mixed Field Greens ($6.99) with seasonal fruit, blue cheese, candied walnuts, and a balsamic vinaigrette, and, for those who might have difficulty picking just one appetizer, the Appetizer for Two ($16.99) that includes the crab cakes, crispy-fried shrimp, and the creamy lobster soup.
The entrée offerings, for both lunch and dinner, tend to lean more toward the gourmet side, with an emphasis on presentation, the combination of different flavors, and the use of lesser-known ingredients that help give their dishes a little more exotic flair. If you are in the mood for seafood, this is certainly the restaurant for you. Both the lunch and dinner menus offer a wide variety of fish prepared in many different ways including an Orange Ginger-Glazed Scottish Salmon ($22.99) with a vegetable stir-fry, Grilled Mahi Mahi ($24.99) with shrimp, hearts of palm, jasmine rice, cilantro, and a coconut-lime sauce, Seared Rainbow Trout ($19.99) with a warm salad of white beans, arugula, tomatoes, crispy bacon, aged balsamic vinegar, and brown butter, and the Coral Reef Lobster Orecchiette Pasta ($26.49) with white cheddar cheese and basil oil.
If you are in the mood for something other than seafood there is the Seared Chicken Breast ($21.99) served over spaetzle finished with smoked Bacon and chicken broth, Braised Pork Shank ($25.99) with couscous and spring vegetables, Grilled New York Strip Steak ($31.99) served with roasted potatoes, mushrooms, spinach, and a red wine sauce, and, for vegetarians, the Vegetable-Potato Strudel ($18.99) with a tomato compote and basil oil.
The only difference between the lunch and dinner menus is that the lunch menu features a Caesar Salad ($11.99) that can be served with chicken breast ($15.49) or with shrimp ($17.49) while the dinner menu contains a Pan-Seared Sustainable Seasonal Catch (market price) served on basil risotto with bay scallops, a warm tomato salad, and a white wine butter sauce.
There are a good variety of dessert options as well including the restaurant's famous Chocolate Wave ($8.49), a Key Lime Mousse ($7.99) with roasted pineapple and mango sauce, Classic Vanilla Crème Brûlée ($7.99), a Baileys and Jack Daniel's Mousse ($7.99), and a Cherry Cheesecake($7.99).
Whenever I dine at the Coral Reef Restaurant I always start my meal with the Creamy Lobster Soup. This is my favorite lobster bisque that I have had anywhere in Disney World and maybe anywhere outside of Disney as well. For me, the best kind of lobster bisque is that which has a definite lobster flavor but without having too strong of that seafood/shellfish taste. I like bisques that tend to be more on the thicker, creamier side and that is exactly what the lobster soup at Coral Reef Restaurant is like.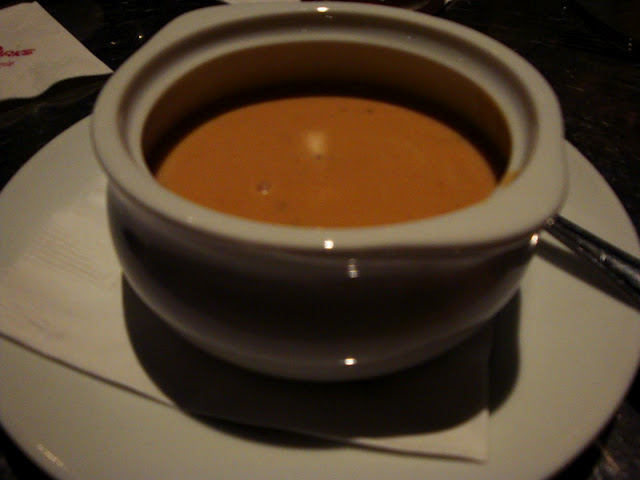 In addition to its creamy consistency and flavor, there is just the slightest hint of brandy that gives the soup just a little kick. In addition, there are very large chunks of lobster meat that ensure the flavor of the lobster is still present. This is one appetizer that is certainly very rich and filling. Having one bowl all to yourself could easily fill you up before even having your entrée. The soup is big enough that it can be enjoyed by two people.
When deciding on my entrée I enquired as to what the Pan-Seared Sustainable Seasonal Catch was and was informed that it was salmon. I immediately decided that this was what I was going to get for my meal since salmon is one of my favorite types of fish. This entrée has changed slightly since I got it just about a month ago. The fish now comes served on basil risotto with bay scallops, a warm tomato salad, and a white wine butter sauce. When I got this entrée, however, it was served with a wild mushroom risotto with bay scallops and a parsley-truffle oil.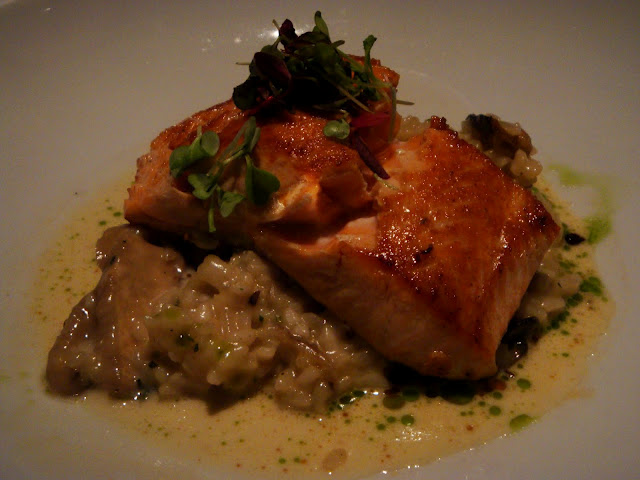 The salmon was prepared absolutely perfectly so that it was slightly crispy on top but still nice and moist inside. It was also a very generously-sized piece of salmon, large enough that I was not able to finish it all. Salmon itself is a fairly mild-flavored fish, so it was the risotto that really enhanced the overall taste and really made the dish what it was. It is no stretch to say that the wild mushroom risotto was one of the richest, creamiest risottos I have ever tasted. I am not usually the biggest fan of mushrooms, but here they really complimented the salmon quite nicely without overpowering the flavor of the fish. The bay scallops in the risotto were very tender and were small enough that they might have gone unnoticed if not mentioned on the menu, but they added just the slightest bit of extra flavor to the dish. The parsley-truffle oil had almost the flavor of a light pesto, which paired very nicely with both the risotto and the salmon. Overall, this was a very elegant dish, not only presented beautifully but also featuring a tremendous combination of flavors and textures.
For dessert I chose one of the menu's signature items, the Chocolate Wave. This dessert is akin to a chocolate soufflé and features a warm dark chocolate cake with a white chocolate Grand Marnier center that oozes out when you cut into the cake. The cake itself is so moist that it seems as though it can literally melt in your mouth. While the white chocolate filling has a slight hint of Grand Marnier I did not find it to be too overwhelming, its slight citrusy flavor giving the dessert just an extra little kick. This is definitely a rich, decadent dessert and, after having a filling meal, can easily be split and enjoyed by two people.
Service:
The tremendous service I received was something that definitely stood out on my most recent visit to the Coral Reef Restaurant. While I have never had bad service here in the past, I found my server on this visit to be especially attentive. Even though she was waiting on several tables, my sever took time to explain several dishes on the menu and offer her own recommendations. She was also very accommodating. When another member of my party noted that we would be splitting the lobster soup she immediately offered to bring it in two separate bowls instead of sharing out of the same one. She also had no problem with substituting various items on the menu when another member of my party wanted to try the grilled mahi mahi but have it with the mushroom risotto instead of the jasmine rice that was listed on the menu.
I also found my server to be very pleasant and personable. She was from Hawaii and we quickly struck up a conversation about the new Aulani resort. Most importantly, my server was constantly checking in on us to make sure we were enjoying everything with our meal. I could tell she was truly passionate about her job and it made my experience here all the better.
Dining on a Budget:
The Coral Reef Restaurant is certainly not the cheapest dining option at Epcot, but you definitely get what you pay for in terms of both atmosphere and food quality. If you are looking for a truly special and unique dining experience that can be enjoyed by your entire family, then it is worth splurging a little to dine here. That being said, there are some ways to dine here without completely breaking the bank. One option that I would recommend is making a meal out of appetizers. The Creamy Lobster Soup for $7.99 is absolutely huge and very filling. Combining that with another appetizer would most likely be more than enough for a meal. The Crispy-Fried Shrimp for $11.99, the Crab Cakes for $11.99, and the Rustic Seafood Stew for $11.99 are all other appetizer offerings that are more economical than ordering an entrée. The best value is probably the Appetizer for Two ($16.99) that includes the crab cakes, crispy-fried shrimp, and the creamy lobster soup. Ordering this as a meal for one person would probably be more than enough food.
The Coral Reef Restaurant is on the Disney Dining Plan and is only one table service credit for both lunch and dinner. This restaurant is definitely one of the better values when using the dining plan, a great way to get the most for your money. The restaurant also participates in Tables in Wonderland and thus offers members a 20% discount. Unfortunately, the Coral Reef Restaurant does not offer discounts for either Annual Passholders Disney Vacation Club members.
The Overall Experience:
The Coral Reef Restaurant is truly a dining experience; while the food is fantastic, it is just one aspect that makes the restaurant so special. The atmosphere is like none other found in Disney World, one that is so unique and so immersive that you will almost completely forget that you are in the middle of a theme park. This is a restaurant that I have dined at many times, having some great experiences but also some less-than-stellar experiences in recent years. After staying away for a while I am happy to say that the Coral Reef Restaurant has returned to a position of prominence that it once enjoyed. Although it had fell out of favor with me for some time, I can now say that the Coral Reef Restaurant is back on my list of must-do Disney restaurants.
See past reviews by Guest Blogger Andrew Rossi.
Check out Reader Reviews of Coral Reef Restaurant and post your own too!