The simple pleasures in life occasionally are overlooked like the saltiness of fresh sea air. It is unfortunate that for a countless number of people, something as enjoyable as sitting down to a good meal is rather difficult due to allergies and dietary restrictions. I myself cannot tolerate things like black pepper, white pepper, and onions. Nowadays it feels like food allergies are more abundant than ever but then again it just may be the result of incredible modern day medical care that we are able to pinpoint these problems.
A smart restaurant trains its staff to properly handle a customer's allergies and restrictions. Those are the ones I revisit. The rest get a letter or phone call informing them of a bad situation. Luckily, Disney Parks takes the matter very seriously.
When you first make your Advanced Dining Reservation at Walt Disney World, be sure to tell the Cast Member if you call 407-WDW-Dine or to enter the info should you book it online about any and all food allergies and restrictions. Sometimes I call and other times when it's late at night and I have finally made a decision, I book online. I recommend calling (you can call after booking online) if your problem doesn't fall into one of these categories.


Checking "Other" does not open a box for comments.
If you're like me and you've had your fair share of both good and bad experiences, you might want to reach out to Walt Disney World's Special Diets Team, a department that only handles dietary requests. I'll save you the extra step I took in finding these folks. Write to the team at [email protected] Along with a pre-written letter about talking to chefs and how best to meet your needs, you'll also receive a form to fill out and fax back. The Guest Allergy/Dietary Request Form requires your contact info, the specific allergies and/or intolerance, and Advanced Dining Reservation number/location/date. Once your fax has been received, it is their job to send the info to each restaurant listed.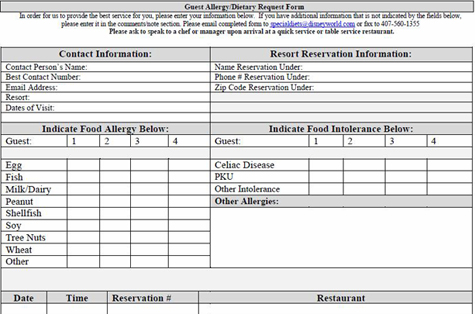 I asked during my trip in May if my list was received at every restaurant noted. No one could confirm but rather said they get requests all the time and would make me something to suite my needs.
For those wondering, I ate at Coral Reef, Sci-Fi Drive-In, Crystal Palace (a friend's reservation), Nine Dragons (walk-in), and Bongo's Cuban Cafe. Everything went very well at Coral Reef and the Sci-Fi. I waited 30 minutes at least at Crystal Palace to speak with the only chef on duty. I've never waited that long anywhere before. Nine Dragons' did a great job especially since I walked in without warning them ahead of time. Then there's Bongo's which failed miserably. I never saw a chef or a manager until the end when I requested to see one. They washed a marinade off the chicken and tried serving it as "fresh." Thankfully I have a keen eye and only took a tiny bite before calling the server.
Households that keep Kosher should call 407-939-3463 at least three days in advance for sit-down restaurants. Pre-packaged meals come from Webermans and are available at select counter service eateries.
Whenever I check in at a restaurant, I first tell the host or hostess that I have restrictions. She or he might not tell my server or more commonly, tell me to inform my server. Usually the server will ask for details and when I say it's complicated because I don't fit any list they have, he/she runs frantically to find a chef. See, in addition to what I can't tolerate, there's a crazy long list of restrictions as well. Most chefs are eager to please guests. If you come across one who gives you a hard time, inform your server that you need to see the manager.
As for counter service options, I approach a cash register-operating Cast Member and tell them I have an allergy. Out comes the manager or chef with the all-powerful book of ingredients. I love the book. It answers all my questions and I can zip thru it quickly because I know what I can't eat.
Give yourselves extra time for dining. In order to meet your needs a chef may have to gather ingredients from another kitchen and personally oversee your meal from start to finish. I find that it is worth the wait and you'll find that you got more food than everyone else.
Next week, I'll go over my dining experiences at the Disneyland Resort.
Have you seen my Facebook page?