I believe that everyone had fun coming up with their Top Five Attractions in Walt Disney World. As many of you commented, it was not an easy task to come up with that list.
Well, put your thinking caps back on (and make sure your brain is connected to your stomach) because now it's time to come up with your top places to eat in each of the four Walt Disney World Parks; both full service restaurants and counter service locations. However, we're going to do one park at a time.
We're going to begin with the Magic Kingdom and I'm going to make this a bit easier on you and cut the list to your top three in each category rather than top five.
So, here's my list: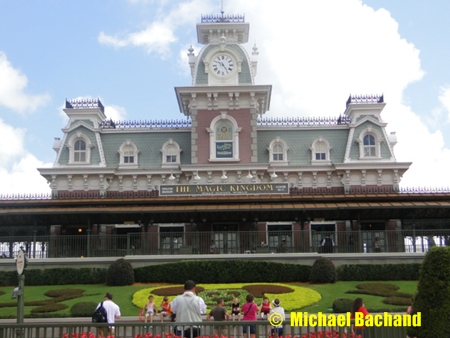 Full Service Restaurants:
Counter Service Locations:
2) Pecos Bill
3) Cosmic Ray's
My comments: The Liberty Tree Inn is by far my favorite full service restaurant in the MK. I really love the food and atmosphere there. Tony's is a fun place to eat and I try to get a seat looking out onto Main Street. What a great place to enjoy a relaxing meal! Another thing I like a lot are the hot dogs they serve at WDW. That's why Casey's Corner is at the top of my list of Counter Service locations.
OK, now that I have told you my top three, what's yours? I'd love to know. Also, you can add whatever comments you want to help us appreciate your choices.
And you could win an AllEars® baseball cap. I will take all the names of those who post a comment (see below) with your list, I will put them in a hat and randomly draw the name of the lucky winner. The only rules are that you must reside in the US, be 18 years old or older and you must provide your email address so I can contact you should you win.
All comments must be posted no later than Sunday, June, 6th, 2010 in order to be eligible to win the AllEars® baseball cap. Note, you can still post comments after that date, you just won't be eligible to win a prize. The winner of the AllEars® baseball cap will be announced the following Sunday.
To make things a bit easier for you can just copy and paste the following into the Post A Comment section below and add your information:
_________________________
Full Service Restaurants:
1)
2)
3)
Counter Service Locations:
1)
2)
3)
Your comments:
_________________________
In the coming weeks I will blog on my favorite my top places to eat in Epcot, Hollywood Studios and the Animal Kingdom and my favorite parades/fireworks and entertainment. Also, let me know if you have any suggestions as to other things you would like to see "top lists" of. I'm open to any and all suggestions. I think you'll agree that these are fun to do.
Did you know AllEars® has a huge area called Rate and Review where you can share your dining reviews with fellow readers? Check it out!
Finally, be one of the first people to hear when my newest blogs go live on AllEars.net by joining "DisneyMike's World" Facebook group.
Well, that's all for now. As my good friend says "see ya real soon"…DizneyMike
Hey, see this little green button? Well, it allows you to share this blog with your family and friends quite easily. Give it a try; it's pretty neat!