I think the Wilderness Lodge is spectacular! Modeled after the Old Faithful Inn (circa 1904) in Yellowstone National Park, this resort is themed to evoke the atmosphere of the Pacific Northwest. And it succeeds. I've visited this resort dozens of times and I'm still awed by its magnificence.
Your adventure begins when you turn onto Timberline Drive and see the stately arch spanning the roadway. And after a short drive through the backwoods the lodge comes into view. Rough hewn timbers and a green slate roof allow this structure to blend in naturally with the surrounding forest. It's hard to believe you're in Florida and not Wyoming or Washington when visiting here.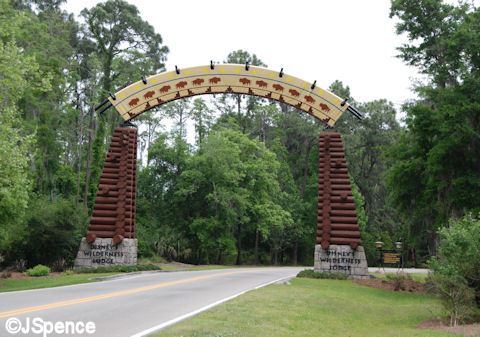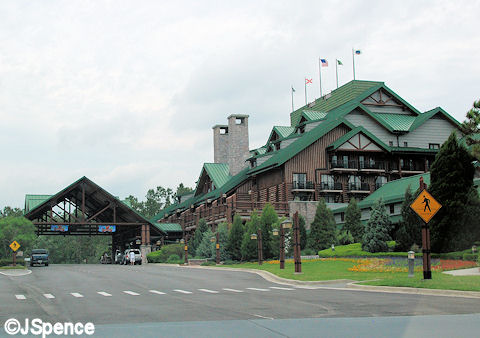 Valet parking is available as is self-parking. Bellmen are on hand to help you with your luggage and direct you to the check-in desk. But before you venture inside, be sure to check out the topiary buffaloes just outside of the porte-cochère. A sharp eye will also notice their footprints embedded in the nearby walkway.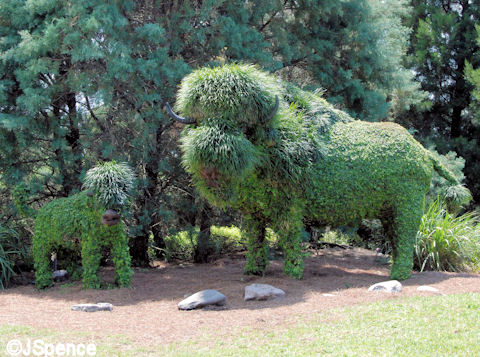 Once you enter the lobby, your jaw will drop. This seven-story cavernous area is impressive. Giant totem poles, tepee chandeliers, wood carvings, Native American artifacts, and log-construction combine to create a breathtaking room. You'll find the check-in desk to the right as you enter. Check-in time for the Lodge is 3pm and 4pm for the Villas. However, if a room is available earlier, you will be given access at that time. If your room is not ready early, Bell Services will be happy to store your luggage. Check-out time is 11am.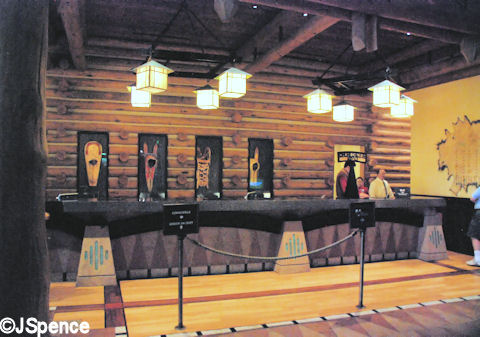 Now let's take a look at some of the unique features that make up this impressive lobby, starting with the four massive chandeliers that hang from the rafters. Resembling tepees, these fixtures use hand painted rawhide stretched over a structural framework. Inside each tepee are 48 bulbs which provide 2,880 watts of light. Each fixture is 12 feet, 6 inches high and 9 feet, 4 inches in diameter and weighs 600 pounds. The tepees are surrounded by a bronze and steel ring that features riders on horseback and buffaloes.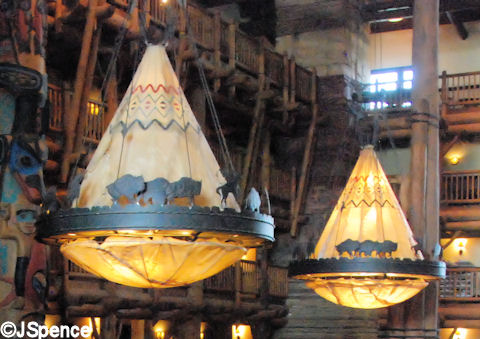 One can't help but notice the large amount of natural wood used in the construction of the lobby. A total of 85 loads of "Lodgepole Pine" logs were delivered from Oregon and Montana for this structure. The Lodgepole Pine is a tall, slender tree that is highly adaptable and can grow in all sorts of environments. It's one of the first trees to invade after a wildfire as its cones are protected by a seal of pitch that require fire or heat to release the seeds.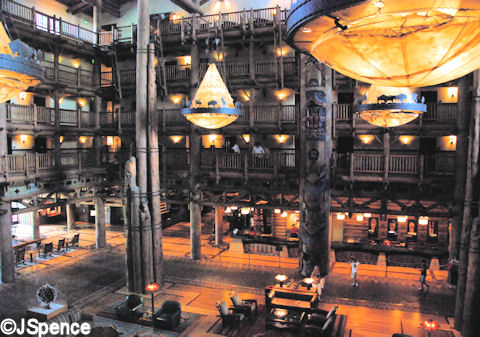 Supporting the roof area are four log-bundle columns. Native American legend says that these bundles "hold up the heavens" as well as the roof. If you take a closer look, you'll notice that each log is topped with a unique animal carving.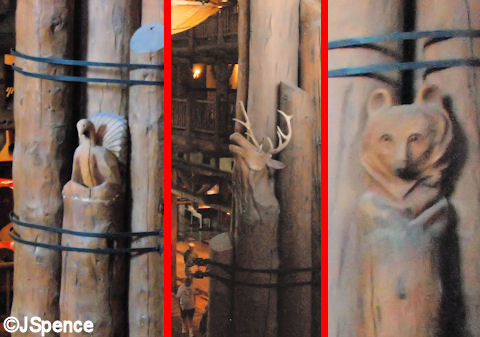 There are three hand-carved totem poles in the lobby. The two large poles (Raven and Eagle) are each 55 feet tall and depict various Native American legends. A 10 foot totem can be found in front of the Mercantile shop and features Humphrey Bear, Donald Duck, Goofy and Mickey Mouse. Crafted by local artist William Roberson, this totem required months of work to accurately recreate these famous characters.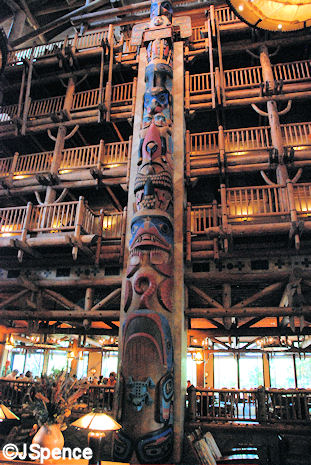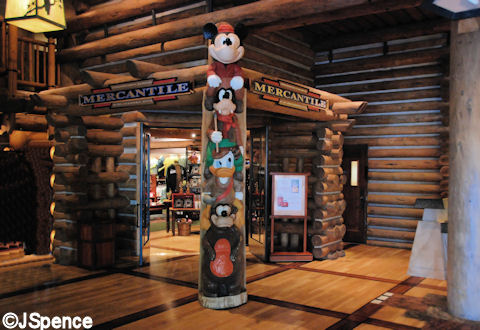 The multi-colored fireplace represents two billion years of erosion and the strata of the Grand Canyon. More than 100 shades including black, green, magenta, buff, red, and brown were used for this depiction and the layers are proportionate to the strata found in the Grand Canyon. At 82 feet tall, this stone structure is as high as Chickapin Hill at Splash Mountain. A fire is usually crackling away and rocking chairs invite weary travelers to sit and relax.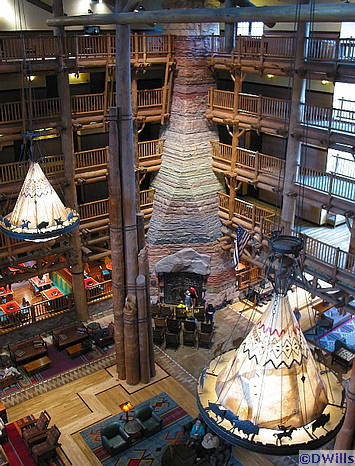 A number of Native American artifacts have been recreated and are displayed throughout the lobby. The tribes of the Cheyenne, Crow, Sioux, and Blackfoot are all represented.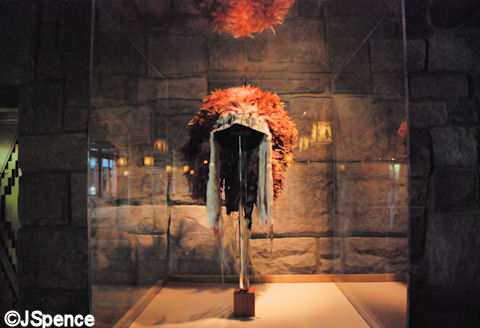 On the second floor of the lobby are a number of seating areas. As most guests are unaware of these pleasant getaways, these spots make the perfect locales to curl up with a good book or write a postcard to your envious friends back home.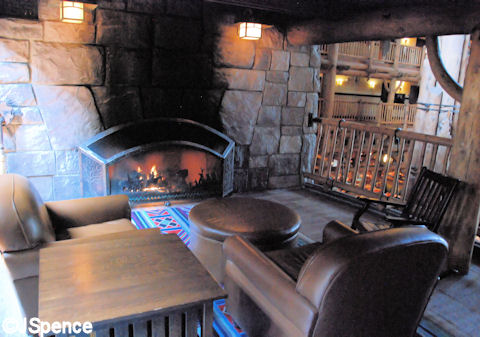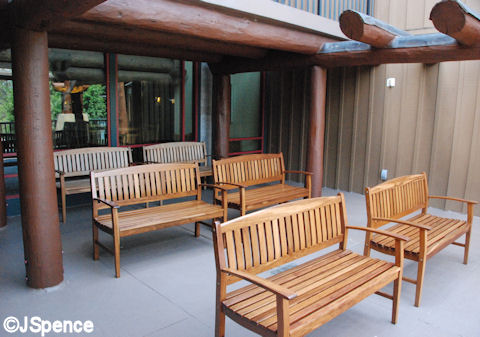 The Wilderness Lodge is full of Hidden Mickeys. But I'm not going to tell you where they are. You'll either have to find them yourself, ask a cast member, or buy Steve Barrett's book.
The Whispering Canyon Café is a great spot for families. Located adjacent to the lobby, this full service restaurant is open for breakfast, lunch, and dinner and offers down-home cookin' and lots of laughs. To see their current menu click here.
As with the rest of the resort, a strong western theme is in play here. The works of noted "cowboy" painters Charles Russell and Bill Gollings are on display and a large picture window looks out onto a pine forest.
A number of activities are always taking place at Whispering Canyon like "horse races" and "napkin twirling." And the servers get into the act with antics of their own. If you're looking for a quiet, relaxing meal, skip this establishment.
You can order a traditional "plated" meal or family-style where platters of food are placed on a lazy-Susan with all-you-can-eat portions. And not everyone must eat family-style. One diner may opt for a traditional meal while everyone else gorges themselves.
Oh, and one more thing, no matter what meal you're enjoying, be sure to ask for the catsup. If you want to know why, you'll just have to eat here and ask.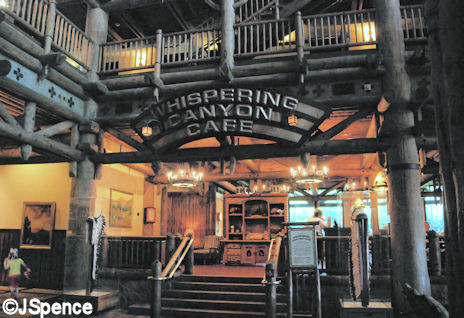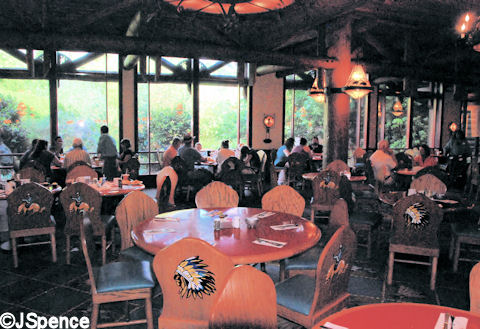 For a quieter, more upscale meal, check out Artist Point. Considered one of Disney's signature restaurants, this eatery is inspired by the dining rooms found in the National Park lodges across the Pacific Northwest. High ceilings, large windows, wrought iron light fixtures, and an abundance of wood create a rustic yet elegant environment in which to enjoy a romantic meal. Open for dinner only, the food and wine draw inspiration Washington and Oregon. The menu changes seasonally but the house specialty, cedar plank roasted salmon, is always available. Click here to view the current menu. Dinner is served from 5:30 to 10.
The large murals found high above the tables were recreated from the works of famed American wildlife artist Carl Rungius. Rungius was an avid sportsman and earned a reputation as the most important big game painter and the first career wildlife artist in North America.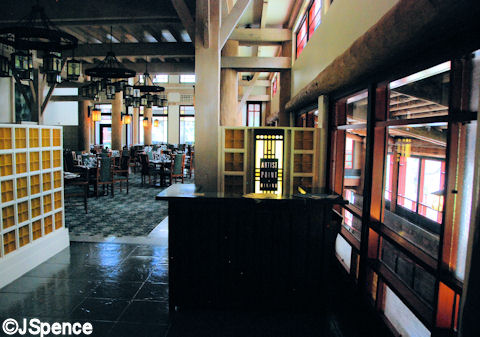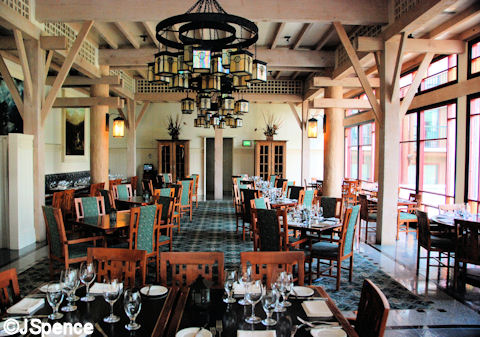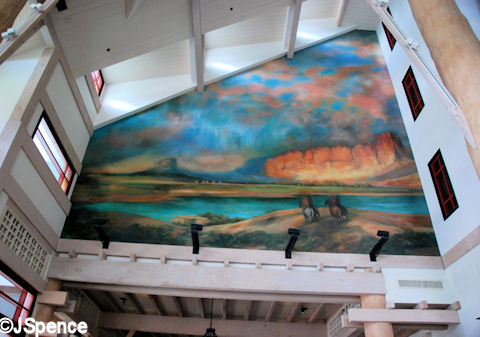 Adjacent to Artist Point is Territory Lounge. This watering hole draws its inspiration from Teddy Roosevelt who signed legislation creating our first national parks. More recreations of the works of Carl Rungius can be found here. Territory Lounge is very dark and very cozy. If you're looking for a romantic rendezvous, this is the spot. I have lightened the following pictures significantly to allow you to see the décor. Territory Lounge is open from 4:30pm to midnight.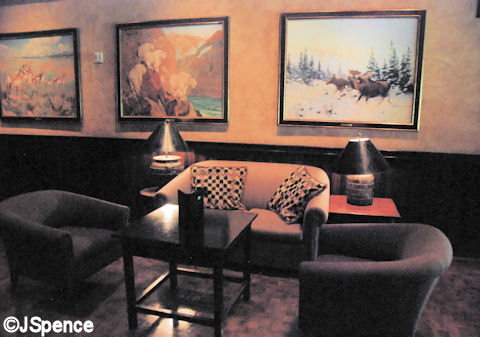 In the mood for a quick bite? Then head down to the lower level of the resort and check out Roaring Fork. This counter service restaurant serves cereal and pastries from 6am to 10:30am and full breakfasts from 7am to 11am. Sandwiches, salads, burgers, pizza and more are available from 11am to 10pm. I've eaten here a number of times and have always been pleased with my selections.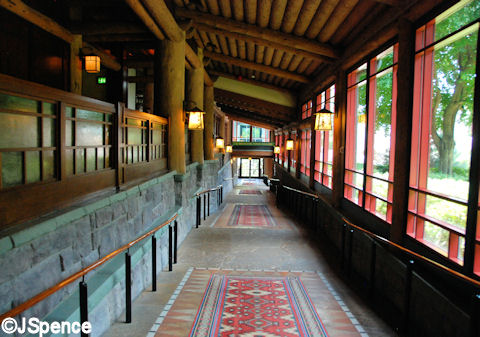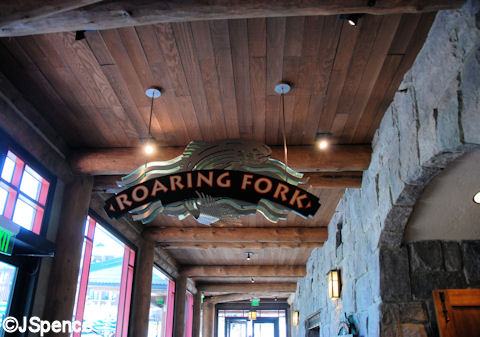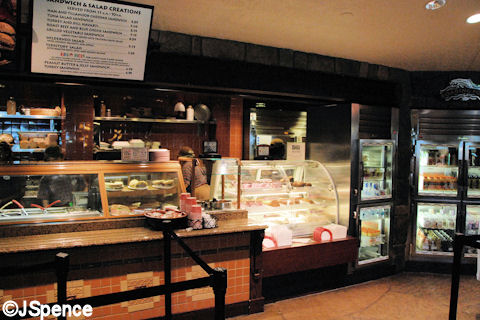 Seating for Roaring Fork is in an adjacent room, but to be honest, I think this area lacks the charm typical of most Disney establishments. I feel like I'm eating in a dark closet. A better choice is to secure one of the tables just outside and eat al fresco.
Wilderness Lodge Mercantile offers the typical array of Disney souvenirs plus some exclusive merchandise created specifically for this resort. Be sure to check out the Lincoln Logs set that contains everything you need to build a miniature Wilderness Lodge. At the back of the store are refrigerators and food items intended for those staying in the Villa rooms with kitchens.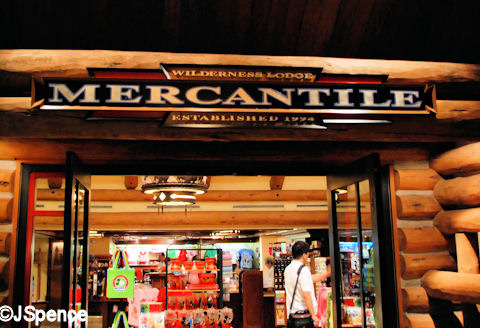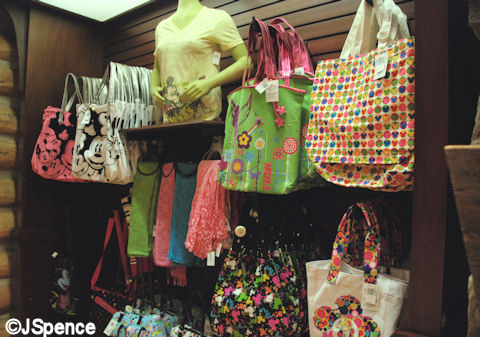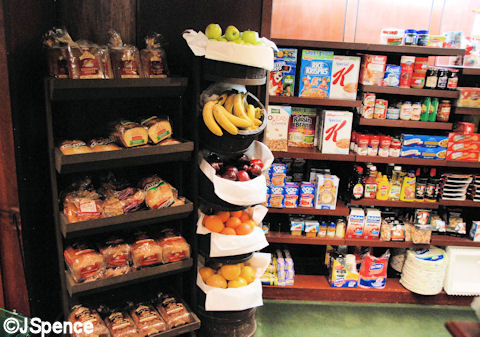 Near the Mercantile is a lovely bridge and bubbling hot spring. A close observer will notice that this newborn brook travels under the nearby window and outside into a beautiful meadow to become "Silver Creek." As the creek travels further it grows in size and eventually cascades 15 feet over "Overlook Point." If you continue to follow Silver Creek downstream you discover it eventually empties into the swimming pool.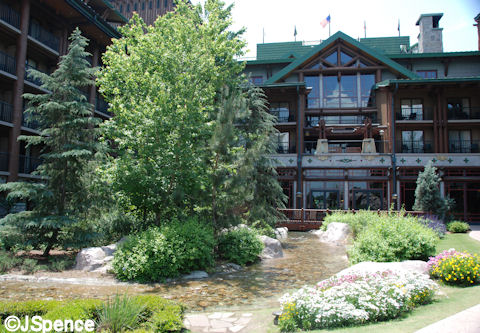 Silver Creek Springs Pool looks like it was carved into the rocks by years of erosion. Complete with a slide, this pool offers a wonderful escape from the hectic parks. Plenty of lounge chairs are on hand for relaxing and sunning. Towels are available at the pool so there is no need to bring them from your room.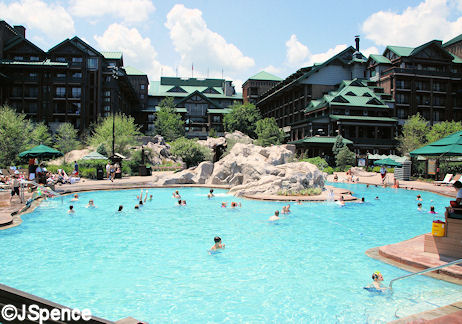 Near the pool is Trout Pass Bar. This spot offers panoramic views of the pool, lodge, beach and Bay Lake. A number of tables and chairs can be found on the backside of this watering hole. Trout Pass Bar opens daily at 11am. Closing time changes with the season.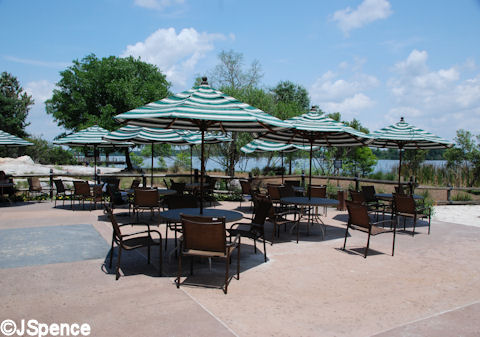 Beyond Trout Pass Bar is a wonderful white sand beach. A number of activities can be found in this area. First, more lounge chairs are available, some with great views of Bay Lake. This is also the perfect spot to watch the Electrical Water Pageant presented each evening at 9:35pm. At Teton Boat & Bike Rental you can rent a mini power boat or pontoon boat for a zippy or leisurely tour of Bay Lake and Seven Seas Lagoon. Bikes and surreys can also be rented here and a nearby pathway connects Wilderness Lodge with Fort Wilderness and an abundance of scenic trails. A play area for the little ones is also offered.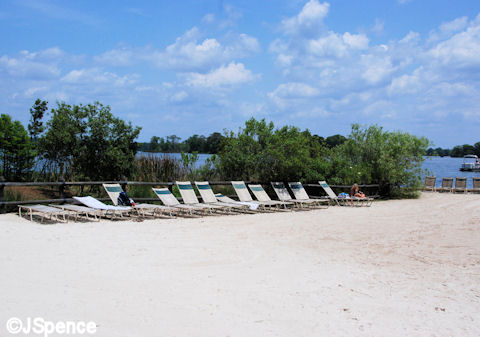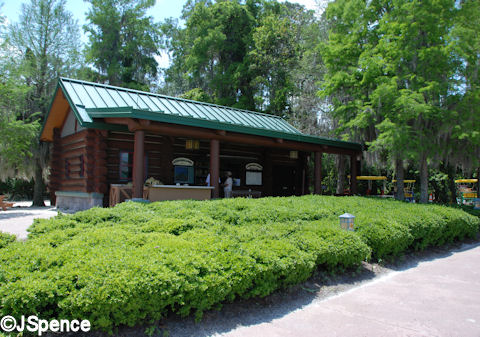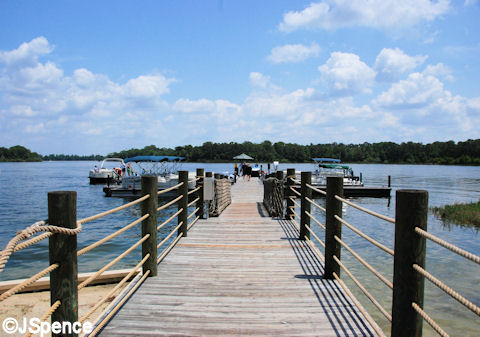 Situated between the pool and Bay Lake is Fire Rock Geyser. This recreation of "Old Faithful" erupts on the hour from 7am to 10pm and shoots a plume of water 120 feet into the air. The geyser is computer controlled and erupts with realism. It even has on-line input adjustment for wind drift.
A wonderful way to travel to the Magic Kingdom from Wilderness Lodge is by boat. To me, this is an often overlooked but extremely magical way to spend time at Walt Disney World. Launches depart ½ hour before the Magic Kingdom opens until 1 ½ hours after the park closes. So even on days when Extra Magic Hours are offered, you can get to the Magic Kingdom in plenty of time. Boat service is also offered to the Contemporary and Fort Wilderness from 6:45am to 11:30pm.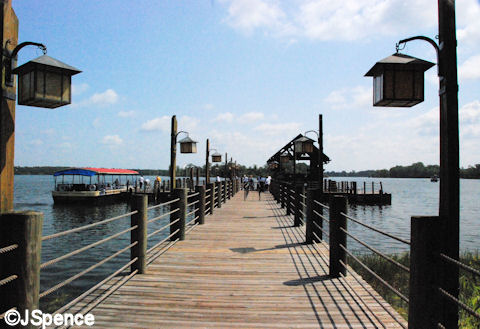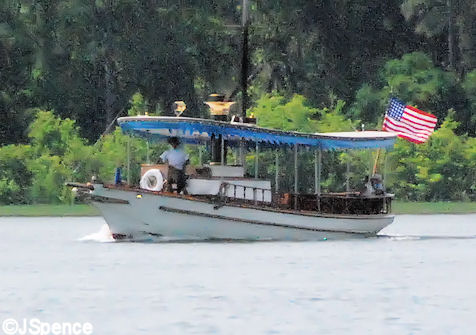 Bus service is also available to the theme parks (including the Magic Kingdom), water parks, and Downtown Disney. Once again, they are timed appropriately to get you to and from the parks, even when Extra Magic Hours are offered. To reach the pick-up and drop-off area, walk past the Mercantile shop and down the long covered walkway. Signs clearly mark the way.
On the way to the bus stop you'll pass by Buttons and Bells Game Arcade. Here you'll find state-of-the-art video games to challenge the novice and expert.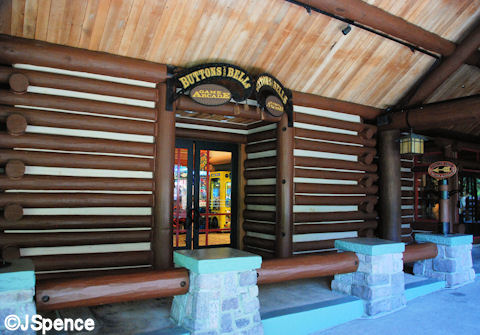 If you'd like to know more about the Wilderness Lodge, sign up for the "Wonders of the Lodge" tour offered on various days beginning at 9:30am. A "ranger" will escort you and your group around the resort and share interesting facts about the lodge's distinctive construction, theming, and artwork. Check with the Front Desk for the schedule of tour days and availability.
In November 15, 2000, the Disney Vacation Club expanded and opened the Villas at Disney's Wilderness Lodge. This expansion contains 181 units and is situated in a five-story building adjacent to the original lodge. As with everything that Disney does, this new structure also has a storyline. In this case, the Villas "pre-date" the Lodge with a design that is reminiscent of the 1860's hotels built by the early railroad workers in the old West national park region.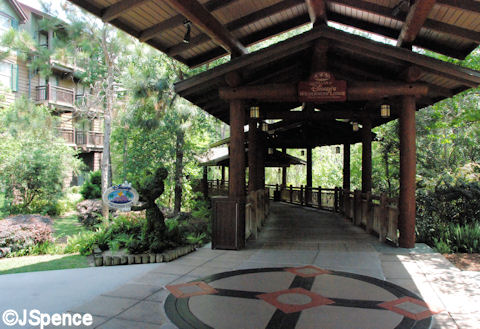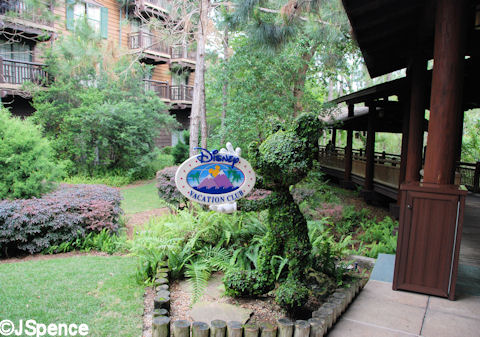 The railroad theme is obvious in the Game Room. Besides finding tables specifically designed for afternoon diversions, memorabilia and photographs of Walt's beloved Carolwood Pacific Railroad are on display.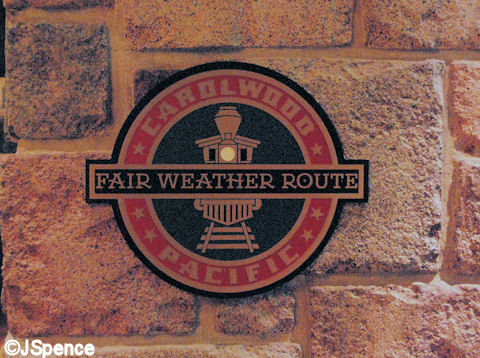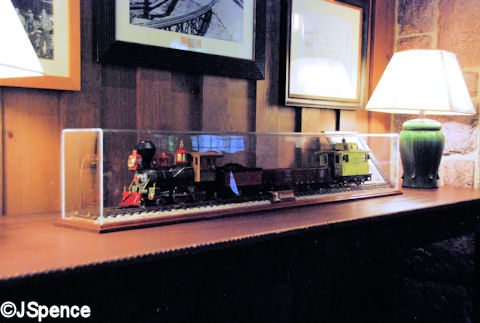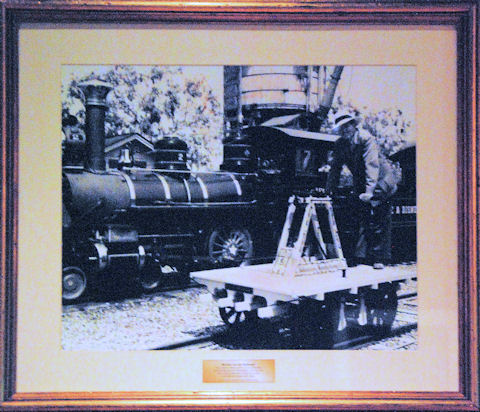 The Villas' lobby offers a number of cozy seating areas including a fireplace to curl up in front of. Beneath a covered porch are a number of rocking chairs that are just begging to be used.
The Villas feature studio, one, and two bedroom units and are not restricted to DVC members. If there is availability, anyone can rent one of these rooms. I recently stayed in a studio and what follows are pictures of my room.
When you enter the unit, the first feature you encounter is the kitchenette. Here you'll find a small sink, under-the-counter refrigerator, microwave oven, toaster, coffee maker, dishes and utensils. Obviously you can't cook a full meal here, but quick breakfasts and snacks are a cinch. One and two bedroom units offer full kitchens with a complete set of pots, pans, and other cooking necessities.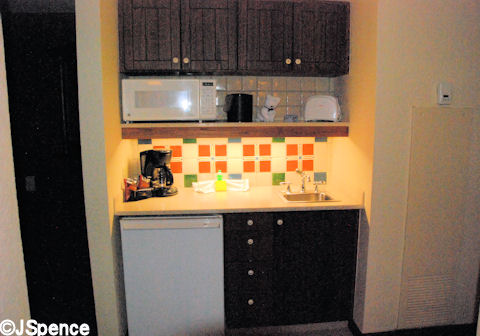 Opposite the kitchenette is the vanity which includes one sink, a hair dryer, large mirror and a number of towels. On one side of the vanity is a large closet. Inside are a small wall safe, vacuum cleaner, highchair, and crib. This is also where you'll find the cable to connect your computer to the high speed internet. The outlet is near the table in the main room. On the other side of the vanity is the toilet and shower room.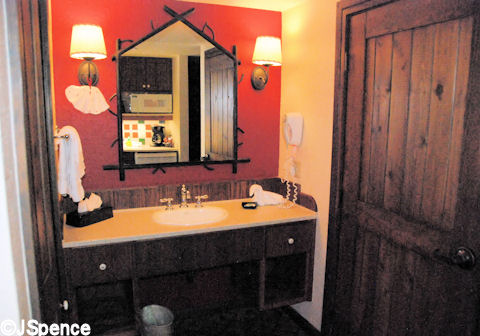 A studio unit sleeps four. Two on the queen sized bed and two on the sleeper sofa. The sleeper sofa is incredibly easy to unfold and is comfortable. Extra blankets and pillows can be found in the closet.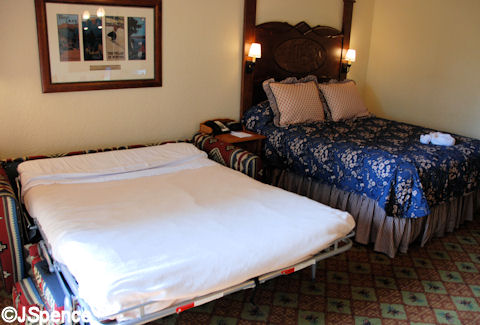 Opposite the bed and sofa are a table and chairs and chest-of-drawers. A flat-screen TV and DVD player can be found in the upper section of the chest.
The units also have a small balcony that's just large enough to accommodate a table and two chairs. This was the view from my room.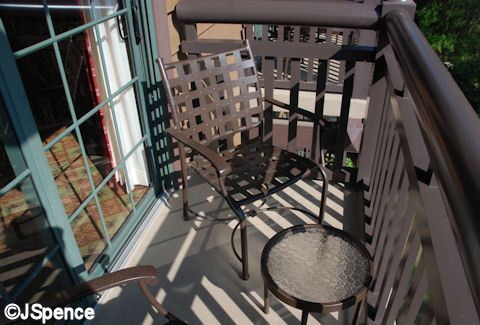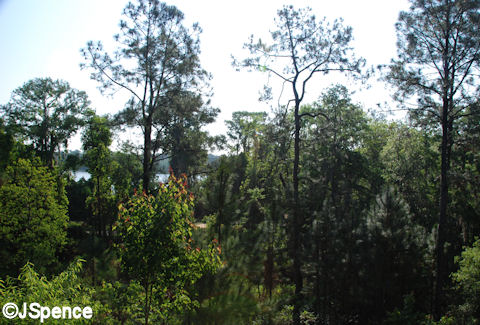 Room sizes:
Lodge:
Standard room: 340 square feet
Junior suite: 500 square feet
Villas:
Studio: 356 square feet
One bedroom: 727 square feet
Two bedroom: 1,080 square feet
For more information about the Wilderness Lodge, click here.
For more information about the Villas at the Wilderness Lodge, click here.
The Wilderness Lodge is a deluxe property and is one of the more expensive resorts at Walt Disney World. But if you can afford it, this hotel will not disappoint. You truly feel like you're in the Pacific Northwest, not Florida (except for the humidity). As I said at the beginning of this article, I have visited here many times yet I'm still amazed each time I return. It's always just a beautiful as I remember. And if you can't afford to stay here, I would highly suggest making reservations at Whispering Canyon or Artists Point restaurants. This will allow you to soak up some of the atmosphere while having a great meal.
I have created an eight minute video highlighting the resort and a Studio room. Enjoy.
This is a video of the Studio at the Villas at the Wilderness Lodge
Related Links:
Wilderness Lodge Fact Sheet
Photo Gallery
Reader Reviews
Concierge Club Reader Reviews
Villas at the Wilderness Lodge Fact Sheet
Photo Gallery
Reader Reviews