Hi everyone. I just got back from a two week vacation. Before I left, I arranged for several blogs to be published in my absence. Deb Wills was kind enough to post them, but she was unable to respond to everyone's comments the way I normally try to do. So if you were wondering why I didn't replied to your email, now you know. But I want to thank you all for the kind words you shared with me. And a big thanks to Deb for posting my blogs and your comments.
So, were did I go on vacation? Tokyo Disneyland, Tokyo DisneySea, and Hong Kong Disneyland. Yea! However, I'm not going to write long involved blogs about these wonderful places. I did that two years ago and if you'd like to learn more about these magical destinations, you can click on the links above and read my previous accounts. However, my vacation did furnish me with some fun adventures that I'd like to share with you in two or three blogs over the next week or so.
Before I get started, I'd like to tell you about an exciting moment that happened on my return home. I had just completed the grueling fourteen hour flight from Hong Kong to Chicago and was relaxing in the Red Carpet Room during my four hour layover. I was wearing a polo shirt with a Disney insignia. A few minutes after getting settled, a gentleman approached me. He said he had noticed my shirt and wondered if I worked for Disney. I told him no but explained that Disney was my hobby and I was returning from the Tokyo and Hong Kong Disney Parks. As it turns out, this gentleman had been on the same flight as me and was returning from his first trip to Hong Kong Disneyland. After a little more conversation, I learned that he was checking out the resort – sort of a "research" trip. You see, his name is John Pepper and he's been Disney's Chairman of the Board since 2007. How cool is that? I got to meet the Chairman of the Board for Disney.
Okay, onto my actual blog.
A few years back, Disney came out with a new merchandise line that featured a plush bear whose face resembled Mickey Mouse and the famous three-circle Mickey shape stitched onto each paw. I thought the bears were incredibly cute and bought one for myself. However, they weren't a big hit in the U.S. and were more or less discontinued. But in Japan this lovable creature caught on. He was even given a name, Duffy, The Disney Bear. As the months went on, Duffy became a phenomenon. Now, it's the "in" thing to carry your Duffy with you whenever you visit Tokyo DisneySea where he, his girlfriend Shellie May, and their clothes are sold exclusively. Everywhere you look, you see Duffy and Shellie May enjoying a day in the park with their human companions.
Let me give you an idea how big Duffy has become in Japan. A day at a Tokyo Disney Park starts well before the official opening time. The first picture below was taken 65 minutes prior to Tokyo Disneyland opening. At this time, there were already several hundred people patiently waiting at the turnstiles. When the park finally opens, there will be thousands and thousands of people lined up at the gates. This can be seen in the second picture – which was taken 25 minutes before park opening and only shows half of the crowd. And Duffy waits dutifully in line like all of his human companions.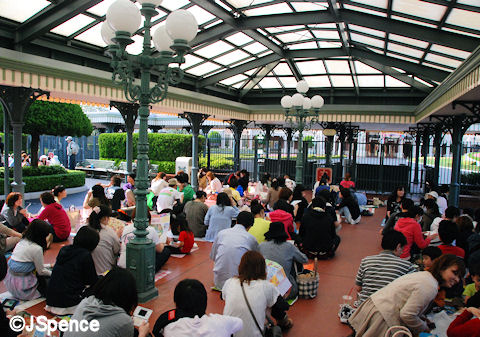 The above pictures were taken at Tokyo Disneyland, but similar crowds gather each day at Tokyo DisneySea which is where Duffy is sold.
Now, after waiting an hour or so to enter DisneySea, many people skip the rides and RUN to one of the two shops where Duffy merchandise is sold, only to get into another long line. You see, these shops get so crowded access must be limited.
Here, thousands of Duffys, Shellie Mays, and their various outfits are sold each day. I've heard from a reliable source that 25% of all the merchandising revenue at the Tokyo parks comes from these characters and their accessories.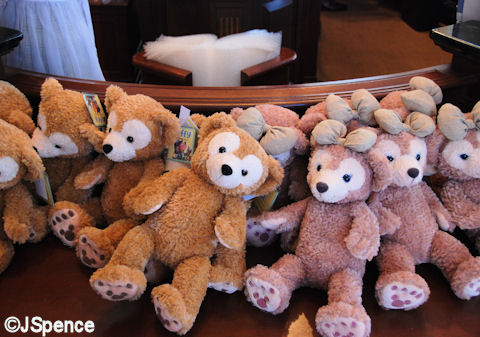 In the parking lot for Tokyo Disneyland, large faces of Duffy and Shellie May have been meticulously recreated out of orange traffic cones.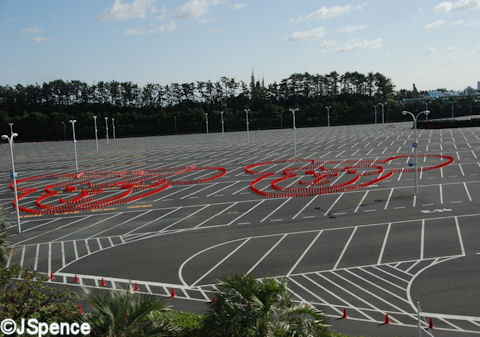 Now you might think that this phenomenon is limited to little girls. Nothing could be further from the truth. Duffy knows no age or sex limitations. It's just as common to see guys and older folks carrying Duffy with them while visiting Tokyo DisneySea.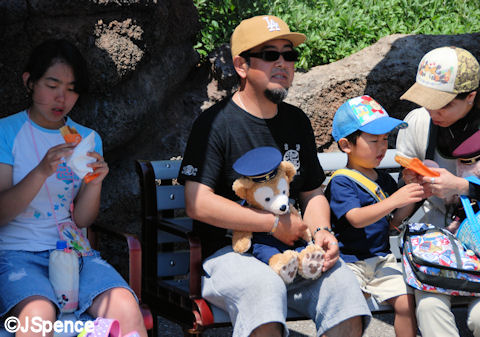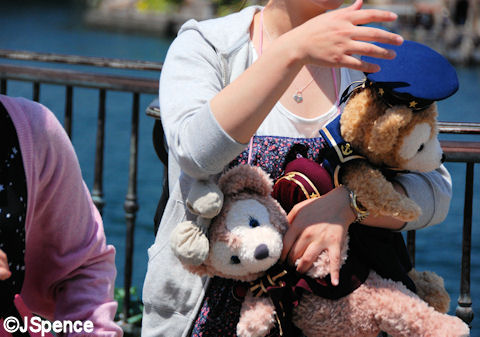 And Duffy doesn't just get mindlessly carried throughout the day. Many have baby straps to give him a comfortable ride. And when Duffy's "parents" sit down at a table, he is given his own seat and doted over.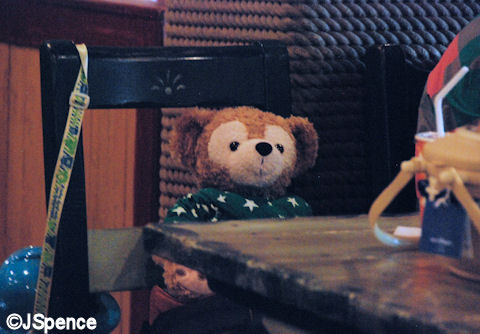 As I mentioned earlier, Disney has created a line of clothing for Duffy, but that's much too limiting. The really cool Duffys have handmade wardrobes or nifty costumes.
My Japanese friends Katsumi and Daisuke use their Duffys to help hold a place for the upcoming shows presented at Tokyo DisneySea. And if you'll notice, their Duffys are not sitting on the pavement. They're given something clean and cushiony to sit on.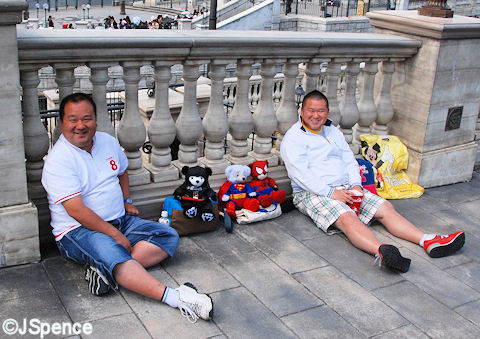 There are also a number of Picture Spots located around the park where you can pose your Duffys and get a photo of your entire group with this cuddly family member.
Realizing that my Duffy back home in Orlando was sitting around naked, I decided I better buy him an outfit. I opted for the Cape Cod ensemble. Pretty cute, huh?
So next time you're at Walt Disney World or Disneyland in California, and you see someone carrying a smartly dressed Mickey-faced bear, it's a pretty good bet they're from Japan and giving their Duffy a well deserved vacation.
The next topic in this blog will be about one of my favorite attractions at Tokyo DisneySea, Sindbad's Storybook Voyage. This is a boat ride comparable to Pirates of the Caribbean, minus the waterfalls. Disney expected Sindbad's Storybook Voyage to be a major draw as its scope was large and encompassing. Unfortunately, it didn't work out that way. From what I understand, the Japanese people aren't all that familiar with the story of Sindbad and this attraction often has minimal lines while the rest of the park is busy.
To try to remedy this, the attraction was closed for a major refurbishment a few years ago. One of their goals was to change the storyline and soften the foreboding feel. In the original version, Sindbad had a beard. In the second incarnation, he's clean shaven for a less sinister look. The Giant in the first version was vengeful. Now he's grateful. And Sindbad was given a sidekick in this second go-round, Chandu. This is a cute little tiger cub that helps Sindbad conquer evil. And finally, a very melodic song (Compass of Your Heart), written by Alan Menken, was added for Sindbad to sing.
To be honest, I thoroughly enjoyed the previous ride, but with the addition of the new song and Chandu, this is now one of my favorite attractions at Tokyo DisneySea. I even bought a Chandu plush.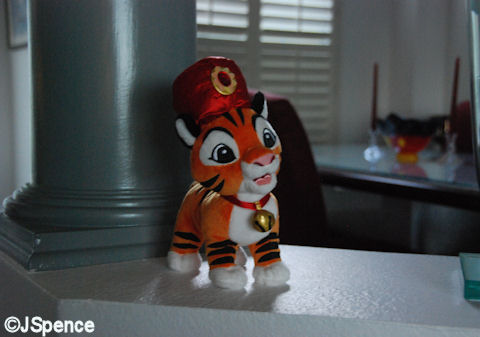 My friend Katsumi tells me the changes have helped and popularity of this attraction is growing. I have created a video of the entire ride so check it out and see for yourself. I'm sure you'll agree, this is a wonderful attraction.