This was Challenge #131:

And here's the answer: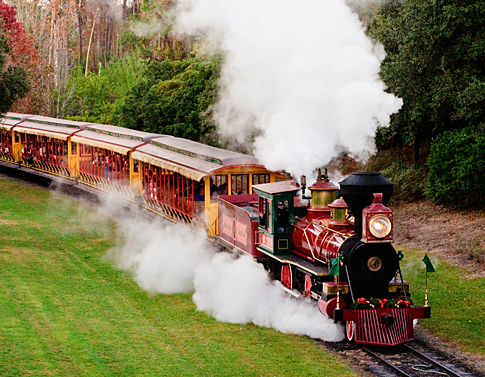 Copyright © 2007 Barrie Brewer, Nikon D300, 50mm, 1/320s shutter, f/9, ISO 3200
This is the Roy O. Disney steam train, part of the Walt Disney World Railroad in the Magic Kingdom. You might notice that the settings I used on the camera were a little unusual for this kind of photo. That is because I was riding the TTA at the time and had my camera all set up to try to get some photos from the dark parts of the ride. The train let off a big puff of steam just as we rode by and I couldn't resist taking a quick snapshot. Because of the super high ISO, there was a lot of noise (graininess) in the original photo. I used Topaz, a Photoshop plug-in, to remove the noise. I thought it turned out pretty good, considering.
Paul Cooper was the first to send in the correct answer for the challenge! Congratulations to Paul and all the other readers who got the answer right: Evelyn Wilson, Chris Norris, Shannon Murray, Sharon Pierce, Scott Otis, Mckinley Yeaman, Lee Anastasi, Cara Richards, Ed Aleszczyk, Louise Barton, Benjamin Barton, Chloe Barton, Madeline Barton, Ivan Barton, Diane Ramos, Colin Buchanan, Drew Deapo, Mike Malampy, Ryan Benco, Tina Benco , Jeffrey Alan Botelho, Cathy Skiba, Elizabeth , Carla C, Betsey Whitehead, Sharon Dale, Millie Tenreiro, Brian Miller, Chloe, Greg Strohmeyer, James Berry, Kathy Berry, Richard Palmer, Kristin Dormuth, Tom & Susan Linder, Joseph Zafia and Dawn Bach. Each of you were entered in the May winners' drawing.
It's time for our monthly drawing. This month's big winner is Cheryl Buchanan! Congratulations Cheryl, you are the lucky recipient of a fabulous Disney book and some really cool AllEars schwag!
_______________________________________________________________________
Challenge #132: Where in the world is this?
Do you know? Do you have a guess? Please send in your answer, before the end of the day on Thursday, June 3, by clicking on the blue box below. Please do not post answers using the Feedback Form link at the bottom of this post. Remember to be specific with your answer – just naming a park will not get you into the drawing.
Here's a hint: If you're my friend on facebook, you might have seen this photo recently.


_______________________________________________________________________
Everyone who sends in a correct answer to a Where in the World Challenge this month will be entered in a drawing at the end of the month for some special AllEars® goodies and a cool Disney book!