Saturday, May 22 – La Spezia, Italy
Very long day today – left the ship at 7:30 a.m. and didn't get back until
almost 7:30 p.m. It was a good day, though.
The weather continues to be just spectacular – we have really lucked
out, since we've had a couple of the tour guides tell us that it was
raining two days before we arrived. It's been sunny with lots of puffy
white clouds and a little warmer every day – at least mid-70s today in
Florence.
So…today we had booked the tour of Florence and Pisa. What we didn't
realize was how far it was to Florence and Pisa from La Spezia. And
travel logistics were further complicated because we have to use a
tender to get from the ship to the pier. They are large tenders,
holding about 200 people, but still, by the time you load them, take the
10-15 minute ride to the dock and then unload, it's a good 30-40
minutes. We were on the bus and on our way by about 8:15, but were a
little startled when our guide, Lucia, told us it would be about 2-1/2
hours to Florence! Yikes. Fortunately it didn't take that long – we
were in Florence and off the bus by about 10:30, and that included a 20
minute stop at a rest area about an hour after we left the port. Lucia
told us that it was Saturday, so there wasn't much traffic in Florence,
and I'm sure that helped.
Like yesterday in Rome, we had one guide who stayed with us all day
(Lucia) and another who conducted the tour of Florence (Silvia). She
was an older lady – appeared very much your stereotypical Italian
grandmother. She spoke excellent English and kept us moving along,
which I really appreciated.
This was a walking tour – we did not see the bus again until we boarded
it to go to Pisa. We were pretty happy about that! And we covered a
fair bit of ground, though as usual we didn't have enough time. We
started off next to the Arno River. I believe this photo is looking
towards Piazza de Michelangelo. (Another nice thing about this tour is that
they gave us maps of the areas of Florence and Pisa that we would be
touring.)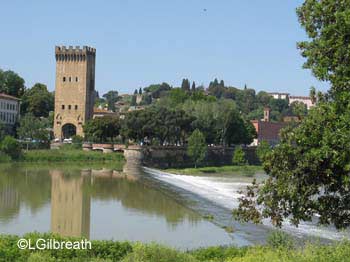 From there we walked to the Santa Croce church, which is where we would
be meeting at the end of the day. There's a statue of Dante there,
also. Silvia told us that lots of famous people were either born or
lived in Firenze (Florence), like Dante, Galileo, Michelangelo and of
course the Medici family.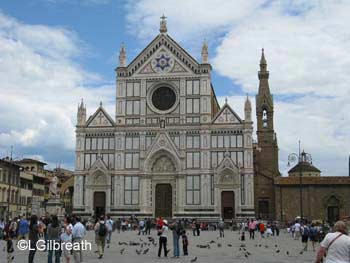 Next we were off to the famous Ponte Vecchio – which means "Ancient
Bridge". Really a beautiful sight, though.
At the Piazza Signoria there are a whole bunch of sculptures, including
a full-sized replica of Michelangelo's David. We didn't see the
real thing, but even the replica was impressive.
We passed other things that I don't remember on our way to the plaza
where the big church and bell tower are. The church is called the
Duomo, which means House of God.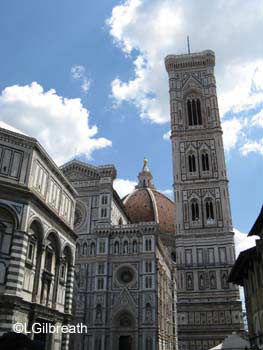 There's also a Battistero (Baptistry) there. The original doors
were made of gold, but those are in a museum now – the current doors are
replicas, made of bronze and gold plated. Really very detailed!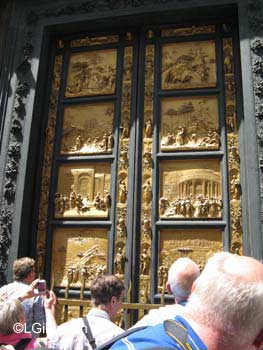 It was almost 1:00 by then – time for lunch. Which was at the Palazzo
Borghese, which was once a palace and is now a restaurant. But still
decorated like a palace – it was very ornate and elegant inside. Huge,
and full of large tour groups like ours having lunch.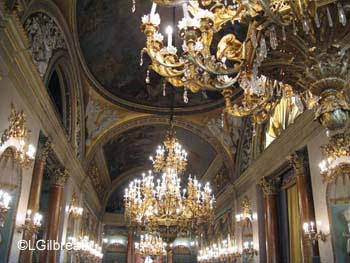 Lunch was the best we've had on one of these tours (and all of the
lunches in Italy have been very good!). It was five courses –
bruschetta followed by two kinds of pasta: cheese ravioli in tomato
sauce (excellent) and penne pasta (though they called it macaroni) in a
vegetable and meat sauce. Then we received a plate with potatoes,
vegetables, and some kind of meat with gravy. For dessert there was
tiramisu. Again, red wine was available on the table, as well as
bottled water, and it was very good.
We had some free time after lunch to do some more wandering around on
our own before meeting in front of Dante's statue to walk back to the
bus. So we ended up with about four hours total in Firenze: 2-1/2 hours
for the guided tour, about 1-1/4 for lunch, and 20 minutes of free time.
In some ways I think this was the best tour that we've been on – they
kept us moving along very well and showed us lots of different things,
but these were the least personable guides that we've had. Not that
they were poor guides, because they did their jobs well, they just
weren't very much fun – missing the personal touch.
The drive to Pisa was a little over an hour – an awful lot of us took
the opportunity to take a nap – I know I slept for most of the trip.
Lucia handed out maps and told us a bit about Pisa and where we were
going. Again, we had a decent walk from the bus parking lot to the
Piazza di Miracoli – though we passed the famous Leaning
Lamps of Pisa on the way. 🙂 (That was Lucia's little joke.)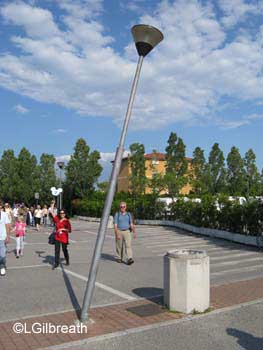 Once we reached the Piazza di Miracoli Lucia gave us free time – we just
had to be back at our designated meeting spot in 50 minutes. And
honestly, that was really enough time – unless you're climbing up the
tower (which you need a reservation to do, and even then it's a 30
minute wait) there isn't that much to do unless you take the tour of the
church.
We really had a picture-perfect afternoon for it – beautiful blue sky
with some white puffy clouds. We hadn't realized that the tower has
other buildings nearby – when I've seen photos of it it has always
seemed to be standing by itself.
Of course we HAD to do the obligatory "holding up the tower" pose. 🙂
It was 5:35 by the time we had our entire group together at the meeting
point, and close to 6:00 by the time we were driving away on the bus.
We were not the last Disney bus to leave Pisa, but I think there was
only one behind us. The last tender was supposed to be at 7:00, and the
one we were on left after 7:00. There was going to be at least one more
after that. It was 7:30 by the time we were back on the ship. Very
long day.
It was also Pirate Night. I really don't understand the scheduling of
that because it was such a long port day. We had a number of families on
our tour who had the early dinner seating – which they missed because our
tour was a long one. (And it was supposed to be long – I don't think we
were even due back until 6:30.) Certainly they didn't have a lot of time
to get dressed up in any pirate gear!
We didn't actually see too many guests dressed up beyond wearing a
scarf, though there were a few who were dressed up (like we were).
On the way out of port we passed by the Cinque Terre, which are
five villages that are kind of built into the coastline. Very pretty in
the late evening just before sunset.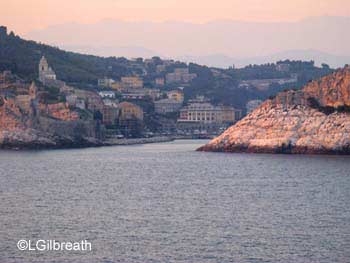 The pirate dinner menu is different since the last time we had it, but it
was still a good dinner. For a change I did NOT have the chocolate dessert –
I had the meringue "pirate chest" with fruit in it. It was really good.
There were four of us for dinner again and we had a good time. Our
servers were hustling trying to get us out of there a little earlier
because the pirate party on deck started at 9:45, though the fireworks
weren't until 10:30. We made it out of there by about 10:10 and went up
on deck. It was very breezy up there, and I only had a light wrap, so I
was shivering – Lee, my knight in pirate attire, wrapped his arms around
me and that helped. Nathan had told us the best place to watch the
fireworks was aft starboard, and that's where we were. It's a short
show, but it's just very cool to see fireworks from a ship!
After the show we saw Hilda again, dressed in her pirate costume – not
too long after that she was up dancing on stage.
Tomorrow is Corsica, and it will be a MUCH more relaxing day – our tour
doesn't start until 8:30, and is back by 12:00 or so. We need the rest!